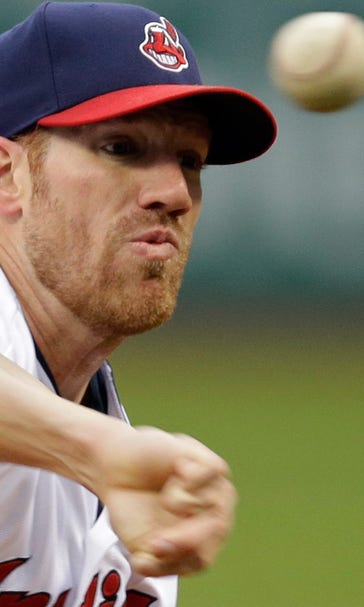 McAllister set to start for Indians against Chicago
July 12, 2014

The Cleveland Indians are replacing one struggling right-hander with another who's had issues at the major league level.
Zach McAllister has pitched well in the minors, though, and will take the place of the injured Justin Masterson on Saturday against the visiting Chicago White Sox.
Masterson, winless in his last five starts with a 9.50 ERA, was placed on the 15-day disabled list Tuesday due to right knee inflammation.
McAllister (3-4, 5.89 ERA) went 0-4 with a 9.51 ERA in his last six starts for the Indians before he went on the DL on May 22 with a lower back strain. He was activated June 18 and sent to Triple-A Columbus, where he went 5-0 with a 2.33 ERA in six starts.
Manager Terry Francona is eager to have McAllister back.
"I don't necessarily think it's been the easiest thing for Zach," Francona told MLB's official website. "He wants to be here. But I think he's done a really good job of not letting that affect his pitching. When that's what you ask a guy to do, sometimes it's harder to do than just saying it."
McAllister owns a lower ERA against Chicago (44-50) than anyone he's faced multiple times, going 3-1 with a 2.72 ERA in seven starts. He hasn't faced the White Sox this year, so he'll get his first look at Jose Abreu.
Abreu has been hit or miss in the eight games he has played in the season series, going 6 for 32 with four homers and 15 strikeouts.
The Indians (46-46) improved to 4-7 against the White Sox by winning for the seventh time in 10 games, 7-4 on Friday. Nick Swisher hit a two-run homer, continuing a surge that has seen him go deep three times with seven RBIs in his last five games.
Swisher, who owns one of baseball's lowest averages at .207, said he took inspiration from LeBron James' announcement that the NBA star would be returning to Cleveland.
"It's hot in the 216 right now, for sure," Swisher said in reference to Cleveland's area code. "There's a lot of excitement."
Michael Brantley is 16 for 35 with two homers and eight RBIs during an eight-game hitting streak. He's also batting .404 during a 13-game hitting streak against the White Sox.
Chicago's hottest hitter is Conor Gillaspie, who is 7 for 12 with three homers, five RBIs and six runs scored in his last four games. He's 1 for 8 off McAllister.
Gordon Beckham has three doubles in 11 at-bats versus McAllister. He could return after he was benched Friday due to a 1-for-30 slump.
The White Sox will start right-hander Scott Carroll (3-5, 4.52). The rookie had been 0-5 with an 8.10 ERA in his previous six starts before allowing one hit over 6 2-3 innings in Monday's 4-0 victory at Boston in the best effort of his career.
"I really wanted to work on rhythm from the windup," Carroll said. "I worked on that in my bullpen. Better rhythm and tempo."
His first career loss came in his lone start against the Indians, when he allowed two unearned runs over six innings in a 2-0 defeat May 3.
---