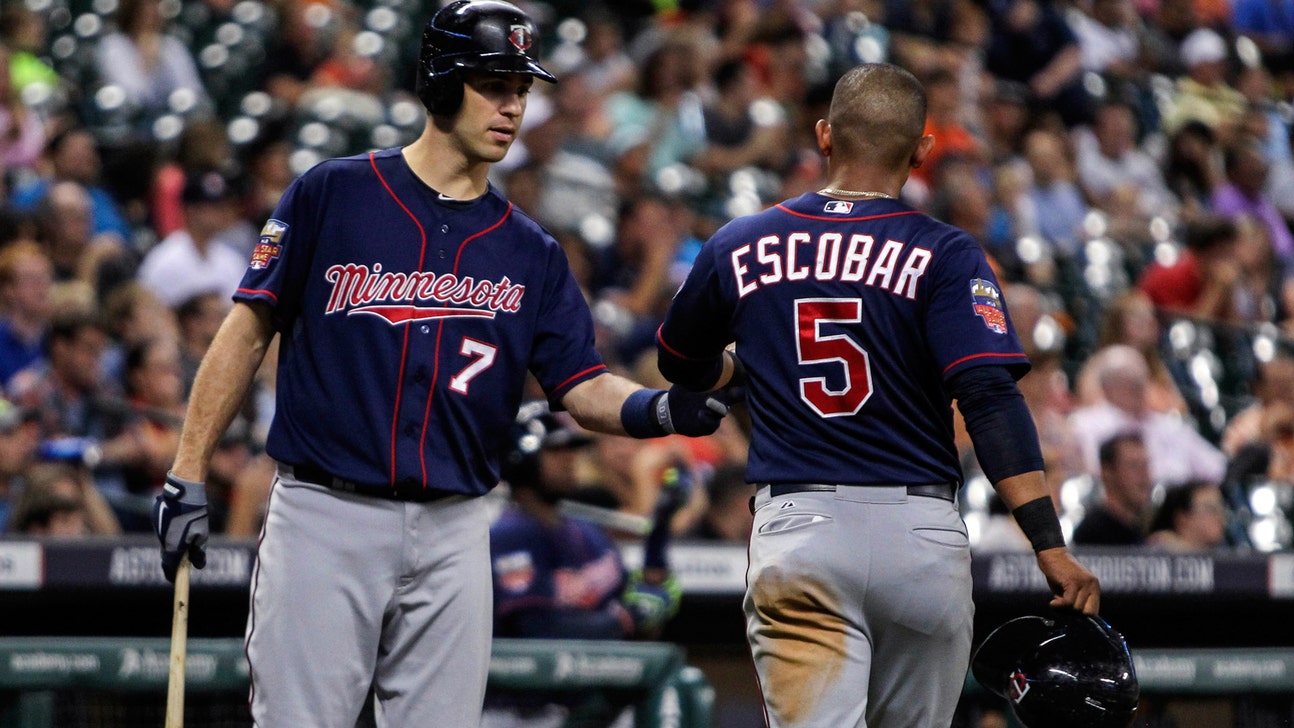 Mauer sparks Twins upon return
Published
Aug. 12, 2014 12:32 a.m. ET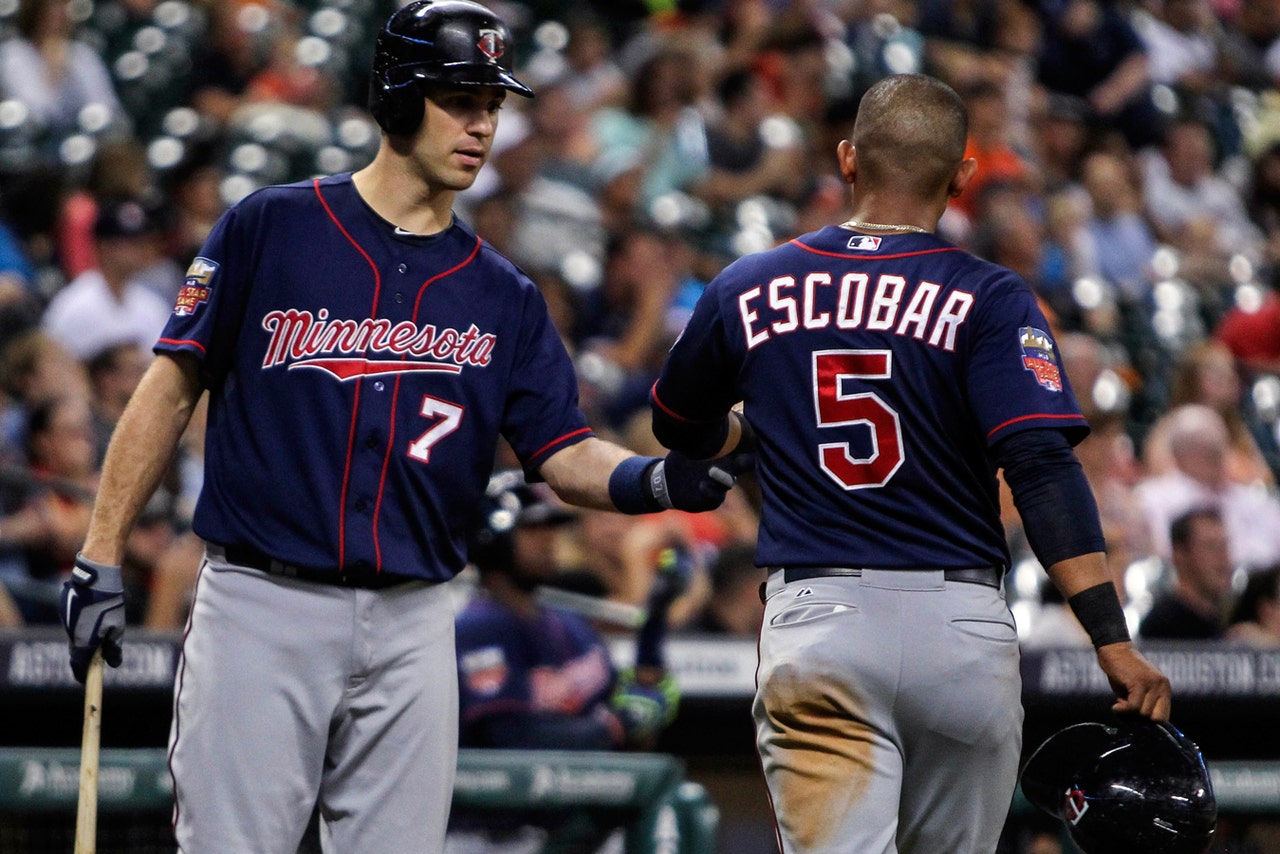 Joe Mauer recently missed more than a month with a pesky oblique injury. In his return to the Twins lineup Monday in Houston, Minnesota's first baseman showed zero signs of rust.
Mauer went 2-for-4 and drove in the go-ahead run in the ninth inning to lift the Twins to a 4-2 victory over the Astros in the series opener in his first game since July 1.
After struggling to score runs recently, the Twins were glad to have the three-time batting champion back in the lineup.
"This guy, we've always said, he can get right out of bed and hit," Twins manager Ron Gardenhire said of Mauer. "He's got that swing, and luckily for us he's come back with it."
Mauer drew a walk in his first trip to the plate Monday against Houston starter Brad Peacock. In the third inning, Mauer got his first hit in more than a month when he doubled off the wall in left field with one out. He was left stranded at third base, however, as the Twins failed to score in the inning.
In his next two at-bats, Mauer lined out twice -- including an inning-ending double play in the top of the seventh. But he came to the plate in the ninth inning with the chance to play the role of hero, and he delivered.
Earlier in the ninth inning, outfielder Jordan Schafer drew a walk with one out, and second baseman Brian Dozier worked a six-pitch at-bat to draw a two-out walk. That brought Mauer to the plate to face Houston reliever Josh Fields with runners on first and second and the game tied 2-all.
On the sixth pitch of his at-bat, Mauer lined a base hit to left field, easily scoring the speedy Schafer from second base. When left fielder Domingo Santana took his time getting the ball back into the field of play, Dozier alertly rounded third base and scored to put the Twins up 4-2.
"I haven't really seen a guy with velocity like that in a long time, so I was just trying to stay short and square it up," Mauer said of the at-bat. "I'm glad I was able to get one there with a full count. . . . That was a great at-bat by Dozier to give me an opportunity. Those are the things that you miss and you can't recreate in the training room or on the bench. I'm glad it happened tonight and I was able to come through for the team."
On top of his clutch hit in the ninth inning, Mauer also made a big play defensively in the bottom of the ninth. As closer Glen Perkins attempted to field a ball in front of the pitcher's mound, his throw to first base was low. Mauer dug out the low throw to record the second out of the inning and potentially save a run from scoring.
Mauer caused quite a frenzy in Cedar Rapids, Ia., last week when he played for the Low-A Cedar Rapids Kernels as part of his rehab assignment. Fans flocked to check out the six-time All-Star play a few games against Single-A competition -- as his older brother, Jake, managed Mauer and the rest of the Kernels. In his four games with Cedar Rapids, Mauer was 6-for-15 (.400) with an RBI.
On Monday, he picked up where he left off with two big hits for the Twins.
"Welcome back to him," Gardenhire said.
Milone makes Twins debut: On the same day Minnesota traded away outfielder Josh Willingham, the acquisition from an earlier trade made his first appearance in a Twins uniform Monday.
Left-hander Tommy Milone pitched six innings and allowed two runs -- both on solo homers -- in his Minnesota debut against the Astros. The Twins acquired him on July 31 in a trade with Oakland that sent outfielder Sam Fuld to the A's in exchange for Milone. The soft-tossing left-hander initially reported to Triple-A Rochester and made one start with the Red Wings before he was called up by the Twins.
Milone, 27, was spotted an early 1-0 lead in the first inning but gave it back when Jose Altuve took him deep for a solo shot. The same thing happened a few innings later. After the Twins regained a 2-1 lead in the fourth, Houston's Chris Carter tagged Milone in the fifth inning for a home run with the bases empty to tie the game again.
Outside of the two solo blasts, though, Milone mostly avoided trouble, scattering eight hits over six innings. He also struck out five and walked three in his debut.
"I don't think he located as well as he normally does, but I thought he changed speeds really well," Gardenhire said. "He moved the ball in and out. He never really gives you too many pitches to take a whack at. I know Carter got one and Altuve got one, but he didn't give you that many pitches that you can really get a good swing at. That's your typical left-hander that's not overpowering but knows how to pitch."
Top prospect Buxton promoted: Twins minor league outfielder Byron Buxton, the organization's best prospects and one of the top players in the minors, has been promoted to Double-A New Britain.
Buxton, 20, was likely slated to start the 2014 season at Double-A, but a wrist injury sidelined him for a while at the beginning of the year. He played in just five official games before July 6, thanks to the injury to his wrist that he reaggravated while playing for High-A Fort Myers.
In 30 games before his promotion to Double-A, Buxton hit .240 with 16 RBI and six stolen bases for the Miracle. Baseball Prospectus ranked him as the No. 1 prospect in baseball prior to 2014 after he hit a combined .334 with 12 homers, 77 RBI and 55 stolen bases in 125 games between Low-A Cedar Rapids and High-A Fort Myers.
FOX Sports North's Marney Gellner contributed to this report.
Follow Tyler Mason on Twitter
---