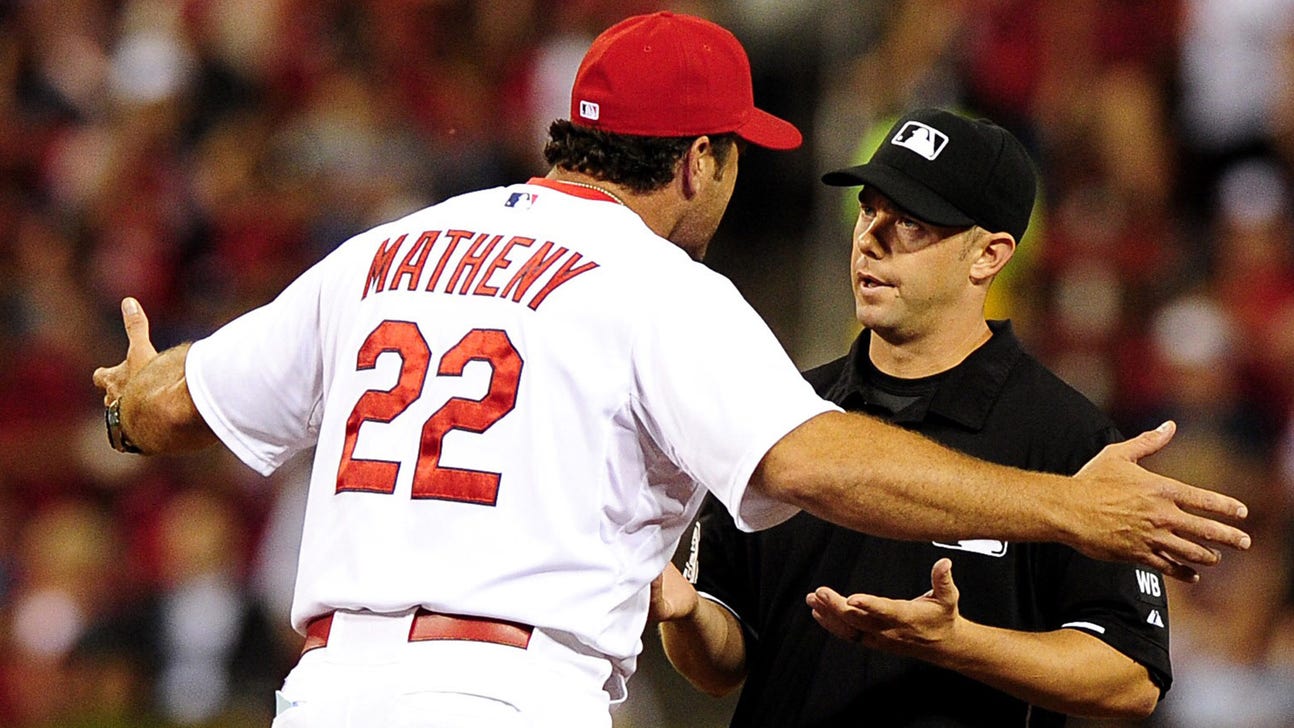 Matheny hot after Cardinals lose 7-4 to Brewers
Published
Aug. 1, 2014 11:38 p.m. ET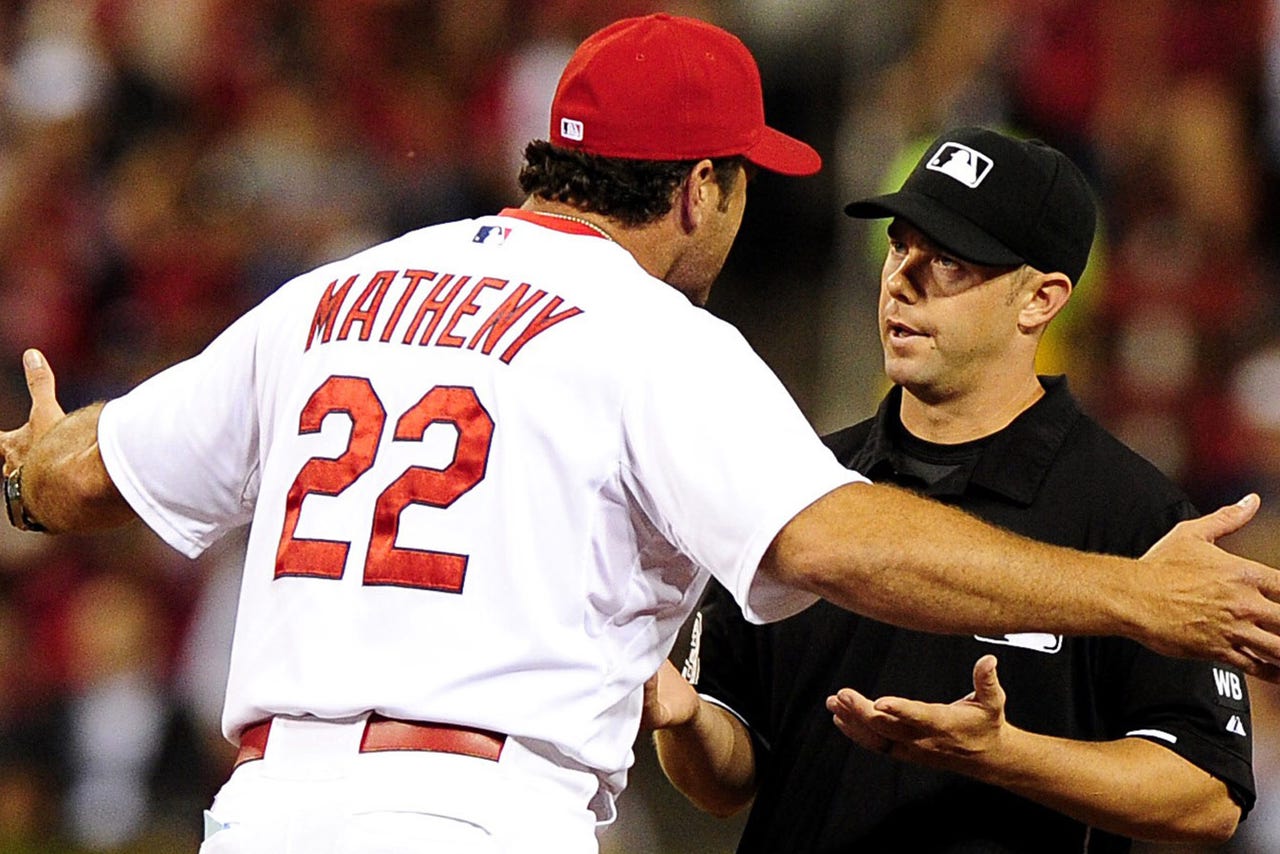 ST. LOUIS -- Missing the last three innings wasn't nearly enough time for Mike Matheny to cool down.
The St. Louis Cardinals manager criticized Major League Baseball's replay system after the team's appeal was denied in the Milwaukee Brewers' four-run sixth inning of a 7-4 loss Friday night.
Matheny, who was ejected later in the inning, maintained the umpires got it wrong and have little patience for arguments.
"It's not the first time that's happened where we've seen something, and sooner or later the system has to allow us to be able to say something," Matheny said. "If they're not going to give me the headset to yell at that guy, it's going to have to be somebody on the field.
"I think we've gotten to the point now where we've taken the emotion out of the game where you can't say anything to these guys without getting tossed out of the game, and I don't think that was the intention of this."
Jean Segura waited for Elian Herrera's bloop hit to drop in shallow center and barely beat the relay to second. The play was ruled safe and upheld after video review. Later in the inning Jonathan Lucroy's three-run double off Adam Wainwright (13-6) put the Brewers up by six runs.
"I saw a perfect replay where he was out at second," Wainwright said. "I know it was close but you've got replays for a reason, right?
"One out and a guy on first is a lot different than first and second and nobody out."
Wily Peralta won his 13th game to tie for the National League lead and Aramis Ramirez had a home run and RBI double off Wainwright. The NL Central leaders are three games ahead of the Cardinals.
The homer by Ramirez leading off the second was the first ever allowed by Wainwright on a 3-0 count.
"After the fact, I probably should have been ready for it," Wainwright said. "He had no reason not to (swing) right there."
Ramirez is a career .415 hitter against Wainwright, the best in the majors against the St. Louis ace, with three homers, eight doubles and eight RBIs.
Matt Carpenter had two hits and three RBIs and Matt Holliday homered for St. Louis, which has lost three of four.
Peralta, Wainwright and the Dodgers' Clayton Kershaw all have 13 wins. Last year, the 25-year-old Peralta was 11-15 with a 4.37 ERA in his first full season in the majors.
Peralta (13-6) allowed two runs and five hits in 6 2-3 innings to win his fourth straight start. He's given up two or fewer runs in all of them, a stretch that began with seven innings of three-hit ball and no earned runs at home against the Cardinals on July 13.
Francisco Rodriguez got the final out for his 32nd save in 36 chances.
ON DECK
Brewers: Kyle Lohse (11-5, 3.07) and Matt Garza (7-7, 3.74) are both being moved up a day to counter the Cardinals slotting their two new acquisitions, Justin Masterson (4-6, 5.51) and John Lackey (11-7, 3.60) on Saturday and Sunday. The Brewers' scheduled Saturday starter, Jimmy Nelson, was scratched due to a blister.
Cardinals: Masterson, acquired from the Indians for prospect James Ramsey, was activated from the 15-day disabled list from right knee inflammation that sidelined him July 8.
TRAINER'S ROOM
Brewers: Second baseman Scooter Gennett was a lineup scratch with a bruised left index finger sustained bunting in early batting practice. He's day to day. Left fielder Khris Davis was taken out due to left calf tightness in the seventh and was replaced by Gerardo Parra.
Cardinals: Lance Lynn gets two extra days' rest after getting bumped by Lackey on Sunday and starts Tuesday against Boston.
WAY OFF FORM
Wainwright entered among the NL leaders with a 1.92 ERA and had pitched at least seven innings in eight of his previous nine starts. He has allowed seven runs twice this season, both at home, lasting just 4 1/3 innings in a loss to the Giants on May 30.
DUCKS ON POND
The Brewers loaded the bases three times against Wainwright, finally cashing in on Lucroy's three-run double. Herrera was doubled off first after Peralta lined out to short to end the second.
---