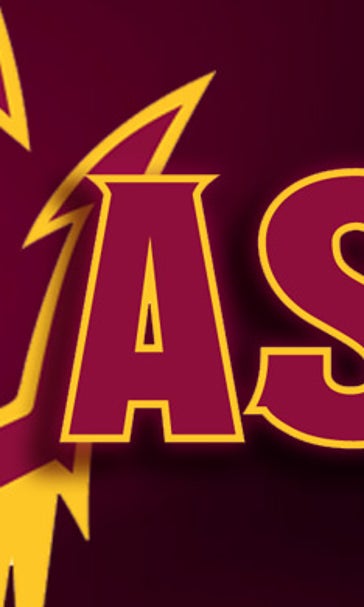 Martinez, Stankiewicz Lead ASU baseball past UNLV
BY foxsports • May 14, 2014
LAS VEGAS -- The Arizona State baseball team defeated UNLV 9-5 on Tuesday at Earl E. Wilson Stadium in Las Vegas behind six strong innings from freshman right-hander Seth Martinez and a career night at the plate for shortstop Drew Stankiewicz.
Martinez (4-0) earned his fourth win of the season and second in the team's past two midweek games. He allowed just one run on three hits and a walk through the first six innings before he was chased with two outs in the bottom of the seventh.
Stankiewicz drove in a career-high three runs on three hits, tied for his career high, and has tallied at least a pair of hits in four straight games. Second baseman Tucker Esmay scored a career-high three runs and added a pair of hits, and right fielder Trever Allen went 3-for-5 with a RBI and a run scored.
ASU held a two-run lead through the first three innings before it added two runs in the fourth, two in the sixth and two in the seventh for a commanding 9-1 lead. The Sun Devils (27-21) tallied double-digit hits for the third straight game and scored double-digit runs for the sixth time this season.
The Rebels (30-21) scored four in the bottom of the seventh, but right-hander Jordan Aboites tossed a scoreless eighth and fellow right-hander Ryan Burr punctuated a perfect ninth inning with a swinging strikeout to close out the win.
The Devils struck first with a pair of unearned runs in the top of the second inning, but UNLV countered with a run of their own in the bottom half to make it 2-1 in favor of ASU. Allen singled and third baseman Dalton DiNatale walked, and after a double steal moved them both into scoring position, a throwing error by Rebels shortstop Matt McCallister on a groundball from Esmay plated the two runners.
Stankiewicz took a leadoff walk in the third inning and scored four batters later on a RBI single by Allen to put ASU back ahead by a pair, 3-1.
ASU plated six runs over the next four innings to stretch its lead to eight. Stankiewicz knocked a run-scoring double down the right-field line in the fourth and designated hitter RJ Ybarra added a sacrifice fly to center field to extend the Devils' advantage, 5-1. A RBI single by left fielder Jake Peevyhouse and a wild pitch brought home two more runs for ASU in the sixth, and a two-out, two-run single by Stankiewicz in the seventh made it 9-1 in favor of the Devils.
UNLV notched three runs with two outs in the bottom of the seventh to chase Martinez and added one more off right-handed reliever Eric Melbostad to cut their deficit to four, 9-5. Martinez surrendered a trio of runs on three hits and a walk in the frame.
UNLV starting right-hander Cody Roper (1-2) took his first loss of the season after he conceded three runs, including one earned, on three hits and three walks.
---