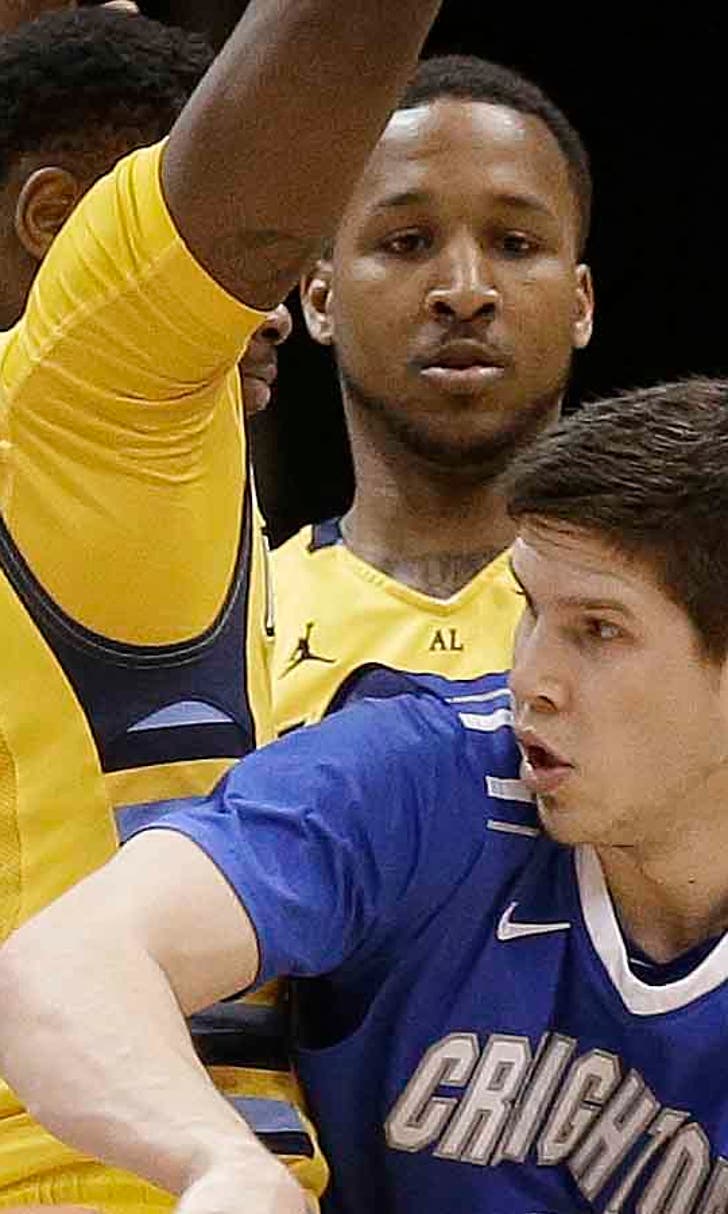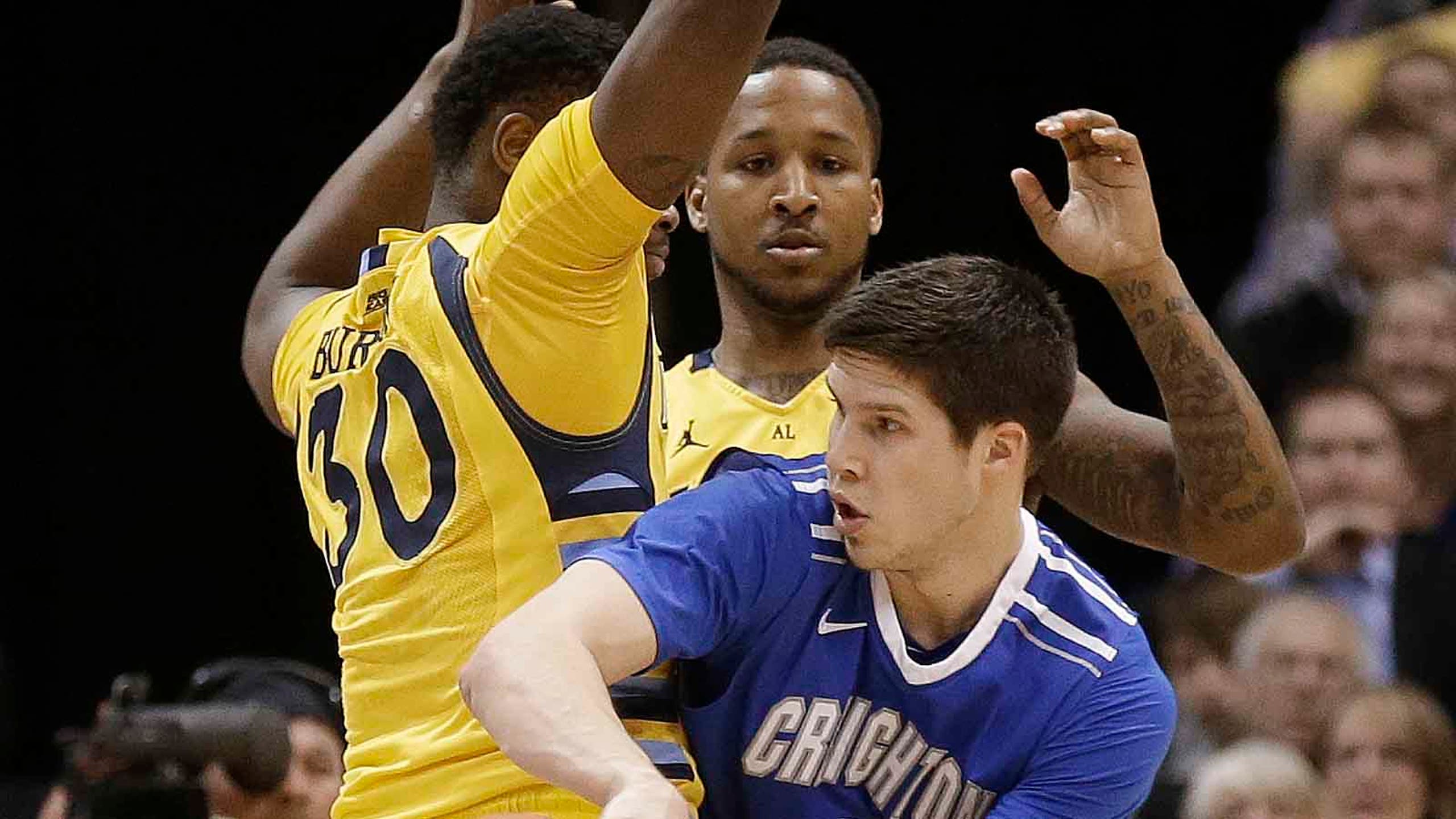 Marquette misses opportunity vs. talented Creighton squad
BY foxsports • February 20, 2014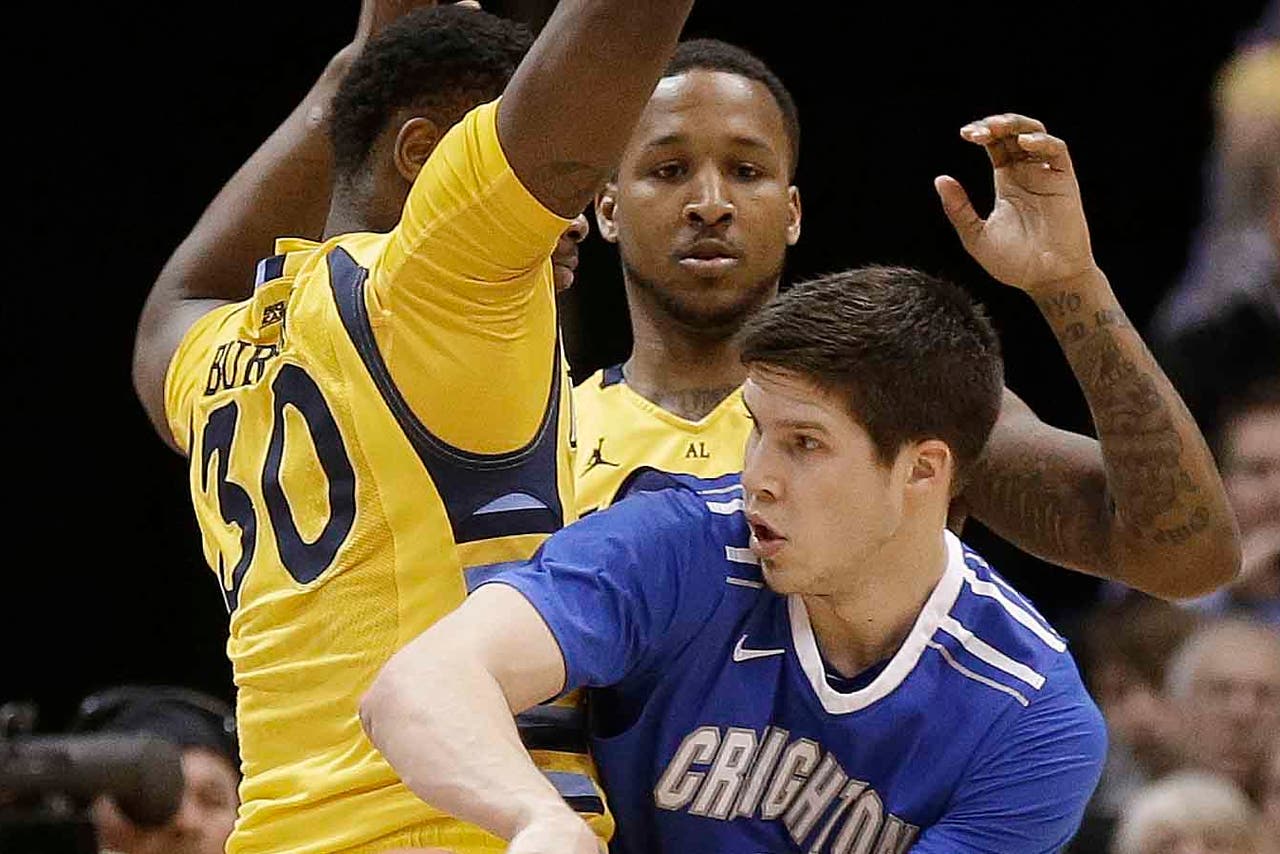 MILWAUKEE -- The chances for resume-changing wins are slowly dwindling for Marquette, meaning potential paths to the NCAA tournament are shrinking.
Needing to win Tuesday night in order to start seriously talking about an at-large bid, the Golden Eagles found out a team ranked in the top 10 of the RPI was simply better than them.
Creighton (22-4, 12-2 Big East) put its potent offense on display in an 85-70 victory over Marquette at the BMO Harris Bradley Center, snapping the Golden Eagles' three-game winning streak and keeping them without a signature victory.
"They are really talented offensively," Marquette coach Buzz Williams said. "They spread you out, they put you in a lot of positions where you have to pick your poison, whatever that may be.
"We tried a lot of different things (defensively) and weren't really successful with many. That's really good offense and subpar defense as it relates to us giving ourselves a chance to win."
This wasn't the same way Marquette lost to Butler or St. John's. The effort was there and quite frankly, the Golden Eagles (15-11, 7-6) didn't play all that bad. Sure, the defense was lacking in stretches, but Creighton's offensive attack is as powerful as there is in the country.
National player of the year favorite Doug McDermott displayed why he's a potential NBA lottery pick, controlling the game in a variety of ways. With Marquette making catches tough on the senior during the first half, McDermott made all the right passes to find teammates for open looks from beyond the arc.
When Creighton gets open looks from deep, it hits them. Ethan Wragge hit four 3-pointers early, as the Bluejays started 6-of-8 from distance.
"It was probably the most difficult in quite some time," Creighton coach Greg McDermott said of Marquette making catches hard on Doug McDermott in the first half. "But by doing that, a guy like Ethan Wragge is going to get looks. When they are on the same side of the floor you really have a choice."
The elder McDermott said his team was "scared to death" about playing Marquette in the Bradley Center on Tuesday night, saying the Golden Eagles played with a different level of confidence and intensity from the team's first meeting on New Year's Eve.
But it still wasn't good enough.
"I think how we've been the last four games, win or lose, I'm pleased with how we are working in the game," Marquette coach Buzz Williams said. "More so I'm pleased with how we're working leading up to the game which is why I think we're playing better in the game."
McDermott showed the versatility of his game in the second half, taking over offensively after Marquette cut it to 64-59 with 7:27 to play. The nation's leading scorer drilled a tough, NBA-range 3-pointer with the shot clock expiring and took the ball to the hoop and finished on Creighton's next possession.
He finished with 17 of his game-high 25 points in the second half, moving him past Tyler Hansbrough and Elvin Hayes for 11th on the NCAA Division I scoring list at 2,888 points.
"I had to take what the defense gave me," Doug McDermott said. "They were physical, making it tough for me. I thought I forced a couple early that were probably bad shots. Kind of just relaxed, and in the second half really just let the game come to me, and was able to get good shots."
At halftime, Greg McDermott told his son to get into the post more in the second half, especially with how tightly the game was being officiated. But it was his constant movement that created the most issues for Marquette.
"He's probably the most active player in NCAA basketball," Marquette guard Derrick Wilson said. "That's why he gets so many open shots. If he doesn't get the ball in the post he's popping, he's slipping, he's just constantly moving. That's hard to guard, especially at his height and size."
The Golden Eagles also had to overcome another gigantic differential in points generated from beyond the arc. Creighton, the best 3-point shooting team in the NCAA at 42.2 percent, had 12 made triples to Marquette's two.
Add in the fact Marquette missed 16 free throws and it's easy to see where the game was lost. As Williams said, teams can't win trading 2-point shots for 3-point shots.
"I feel different after losing to Creighton than I did after our last loss against St. John's," Williams said. "I thought our guys competed. I thought our guys played and gave great effort. Creighton is great.
"How we responded to the St. John's led us to this moment in time. How will we respond to this loss? We'll see, but we need to have the same response or slightly better?"
Wilson feels the Golden Eagles will respond positively, even though it might be too late to make a ninth-consecutive NCAA tournament without winning the Big East tournament.
"I think our team is pretty confidence right now," Wilson said. "We had a tough loss today but I don't think it's going to put us in a setback.
"We just have to continue to work. Today wasn't our day. They were the better team today."
Follow Andrew Gruman on Twitter
---