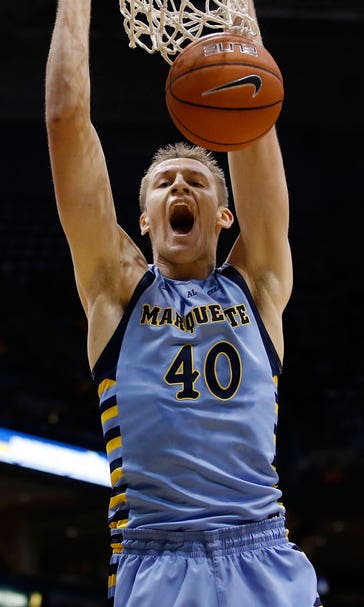 Marquette falls to No. 7 Xavier despite fast start
BY foxsports • January 16, 2016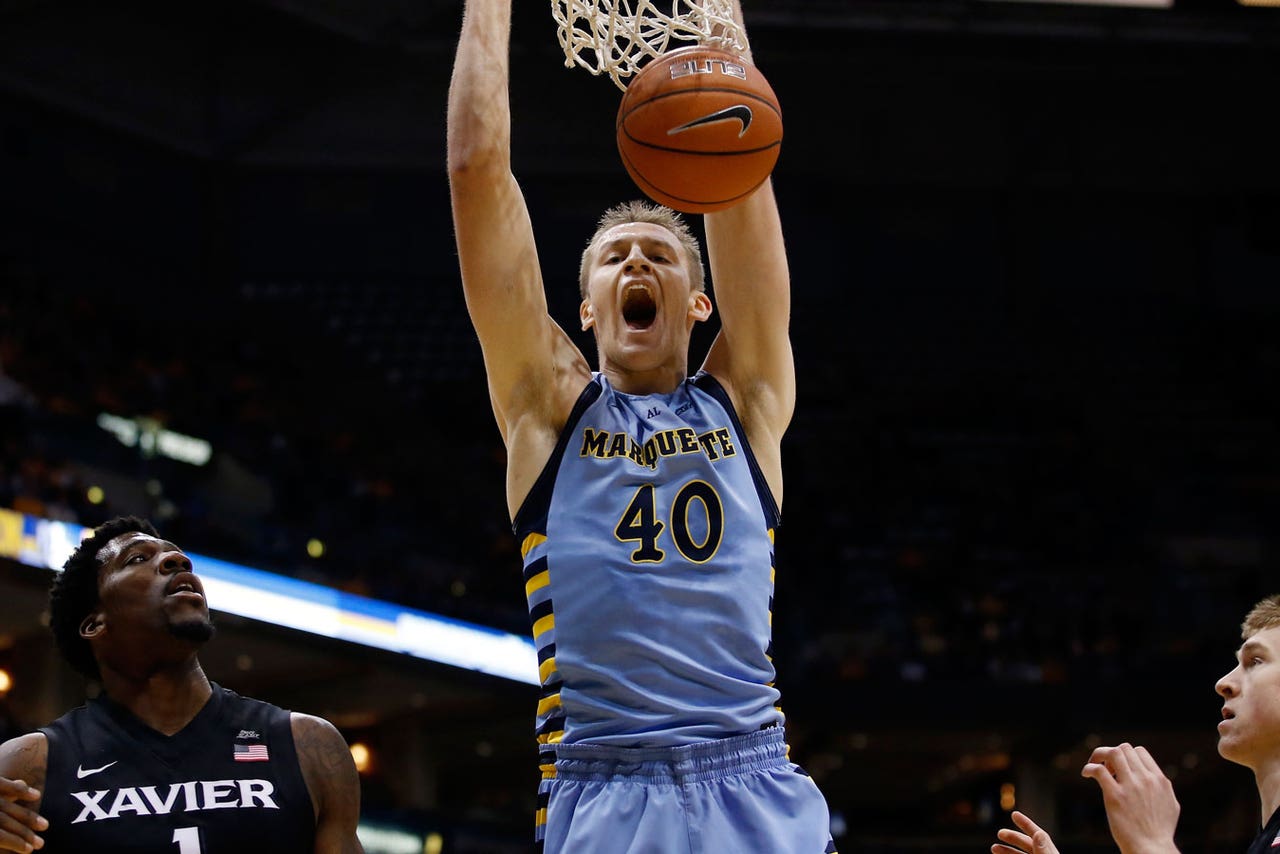 MILWAUKEE -- After a hot start by Marquette, Xavier coach Chris Mack opted to switch to a zone defense.
The decision quickly changed the course of the game, with the stifling 1-3-1 zone holding Marquette scoreless for more than 8 minutes and sparking the Musketeers on a 21-0 run.
"The game really swung when we went to our zone defense," Mack said. "It built us the lead and it caused hesitation on their part."
Trevon Bluiett had 18 points and No. 7 Xavier (16-1, 4-1 Big East) rode the big first-half run to seize control on the way to a 74-66 victory on Saturday.
Marquette coach Steve Wojciechowski admitted the "unusual defense" created problems for his team.
"It is not a defense you see too much," he said. "It is definitely not a defense you see with the personnel they have. They are big and long. That defense. We had some open looks but in order to beat good teams you have to hit them."
Marquette's Henry Ellenson said the team settled for too many one-pass jump shots against the zone.
"I thought we got stagnant," he said.
James Farr had 16 points and a career-high 19 rebounds and Edmond Sumner, returning from a concussion, added 15 points for Xavier.
Ellenson led Marquette with 20 points while Jujuan Johnson added 13 and Luke Fischer 11.
Xavier led by as many as 16 points in the second half.
The cold-shooting Golden Eagles shot a season-low 34.3 percent.
Marquette (12-6, 2-4) got off to strong start, with Fischer scoring the team's first six points. The Golden Eagles built an early 15-6 lead, with Fischer and Ellenson accounting for a combined 13 points.
Marquette then went ice cold against Xavier's zone as the Musketeers built a 32-18 lead.
The teams will meet in Cincinnati on Feb. 6.
TIP-INS
Xavier: Sumner, a redshirt freshman point guard, returned after missing three games with a concussion. He was injured in a scary spill in the opening minutes of a loss at Villanova on Dec. 31. He was taken off the court on a stretcher and transported to a hospital. ... Bluiett has scored in double figures in 16 of Xavier's 17 games.
Marquette: Ellenson showed up at a postgame media session with an ice pack on his shin. "I have a little bruise there," Ellenson said. "I'll be good." ... Johnson returned after missing Wednesday's game at Villanova with a neck injury. The injury occurred late in the first half of a Jan. 9 game against St. John's when Johnson fell and struck his head on the court while driving to the basket. ... Marquette began a stretch of four of five games at home.
TECHNICALLY SPEAKING
A double technical foul was assessed to Marquette's Duane Wilson and Xavier's Jalen Reynolds midway through the first half. Wilson fell to the court under his own basket while holding his head. As play continued at the other end of the court, Wilson got to his feet and sprinted directly at Reynolds.
UGLY STRETCHES
Marquette had a stretch where it made just two of 17 shots as Xavier built a double-digit lead. For the game, the Golden Eagles made just 24 of 70 shots, a season low, including a woeful 4 for 25 from 3-point range. "We may not be that good of a shooting team," Wojciechowski said. "We have to figure out ways to win when we are not making shots."
Xavier had shooting troubles of its own, making just 3 of 16 shots during an 11-minute stretch in the second half that allowed Marquette to stay within reach.
THE OTHER ELLENSON
Wally Ellenson, the older brother of highly touted Henry Ellenson, had a strong game for Marquette, scoring nine points and grabbing eight rebounds, both career highs. "Wally is one of our most consistent players. He brings it off the bench every night," Henry Ellenson said.
WALK-ON GETS SCHOLARSHIP
Marquette awarded senior walk-on guard Michael Mache a full scholarship. "He provides unbelievable enthusiasm behind the scenes for us," Wojciechowski said. "I would hope that everybody during my time at Marquette would have his approach not only to basketball but to life."
UP NEXT
Xavier hosts Georgetown on Tuesday.
Marquette hosts DePaul on Wednesday.
---