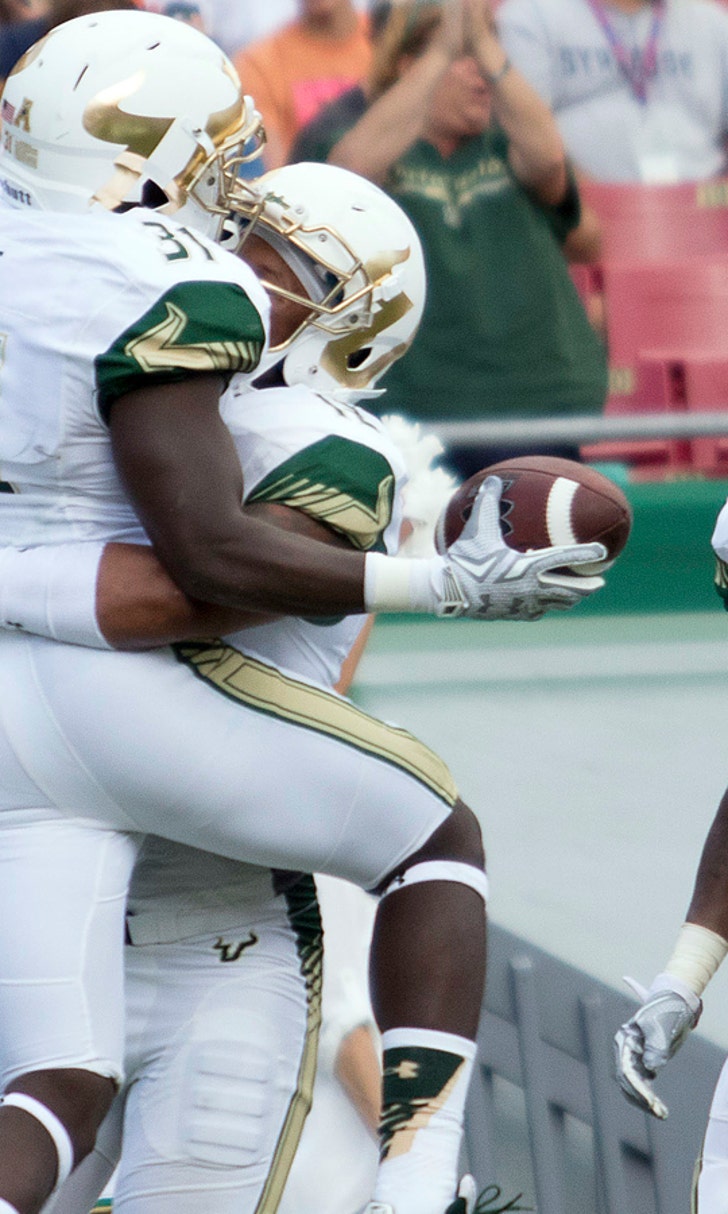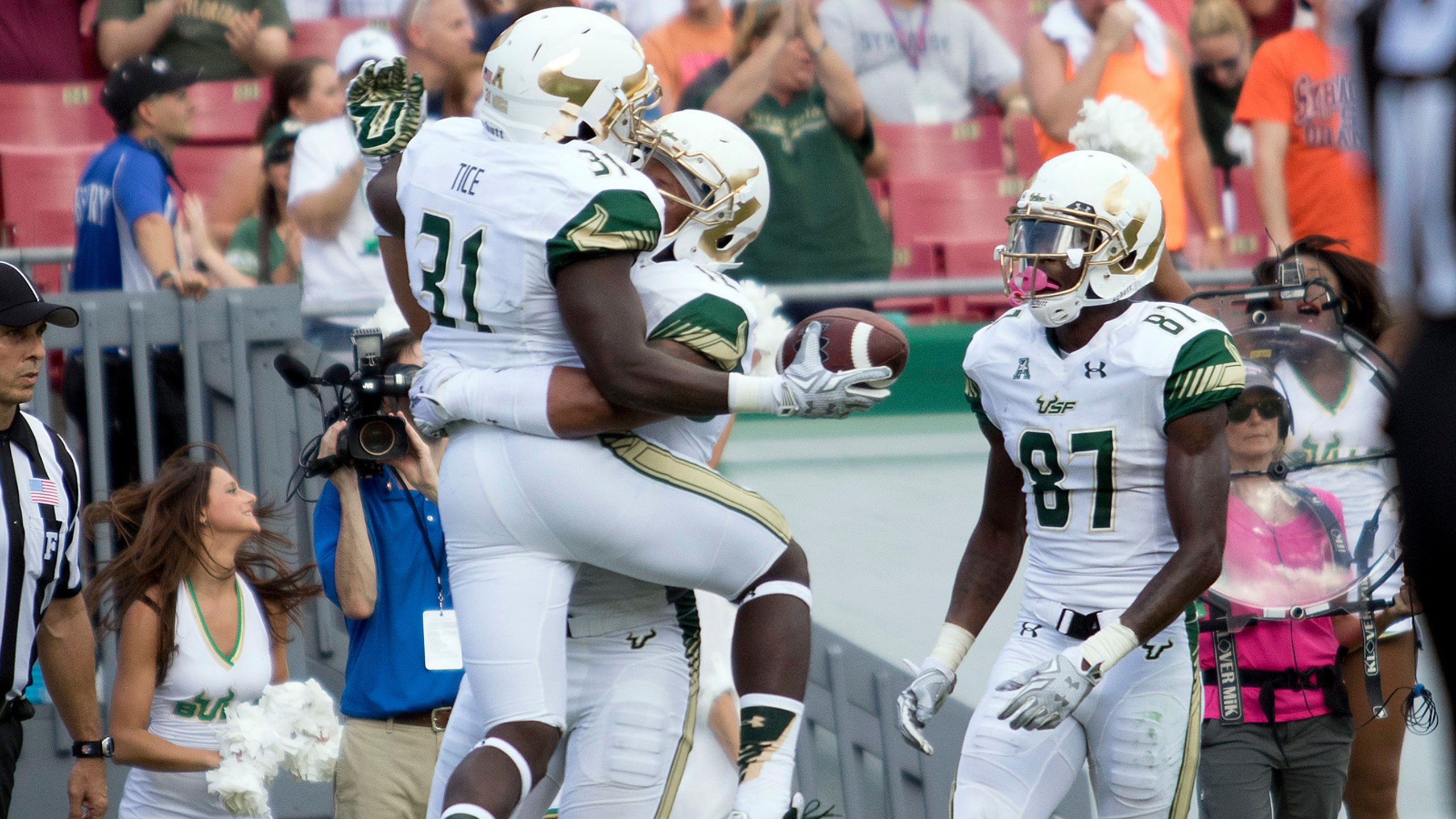 Marlon Mack, Quinton Flowers power USF past visiting Syracuse
BY foxsports • October 10, 2015
TAMPA, Fla. (AP) -- South Florida finally has a victory that suggests the Bulls are headed in the right direction under coach Willie Taggart.
Marlon Mack rushed for 184 yards and a pair of second-half touchdowns Saturday to help USF (2-3) stop a three-game losing streak with a 45-24 rout of Syracuse.
The win over a Power Five conference opponent may not necessarily ensure Taggart's future. But it is a start for a program that's fallen on hard times since rising as high as No. 2 in the nation during the 2007 season.
"What a win. Great win," the third-year coach said. "So proud of our pups. Big step in growing up."
Mack, last year's American Athletic Conference rushing leader as a freshman, scored on bursts of 25 and 45 yards, while averaging 9.2 yards per carry.
Sophomore Quinton Flowers threw for a career-best 253 yards and two TDs, and the dual-threat quarterback also scored on a 2-yard run that put the game out of reach in the fourth quarter.
"It feels really good to get a win for Coach T," Flowers said. "I feel like I grew up a lot."
USF (2-3) stopped a skid that included losses to Florida State and Maryland on the road, and Memphis at home in the team's conference opener.
Syracuse (3-2) lost for the second straight time after matching its victory for all of last year in the first three weeks of the season. The Orange are the first Atlantic Coast Conference team to lose to USF since Clemson did so in 2010 Meineke Car Care Bowl.
"It's great to have some success. (Now) we need to have consistent success," Taggart, 8-21 in three seasons at USF, said.
Flowers completed 15 of 22 passes, including TD throws of 14 yards to Rodney Adams and 42 yards to Ryeshene Bronson on a flea-flicker that began with a handoff to Mack, who pitched the ball to Adams before the receiver lateraled back to Flowers. The quarterback's 2-yard scoring run finished a 15-play, 82-yard drive the Bulls put together to extend their lead to 38-24 with just under 10 minutes to go.
Eric Dungey was 21 of 34 for 232 yards and two TDs for Syracuse. But the freshman returning from an injury also threw his first interception of the season and lost a fourth-quarter fumble.
"He was rusty early. ... I thought he calmed down in the second half. He started looking like himself," Orange offensive coordinator Tim Lester said.
"That's going to happen when you have a freshman guy in there. He's going to have good quarters and bad," Lester added. "We've just got to try to keep him leveled out. But I thought he did a good job in the second half bringing us back."
Dungey returned to Syracuse's lineup after sitting out a 34-24 loss to LSU two weeks ago because of a head injury. The freshman tossed touchdown passes of 30 yards to Jordan Fredericks and 7 yards to Steve Ishmael.
The Orange entered Saturday as one of seven FBS teams that had yet to lose a fumble this season. Their streak ended late in the second quarter on a fluke play in which a USF punt bounced off a Syracuse player who was trying to get into a position to block. Devin Abraham recovered for USF, setting up Emilio Nadleman's 21-yard field goal as time expired in the half.
A pair of touchdowns in the first 5:07 of the third quarter put USF up 24-3, but the Bulls didn't have an easy time closing out the Orange before a homecoming crowd of 27,237 that looked a lot smaller than the announced attendance.
Syracuse twice pulled within seven points, the last time on Dungey's TD pass to Steve Ishmael on the first play of the fourth quarter. Both times the Orange drew close, though, USF's offense responded with long scoring drives to remain in control.
Dungey, who rushed for a team-leading 31 yards, scored on 7-yard run in the third quarter. Less than a minute later, Mack's 45-yard TD run finished a three-play, 75-yard drive that restored a two-touchdown lead.
Syracuse finished with 305 yards total offense, but was limited to 73 rushing. Elusive H-back Ervin Phillips, who played after missing time with a knee injury, gained 21 yards on three carries and had five receptions for 75 yards.
"We just didn't come to execute like we usually do, and they came out and punched us in the mouth," Fredericks said.
"Most people say we're a second-half team," Syracuse's freshman running back added, "but I just say that we should start from the first quarter ... and play like we know we should play."
---
---