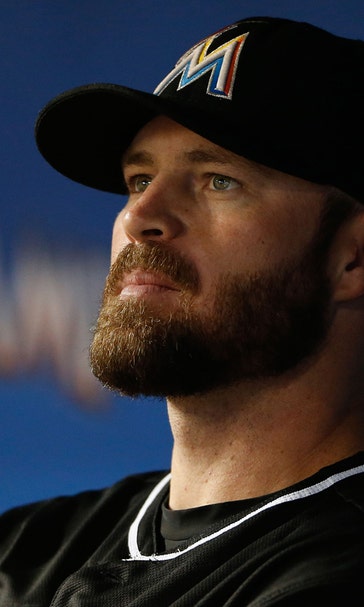 Marlins notes: Dunn helps Miami set new record with nine straight hits
July 12, 2015

MIAMI -- Miami Marlins left-handed reliever Mike Dunn has accumulated nearly two dozen bats since each player gets six of them a year. For a guy out of the bullpen, they typically go unused.
But during Saturday's eight-run seventh inning against the Cincinnati Reds, Dunn singled up the middle off Pedro Villarreal for his first big-league hit. Miami set a new club record with nine straight hits on his swing. He entered hitless in four at-bats, the last of which came in 2012.
"It was awesome," Dunn said. "I've had a few at-bats in the past before and I've been on base before just by errors. It was nice to get the first one out of the way. I don't really care if it ends up being the last one. If I end (my career) 1 of 5 hitting .200, this year if I hit 1.000, I'm good with that."
The last time he swung a bat was during the first two days of spring training when all pitchers bunted off a machine. He also took a round of batting practice. Dunn prefers not to hit, but in that situation he wasn't "scared to get in the box. I can handle a bat. I'm OK with it. It doesn't bother me."
Dunn, who was selected as an outfielder by the New York Yankees in the 33rd round of the 2004 draft, connected on a 93 mph fastball on a 0-1 pitch.
"I knew he was a sinkerball pitcher," Dunn said. "I was hoping to get something up in the zone. They called the first one a strike and I was like, 'All right. I thought it was down.' The next one was a little bit higher, so I swung. It's simple. I wasn't trying to do too much. I was just trying to put the ball in play. That was my goal."
IMPROVISING THE DEFENSE
It seems likely that Martin Prado will be reinstated from the disabled list when the Marlins open the second half on Friday in Philadelphia.
According to president of baseball operations Michael Hill, Prado will go to Jupiter for additional rehab starts during the All-Star break to test out his right shoulder. He went 3 for 8 as the designated hitter in two starts earlier this week for the Hammerheads. He has been on the DL retroactive to June 15.
With Dee Gordon sidelined with a dislocated left thumb, will the Marlins put Prado at second base and utilize Casey McGehee at third? Prado has appeared in 262 of his 1,076 major-league games at second. Funny enough, the trade for Prado over the offseason made McGehee expendable as the Marlins dealt him to the San Francisco Giants shortly thereafter.
"We're going to wait and see," Hill said. "Obviously he was an All-Star second baseman (in 2010) and he is versatile. We didn't trade for him to be a second baseman, but that was before Dee was hurt. We just signed Casey, so that's something we'll look at and talk with (infield coach) Perry (Hill) and (manager Dan Jennings). With Dee out of the lineup you want to put your best eight on the field. If it means Martin at second and Casey at third they're both tremendous team players and will do whatever's necessary to help the team."
STANTON UPDATE
There isn't a timetable for All-Star slugger Giancarlo Stanton, who underwent surgery on his left hamate fracture two weeks ago, mainly because he hasn't gripped a bat yet. It usually calls for 4 to 6 weeks of recovery time.
"The sutures will come out here in the next few days and they've already started the range of motion exercises with him," Hill said. "As soon as he can grip the bat he'll grip it. There's no timeline until we can get a bat in his hand. He's healing and the sutures will come out and obviously we'll try to ramp him up as quickly as possible and get him back in there."
As for the amount of rehab starts he'll need to get his swing back, Hill said it'll be up to Stanton.
"He'll have to swing a bat," Hill said. "That's probably the most important thing. We'll defer to him as to how much he thinks he needs to have his eye back and feel comfortable in the batter's box. What's obviously most important is the ability to grip the bat and swing the bat pain-free."
You can follow Christina De Nicola on Twitter @CDeNicola13 or email her at cdenicola13@gmail.com.
---
---