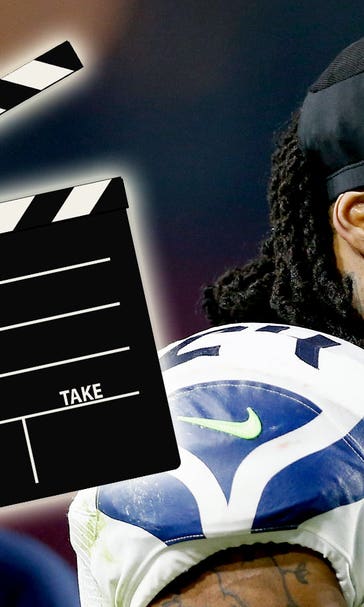 It's a sad time in the NFL.
Not because of the suspensions that came down last week or because of Jason Pierre-Paul's unfortunate fireworks calamity. No, the world is pouring one out today for Marshawn Lynch's movie. Apparently, the biopic titled "Family First: The Marshawn Lynch Story," was so bad that the Seahawks running back doesn't want it released.
You can find the trailer here if you're curious.
Anyway, just because Beast Mode ran into some tough luck, that doesn't mean there isn't box office gold around the NFL. So, here is this week's topic: Give me a compelling movie title for another NFL player. I'm going to pretend to be a a studio head and judge your submissions.
Let's get to work!
MP,
I only wish it was Ricky Jean-Francois instead of Harrison Ford in "Indiana Jones and the Kingdom of the Crystal Skull."
It wasn't the fact that the movie was bad that tore at my soul. There are dozens of subpar movies released each year (Come on, Hollywood, get it together. You're hitting way below the Mendoza Line at this point). But I had anticipated a fourth Indiana Jones movie for so many years and I was just ... so disappointed by the final result.
At least if they had recast the lead role with Ricky Jean-Francois, I could have just chalked up the movie's failure to that. It's like when Treat Williams took over "The Substitute" franchise. It made me happy I didn't have to watch Tom Berenger struggle through a bad movie.
Scott,
You mean a historical drama of how the Colts went from the Peyton Manning Era and fell ass-backwards into Andrew Luck?
Forget it. Every movie needs someone to root for and the other 31 NFL teams and their fanbases would agree there are no heroes here. I'm going to pass on this one.
Keith,
Sorry, I'm sure that Joique Bell has a fascinating story that would make a smashing film. But, as soon I as I read "For Whom the Bell Tolls," my mind immediately went to the Metallica song.
And it makes me want to listen to it. Enjoy this epic live performance:
Unbox,
I like it! Seems to me a like a character study -- that's a thing, right? -- about a tortured man who can't get over a moment when he almost had glory in his hands, only to see it ripped away at the last second by some thieving brigand.
Greenlight this puppy. And grab your popcorn. This one could get dark like "Magnolia."
Mike,
LOVE IT! Some movies scream Oscar contender just from the title and this one has that kind of cache is spades. This would have everything: from triumph to tragedy and back to triumph. It would need the right actor to make it sing, but I'm sure we could find one. I live in Los Angeles and they're all over the place
The public would shed tears just from the trailer. Get this made. Now.
Paul,
Uhhhh ....
... huh? what? My apologies, I just got so sleepy. Unrealistic plot, bad location and unless there's cameo from Prince, what's the point?
Hard pass on this.
Sean,
Seems like a movie that wouldn't live up to the book.
Adam,
Dude, that's a TV show. A TV show that wouldn't last two seasons.
Screech,
Take it away, monkey:
Come on, Screech Diddy. That's way too soon. And I thought I told you to change your Twitter avatar. Booo, dude. Boooo.
LA Rams,
You, my friend, have got "it." I'm fast-tracking this one as a comedy. I'm seeing Channing Tatum as Bradford and Joe Manganiello as Jeff Fisher. We can grab the NFL and "Magic Mike" markets in one swoop.
It's gold. GOLD!
Right,
We already have a movie like that in "Rudy." But whatever, there's always room for another inspirational story. I'll allow this one.
OK, the pressure of being a studio head has tuckered me out. Let's move onto something else before we end the fun for this week.
SID'S MISTAKE
This week, I published my list of the top 10 running backs in the NFL. I asked you dear readers for some feedback and I thought I'd share.
Evan,
Evan, you bring up a good point. I went back and forth on whether to include Alfred Morris on this list and I went with Jeremy Hill instead. I was really impressed with the latter's upside and really think he can be great in this league.
Perhaps I was skeeved out by the state of the Redskins offense -- particularly, their quarterback situation. But, I shouldn't have been. Morris has eclipsed 1,000 yards rushing in each of his three seasons in the NFL and has never missed a game. That can't be denied.
Consider this my mea culpa.
Gentlemen,
Thanks for the unbiased opinion. There's no chance you're a Seahawks fan, is there?
Yep, just like I thought. By the way, how was Belgium? I heard the sights and the beer are to die for ...
Wolf,
Psssh, that wasn't me. I don't know who that was .... cough, James Parziale, cough.
Brian,
What do you mean? I'm not unsure of myself! Why are you attacking me! I'm not getting defensive! Aauuuuugh!!!
Alrighty! I'm going back into my cave and reconsider my ranking strategies and find some self-confidence. See you next week!
---