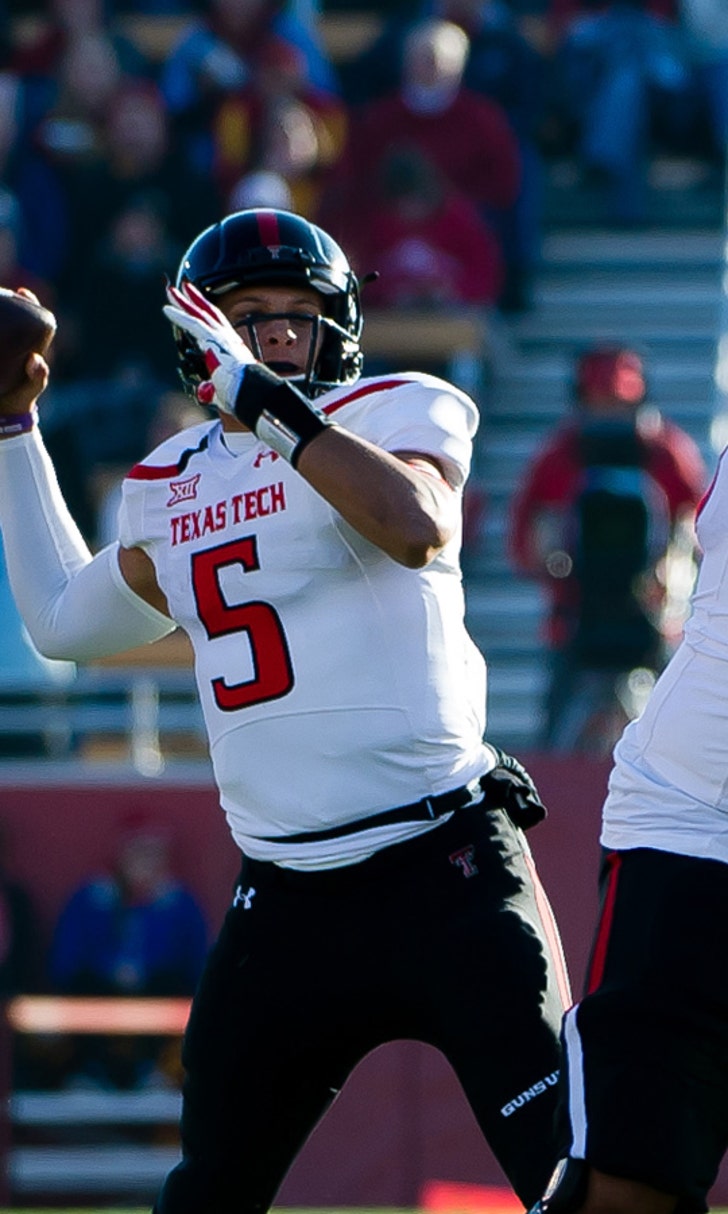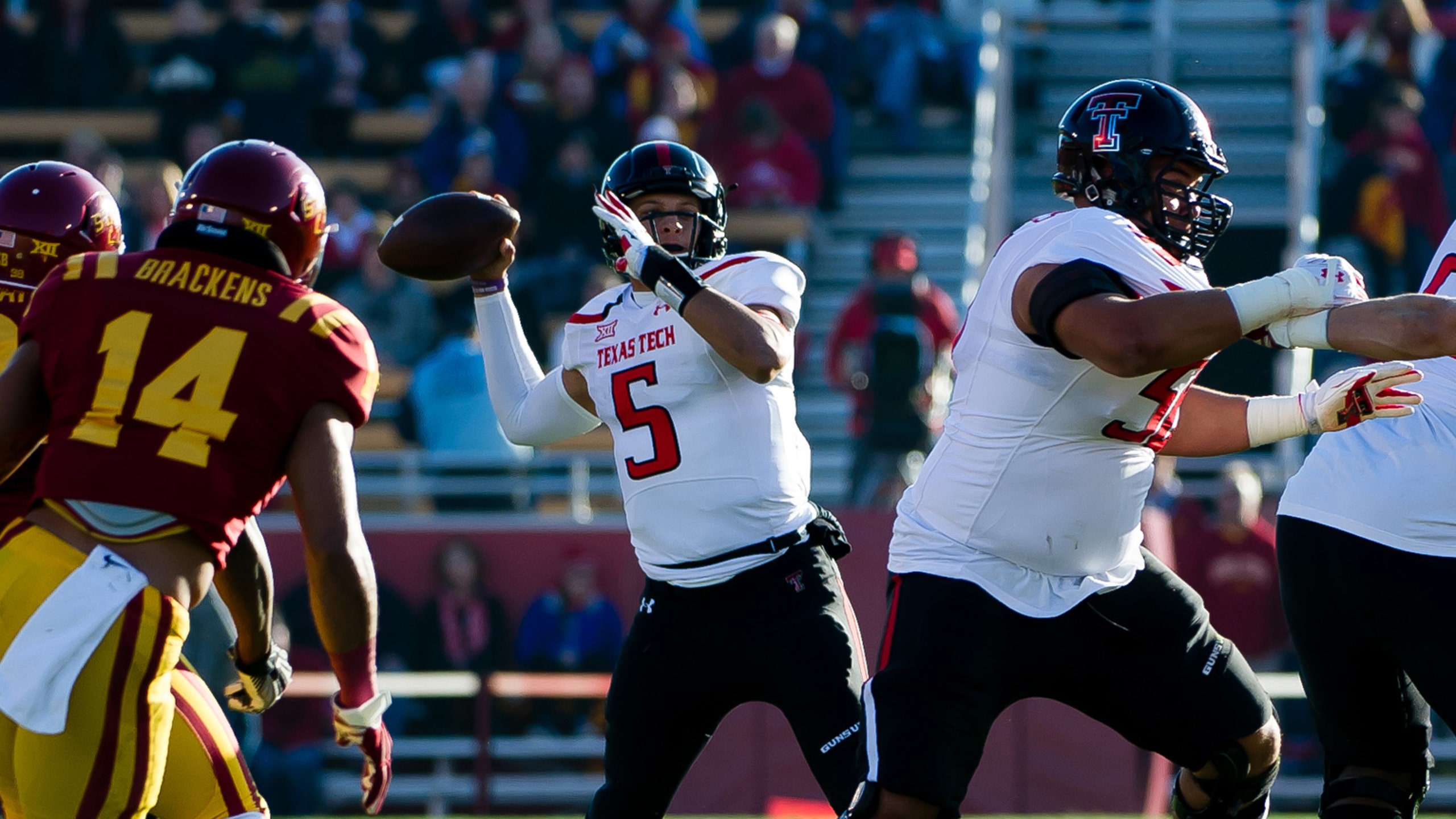 Mahomes leads Texas Tech past Iowa State
BY foxsports • November 22, 2014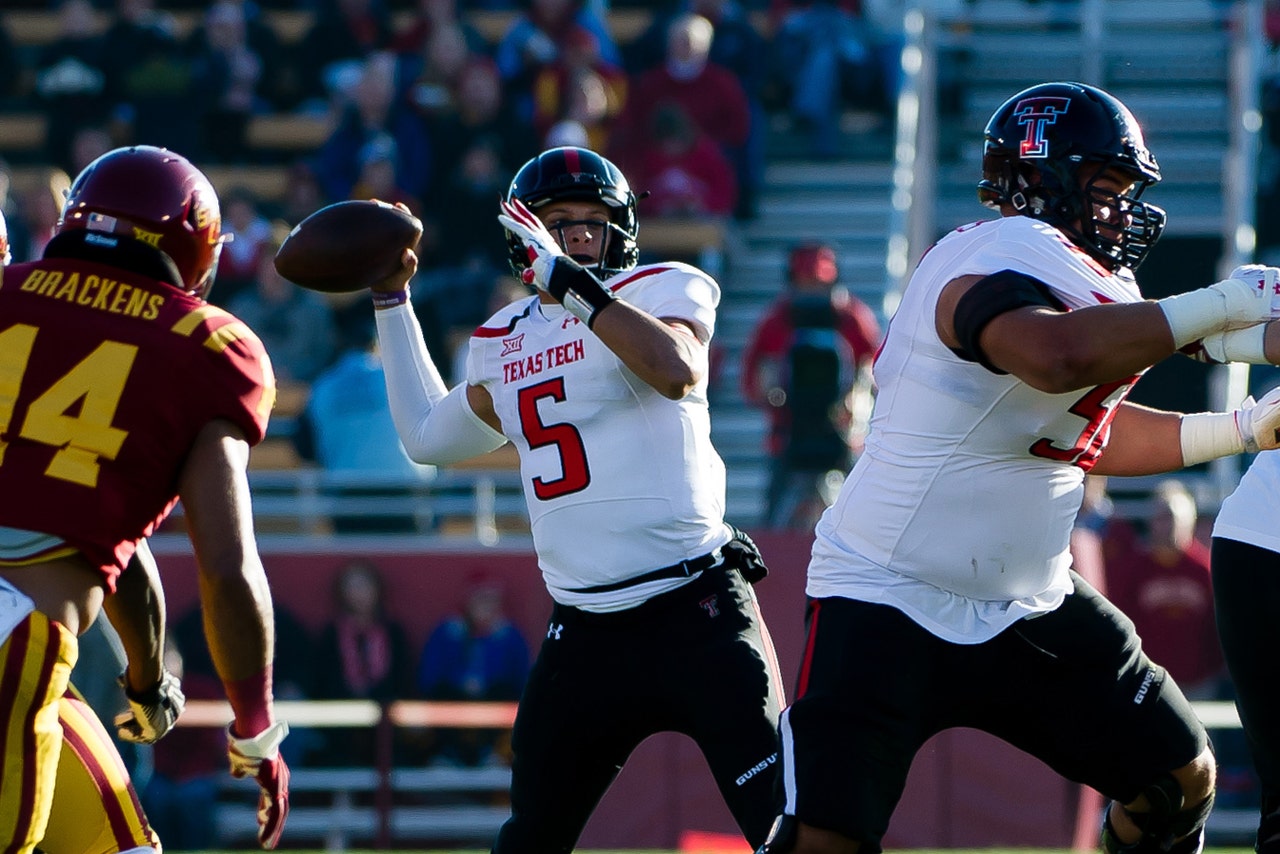 AMES, Iowa (AP) -- Texas Tech needed one more drive, one more big play to finish things off and break a three-game losing streak.
Patrick Mahomes, Kenny Williams and the rest of the offense got it done
Mahomes, a freshman, took the Red Raiders on a game-winning 75-yard fourth-quarter drive, which he finished with a 44-yard touchdown pass to Williams that lifted Tech to a 34-31 victory over Iowa State on Saturday.
"He's got a lot of competitive spirit," said Tech coach Kliff Kingsbury, himself a former Red Raiders quarterback. "He always thinks he's going to win and he thinks he's the best player every time he goes out there."
Mahomes finished with 328 passing yards and four touchdowns, including an 82-yarder to Devin Lauderdale that put Tech up 27-24 late in the third quarter. It was the longest play of the season for the Red Raiders (4-7, 2-6 Big 12).
Iowa State (2-8, 0-7) led 31-27 on Aaron Wimberly's 3-yard touchdown run early the fourth quarter, but missed a chance to extend the lead when Cole Netten's 42-yard field goal attempt hooked left.
Tech then marched 75 yards in seven plays for the game-winner, which came when Mahomes found Williams all alone in the right flat and the 228-pounder rambled untouched to the end zone with 4:07 left.
"Patrick has been showing up and ... has been stepping up as a leader even though he is young," Lauderdale said. "We have been getting closer and closer every day. We have been working on our timing and he tells me what he likes and what he doesn't like."
Iowa State (2-7, 0-7) drove into Tech territory after Williams' touchdown but gave up the ball on downs when quarterback Sam Richardson was stopped just short of converting at the Red Raiders' 31.
"We had a chance to close it out and couldn't get it done," Iowa State coach Paul Rhoads said. "That's offense and defense. One more drive, one more stop -- we couldn't get it."
It was a back-and-forth game and that came as no surprise, given that the league's two worst defenses were on the field.
Tech's DeAndre Washington rushed for a career-high 181 yards in 18 carries and scored on a 72-yard run, the longest of his career. He also turned a screen pass from Mahomes into a 26-yard touchdown on Tech's first possession.
Mahomes, who started for the third straight game in place of the injured Davis Webb (ankle), completed 23 of 35 passes with one interception. His other TD pass was a 13-yarder to Lauderdale after the Red Raiders fooled the Cyclones with a fake punt.
On fourth-and-4 from Tech's 42, the snap went to Williams and he bolted straight up the middle for 44 yards through the surprised defense. Mahomes rolled right on the next play and found Lauderdale in the back of the end zone for a touchdown and the Red Raiders had the momentum after that.
"We have been practicing that play for months waiting to run it," Washington said. "I think Kenny should have scored, but it was a good play. It brought a lot of energy to the sideline. When you are on the road, you have to bring your own energy."
Richardson went 24 of 38 for 304 yards and two TDs, while Wimberly rushed for 102 yards and scored twice. But the defense couldn't hold up and Tech finished with 600 total yards.
Washington ran his season total to 1,038 yards, becoming the first Tech running back to top 1,000 since Ricky Williams ran for 1,582 in 1998.
"Man the offensive line did a magnificent job," Washington said. "Feels good even more so since we got the win. They came to me at about week six saying I was going to get to 1,000. I took it one game at a time, but it definitely feels good."
---