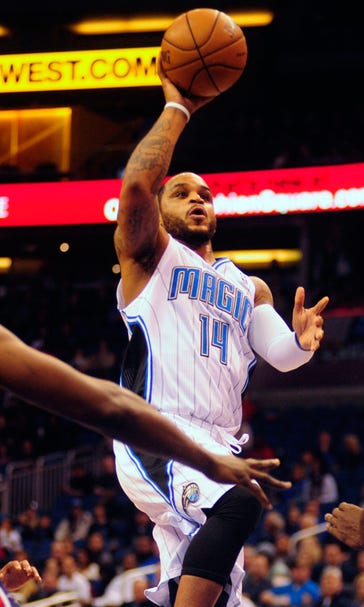 Magic Musings: Orlando's late rally comes up short against Hawks
January 22, 2014

ORLANDO, Fla. -- What was starting to look like a morale-boosting come-from-behind victory for the Orlando Magic instead turned into another frustrating defeat.
The Magic led by three with less than a minute to go against the Atlanta Hawks but couldn't manage a basket the rest of the way and lost 112-109.
Rookie Pero Antic, making his eighth start at center for the injured Al Horford, gave the Hawks a 110-109 lead with 22.8 remaining on two free throws. Antic was fouled by Jameer Nelson, who had his running jump shot blocked by Kyle Korver.
Antic hit two more free throws with 11.1 seconds to go after Glen Davis missed a 12-foot jump shot. Nelson's 3-point attempt over Korver at the buzzer bounced off the front of the rim, sending the Magic to their 12th loss in the last 13 games.
Despite getting into early foul trouble, Victor Oladipo bounced back to lead the Magic with 24 points. They also got an unexpected lift from seldom-used Doron Lamb, who scored a season-high 13 points before fouling out with 5:34 remaining after picking up three fouls in a nine-second span.
The Hawks went 5 of 9 from 3-point range, with both DeMarre Carroll and Jeff Teague knocking down two, in outscoring the Magic 22-7 over the first eight minutes of the third quarter.
The Hawks had gone 2-9 on the road since Nov. 22, including a loss at Orlando in late December.
THE TURNING POINT
After cutting a 19-point deficit to eight by the end of the third quarter, the Magic opened the fourth quarter on an 18-4 run and took their first lead on a dunk by Kyle O'Quinn.
THE DIFFERENCE MAKER
Paul Millsap finished with 20 or more points for the fourth time in the Hawks' last five games. He had 24 points, along with six rebounds and five blocked shots.
STAT OF THE GAME
In each of their three previous meetings with the Hawks, the Magic allowed only 26 points in the paint. They gave up 36 by halftime before holding the Hawks to 14 in the second half.
WHAT'S NEXT
Friday night vs. Los Angeles Lakers, 7 p.m. (FOX Sports Florida).
You can follow Ken Hornack on Twitter @HornackFSFla or email him at khornack32176@gmail.com.
---