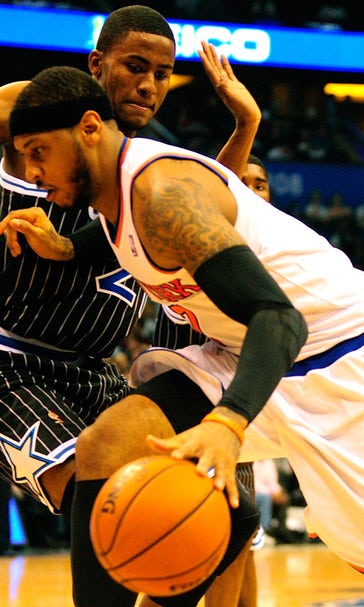 Magic Musings: 'Melo sinks 44, but Orlando earns win
BY foxsports • February 21, 2014
ORLANDO, Fla. -- The Orlando Magic, who had gone 0-2 since the All-Star break and were 0-4 this season in overtime games, broke through on both accounts with a 129-121 double-overtime victory Friday night over the New York Knicks.
Even a 44-point performance by Carmelo Anthony was not enough to keep the Magic from ending a nine-game losing streak to the Knicks dating back to March 2012. The Magic trailed by 14 points in the third quarter but battled back and took a 98-96 lead on a basket by Maurice Harkless with 5:28 remaining off Victor Oladipo's 12th assist.
Arron Afflalo tied the game in the final minute of regulation with a stepback jumper. Neither team scored the rest of the way, with Nikola Vucevic missing on a wild running jump shot at the horn.
Vucevic also failed to convert a feed from Oladipo near the rim at the end of the first overtime.
Afflalo had 32 points before going down in a heap with an apparent ankle injury after assisting on a basket by Oladipo with 2:23 to go in the second overtime. He was helped to his feet and limped to the locker room.
Tobias Harris had 22 points and eight rebounds despite being matched up against Anthony for much of the game. Vucevic finished with 14 points and 15 rebounds before fouling out.
The Knicks ended the second quarter on a 19-6 run that included nine points from Anthony as they took a 60-53 halftime lead. The Magic had only two field goals in the final six minutes of the half.
THE TURNING POINT
Oladipo's three-point play gave the Magic a 120-115 lead in the second overtime, and another three-point play by him sealed the win with 30.7 seconds remaining.
THE DIFFERENCE MAKER
In his first start since Feb. 3, Oladipo scored eight of his 30 points in the second overtime and established a career high in assists with 14.
STAT OF THE GAME
E'Twaun Moore played a season-high 34 minutes off the Magic bench, while Jameer Nelson went only 1 of 8 from the floor and did not play at all in the fourth quarter or either overtime.
WHAT'S NEXT
Sunday night at Toronto, 6 p.m. (FOX Sports Florida).
You can follow Ken Hornack on Twitter @HornackFSFla or email him at khornack32176@gmail.com.
---