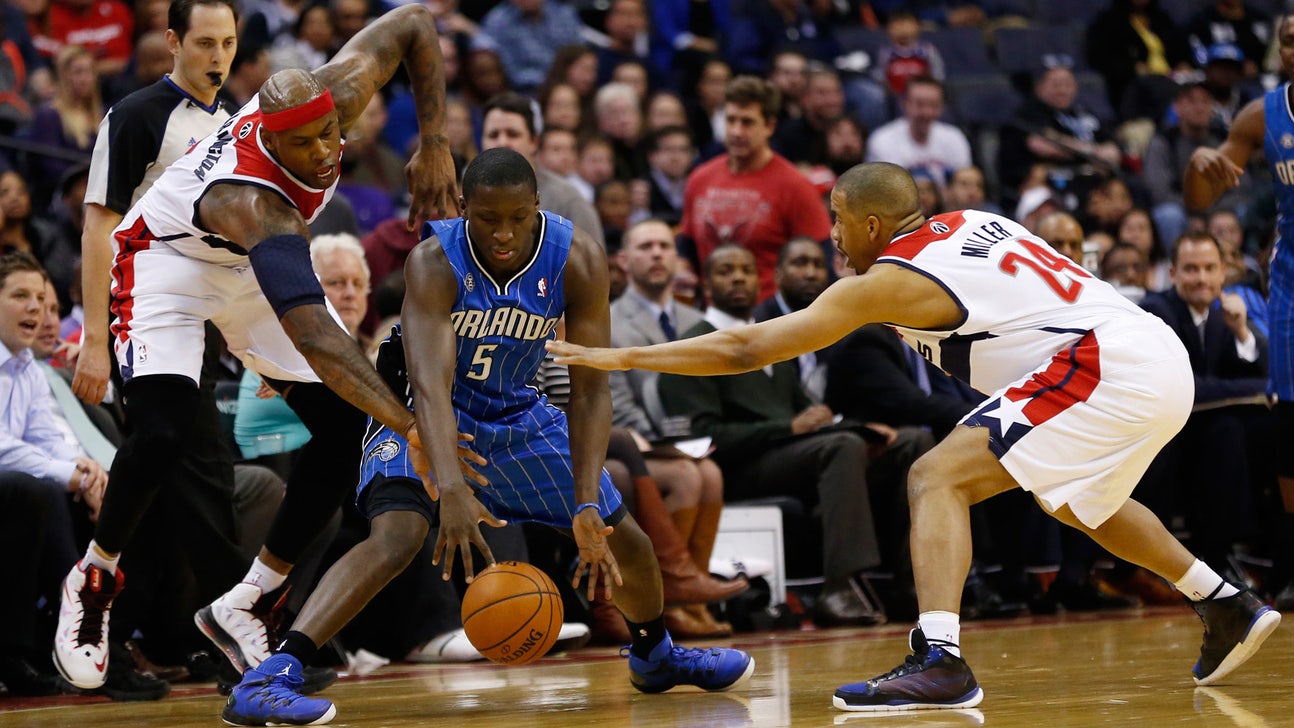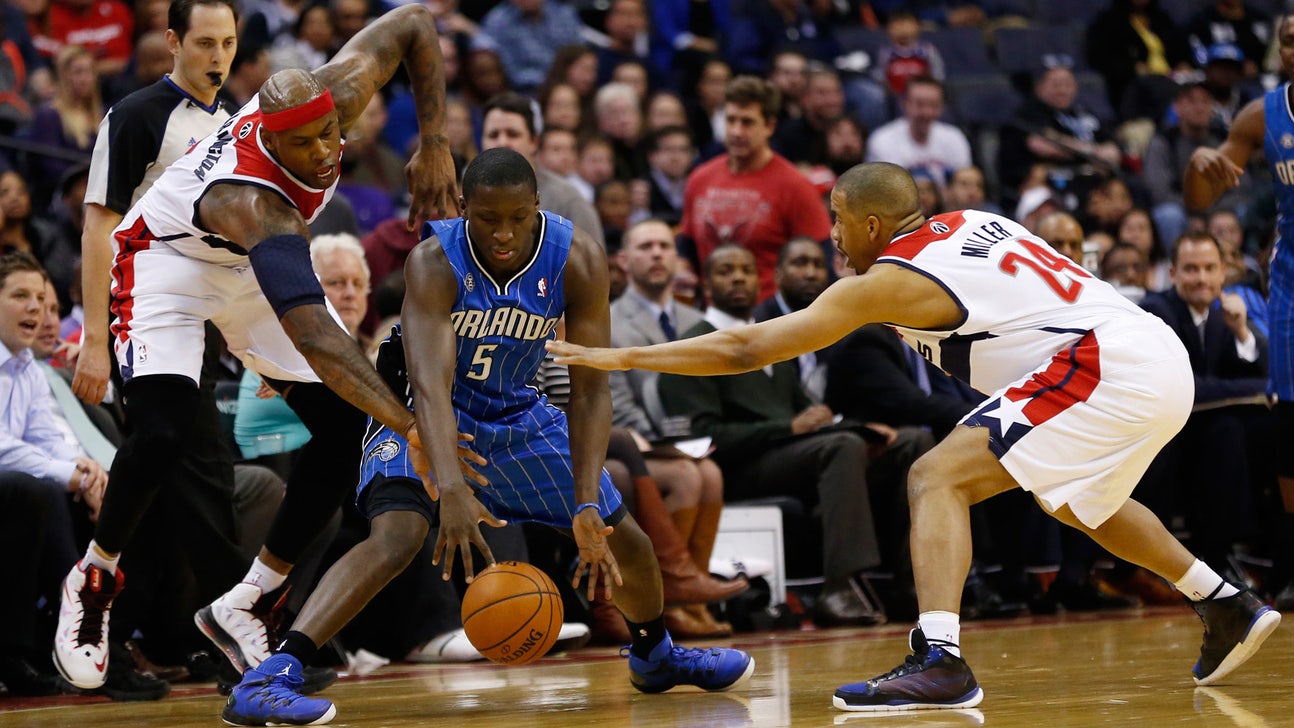 Magic can't snap road skid, fall to Wizards depsite Oladipo's strong effort
Updated
Mar. 4, 2020 7:25 p.m. ET

WASHINGTON (AP) -- If Trevor Ariza can hit every 3-pointer he takes, if four starters can routinely score 20 points, if Marcin Gortat can keep asserting him as an inside scoring threat, and, well, if the opponent is always the Orlando Magic, the Washington Wizards will do just fine without Nene.
In their first game since their Brazilian big man's latest injury, the Wizards took advantage of a favorable opponent and showed they know how to win without him. John Wall had 27 points and seven assists, Trevor Ariza scored 22 points by making all five of his 3s, and Gortat added 21 points and 10 rebounds Tuesday night in a 115-106 win over the Magic.
"I automatically tried to put myself in the situation to score," said Gortat, who was 9 for 13 from the field. "I yell to John. Sometimes he's going to yell back at me, then I would just say, `Hey, Nene's not here.' This is what I've got to do to lead this team, help this team inside, and I'm going to run to the block and demand the ball, and I believe I'm capable of doing it."
Bradley Beal added 21 points, giving Washington four 20-point scorers for the first time since April 6, 2010. The Wizards have won a season-high four in a row to move one game above .500. They also improved to 2-6 this season without the pivotal but oft-injured Nene, who sprained the MCL in his left knee Sunday in a win at Cleveland and is expected to miss six weeks.
Victor Oladipo scored 26 points and Nikola Vucevic added 19 points and 14 rebounds for the Magic, who tied a single-season franchise record by losing their 16th consecutive road game. They remain without leading scorer Arron Afflalo, who missed his second game with a sprained right ankle.
"We scored," Vucevic said. "We just couldn't get stops, and you can't do that on the road."
In case there was any thought that Nene's injury would give the Wizards a convenient excuse to miss the postseason for the sixth straight year, owner Ted Leonsis began the day with a wakeup call via his blog, posting "Our goals have not changed in any way" and the team must overcome injuries and "whatever else comes our way."
Leonsis has made it clear that another year in the NBA lottery would not be acceptable. The Wizards sit in fifth place in the weak Eastern Conference, and coach Randy Wittman and team president Ernie Grunfeld are both in the last season of their contracts.
The Wizards are 60-61 when Nene plays and 9-34 when he doesn't since he was acquired in a trade two years ago. Washington also played Tuesday's game without forward Kevin Seraphin, who has a sore right knee.
For the players, Leonsis' message was hardly necessary. They're also tired of having the season end in mid-April.
"If you're an All-Star and those type of players, you've got to step up and take on a bigger role," said Wall, who played in his first All-Star game this month. "And that's a situation I'm willing to accept and do. ... Just having that energy that I have when play good against those other good point guards, to do it on a consistent basis, that's something I really have to step up to another level with Nene being out."
The only starter in single digits was Nene's fill-in, Trevor Booker, who had three points and seven rebounds. The team planned to sign Drew Gooden to a 10-day contract in time for the next game, Thursday against the Toronto Raptors.
The Wizards led for nearly the entire game, but it was never a blowout. Washington had a 17-point lead in the second and third quarters, but Oladipo and Vucevic led an 11-0 run to cut the deficit to six late in the third.
The Magic got as close as eight in the final period, but Ariza got a fortuitous bounce on a 3-pointer to restore a comfortable lead.
"I guess I've been living right, doing the right things," Ariza said. "The shot clock was running down. It hit the front of the rim, I think it hit the backboard and went in, so it's all good."
NOTES: Orlando had no fast-break points. ... The Magic also lost 16 road games in a row in a single season in early 2006. The franchise record over more than one season is 17 -- the final 12 road games of last season and the first five of this season. ... The Magic had two new faces on the bench. C Dewayne Dedmon and swingman Adonis Thomas signed 10-day deals earlier in the day.
---