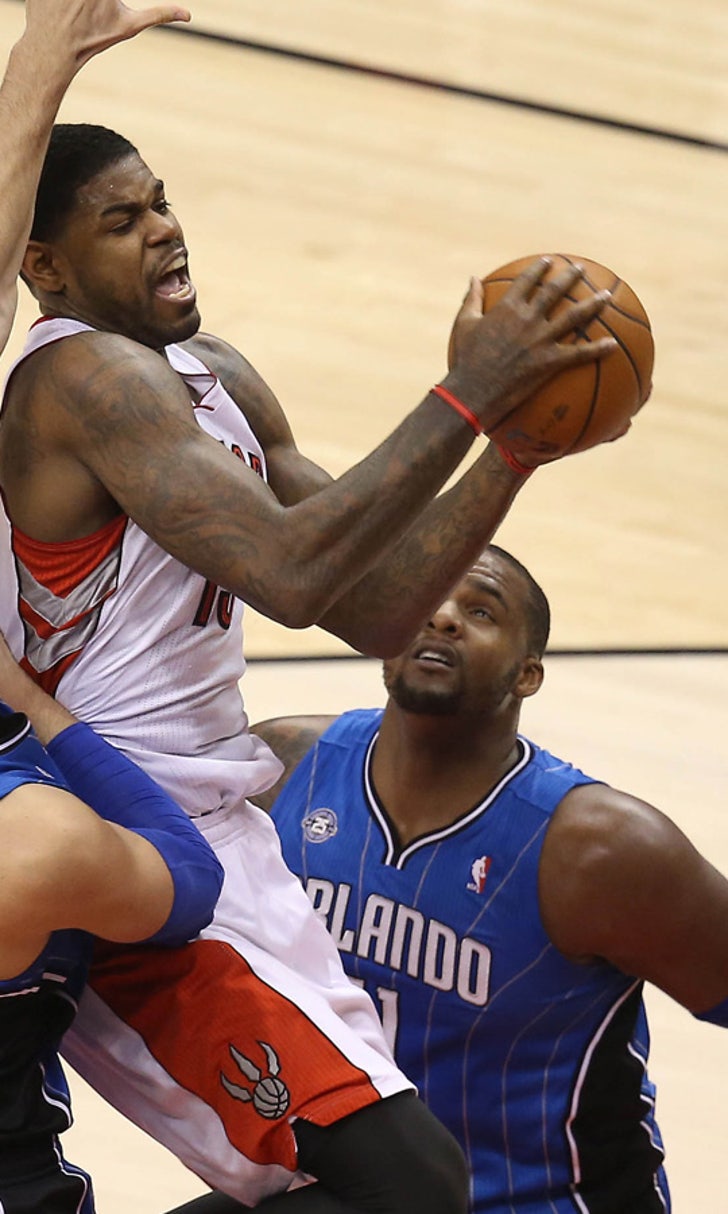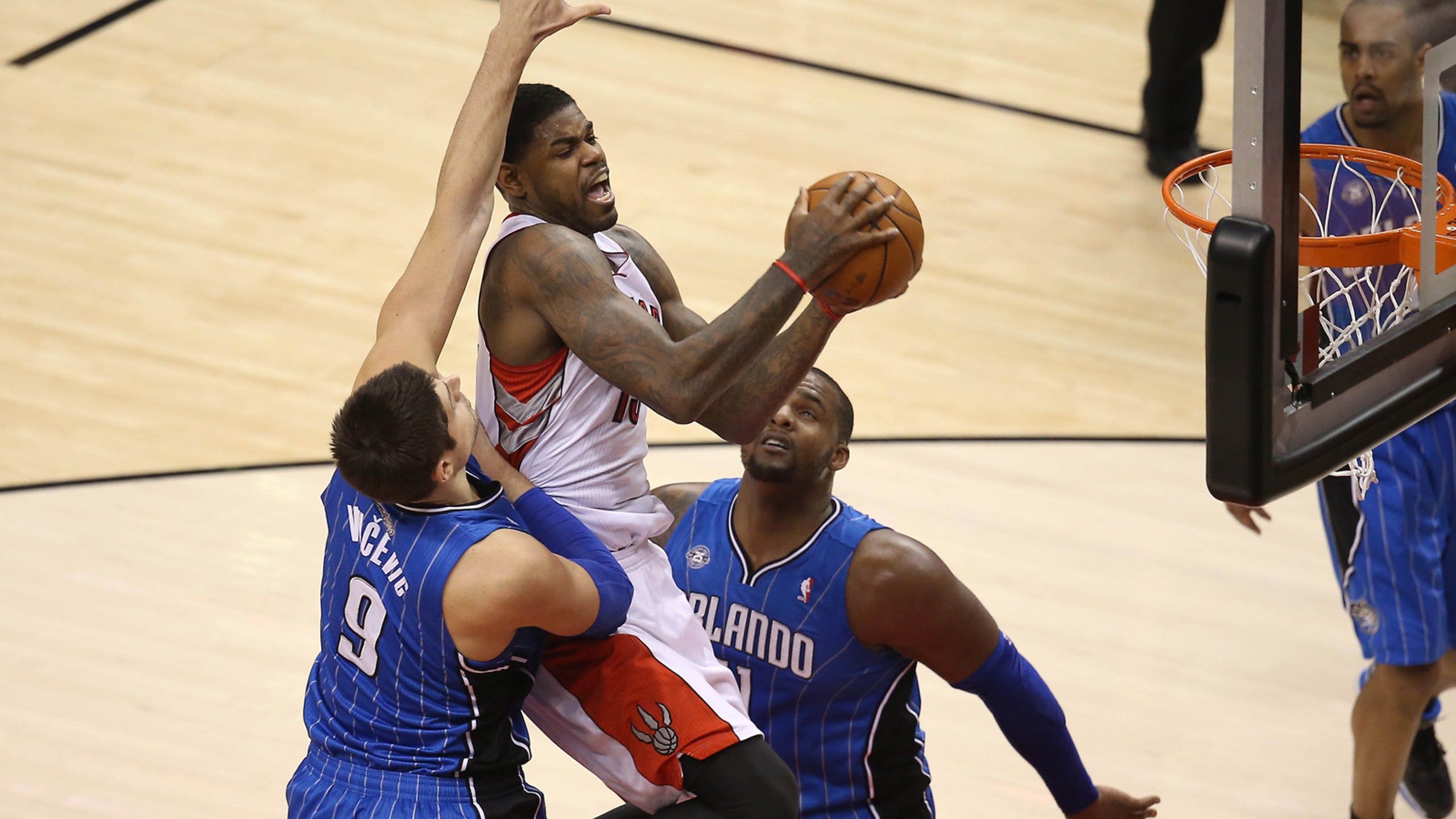 Magic can't slow Kyle Lowry in road loss to Raptors
BY foxsports • January 29, 2014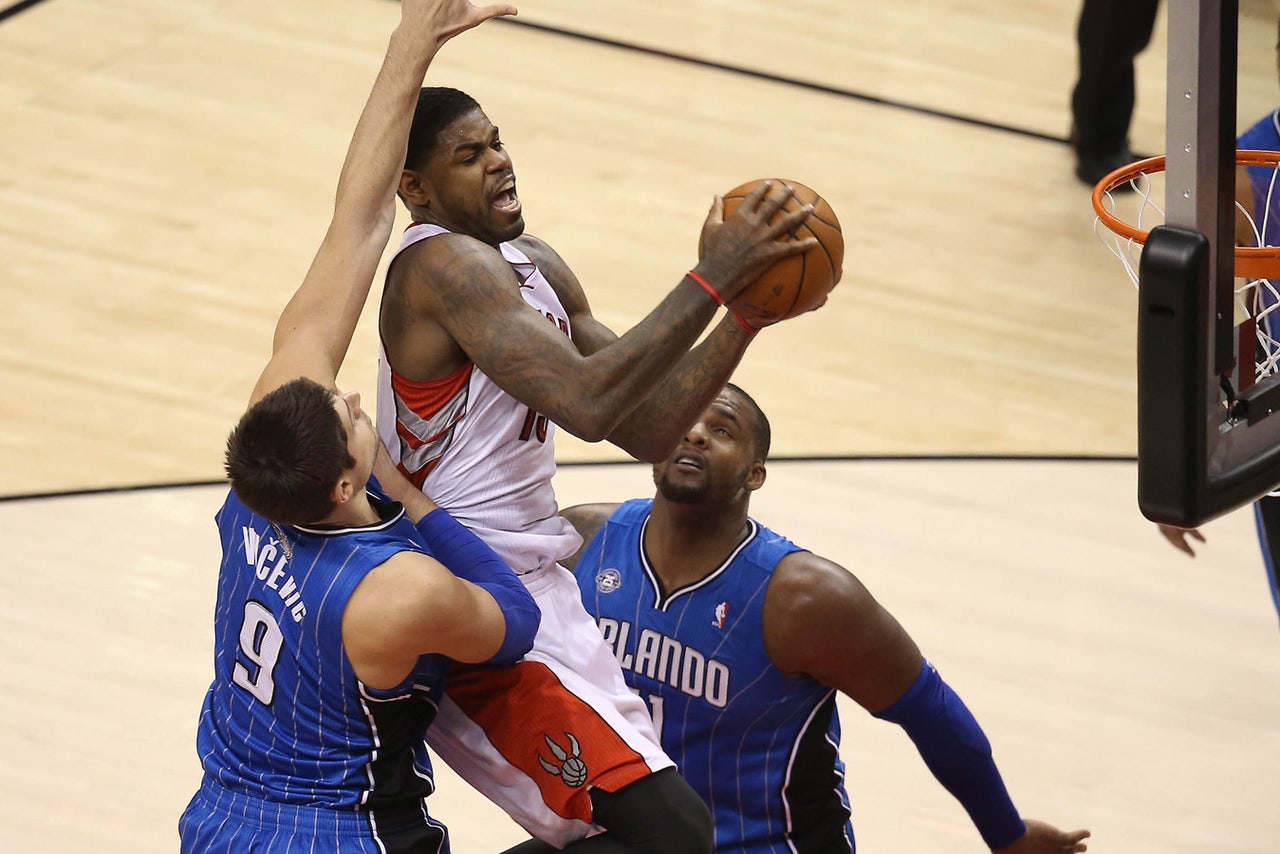 TORONTO (AP) -- With his second straight 30-point performance, Kyle Lowry made a final case for his All-Star credentials.
Now he'll wait and see whether it's enough to take him to New Orleans.
Lowry scored a season-high 33 points and dished out 11 assists, Amir Johnson had 22 points and 11 rebounds and the Toronto Raptors beat Orlando 98-83 on Wednesday night, their fifth straight victory over the Magic.
Lowry will find out Thursday whether his strong play has been good enough to earn him his first All-Star nod. NBA coaches turned in their votes Tuesday, and the reserves will be announced in a televised special before the Knicks host Cleveland.
"I keep my fingers crossed that the coaches voted him in because he deserves it," Raptors coach Dwane Casey said. "Right now he's one of the best point guards in the league."
For his part, Lowry said he's not holding his breath about a debut All-Star appearance.
"I would be very honored, it would be a great accomplishment," he said.
Lowry, who had seven rebounds, matched his season best with six 3-pointers. He came within three points of matching his career-high of 36, set Feb. 16, 2011, against Philadelphia, when he played for Houston.
"Kyle is an unbelievable player," Raptors guard Greivis Vasquez said. "He's doing great things."
Vasquez may share a locker room with Lowry, but said he'd consider him an All-Star no matter what jersey he wore.
"He should make it, that's all I can tell you," Vasquez said. "It's not because I'm his teammate. The numbers don't lie."
Lowry also topped 30 points in back-to-back games for the first time. He had 31 in Monday's 104-103 win at Brooklyn.
"He looked like an All-Star tonight," Orlando's Tobias Harris said. "He just picked us apart in the pick and roll."
Jonas Valanciunas had 14 points and 15 rebounds and Terrence Ross scored 12 as the Raptors, who never trailed, won for the fourth time in five games.
At least one Raptors player has scored 30 or more in each of the past five games. DeMar DeRozan had a career-high 40 in a Jan. 22 win over Dallas and 34 in a Jan. 24 win at Philadelphia while Ross scored a career-high 51 in last Saturday's loss to the Los Angeles Clippers.
Nikola Vucevic returned from a 12-game absence following a concussion with 16 points and 10 rebounds and Jameer Nelson scored 13 as the slumping Magic lost their third straight overall and their 10th straight on the road. Orlando is an NBA-worst 3-21 away from home and has not won on the road since an 83-82 victory at Chicago on Dec. 16.
Orlando coach Jacque Vaughn said he was pleased with the way Vucevic performed in his 21 minutes.
"It looked like his wind was pretty good," Vaughn said. "He looked very similar to the Nik that we're accustomed to seeing."
Victor Oladipo scored 12 for the Magic and Arron Afflalo had 10.
Vasquez started for the Raptors in place of DeRozan. Toronto's leading scorer missed his second straight game after injuring his left foot when he landed awkwardly after taking a jump shot against the Clippers. DeRozan will travel with the Raptors on a five-game road trip that begins Friday at Denver.
"We can't really have him out too long," Vasquez said of DeRozan. "We need him."
Also absent for Toronto was forward Patrick Patterson, who suffered a broken nose Saturday, but scored the winning basket in Monday's win at Brooklyn. Patterson underwent a procedure Tuesday to re-set the break.
Johnson limped off with a sore right ankle after fouling Oladipo under the Toronto basket at 2:17 of the fourth. Johnson was wincing as he got up and needed assistance walking to the locker room, but said afterward that he was fine.
Lowry scored 17 points in the first, going 5 for 5 from 3-point range, and the Raptors made all eight of their long range attempts to lead 33-20 after one.
"He set the tone in the first half with his 3s," Casey said of Lowry. "His aggressive play means a lot. His veteran leadership out there on the court, you can't say enough."
The eight 3-pointers in a single quarter tied the franchise high. Toronto also had eight 3-pointers in one quarter on Nov. 6, 2009, at New Orleans.
Vasquez extended Toronto's hot shooting streak with another 3 early in the second before finally missing from outside at 9:18. Toronto's previous streak of nine consecutive made 3-pointers came Feb. 27, 2005, against the Los Angeles Lakers.
Johnson and Steve Novak each scored six points in the second as Toronto led 55-40 at halftime.
Lowry scored 13 points in the third and Johnson added eight as Toronto took an 80-65 lead into the fourth.
NOTES: Valanciunas was selected to play in the Rising Stars Challenge at All-Star weekend. ... Raptors F Tyler Hansbrough returned after missing 14 games with a sore left ankle. ... Toronto doesn't play at home again until Feb. 10 against New Orleans.
---