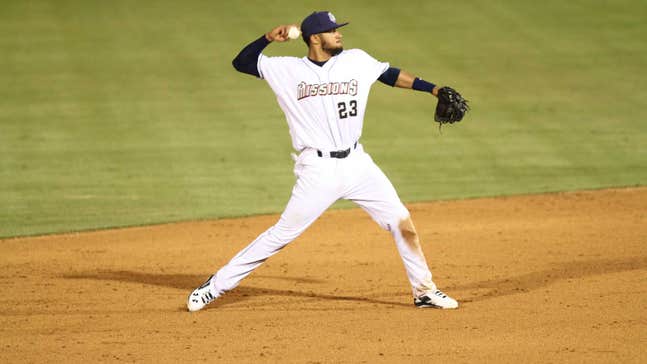 MadFriars' Wrap-Up Series: San Antonio Missions
Published
Nov. 1, 2018 5:09 p.m. ET

Kevin Charity, FOX Sports San Diego
The San Antonio Missions finished up their tenure as a Padres affiliate with an uneven season. The team played very well in the first half, fueled by the dominance of Fernando Tatis Jr. at the plate and Logan Allen on the mound.

In the second half, the team limped down the stretch after Tatis was lost to a season-ending injury. The Missions still made the playoffs and came out short in the Texas League playoffs, losing to Corpus Christi.




On the field, The Missions got breakout seasons from Josh Naylor and Logan Allen while others like Austin Allen and Ty France continued their steady climb towards the big leagues. Let's look at the players that shined in the organization's final hurrah in San Antonio.

Top Players: Fernando Tatis Jr. is far and away the top prospect in the system, so it isn't surprising that the 19-year-old shortstop was the unanimous top player on the San Antonio squad, as voted by the MadFriars' staff. Tatis Jr. recovered from a rough April and hit .286/.355/.507 before injuring his thumb.

First baseman/outfielder Josh Naylor finally tapped into some of his immense power, blasting a career-high 17 homers. Naylor produced a .383 on-base percentage and struck out just 69 times this season, while walking 64 times.

LINK:MadFriars San Antonio Missions Position Player of the Year

Top Pitchers: LHP Logan Allen won the Texas League Pitcher of the Year award, as the lefty had his finest professional season. The 21-year-old lefty finished with a 2.75 ERA and was second in the circuit with 125 strikeouts in 121 innings. Allen earned a late-season promotion to El Paso, where he continued to thrive.




RHP Jacob Nix finished the season as a member of the Padres' rotation but his ascent to the big leagues began in the Texas League. The righty from Seal Beach, California pitched a 2.05 ERA, walking just nine in 52.2 innings.

LINK:MadFriars Pitcher of the Year

John caught up to San Geaney, the Padres' director of player development, to talk about some of the top players that saw the field in San Antonio in 2018.

LINK:MadFriars Q&A with Sam Geaney

We also spoke with Stu Paul, who does the pre-game show for the Missions and play-by-play for the team.

LINK:MadFriars' Announcer Series: Stu Paul

MadFriars' Announcer Series: Mike Saeger

Mike Saeger just wrapped his ninth season calling Missions' baseball -- his final stint calling Texas League baseball, as the Missions will move up to Triple-A and become an affiliate of the Milwaukee Brewers.

Mike has roots in California, having called NAIA baseball games, prior to his work in professional baseball. The veteran broadcaster gave us some insight to what he saw from the 2018 Missions.

MadFriars: Josh Naylor seemed to finally tap into his immense potential this year. What kind of adjustments did you see him make from last year?

Mike Saeger: One of the big keys for Josh was that he was mostly healthy this year. Had a couple of little nagging injuries this year but nothing serious. He had a wrist issue last year which hampered his ability to hit for much power. I also think just being a year older and having tasted Double-A in 2017 helped to prepare him for what was in store this year. He's always had that good eye and does a remarkable job of controlling the zone, which is particularly impressive when you consider his age and the level of competition.




Fernando Tatis Jr. is a special talent -- what did you take away from watching him play every day?

Mike Saeger: That I was watching a future big league all-star and one of the best everyday players I've personally seen play in my career. To do what he did as a 19-year old in Double-A cannot be overstated. And forget about anyone who prior to the season doubted his ability to play SS in the big leagues. This kid is legit in the field. Exciting player. He's going to be a big-time impact guy in San Diego.

Austin Allen continued to hit. What strides did he make with his game and is he a guy that has a future as a big league catcher?

Mike Saeger: I think his biggest strides came behind the plate. He threw out over 30% this year. I believe his career rate was under 20% prior. Some of the other nuances behind the plate were more difficult for me to tell, such as calling a game. You can't get a read on that from up in the booth. But he was better behind the plate than he was when had his cameo appearance with us a couple of years ago. I think he has a future as a big league catcher because he can hit, and he can hit for power. He may always be a bat-first catcher, but there have been several like that who have made a nice career in the majors. He's sort of like an A.J. Pierzynski type of catcher.

Ty France had a big year before getting promoted to El Paso. Is it time that people start to consider him to be a prospect?

Mike Saeger: You know, I think so. Prior to this year I think he was largely viewed as a org guy. He worked hard in the off season and lost weight, which helped with his mobility and agility at third. He also tapped into some power that wasn't evident with us in 2017.  To me, that was a key development. As we know, if you're going to play third (or first) in the big leagues, you must hit home runs. At worst I could see him as a bench-bat guy in the big leagues or a corner infielder bench guy. He's got pretty good on-base skills to go with his newfound power. I think he opened some eyes this year and is someone they need to take a good long look at in camp next spring. SD doesn't really have a long-term answer for third baseman at the big league level right now.

Logan Allen was arguably the best pitcher in the Texas League. Is he a guy that you feel is close to being big league ready?

Mike Saeger: Most. I expect him in San Diego next year at some point. He might have a good shot to break camp, depending on how the rest of the rotation lines up. Has a good mix of pitches. Showed improvement from early to later in the season. I've said it before, but he was a guy who you knew was going to go out there, give your team six competitive innings and give them a chance to win even on nights when he might not have had his A-game. He's another young guy. It's not like he performed at that level as a 24-year old. I enjoyed both watching him pitch and his development as a pitcher over the course of the year.

Chris Paddack dominated in his brief stint with the club. How impressive was the Texan hurler?

Mike Saeger: He was pretty much as advertised. Sometimes guys get played up in the lower levels and don't quite perform as well when they hit AA. Chris was not one of those guys. We know about the FB and change. I thought his breaking ball looked pretty good. I believe there's still refinement to be made with that pitch when you're talking about being able to use it to get big league hitters out or to set them up, but it seemed like it was coming along. I loved his competitiveness. I think that's one of those intangibles that you either have or you don't. Fearless out there on the mound. Wish we had him in the championship series.

Andres Munoz is known for the big fastball -- how has the slider come along and how fast do you think he can get to the big leagues?

Mike Saeger: I could see him in the big leagues sometime in the 2nd half of next year if they needed a late inning arm. If he keeps working on the slider and can get it to be one of those wipeout pitches, forget about it. He'll be ridiculously nasty. At the AA level he was pretty much able to blow most hitters away with his heat.

Cal Quantrill had some up's and downs in San Antonio. Is he better than the underlying numbers?

Mike Saeger: I think his stuff is better than the numbers showed. I talked to a couple of scouts who thought his changeup regressed from previous years. There were stretches when you'd watch him and say ah ha, he's got it. That was particularly true over stretch of about 5 starts leading into the league's all-star break. And then there would be outings where it might take 50 to 60 pitches to get through a couple of innings.  Another thing that either JJ or Welly mentioned at one point, was that Cal sometimes beats himself up a bit when things start to unravel a little.  At some point in July JJ told me that he found a slight mechanical flaw tied to his strike foot that may have also been leading to some issues with command and the effectiveness of his pitches. Bottom line is that Cal has the stuff, so I say that beneath the stats he is better.
---
---