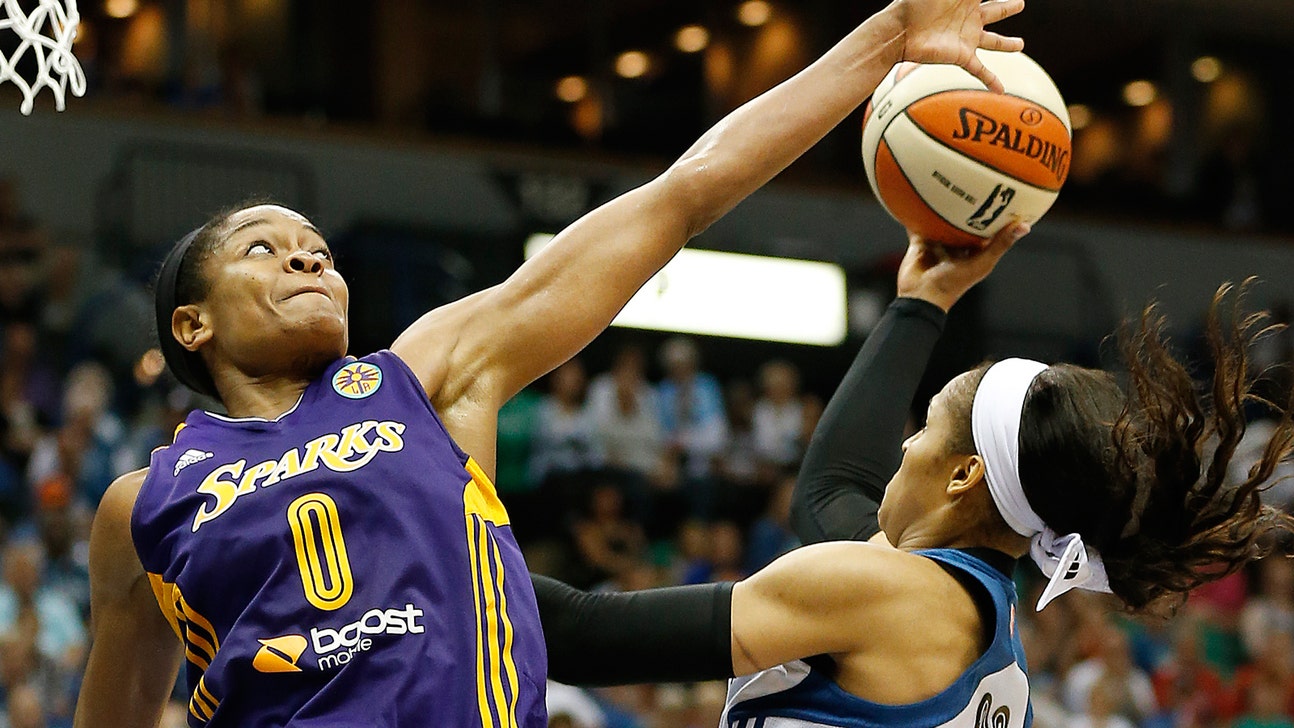 Lynx lose, though Moore notches another milestone
Published
Aug. 12, 2014 11:28 p.m. ET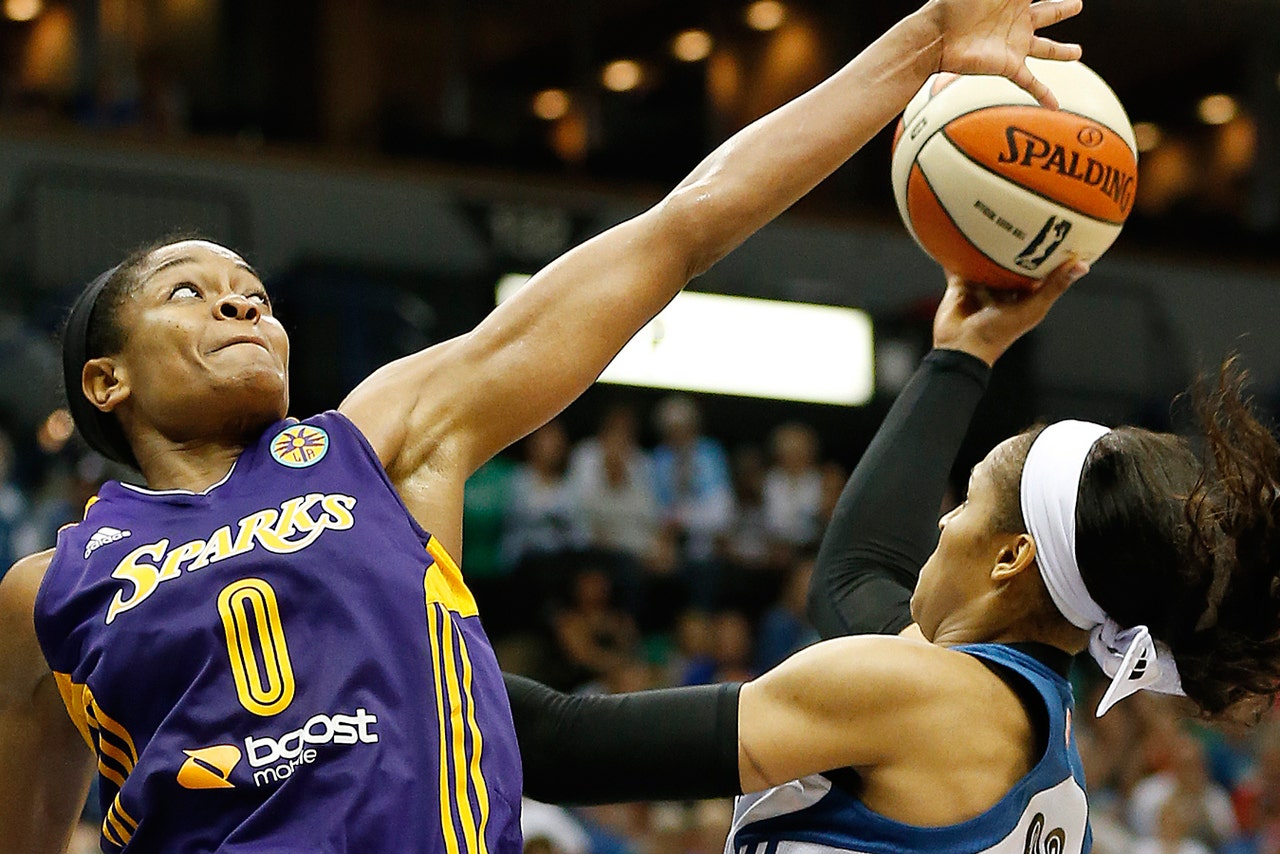 MINNEAPOLIS -- Sometimes, the setting doesn't fit the script.
Maya Moore added another milestone to her ever-inflating MVP resume Tuesday night. In what's become conventional fashion, she took over at the game's most pivotal moment and shoved the tide back upon itself.
Except on this occasion, it didn't matter.
It didn't matter to playoff-hungry Los Angeles, because Kristi Toliver was even better in the Sparks' 71-63 victory over Minnesota before crowd of 9,132, just the Lynx's second home loss this season and their first in 12 games here. It didn't matter, because Phoenix's 76-64 win at New York ensured the Mercury of a Western Conference title and guarantees Minnesota the No. 2 seed.
And it didn't matter to Moore, because there's much more at stake than the franchise's single-season scoring record. She claims she didn't even know about the record, despite it being announced over the Target Center public address system early in the fourth quarter.
"That's the name of the game," said Moore, who left briefly with a tweaked ankle in the first quarter but returned with 4 1/2 minutes left in the frame and said she was OK afterward. "If you want to be great, you have to have a super-high level of focus and being able to know what to focus on at the right times.
"Individual accolades are awesome -- I appreciate them, I'm so grateful to be in those positions -- but I want to think about what's right in front of me."
That's what had her accepting yet another player of the month award before Tuesday's loss, her fourth in the past five months dating back to last season. With Seimone Augustus and Rebekkah Brunson spending ample time out with injuries, it's been Moore who's provided the most substantial scoring lift for Minnesota.
And that's on top of everything else she does.
"I don't think it's really hard to see that Maya has been head-and-shoulders above every player in the league in their performances," coach Cheryl Reeve said. "I said there's no other team in the league that could've handled having two All-Stars out, and still sit here with four games to go, have a chance to maybe put yourself in a position to finish first."
But the Lynx (24-8) won't, thanks to their loss Saturday at Phoenix and the Mercury's crown-clinching win Tuesday. It's the first time since 2010 a team not named the Lynx has won the West's regular-season title.
Perhaps more disconcerting, the 2011 and 2013 WNBA champs have wilted late in two straight games; the latest saw them outscored 42-27 in the second half and 9-0 in the final 2 minutes. Toliver became one of the few to outperform Moore this season, scoring a season-high 29 points -- 10 in the fourth quarter as Los Angeles (15-17) locked up a postseason berth.
"We're a playoff team, and we wanted to do our own work," said Toliver, whose team had last won at the Target Center on Aug. 12, 2010 -- four years ago to the day Tuesday. "We didn't want to have to rely on other teams losing and different circumstances.
"We wanted to close the door."
Thanks in part to a pair of missed 3s by Augustus and Moore inside the final minute, Los Angeles did. Moore was the only Minnesota player who finished in double figures.
"Maya was the only one that was producing offense," Reeve said. "That's a problem."
Said point guard Lindsay Whalen: "That's not like us."
It left Reeve sounding defeated and thinking about resting a healthy but embattled starting lineup in Minnesota's regular-season-capping back-to-back Friday at San Antonio and Saturday at home against Tulsa. No matter what happens in those two games, the Lynx will likely host either Los Angeles or San Antonio to commence the playoffs.
"We want to finish playing good basketball," Reeve said. "I don't think we played our worst game today, but we didn't close the game out."
So the only piece of real news to behold was Moore surpassing Augustus' 769-point performance in 2007. Moore needed 16 points to tie the record; she reached it via an eight-straight-points spurt in the third quarter and broke it with a one-handed layup in the fourth.
It's another feather in the brim of a cap that's starting to bulge with accomplishment. The WNBA's leading scorer -- her 12 30-point games are a single-season league record -- also ranks eighth in rebounding and third in steals. Her 157 deflections (about five per game), a stat kept specifically by the Lynx, are far-and-away tops on the team.
The next Minnesota player on the list has 83 this year.
MVP voting ends Monday, and the award will be announced sometime next week. Reeve continued to make it clear who would top her ballot if she had one.
"It would be, I think, one of the biggest gaffes, if you will, from a voting standpoint if Maya Moore is not the MVP of the 2014 season," Reeve said.
Dantas out till playoffs: Due to personal reasons, backup forward Damiris Dantas flew home to Brazil on Tuesday morning and will miss the Lynx's final two regular-season games.
The rookie power forward started 23 games before Brunson returned to the lineup and averages six points and 5.1 rebounds per game. But she hasn't played more than 20 minutes in a game since July 16 and didn't appear at all in Saturday's loss at Phoenix.
"You know, I'm disappointed," Reeve said. "That's a player that I wanted to work back into the flow of things, and kind of get her confidence up again. But it's not going to work out that way."
Dantas is expected to return in time for the postseason.
Fellow rookie Asia Taylor played in her place Tuesday. In her first action since Aug. 2, the Louisville product scored four points and grabbed a rebound in 6 minutes, 54 seconds on the floor.
Follow Phil Ervin on Twitter
---