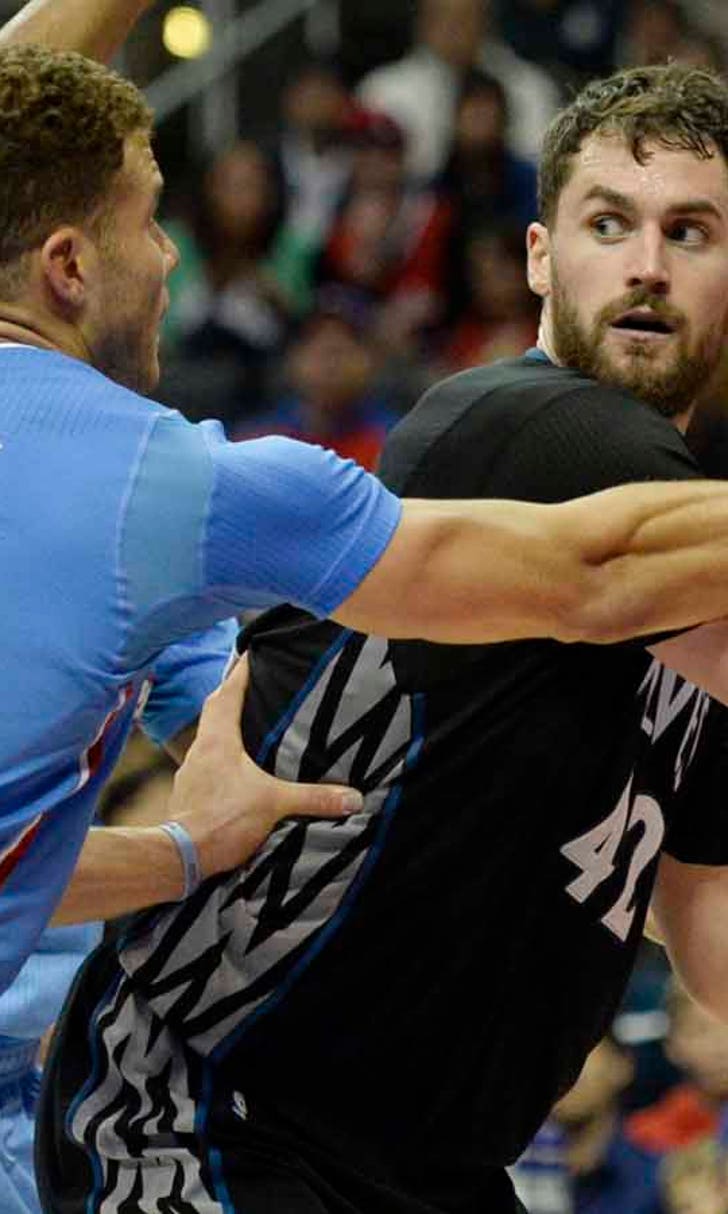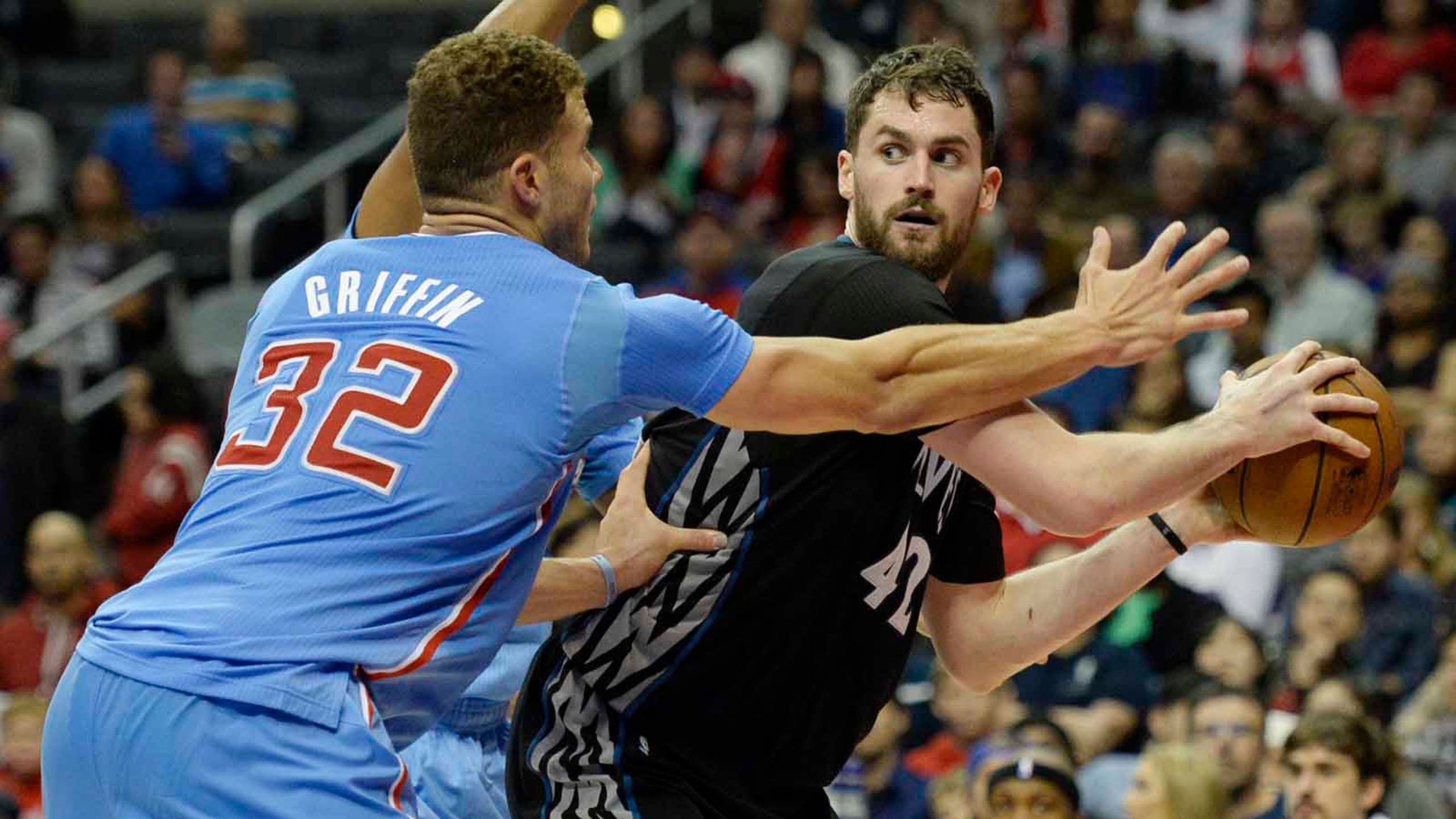 Love sets new season high in heartbreaking overtime loss
BY foxsports • December 23, 2013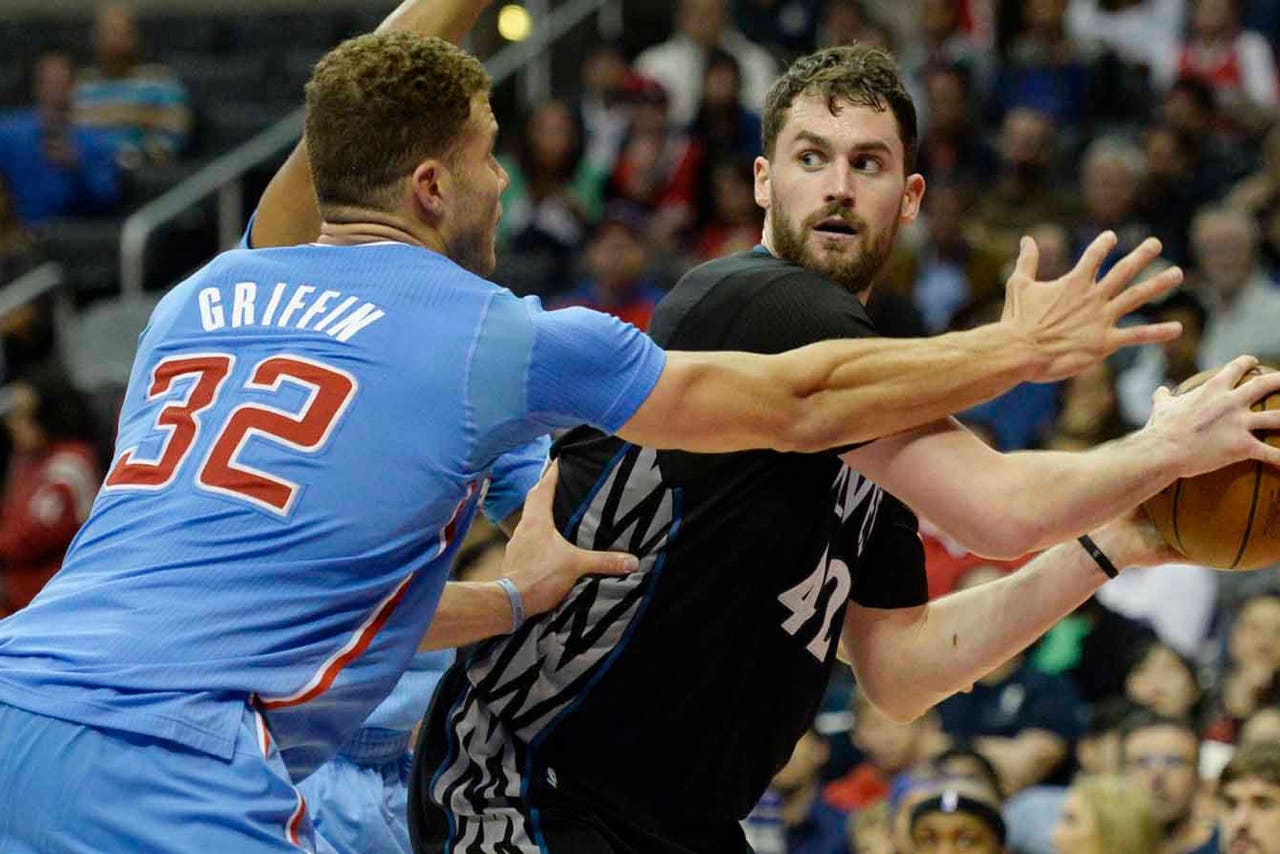 Timberwolves coach Rick Adelman frequently refers to his group as one that's "still figuring it out."
Include the Clippers somewhere near the top of that category.
Despite a career night from Nikola Pekovic, a season-high point output from Kevin Love and victory seemingly in hand with 13 seconds remaining, Minnesota let Los Angeles force overtime and never recovered during the extra five minutes of a 120-116 loss Sunday night at the Staples Center. It was the Timberwolves' third defeat against the Western Conference title aspirants, all by four or two points.
The latest, though, was most excruciating.
So much so that Adelman refused to take questions afterward. "I don't have much to say," the coach said during a press conference that took 10 seconds." It's a tough loss for a lot of reasons, and that's all I have to say. I'm not gonna say anything else -- I'm not gonna get fined."
Said Love: "We just blew it."
Minnesota (13-15) led 106-104 with 13.2 seconds left before Chris Paul poked the ball away from Kevin Martin and found Jamal Crawford for a two-handed jam to force overtime. The Clippers (20-9) then outscored the Timberwolves 14-10 in the bonus frame, thanks to nine points from Chris Paul, Jared Dudley's go-ahead 3 with 38.6 seconds left, and a Pekovic turnaround hook that fell off the rim with 5.9 seconds to go.
Two chances to win, blown. "Double-whammy," Love said tersely.
It conjured memories of Minnesota's other road contest against the Clippers on Nov. 11, when Pekovic and Love both missed point-blank shots that would've sent that game to overtime. Nov. 20, Paul went off in the fourth quarter of a four-point Los Angeles win.
Pekovic and Love did their best to avoid a third straight nail-biting defeat to the Clippers.
Love usurped his previous season high with 45 points, making 15 of 23 field-goal attempts, going 13-for-15 from the free-throw line and adding 19 rebounds and six assists. It was his seventh 25-point, 15-rebound, five-assist outing -- the rest of the NBA has just one.
Pekovic scored a career-high 34 points on 16-of-28 shooting to go with 14 boards. The rest of the Timberwolves, though, made 14 of 45 shots.
Blake Griffin led Los Angeles with 32 points, Crawford scored 22 and Chris Paul added 19 -- 13 in the fourth quarter and overtime combined. The lead changed hands 10 times, and the score was knotted on 16 different occasions.
And despite playing well enough to win, Minnesota fell to 5-10 on the road and suffered back-to-back losses for the first time since Nov. 25 and 27.
There were enough pivotal moments to fill a short novel -- Matt Barnes' third-quarter flagrant foul 2 for smacking Love on his way to the basket, Love's fourth-frame elbow to Griffin's head that drew only a personal foul and some blood, Griffin's several mammoth first-half dunks that aided a 56-54 halftime advantage, Jamal Crawford's buzzer-beating, half-court heave to close out the third quarter and Love's three successful free throws at the end of the first half after Griffin fouled him on a similar shot, for starters.
But on a night where the Timberwolves' stars stood out, their team's late meltdown loomed even taller.
Minnesota led 105-100 with 1:29 to go after a Love hook but allowed Griffin and Crawford to sandwich point-blank buckets around a one-for-two Love foul-stripe trip. Crawford made it 106-104 with 13.2 seconds left via a driving layup and was in perfect position to receive Paul's steal-and-dish after he took the ball away from an off-balance Martin, who had just received an inbounds pass.
The teams traded buckets to start overtime before Dudley's 3 -- his first on seven attempts -- rattled through. Love made another hook, and Paul missed one of two free throws. With Los Angeles up 118-116, Adelman called a play for Pekovic inside.
The big man's soft floater rolled around the front of the rim before falling to the floor. With it fell the Timberwolves' chances of entering a three-day Christmas respite on a good note before returning to practice Thursday.
Instead, they've got some real soul-searching to do this holiday, Love said.
"We get a little break, rest our legs, and hopefully we'll take stuff a little more seriously," Love said.
Follow Phil Ervin on Twitter
---