Long Beach State's inconsistent play leads to loss vs. UCLA
BY foxsports • November 24, 2014
Only 48 hours after Long Beach State made some college basketball noise, they had a chance to get louder. Instead, it's UCLA that likely sealed its fate in the top 25 this week with a 77-63 win over The Beach, Sunday night at Pauley Pavilion.
Maybe it was a hangover of sorts, lingering after the win at home over Kansas State. Head coach Dan Monson said he wouldn't know. "I'm not a psychologist," he said. 
Maybe it was a result of the brutal non-conference schedule that the team is currently in the midst of. It's the toughest in the country, as usual, but the thing is, at times Long Beach looked like the better team on the floor against the Bruins. And therein lies the problem: They only played well in spurts.
"We had a couple spurts where we played aggressive," said head coach Dan Monson. "I didn't think we were very tough. We weren't very physical, we got a lot of balls knocked out the way, a lot of soft passes. A lot of times we were just soft with the ball."
The Beach struggled against UCLA's zone, settling for too many threes and turning the ball over 19 times. Mike Caffey didn't get going until the second half, going scoreless through the entire first, and former Bruin Tyler Lamb never really got going at all, scoring only three points. With games at San Diego State, Syracuse, Louisville, Texas and Stephen F. Austin, a similar mid-major bracketbuster hopeful, the senior-laden team is going to rely more heavily on those veterans and their big-game experience.
"Mike and Tyler did not start the game with that aggressiveness that they had in the second half," Monson said. "I didn't think (Lamb) was very aggressive, and when he was, he didn't make decisions. He needed to play for others and what happens when you get into those tough spots and you get out of rhythm, you never get back in he never got into a rhythm. (Caffey) is a senior, he can't play in spurts, you can't play in half. 
"For us to come in here and win, Tyler and Mike have to play well and they didn't play well consistently enough."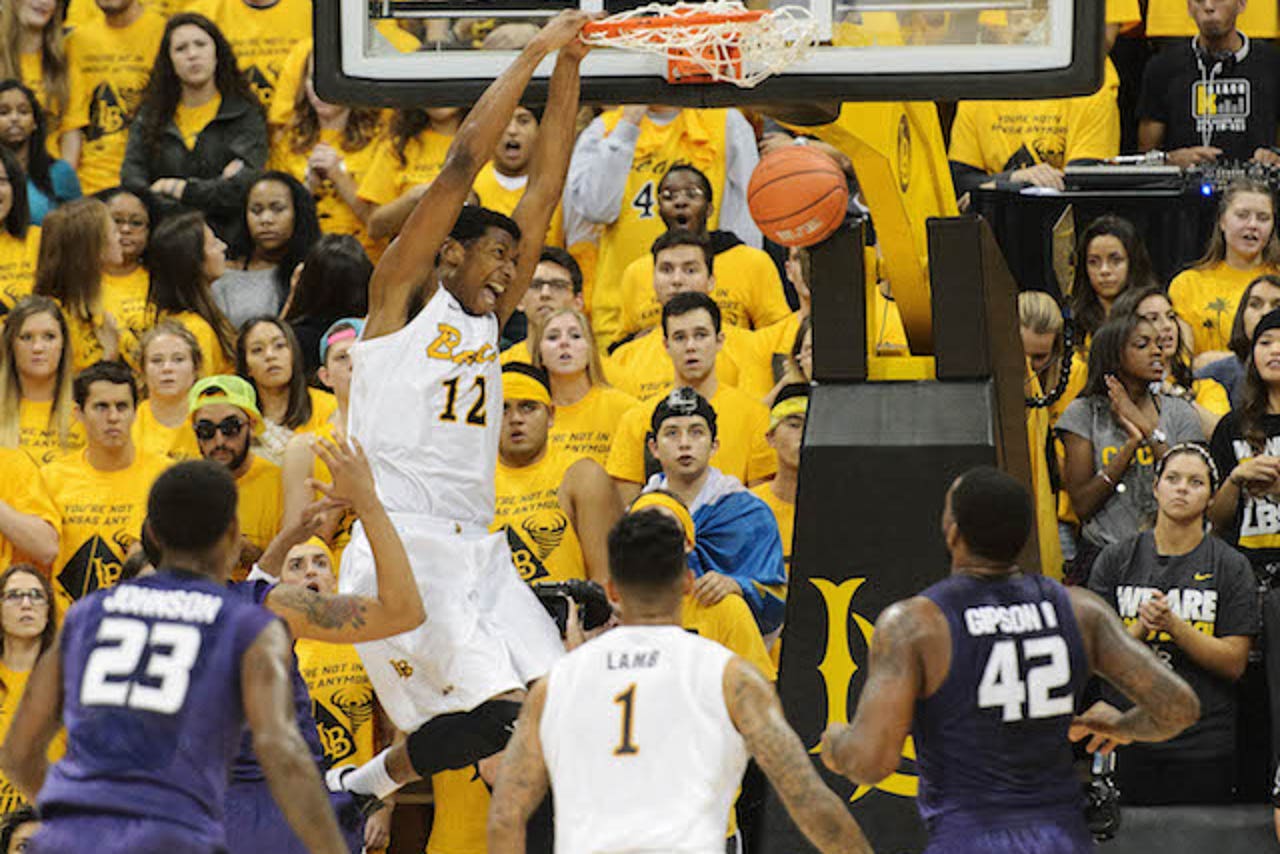 Long Beach State makes a bold statement in home win over Kansas State. 
UCLA head coach Steve Alford has seen a five-senior Long Beach State team like this in the past. As the head coach at New Mexico, his Lobos were nearly upset by The Beach in the 2012 NCAA Tournament. Alford said Monson's aggressive scheduling does them more favors than it might seem. Monson has built his program's identity as a tough team that's not afraid to play anyone anywhere, and despite Monson's own assessment of his team's soft play Sunday night, the message was delivered to UCLA.
"Well they definitely play everybody, that's for sure," he said. "Who they're playing in November and December, nobody is going to be better prepared going into conference play. As far as the competition they play, it's better than what Long Beach State is going to see. Might take some learning here in November and December, just because most of these games are on the road and that's not easy, but come conference season, if they can stay healthy I like their chances because I think they're going to be a really hard out in the league."
The next test for The Beach will be in the Wooden Legacy this week in Anaheim. It's a down year for the tournament, which Long Beach will play in as the acting hosts. While it features three teams that played in the NCAA Tournament this year, it doesn't bring the typical firepower of top-ranked teams. 
It's a good barometer for team like Long Beach that has showed that they're capable, yet still learning how to make a little more noise.
"We're getting better," Monson said. "We're not going to define ourselves by tonight. If we were worried about our record or that, we wouldn't play this schedule."
---