Long Beach State makes a bold statement in home win over Kansas State
November 22, 2014

Don't call it an upset - because it's not. It's not the first time Long Beach State, of the solidly midmajor Big West Conference, has upset a power conference team. But what The Beach might be doing is upsetting the power balance of college basketball.
For the last three years, head coach Dan Monson has lured a big time team to come play at the Walter Pyramid and in their last two tries, his team has won. Friday night, with the Big 12's Kansas State in town, Long Beach controlled the game from start-to-finish on its way to a 69-60 victory, the second victory over a Power Six team at home in as many years.
At this rate, the big guys aren't going to want to come play at the Pyramid.
"There are bunch of Power Six conferences that I have tried to schedule for the last couple years to come in here," Monson said. "For them to take this road trip and come in here I think shows a lot." 
The win says a couple things about Long Beach State.
This is a team capable of making adjustments on the fly. After giving up 95 and 97 points in their first two losses, the once-defenseless team suddenly found its defensive identity in a span of only a couple days. The Wildcats came in averaging 90.5 points per game on 58.5 percent shooting but were held to just a 32.8 percent mark from the field. 
"We've been really searching for it," Monson said. "They never got into an offensive flow and I really think our guys had something to do with that. They played with a lot of energy, played with a lot more aggressivness today than we did in our first two Division I games. It's a good start for us to build on."
At the national level, the trendy team projected to bust brackets with a senior-laden squad a few years ago has reloaded. It's not the same team with the NBA talent of Casper Ware and James Ennis, but it's also not the overly braggadocious team that followed that one. 
Monson repeatedly said that this is "a good group", and it the typically animated head coach was considerably calm, even when Kansas State closed the gap to just four points in the waning minutes. It's an enjoyable and coachable group, led by a quiet but dominant leader in point guard Mike Caffey.
The senior Caffey, who scored 13 points with three assists, has been a part of big wins with Long Beach State in the past and was a key reserve off the bench in the 2012 team's run to the NCAA Tournament. But this one means the most to the potential Big West Player of the year - this was his signature win.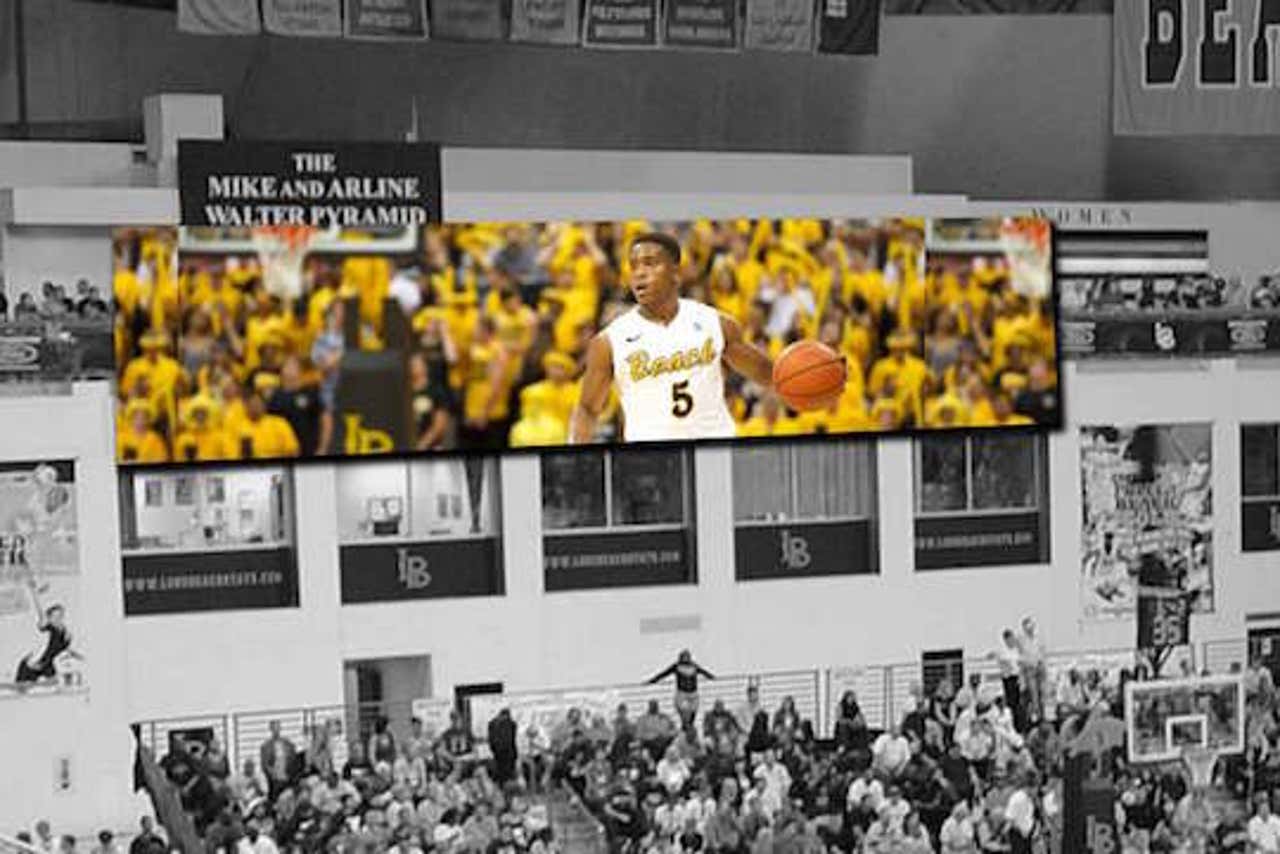 Long Beach State to install 60-foot video board inside the Pyramid
"This is my team and this is my win," Caffey said. "The last ones were always with Casper. It was all Casper, Casper. But this is my team so this is my No. 1."
The win re-established the Pyramid as a tough place for an opponent of any level to win a game. 
A standing room crowd of 4,256 roared throughout the game. The bleachers, most of which are retractable, shook with every big shot made. It was a far cry from some of the 20,000 seat professional arenas the Wildcats are used to playing in but it played right into the gritty, scrappy identity of both the Long Beach basketball team and the city itself.
"They were amazing," said freshman guard Deonte North. "I think they really helped us get going and just gave us a lift."
"I think (the crowd) energized their players," said K-State head coach Bruce Weber. "Obviously, we've played some arenas that are 16-17,000 and it's a little louder than this. But I thought it was a positive thing for their program and really got their guys to play at a high level."
It's a bold move for a coach like Weber to schedule a game at a Big West location, but it might be just as bold for any coach to schedule Big West teams right now. UC Irvine gave No. 2 Arizona all it could handle in Tucson earlier this week and Cal State Northridge played both Arizona and San Diego State tough as well. 
Unafraid of the big programs, the Big West might have a little more control than you think. 
"You can say, 'Why did you come here and play?'" Weber said. "If you think you're good and you're going to compete in the league you're going to have to win road games and you're going to have to play a little better than that to win road games."
---