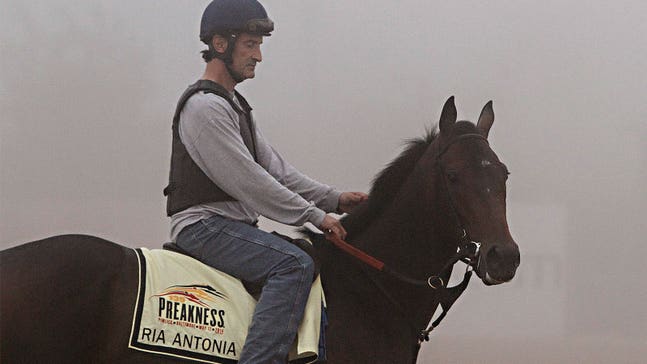 Lone Preakness filly, Ria Antonia, listed as a 30-1 long shot
Published
May. 15, 2014 3:20 a.m. EDT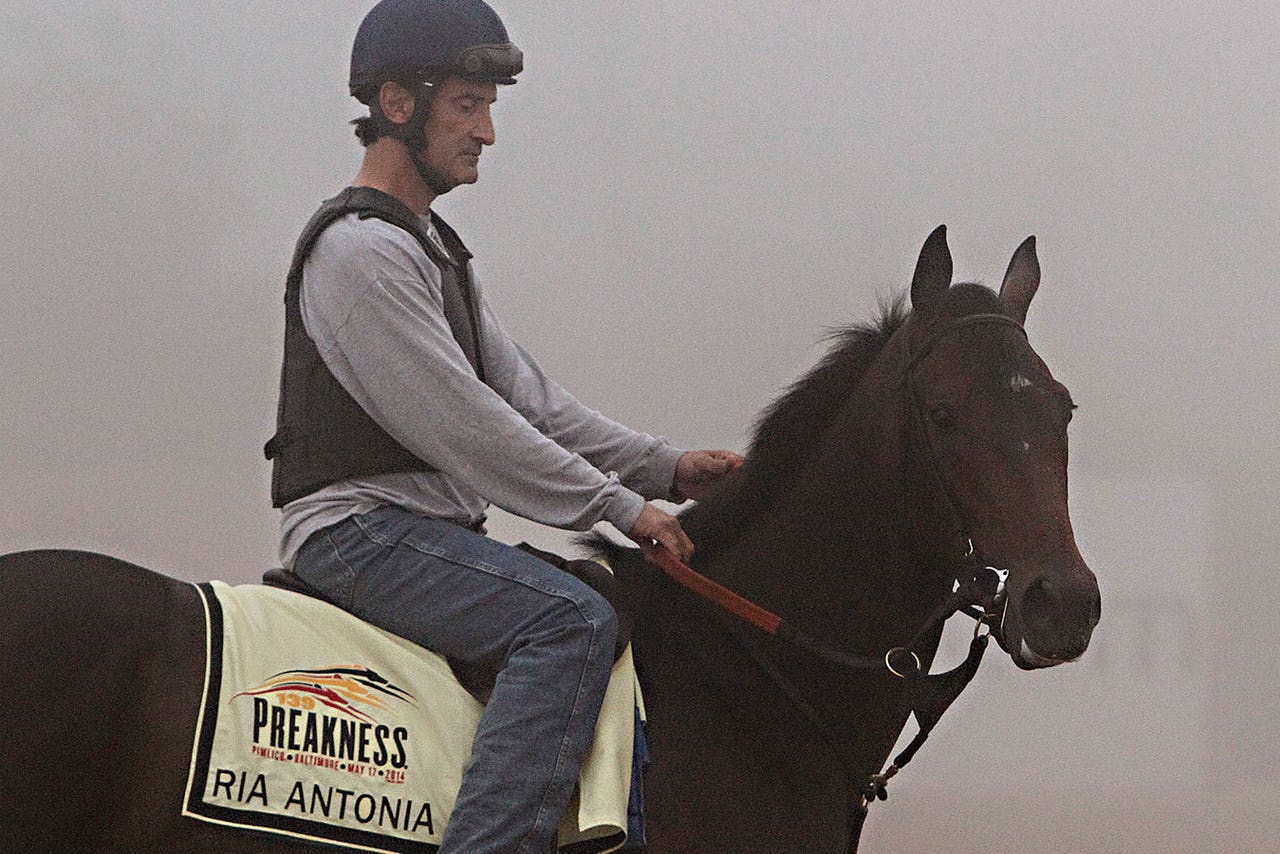 Maybe it's because she's a girl among boys. Perhaps it's because the horse hasn't won in 10 months, or ever attempted a race this long.
Whatever the reason, Ria Antonia is the long shot in the 10-horse Preakness field, a whopping 30-1 underdog behind 3-5 favorite California Chrome, the Kentucky Derby winner.
''I wish she was 50-1,'' co-owner Ron Paolucci said of Ria Antonia. ''The way she works and trains, she thinks she's 3-5.''
After finishing sixth in the Kentucky Oaks two weeks ago, Ria Antonia will attempt to become the first filly to win the Preakness since Rachel Alexandra in 2009. Paolucci isn't guaranteeing a victory Saturday, but he expects his 3-year-old to be right there.
''She's as fast as any horse in the race,'' Paolucci insisted. ''She worked with all of (Hall of Fame trainer) Bob Baffert's horses and she more than held her own. She's a great work horse. Has she translated that every race? No. But she has the ability. Can she beat California Chrome if he runs as good as he did in the Derby? No. Would it be embarrassing to run second if California Chrome runs freakishly good again? No. We're not planning on being that far out of it.''
Paolucci likes the way his horse rebounded from the May 2 race at Churchill Downs, so he thought it would be a good idea to enter the Preakness.
''I'm not looking forward to running against California Chrome, but if I have to do it, I want to do it on two weeks (rest),'' he said. ''She's ready to go, she's kicking down the barn. I think it's right up her alley. If she runs half as good as she trains, I wouldn't want to trade with anybody.''
Ria Antonia will be ridden by Calvin Borel, who was replaced on Ride On Curlin by Joel Rosario. Ride On Curlin and General a Rod are the only two horses from Derby who went to Pimlico for a rematch with California Chrome.
California Chrome drew the No. 3 post, which wasn't perfect but not a huge disappointment.
''Three is fine with me,'' 77-year-old trainer Art Sherman said. ''Most of the speed is on the outside of me. If they go they go, I can tuck in right behind them without any problems. I look for a good race. I think my horse will perform at the Preakness.''
Less than 20 feet away in the same room, Paolucci explained why Sherman and California Chrome jockey Victor Espinoza should be worried.
''From where he drew, it's going to be very interesting how Espinoza rides because you're not going to want to get trapped down inside when Social Inclusion is on the lead,'' Paolucci said. ''Bayern is going to be out there. There's no easy spot for Victor. It's not going to be as easy as the Derby.''
Social Inclusion, the speed horse in the field, is the second-favorite at 5-1. Ride On Curlin and Bayern are 10-1; Dynamic Impact is 12-1; General a Rod is 15-1; and Kid Cruz, Pablo Del Monte and Ring Weekend are 20-1.
Then there's Ria Antonia.
''Let's put it this way,'' Paolucci said, ''if my filly comes out of the gate, I think the only reason she might not win the race is because of the distance.''
The race is 1-3/16-miles, longer than any race Ria Antonia has ever run.
If California Chrome wins, next up would be the Belmont Stakes on June 7. Only 11 horses have swept the Derby, Preakness and Belmont and none since Affirmed in 1978.
---