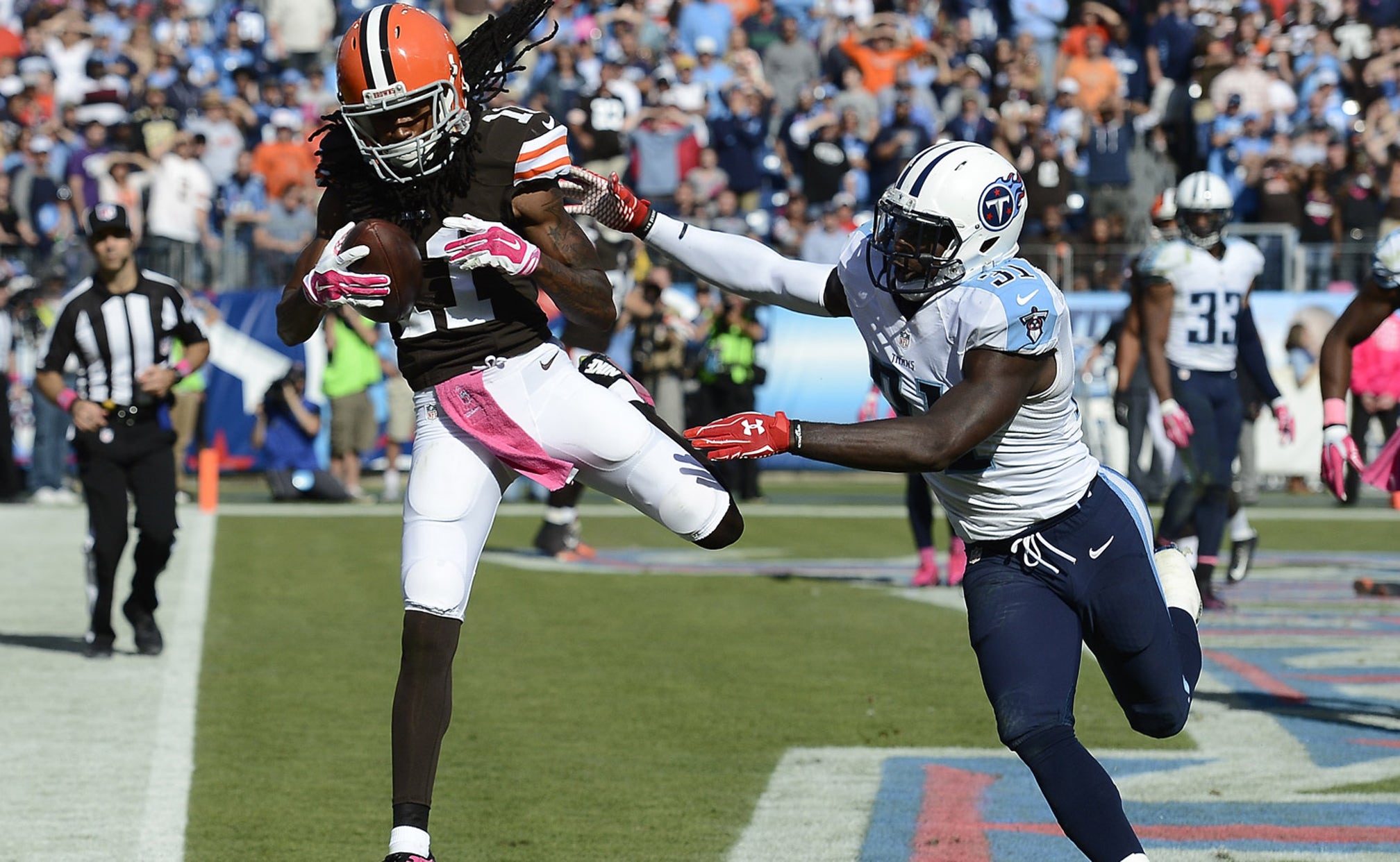 Locker injured, Titans let 25-point lead get away in loss to Browns
BY foxsports • October 5, 2014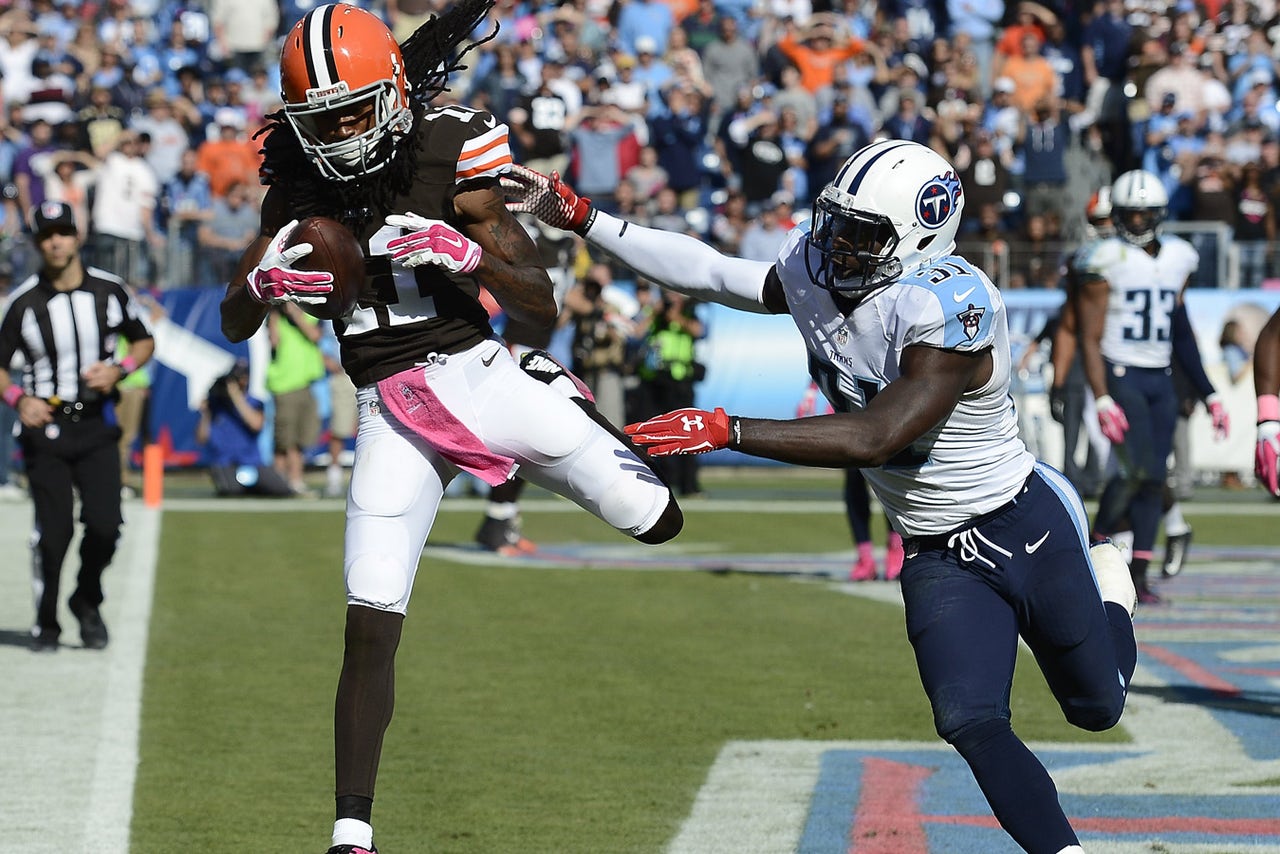 NASHVILLE, Tenn. -- All it took for the Titans to lose a fourth straight game was to allow the biggest comeback by a visiting team during the regular season in NFL history.
The Browns erased a 28-3 first-half deficit for a thrilling 29-28 victory on Sunday, eclipsing the previous comeback record of 24 points when the Eagles rallied from a 24-0 deficit for a 28-24 win at the Redskins on October 27, 1946.
The biggest regular-season comeback in NFL history was 28 points by the 49ers, who trailed 35-7 before beating the visiting Saints 38-35 in overtime on December 7, 1980.
"Needless to say, it was an unbelievably tough loss for us today after we played so well in the first half and have things not go our way in the second half," said Titans coach Ken Whisenhunt after the loss in front of a sell-out crowd of 69,143 at LP Field. 
Once again, the Titans (1-4) have to deal with an injury to quarterback Jake Locker, who missed the second half with an injured thumb on his throwing right hand. Before that, Locker was impressive in the first half, completing 8-of-11 for 79 yards and a touchdown with a 122.9 rating, plus adding another 34 rushing yards on four carries. 
But he was injured late in the second quarter while passing when he hit his thumb on the helmet of blitzing cornerback Buster Skrine, who was penalized for a personal foul for hitting Locker too high. Titans backup Charlie Whitehurst, who started for Locker last week in the 41-17 loss at the Colts, capped the big first half with two touchdown passes for the 28-3 lead. 
But the Browns did garner momentum and closed the deficit to 28-10 just before halftime. Quarterback Brian Hoyer capped a nine-play, 90-yard drive with a scoring pass to tight end Jim Dray with only 12 seconds remaining before intermission.
From that halftime deficit, the Browns (2-2) outscored the Titans 19-0 in the second half. And they made the biggest defensive play of the game by holding the Titans on a fourth down-and-one at their own 42-yard line with 3:12 to play and trailing 28-22.
Hoyer then engineered the game-winning drive by completing three straight passes, including a 6-yard scoring strike to wide receiver Travis Benjamin with 1:09 to play.
"To me, it speaks to the character of the men in the room," said Browns coach Mike Pettine of the comeback. "The resiliency, the poise, the focus, I think a lot of teams would have shut it down given what we faced at halftime."
The Browns other win came over the Saints on a last-second field goal by Billy Cundiff, while losses to the Steelers and Ravens also came on field goals at the end of the game.
"I did tell them after the game, they have to stop doing it," said Pettine of four games decided by a total of eight points. "I have an EKG scheduled for tomorrow, because my heart can't take many more of these. It's a heckuva win for us."
Hoyer completed 21-of-37 passes for 292 yards with three touchdowns, one interception and a 98.0 rating. After missing the last two games with a knee injury, running back Ben Tate returned to rush for 123 yards at 5.6 yards per carry. 
"It is, when you win in this fashion, kind of crazy," Hoyer said. "It's great to always win, but to win coming back and (battling) your butt off is a great feeling."
Subbing for Locker in the first half, Whitehurst looked sharp, finishing a 13-play, 80-yard drive with an 11-yard scoring strike to wide receiver Kendall Wright. On the Titans' next possession, Whitehurst connected on a 75-yard scoring strike to wide receiver Justin Hunter, who beat single coverage by Skrine.
But the Titans did not score in the second half. Whitehurst completed 13-of-21 passes for 194 yards with two touchdowns and a 123.9 rating. It was Whitehurst who could not convert the sneak on the crucial fourth-down play that would have sealed a Titans victory with a first down.
"I wasn't sure on the first effort if I landed," said Whitehurst of the sneak. "I don't know when (the officials) blew the whistle. I thought I landed on the other side of the (first down) stick, but obviously I didn't."
The Titans had two huge and potentially game-deciding plays go against them in the second half. First came when Benjamin muffed a punt for the Browns that was recovered by Titans defender Marqueston Huff, but he was penalized on the play for leaving the field of play and not re-establishing himself in a proper amount of time.
The other big play that didn't go the Titans way came when cornerback Jason McCourty picked off a Hoyer pass and returned it to the Browns' 1-yard line. But Titans cornerback Brandon Harris was whistled for illegal contact on a Browns receiver before the turnover occurred to negate McCourty's interception.
"We had a couple of penalties that I will have to look at and see on the tape" Whisenhunt said. "But that's got to change. There is no question about that. We had crushing things when we got the turnovers, two of them.
"All of a sudden, it changes, and that is a hard thing to overcome."
Locker said after the game that initials X-rays on his thumb were negative, but he would receive more diagnosis on Monday. His status for next Sunday's game against visiting AFC South rival Jaguars is unknown, much like it was last week before eventually being ruled out against the Colts.
"It's frustrating," Whisenhunt said of his injuries that include missing nine starts last season for two separate maladies. "But it's something that is outside of my control. I'm going to control what I can and work as hard as I can to overcome it."
---
---