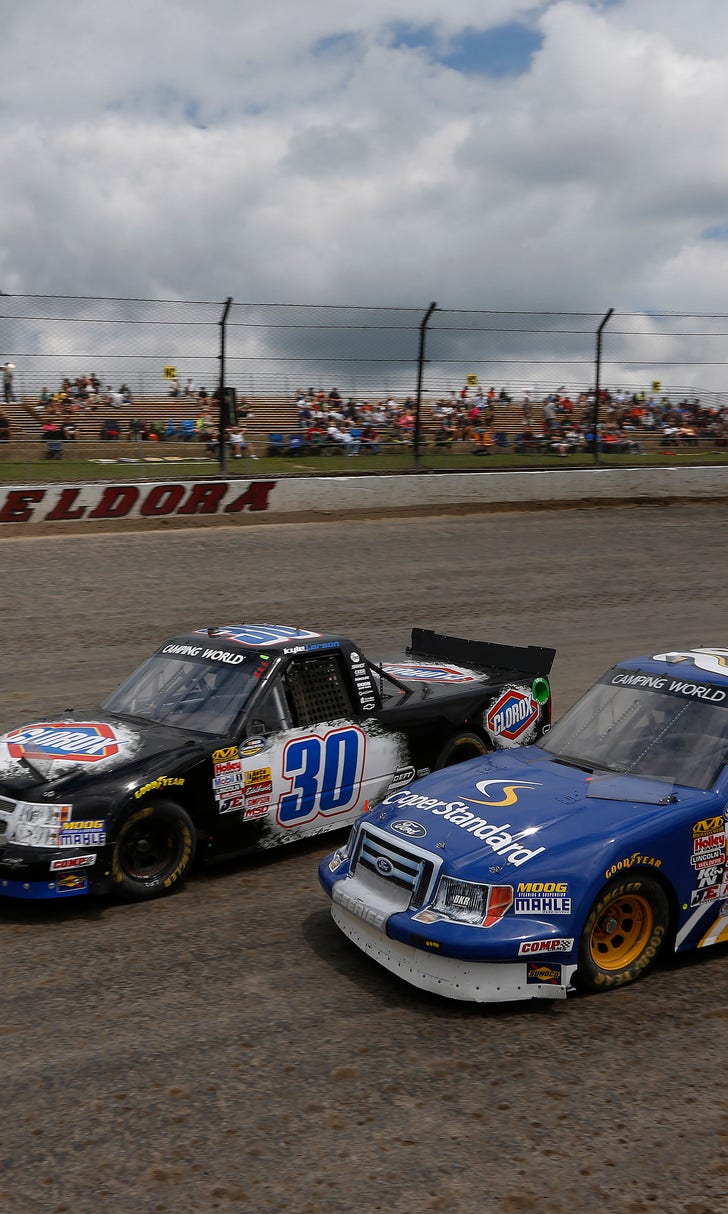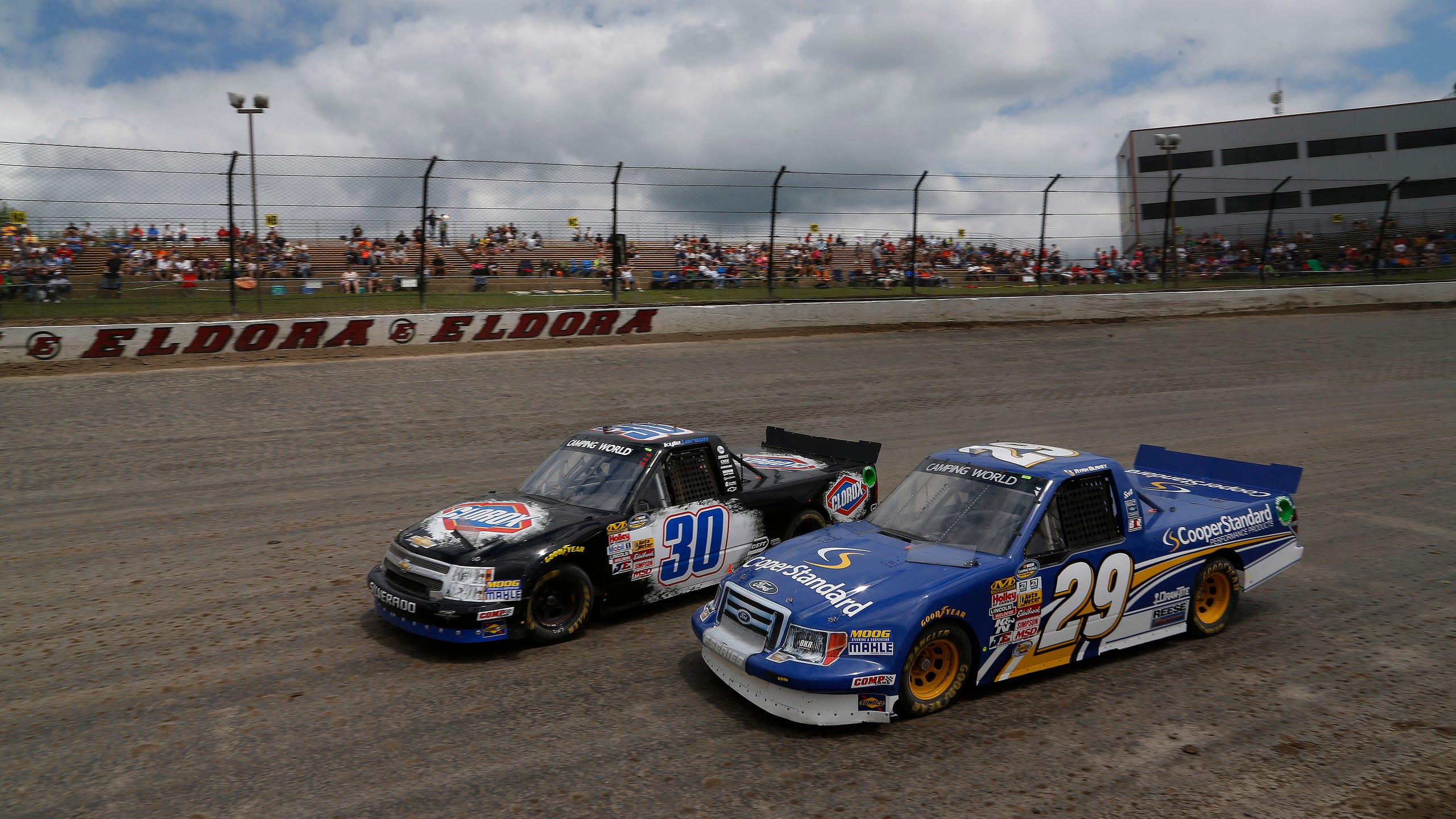 6:30p ET -- Good evening from Eldora Speedway! We are just 30 minutes away from kicking off heat races for the inaugural NASCAR Camping World Truck Series MudSummer Classic. Coverage begins Live on SPEED at 7p ET.
6:50p ET -- In case you were wondering, THIS is what we have to look forward to tonight. #slideways
6:55p ET -- Here's a quick rundown on how things will work tonight:
• There will be five qualifying races of eight laps each, with only green flag laps counting. The top five trucks in single-truck qualifying will start on the pole for their respective qualifying races. Five trucks will transfer from each qualifying race.
• At the completion of the qualifying races, 25 trucks will have earned spots into the feature.
• There will then be a Last Chance Race. This will be 15 laps, with only green-flag laps counting. The top-four finishers will transfer to the feature and start in positions 26-29.
• Starting position No. 30 will go to the most recent past series champion who has not already qualified. If the 30th starting position is not filled by an eligible champion, it will be assigned to the next highest finishing truck in the last chance race.
• The main event will be 150 laps divided into three segments. The segments will be 60, 50 and 40 laps. There will be pit stops between each segment, with teams having the opportunity to change tires and work on their trucks.
7:05p ET -- We are Live on SPEED! The first of five heat races is coming up in just minutes. Ken Schrader captured pole in single-truck qualifying and will lead the field to green in this first heat race. He will be joined by JR Heffner, Joey Coulter, Jimmy Weller III, Tracy Hines, Dave Blaney & Scott Bloomquist.
7:20p ET -- 58-year-old Ken Scrader takes the win in Heat 1. Coulter, Hines, DBlaney and Bloomquist also advance.
7:22p ET -- There's no shortage of racers watching tonight's event. The hype surrounding tonight's event is HUGE!
7:25p ET -- Heat race 2 coming up next. Drivers: Jared Landers, Miguel Paludo, Matt Crafton, Darrell Wallace Jr., Jeff Babcock, Norm Benning & Dakoda Armstrong.
7:35p ET -- Landers holds off Crafton to win Heat 2. Wallace Jr. rebounds from a spin to finish fourth.
7:42p ET -- Heat race 3 coming up. Timothy Peters will lead the field to green and is joined by Jason Bowles, Clay Greenfield, Brendan Gaughan, Kyle Larson, Ron Hornaday & Ryan Blaney. Watch for Larson to come up through the field as he searches for a transfer spot.
7:48p ET -- Peters dominates Heat 3 from pole position. Larson manages to finish third and grab the transfer spot.
7:54p ET -- Brad Keselowski is on hand to watch his team battle for supremacy. He has Dave Blaney in the No. 19 Brad Keselowski Racing truck and Ryan Blaney in the No. 29 BKR truck.
We have to ask though, who picked out his clothing? Doesn't seem very fitting for the "dirty" occasion.
7:58p ET -- Heat 4 coming up. Kenny Wallace is the pole-sitter and is joined by Max Gresham, Austin Dillon, James Buescher, John Wes Townley, Brennan Newberry & Joe Cobb.
8:05p ET -- Race car driver Kenny Wallace wins Heat 4. Buescher, Gresham, ADillon and Townley also advance to the feature.
8:08p ET -- A few sprint car aces are chiming in on Twitter with their thoughts on the track surface, and what should be done to make the racing a touch better.
8:10p ET -- Fifth and final heat race is next on SPEED. Jeb Burton will start from pole and is joined by Johnny Sauter, Ryan Newman, Justin Jennings, Bryan Silas, Ty Dillon & German Quiroga.
8:20p ET -- Burton survives a battle with Newman to win the fifth and final heat. Newman holds on for second followed by TDillon and Sauter.
8:40p ET -- Five-time is tuned in to check out the action.
8:45p ET -- Green flag is out in the Last Chance Race! 10 drivers are battling for positions 26-29 in tonight's race.
8:55p ET -- Brennan Newberry, Jeff Babcock, Jason Bowles, Justin Jennings and NORM BENNING advance to the main event. Check out the epic battle between Norm and Clay Greenfield.
9:10p ET -- Did we mention that Norm's performance was EPIC? Twitter was pumped for the underdog.
9:30p ET -- Pre-race ceremonies are underway. We are just minutes from kicking off the inaugural MudSummer Classic. Who ya got??
9:42p ET -- Engines are fired!
9:51p ET -- Green flag! The race is scheduled for 150 laps, which will be divided into three segments.
10:13p ET -- First caution of the night flies on lap 54 for debris. Race remains under caution until lap 60 to end the first segment. Kyle Larson leads followed by Dave Blaney and Timothy Peters.
10:26p ET -- Second segment is underway. Will last until lap 110 followed by a 40 lap shootout to decide the winner.
10:35p ET -- Are you surprised by the lack of cautions tonight?
10:37p ET -- We spoke too soon.. the second caution of the night is out for debris.
10:45p ET -- Austin Dillon wins the second segment. Drivers will have a chance to pit for four fresh tires and changes.
10:55p ET -- 40-lap shootout coming up. ADillon leads followed by Larson, Newman, DBlaney, Gaughan, Peters, Landers, DWallace Jr, Coulter and TDillon.
11:15p ET -- Caution! ADillon, Newman and Larson were battling for the lead just before debris brought the yellow flag out.
11:18P ET -- Restart coming up with five to go. ADillon leads over Newman, Larson, Peters, Coulter, Gaughan, DBlaney, Schrader, Crafton and DWallace Jr.
11:35p ET -- Austin Dillon survives a green-white-checkered finish to win the inaugural MudSummer Classic at Eldora Speedway! Kyle Larson finishes second followed by Ryan Newman.
11:40p ET -- It's safe to say that tonight's race was a success. Thank you Tony Stewart, Roger Slack and the entire Eldora crew. Let's do it again!
---