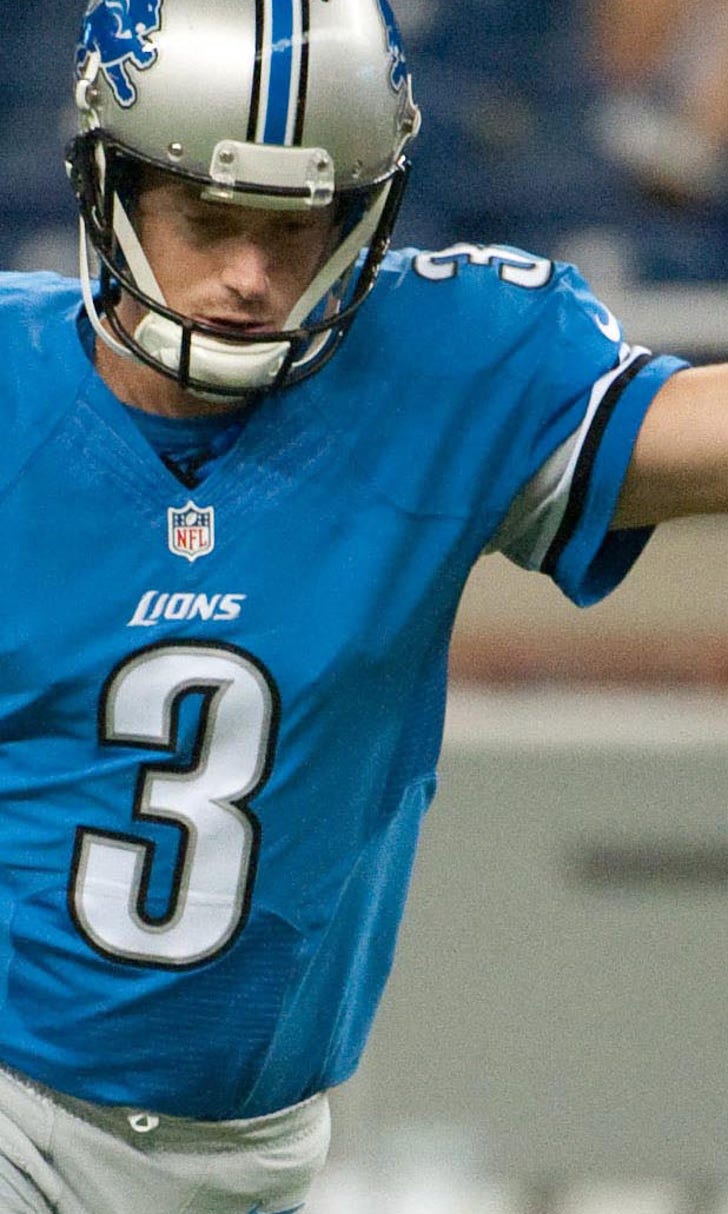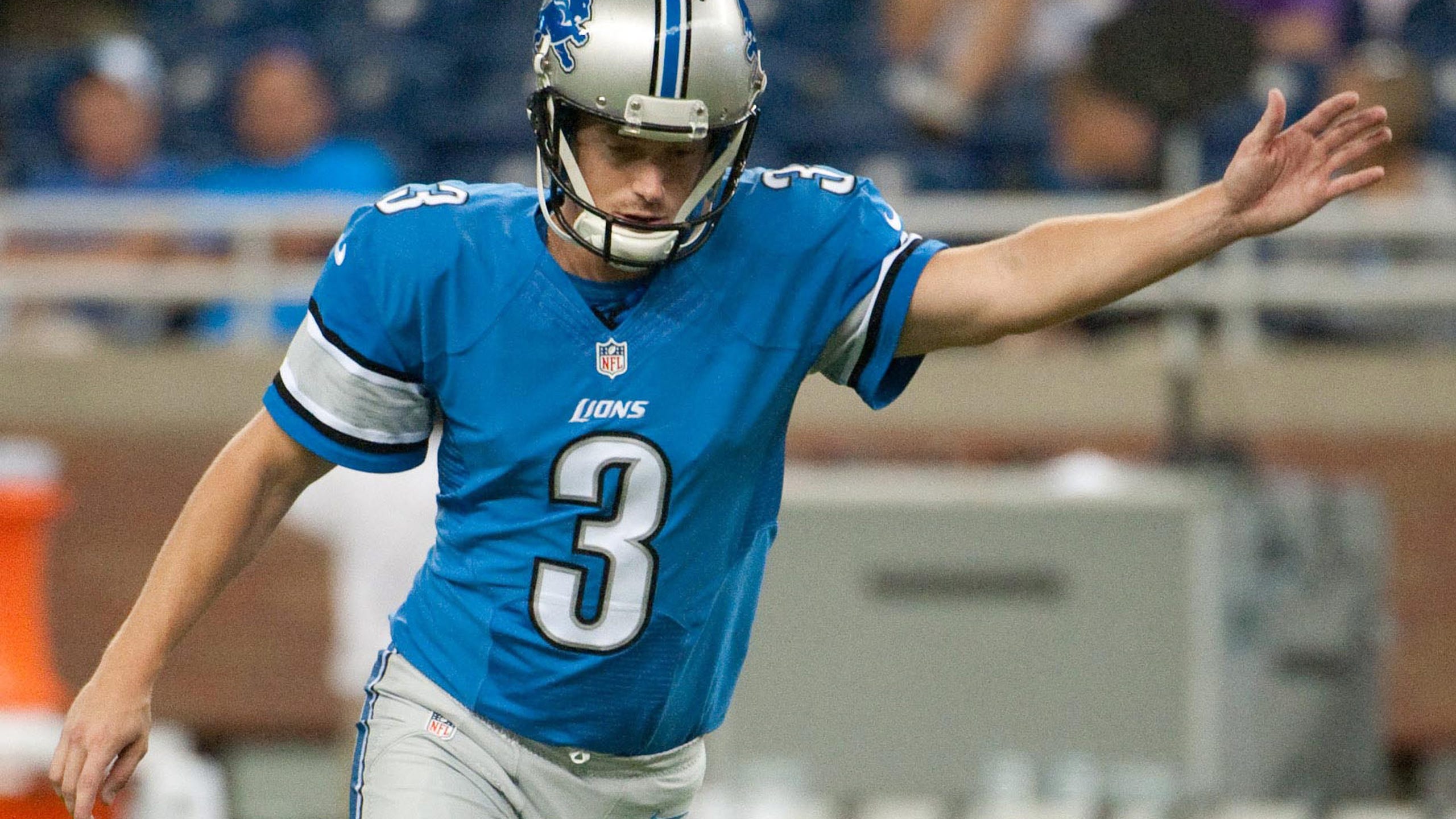 Lions help put pressure on youngsters competing for No. 1 kicking job
BY foxsports • August 13, 2014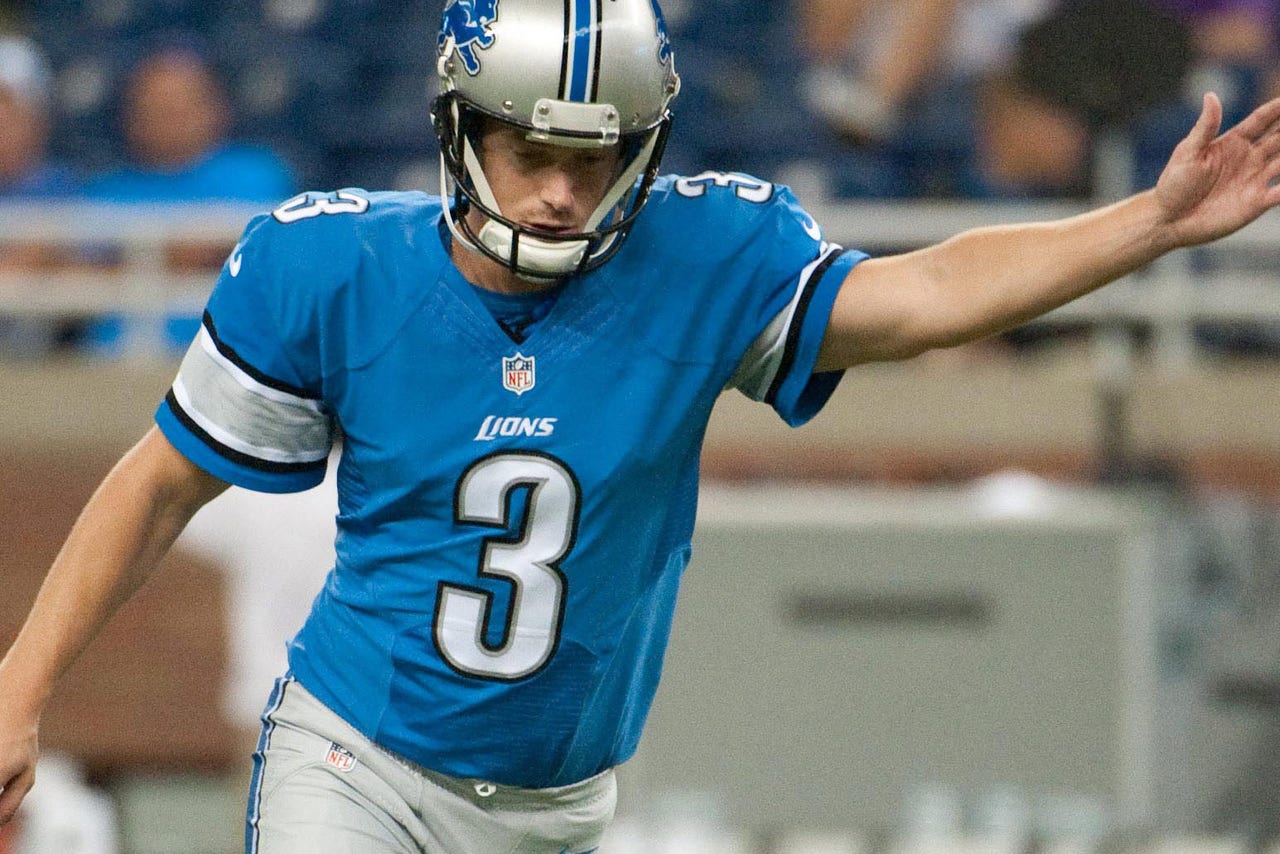 ALLEN PARK, Mich. -- Players lined up on both sides taunting the kicker. They yelled, jumped around and chanted. They did everything they could to create a major distraction.
It was the Detroit Lions' way of putting pressure on two youngsters in a competition for the No. 1 kicking job.
"It all became white noise after a while," Georgio Tavecchio said.
Tavecchio couldn't remember many of the specifics.
"Maybe a few Italian things," he said.  "Somebody said 'pizza, pasta.'"
Tavecchio, a free agent who wasn't drafted two years ago coming out of the University of California, made three of his five attempts during the chaos.
He hit them from around 35, 45 and 55 yards, but missed the final two from beyond 60 yards, although he did make a surprisingly strong bid for the 67-yarder.
Nate Freese, a rookie who was the Lions' seventh-round draft pick this year, tried from the same distances. He butchered the first one from short range, made the next two but missed the last two extremely long ones.
"It creates a bit of tunnel vision, really makes you focus in on your technique and your execution," Tavecchio said.  "It's very distracting. It's good practice to really have to control your mind and not get distracted too much by what people are saying, touching, throwing and doing to you and at you. Pretty useful, I think, for (trying to simulate) game situations."
Tavecchio, 24, said his college team used a similar drill and that he was prepared for this one.
Freese said his high school had a drill along the same lines, but not nearly as intense.
"I didn't really know what to expect going into it," Freese said.
Even Lions coach Jim Caldwell was surprised by just how noisy, animated and abusive the players became in trying to test the two kickers.
Caldwell felt they "went a little overboard," but it was all because everyone understands how important it is for the kicker to be able to handle pressure.
"They know we're trying to find the best guy for that spot because in a ballgame there's going to be some tough situations," Caldwell said. "Placekickers in this league win a lot of football games for you because every single game is tight."
For this one, advantage Tavecchio.
ZIGGY NEEDS GAME SNAPS
Although he won't play Friday at Oakland, defensive end Ezekiel "Ziggy" Ansah is expected to appear in at least one of the final two preseason games.
Ansah, who missed the team's entire offseason program, practiced Wednesday for only the second time since shoulder surgery over the winter.
"I think it's very important that he does get an opportunity (in a preseason game) and I think he will," Caldwell said. "He's out there doing everything but the heavy contact stuff right now. So it won't be long.
"He's progressing. He's a big, strong man. He's going to help us. He's going to either collapse the pocket with his size and strength or he'll run around the offensive player and use some of that length to be a distraction to the passer. He'll get some sacks for us. He's a force."
ROOKIE STRUGGLES
Tight end Eric Ebron, the fifth pick overall in this year's NFL Draft, dropped a seemingly easy touchdown pass from backup quarterback Dan Orlovsky during a 7-on-7 drill.
Ebron's blocking and pass-catching skills have been a little suspect at times during camp.
Veteran running back Reggie Bush has been there and says not to worry.
"As a rookie, it's taking him a little time," Bush said of Ebron. "I remember my rookie year in this exact offense (with New Orleans), my head was swimming.
"I was trying to get terminology down, trying to figure out where I had to be on certain plays, certain routes. So it's understandable where he's at right now.
"It took me a good two years to really feel comfortable in this offense. I'm not saying it's going to take him that long. He'll get there."
As for the dropped pass, Bush said, "That's just concentration, that's all it is, and familiarizing yourself with the different balls, different placements. They're going to come at you a lot faster in this league, a lot quicker. He has to get used to that."
---