Lineup shuffle proves costly for Twins in Cleveland
Published
May. 7, 2014 11:05 p.m. ET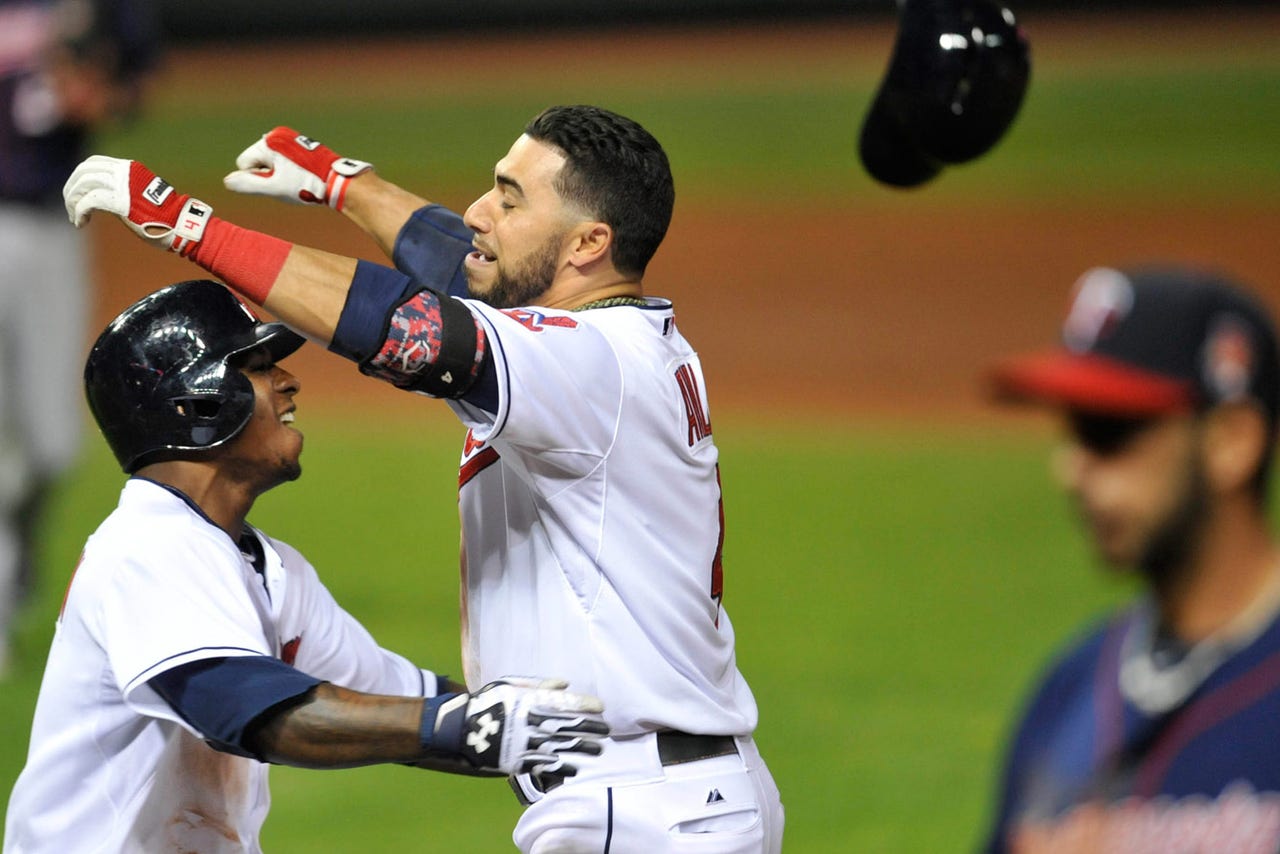 Minnesota Twins manager Ron Gardenhire didn't have many options with his depleted roster.
With Joe Mauer still out with a back injury, that meant Chris Colabello had to play first base once again. In need of another outfielder, Gardenhire stuck infielder Eduardo Escobar in left field for Wednesday's game against Cleveland at Progressive Field.
It was Escobar's first career big-league start in the outfield; he had previously played 13 innings in left field during his four seasons in the majors.
Unfortunately for the Twins, Escobar's inexperience in the outfield came back to bite them as he misplayed a ball in the ninth inning that eventually turned into the game-winning run for the Indians as they topped Minnesota 4-3.
"He just didn't get to it," manager Ron Gardenhire said of the play. "I'm sure he shied away from the wall. He's not been out there a lot."
Escobar struggled early in the season to crack the lineup, as Minnesota's infielders all held down everyday jobs. Gardenhire used Escobar occasionally at shortstop in place of Pedro Florimon. Thursday, however, marked just his 10th start of the year.
In situations like this when a player is playing out of position or fielding a spot he's unfamiliar with, it seems as if the ball always has a way of finding that player. That was the case for Escobar early, as he was tested by Cleveland's second batter of the game. Indians first baseman Nick Swisher lined one to left field, but Escobar had no problems making the catch.
Earlier this series, Escobar was the hero at the plate as his solo home run in the 10th inning of Monday's game was the lone run in Minnesota's 1-0 win. He's been swinging the bat well in his limited at-bats. Escobar came into Wednesday's game batting .348 with seven RBI in 46 at-bats and picked up another hit Wednesday with his sixth double of the year. He later came in to score on a sacrifice fly by Brian Dozier to tie the game at 3 in the top of the seventh inning.
Two innings later, however, Escobar's inexperience in the outfield became evident. He had trouble tracking Asdrubal Cabrera's double to left field to lead off the ninth inning. Escobar appeared to think he was running out of room but had yet to reach the warning track. The ball got by his outstretched glove, allowing Cabrera to take second base.
"It got away from him a little bit," Gardenhire said. "The kid did fine out there other than that play. Experienced guys do the same thing."
Cabrera then advanced to third on a sacrifice bunt by Lonnie Chisenhall and scored the game-winning run two batters later on Mike Aviles' single up the middle off reliever Casey Fien.
Minnesota is currently without two of its outfielders, as Josh Willingham and Oswaldo Arcia are both on the 15-day disabled list. While Willingham doesn't appear close to making his return, Arcia is currently on a rehab assignment with Triple-A Rochester. He was scratched from the Red Wings' lineup Wednesday night, but it turned out it was for health reasons and not because he was being activated from the disabled list just yet.
Colabello is capable of playing right field but has had to man first base with Mauer out. Chris Herrmann started the last two games in right field but was given the night off as Kubel moved from left field to right. That left Gardenhire to put Escobar in left field, a position he had only briefly spent time in before.
"He's played out there a little bit," Gardenhire said. "He does fine. He just didn't catch that one."
FOX Sports North's Marney Gellner contributed to this report.
Follow Tyler Mason on Twitter
---