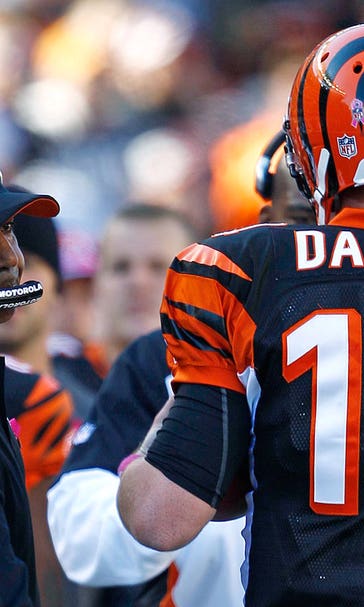 Lewis talks state of Bengals, NFL at league meetings
BY foxsports • March 24, 2015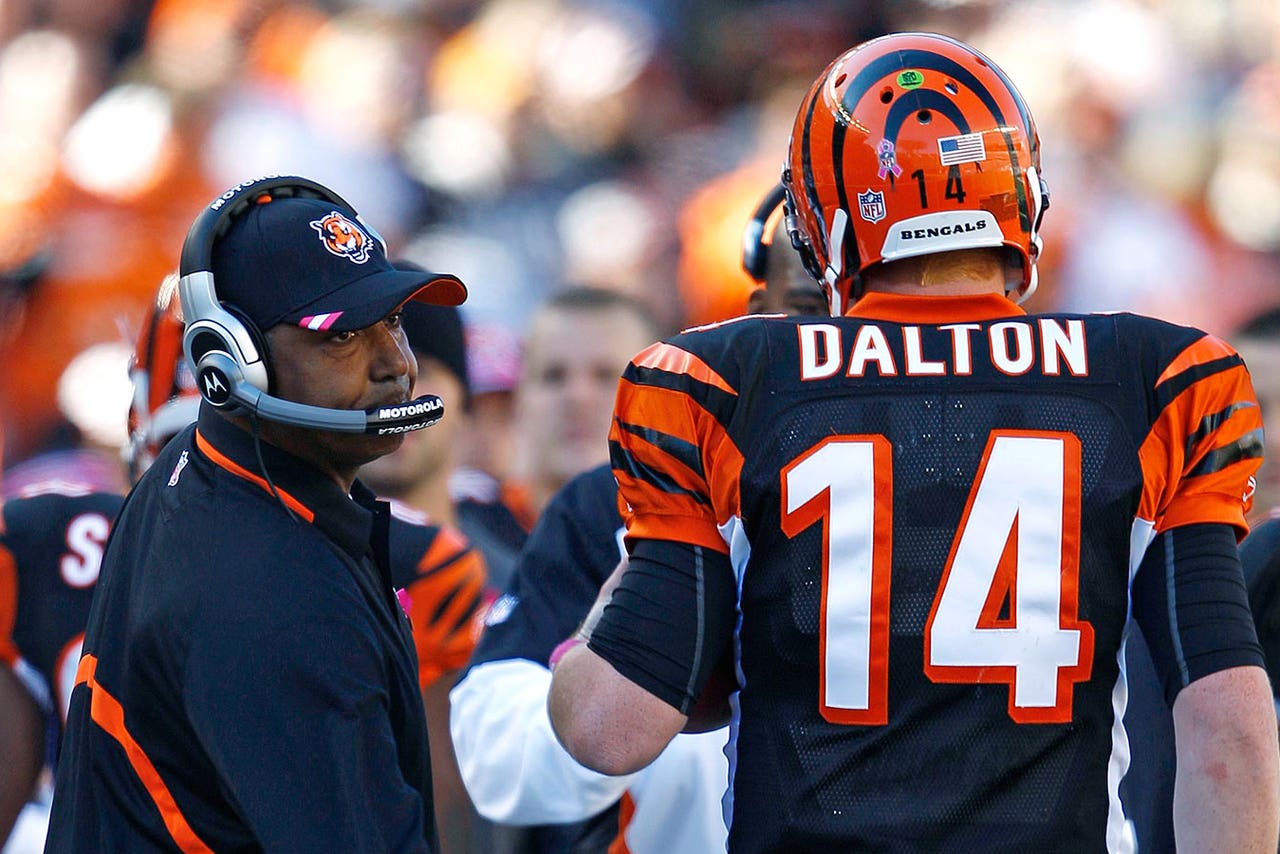 PHOENIX -- What a guy won't do for the offer of free coffee and breakfast. Morning rush hour starts awful early in the Valley of the Sun, as in before the sun shows itself. Getting from the west valley to anywhere else is a practice in patience and wise timing decisions.
I think I showed enough of the former Tuesday morning. The latter was definitely not the case.
Yet I did make it from Goodyear, where the Reds have a day off from their Cactus League schedule, to the Arizona Biltmore resort where the NFL is holding its annual league meetings. Tuesday's day away from baseball just happened to coincide with the AFC coaches' breakfast. Who is going to pass up java and croissants with Marvin Lewis?
Not me.
The Bengals are -- once again -- facing the same mountain climb for the fourth straight year. Every coach will tell you all of the teams start out the same on this climb. That's not quite true. Some are lugging heavier baggage than others. In the Bengals' case that luggage is four straight postseason appearances without a win. They've proven themselves to be one of the six best teams in the conference these past few seasons.
Proving anything beyond that has alluded them.
At these breakfast sessions, coaches sit at their own round top tables and wait for the media horde to amass and ask questions for an hour or so. There are various waves of the horde. There was only a trickle at the start (or at least that's what I was told as at that point I was still making my way through the side streets doing everything possible to avoid I-10).
"We're not breaking news, that's good," said Lewis.
Lewis didn't break any during the session, either.
Some nuggets:
*Free agency has been good to the Bengals in that they have done what they've wanted to do. That means being able to retain their own players as well as bring back defensive end Michael Johnson. Lewis said even tight end Jermaine Gresham is still an option to return as an unrestricted free agent. It has been thought to be an all-but-foregone conclusion that Gresham will be playing elsewhere in 2015 but Lewis has been in contact with the team's first-round pick from 2010 who has had an up-and-down career in Cincinnati.
"He's had inconsistent play but he's played at a high level, he's been a Pro Bowl player," said Lewis. "He's a man of many, many, many, many, many, many, many moods. But one he's consistent with is "I'm loyal to you coach." We'll see what happens."
*Lewis is part of the NFL's Competition Committee. Use of instant replay is a constant discussion point but don't expect many changes. Bengals president Mike Brown was the lone dissenting vote when replay was first approved. Brown was of the belief that the boundaries of what would become a reviewable play would continue to grow, and that has been the case as the rules and technology have evolved. There have been calls to include pass interference and other such penalties in the scope of replay but the committee is resisting.
"Starting to review penalties and things like that is not what replay was intended for," said Lewis. "There's a lot of gray that comes with that. Now you're just taking one subjective observation and making another. As a member of the competition committee we're really not for any of that."
*People get excited about the top picks of the draft. Not Lewis.
"I don't envy that at all. I don't want to pick two. I want to pick (No.) 32," he said when asked about the spot held by Tennessee.
The Bengals have pick No. 21.
"(Other teams) pick the first 20. That's the thing. There's no challenge. You've got to put the board together, you've got to feel good about the rankings on your board, on your order. I think when we go to pick we know we'll get a good player. We'll get a guy that whether or not he helps us this year -- I hope he doesn't have to but I know in the future he will."
*The youth of the team will be counted on to step up this season. Lewis mentioned defensive linemen Brandon Thompson, Margus Hunt and Will Clarke, cornerbacks Dre Kirkpatrick and Darqueze Dennard and safety Shawn Williams by name as player who are expected to contribute greater this season. All were selected in the first three rounds of their draft classes.
"We got to get these young guys out here and playing. We drafted them for a reason," said Lewis.
*No matter how much Lewis is questioned about quarterback Andy Dalton, he's not wavering in his belief that the Bengals can win with Dalton.
"We committed ourselves to Andy long term and now we feel really good about him and he will continue to get better with the pieces around Andy. Andy has done a lot of things not a lot of people have done. We have to keep playing better around him and that will be helpful to Andy."
Dalton and wide receiver A.J. Green are linked to each other. Green is coming off an injury-plagued season but offensive coordinator Hue Jackson has said he's going to poke and prod his top two players any way he can to get improvement, especially with Green.
"We always press the envelope with A.J. and Andy," said Lewis. "That's the challenge Hue has put on A.J. to be as dominant as he was."
*Last season's performance of the defense is a point of concern. How the defense has played in the postseason disturbs Lewis.
"We thought he played well in this game this year against Indy. What's worried me is our poor performance on defense in the playoffs. You look at how we've played on defense we haven't played good enough. Andy had a bad game against San Diego -- bad second half two years ago. The other games it's been split evenly. We do know, in order for us to be successful -- which we can't even talk about the playoffs because we haven't gotten there -- but the first thing we do, we have to take care of the ball and play better on defense."
*The AFC North isn't going to change its foundation of style, no matter how much no-huddle and up-tempo the NFL becomes.
"I've always felt it's a very strong division," said Lewis. "I think it was evident last year with three of the four teams going to the playoffs and the fourth team very close in the Browns. Everybody in the division plays very physical football, so when you play our division it's a slugfest all of the time. I think the teams are all built that way."
---