LeBron James
LeBron James
LeBron set to face a tall task in NBA Finals, but don't count him out
Published
May. 28, 2018 3:14 p.m. ET
BOSTON (AP) -- LeBron James will get a couple days to catch his breath, then make his annual June journey to Golden State or down to Houston to face a team far better than his.

His eighth straight NBA Finals sets up as one of his most difficult, flanked by a largely unheralded set of teammates who force him to do much more at 33 than most other players are ever asked.

But James keeps showing he can do it, and he can't wait for his chance to win another ring.

Dare count him out?

"At the end of the day, the game is won in between the lines, and we have an opportunity to play for a championship," he said after Sunday's 87-79 victory over Boston. "That's all that matters."

James dragged an injured and inconsistent Cavaliers team out of the Eastern Conference and back to the NBA Finals, where they will be an underdog against whichever team wins Game 7 in the West on Monday.

But after playing all 48 minutes in his 100th game of the season, punctuating one of the greatest series a player has ever had with 35 points, 15 rebounds and nine assists, he sure looks capable of more.

And the Cavaliers will need every bit of it. They had to play seven games just to get out of the first round, and seven more to finish a climb out of 2-0 deficit against a younger, more athletic Celtics team. They have to be tired, and that's no way to go into a series against Kevin Durant, Stephen Curry and the Warriors, who blew Cleveland away in five games last year, or James Harden and a Rockets team that can be every bit as potent on one end and lock teams down on the other.

The only way it would appear Cleveland would have a chance would be if James can summon his highest level, the kind that perhaps no other player can reach -- and then do it three more times.

The Celtics have seen him do it, after he averaged 33.6 points, 9.0 rebounds and 8.4 assists to eliminate them in the East finals for the second straight year.

"I think we've played now until May 25th and May 27th the last two years, and we started on Sept. 25th," Celtics coach Brad Stevens said. "That's every day. Every day that you're totally focused on this, and he's gone past that eight straight times. It's ridiculous, and he does it at this level and with the pressure, with the scrutiny. Doesn't matter. It's just unbelievable."

This was the year James' finals streak looked over. Kyrie Irving had been traded to Boston in the offseason, Isaiah Thomas, Dwyane Wade and Derrick Rose weren't the answers as his replacement, and Kevin Love missed significant time with injuries.




And even after the Cavaliers remade their team at the February trade deadline, it didn't look good enough. Cleveland had finished just fourth in the East, never developing the necessary cohesiveness required to be even a mediocre defensive team, let alone a championship-caliber one. They still can surrender open shots everywhere, a flaw that seems fatal against the 3-point happy Rockets or Warriors.

The only obvious advantage the Cavaliers have is James, the kind of player who can win a Game 7 in Boston with a team that was without its other All-Star because of a concussion and couldn't shoot straight deep into the first half, with Cavaliers other than James missing their first 10 3s until J.R. Smith hit one with 2:54 remaining until halftime.

"I mean, the bigger the stage, the bigger the player, and he's been doing it for us since we've been here," Cavs coach Tyronn Lue said. "The great quote from the great Doc Rivers is you always want to go into the Game 7 with the best player, and we have the best player on our team going into a Game 7. I like our chances."

And he'll like them again starting Thursday even if the oddsmakers don't. The Cavaliers were probably far better last year and could only get a game from the Warriors.

But two years ago, they also weren't given much of a shot against the Warriors, especially after falling behind 3-1 in the finals. Nobody had ever overcome that deficit in the championship round, and Cleveland had to do it against a team that had won an NBA-record 73 games.

James led that comeback to Cleveland's first title, and now he's got a shot for another unlikely one.

"I'll be available for at least four more games," James said, "and we'll see what happens."

------


---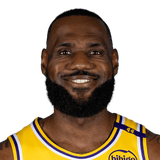 Get more from LeBron James
Follow your favorites to get information about games, news and more
---