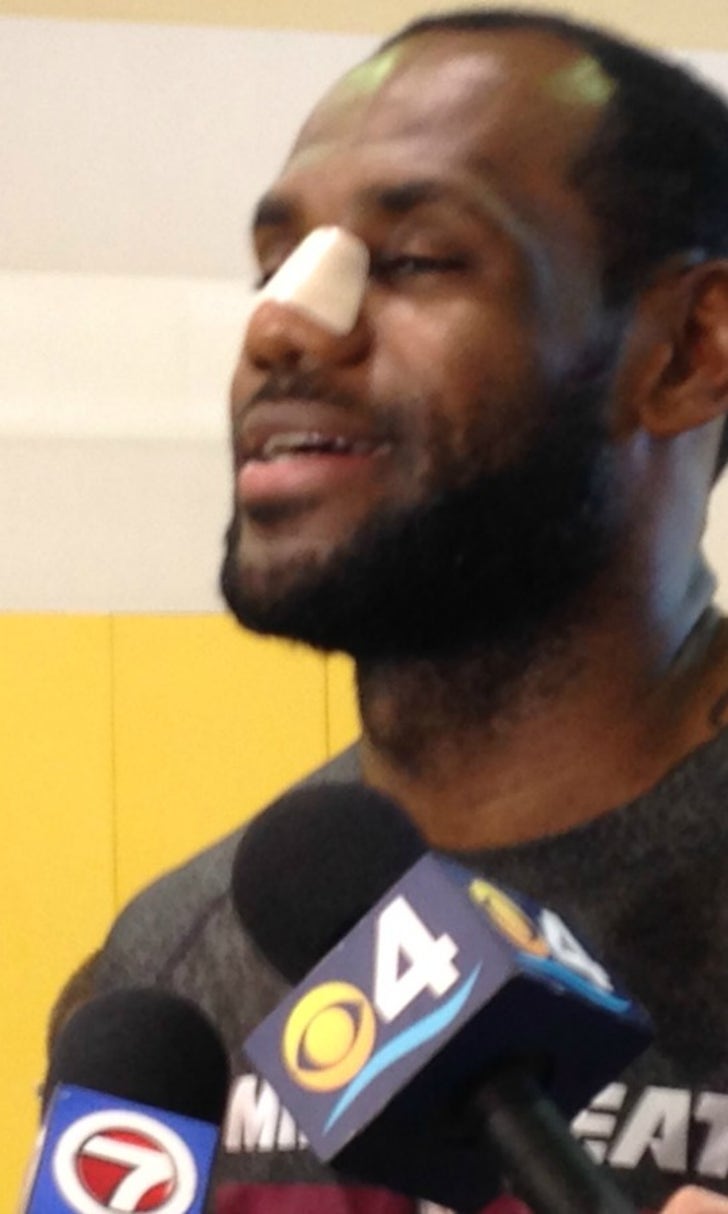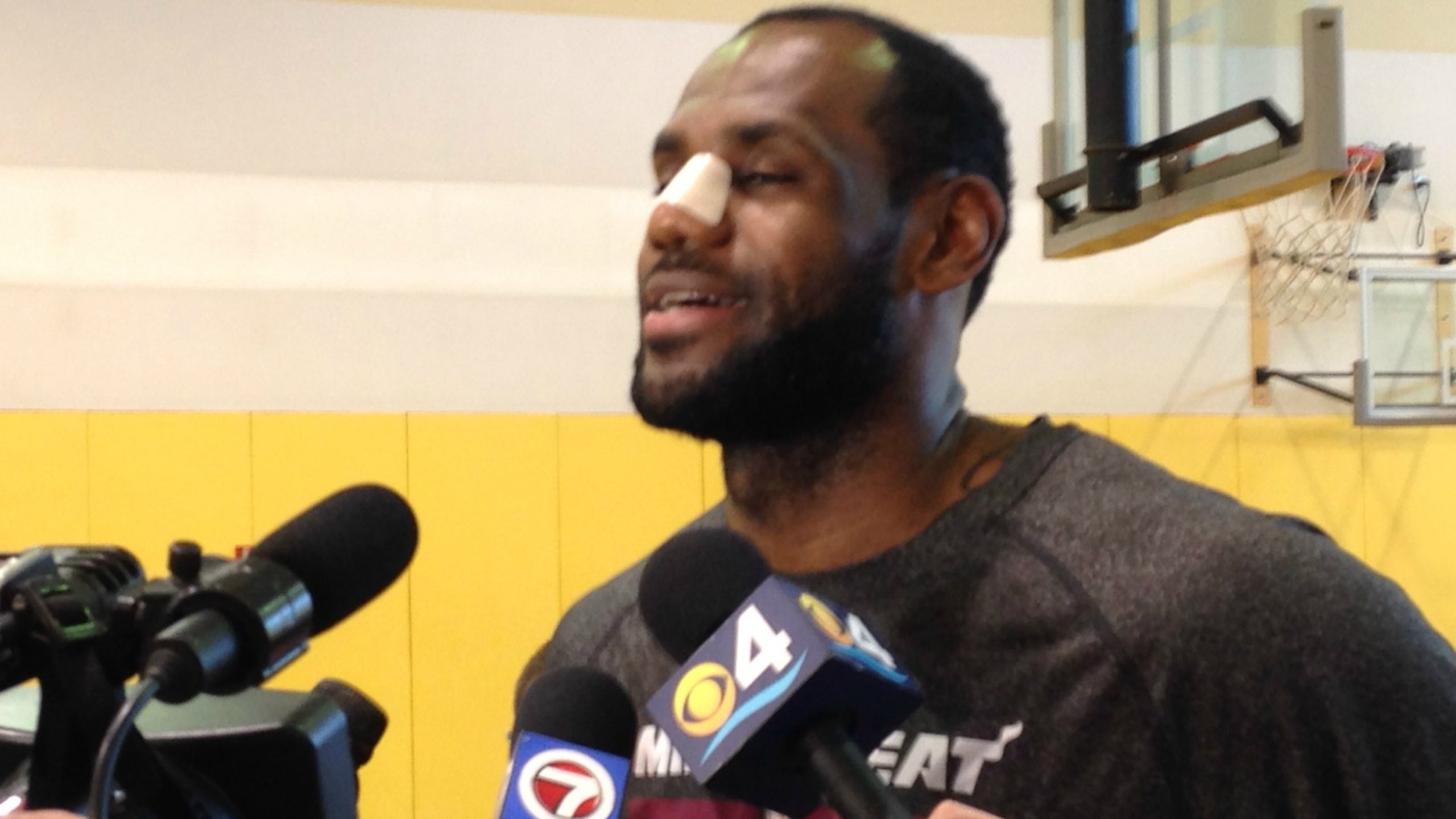 LeBron James to be fitted for mask to protect broken nose
BY foxsports • February 22, 2014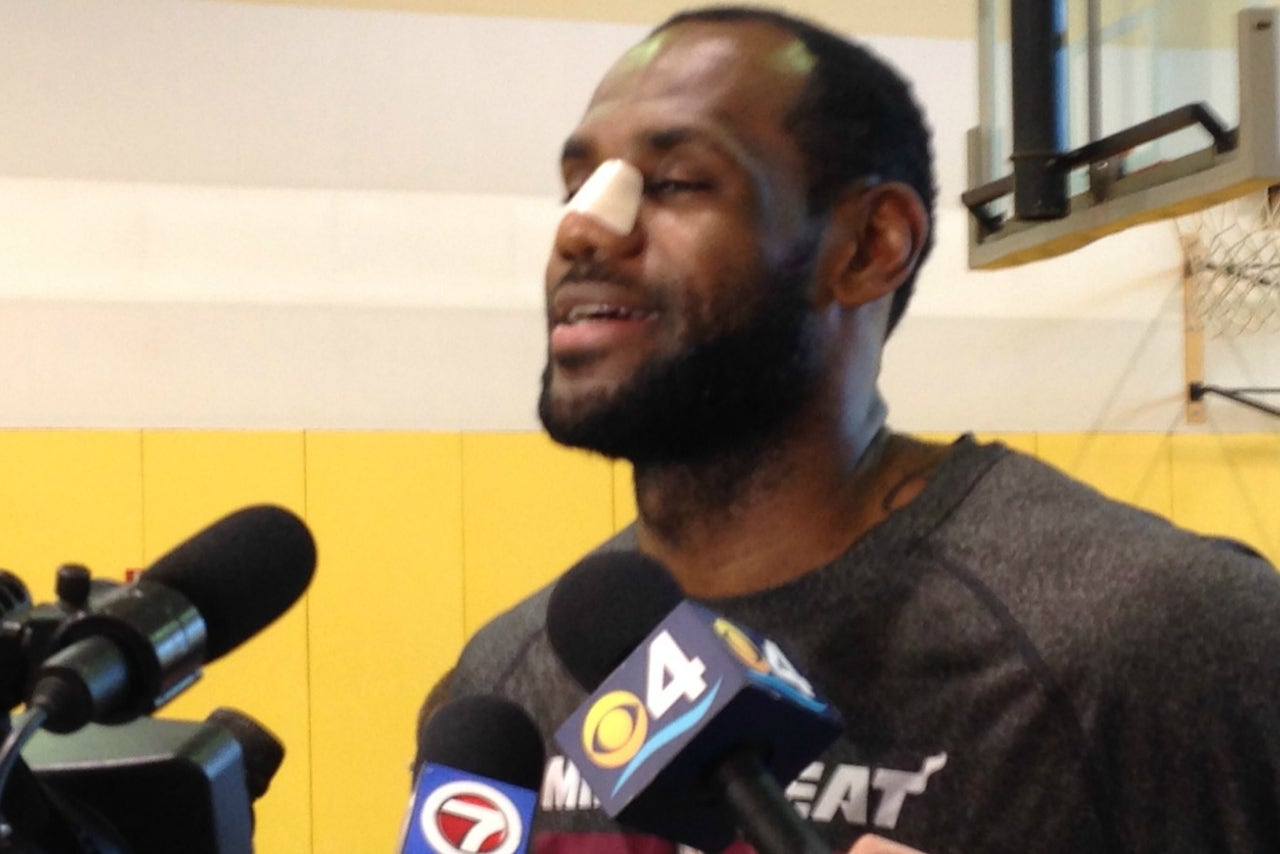 MIAMI -- Looking a bit groggy and sporting a bandage on his broken nose, LeBron James faced the media Saturday morning for the first time since being injured at Oklahoma City two nights earlier.
The Miami Heat star said he could not have played Saturday if a game had been scheduled, and added his status for Sunday's home game against the Chicago Bulls would be a game-time decision.
"More probable than anything, but we'll see what happens," James said following the Heat's morning practice in which he did not participate. LeBron did take some jump shots and free throws after the team's workout.
James said he was feeling better than he had postgame Thursday night, when he was hit in the face by Thunder defender Serge Ibaka late in Miami's 103-81 victory. But still, he was hurting.
"It's a little bit of everything, man -- pain … headaches … whatever," he said. "I'll get past it and hopefully get better in the next day. If not, we're not going to rush it. I'm definitely not going to rush it."
James was scheduled to be fitted for a mask in the afternoon. He said he was not looking forward to playing with protective gear, something former NBA swingman Richard Hamilton wore for nearly 10 years.
"It's nothing that you want to make long-term," he said. "I'm still at awe with what 'Rip' Hamilton was able to do for so long wearing it. It's very uncomfortable. We'll see if I have to (wear it) … probably I will, or I'll go with this Humpty Dumpty thing I got on my nose now. I'll do my dance after I make a shot."
If so, it won't be the first time James was forced to don a mask. He did so after suffering a fractured cheekbone when taking Dikembe Mutombo's elbow to the face in December 2004. James said his wife found that mask at his home in Akron, Ohio.
"It probably won't fit," he said, "I think my face has changed a little bit since I was 19."
At least James knew what to expect in playing while wearing a mask.
"Anybody who knows the history of the game, Dikembe's elbows were not the nicest," James said. "And it happened a few hours before my 20th birthday. We were playing in Cleveland against Houston ... that didn't feel too pleasant, either, so I had to wear a mask for a few weeks.
"I believe I'll play but I was a 19 year old recovering as opposed to a 29 year old recovering, so it'll take a little bit longer time."
Saying he had been the subject of jokes courtesy of his sons and teammates, James also posted a photo of himself wearing a Bane mask on Friday. Don't expect that to be an on-court fashion statement, though.
"I don't think (NBA commissioner) Adam Silver would go for that," he said
James left Thursday night's game with 5:50 remaining in the fourth quarter after being hit in the face by Ibaka's hand on a driving basket. No foul was called on the play.
The Heat star suffered a bloody nose, and held a towel to his face while being escorted to the locker room. He did not return.
"I thought it was accidental," James said. "I thought it was a foul, I'll tell you that. He got me twice. I was just happy our training staff was able to stop the bleeding once I got into the locker room.
"The fact I was on the road for so long and it happened on the last day before I came home was the worst thing about the shot."
You can follow Charlie McCarthy on Twitter @mccarthy_chas or email him at mac1763@bellsouth.net.
---
---