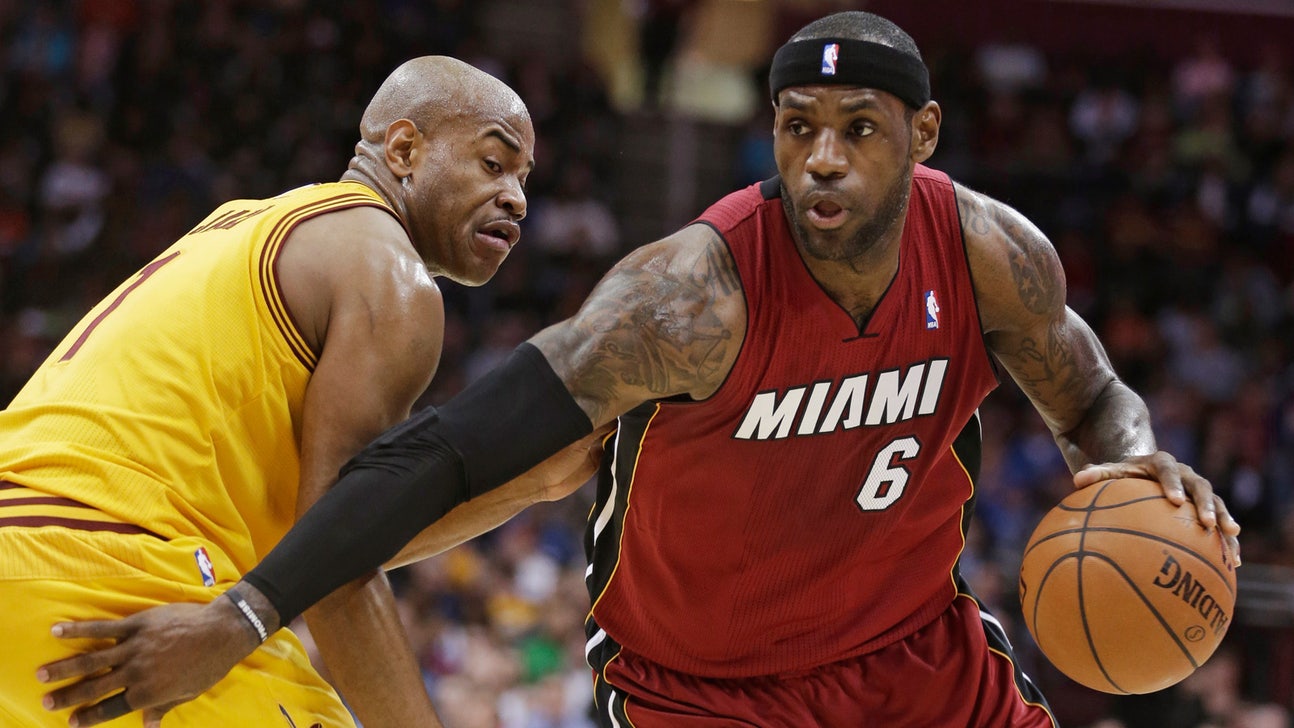 LeBron James starts strong, Heat hold off to Cavaliers on road
Updated
Mar. 5, 2020 1:46 a.m. ET

CLEVELAND (AP) -- As shot after shot dropped through the net, it became clear LeBron James was going to have one of those special nights.
The kind he has every so often.
The kind he has when Dwyane Wade sits.
James scored 43 points -- 25 in a bewildering first-quarter shooting display -- and Chris Bosh added 21, leading the Miami Heat to a 100-96 win Tuesday night over the Cleveland Cavaliers, who played their first game without injured All-Star guard Kyrie Irving.
With Wade out resting his sore knees, James took it upon himself to carry the Heat. The same thing happened on March 3 and James responded by scoring a career-high 61 against Charlotte.
"I don't know, it's one of those zones," James said, trying to explain how he made 10 of 11 shot and five 3-pointers in the dizzying opening quarter. "When I started the game off, I felt like I could have gone for 50 or 60."
James added two crucial blocks and dropped six free throws in the final two minutes, and Bosh had a key rejection to lead the Heat to just their third win in eight games.
With Wade out, the Heat's two other megastars picked up the slack.
Jarrett Jack scored 22 and Dion Waiters added 17 and 11 assists for Cleveland, which was also without starting forward Luol Deng (sprained ankle). Irving's expected to miss two weeks with a strained biceps tendon, an injury that further damages the Cavs' fading playoff hopes. Cleveland fell six games behind Atlanta for the final playoff spot.
"Our guys hung in there and they competed," Cavs coach Mike Brown said.
After one quarter, it was: James 25, Cavs 25.
And like the other 20,000 plus in attendance, Heat coach Erik Spoelstra marveled at James' accuracy.
"That had nothing to do with me," Spoelstra said. "Truth be told, it's not like I'm absolutely in love with those type of plays, but he had it rolling. So I took a step back for a little bit."
The four-time MVP had 31 points at halftime and 37 after three quarters, but the Heat entered the final 12 minutes tied as they were unable to shake off the Cavs, who shot 60 percent from the floor through three and had all five starters in double figures.
With James content to distribute the ball, Bosh scored nine straight points to put Miami ahead 93-88 with 2:24 remaining. Cleveland cut it to three on a basket by Anderson Varejao and had a chance to get closer but James -- with an assist from Udonis Haslem -- snuffed a dunk attempt by Spencer Hawes. Just 11 seconds later, Bosh turned away Waiters and James made a pair of free throws to make it 95-90 with 1:06 remaining.
After empty possessions by both teams, James blocked a drive by Waiters and Bosh split a pair of free throws, giving the Heat a 96-90 lead. Jack made two 3-pointers in the final 15.7 seconds, but both times James answered by hitting two free throws to close it out.
Spoelstra was most pleased with Miami's defense down the stretch.
"Probably my favorite play was the double block," he said. "U.D. and L.J. going for that. It should be a layup. It should be a dunk. To make that play, those are the things I like to see."
James improved to 13-1 against the Cavaliers, the team he left after seven seasons as a free agent in 2010.
James made his first six shots -- four of them 3s -- and showed most of his offensive repertoire in the first quarter. He hit fadeaways, runners and a thunderous breakaway dunk. The only shot James missed came on a "heat-check" 3-pointer from way beyond the arc.
"That's what makes LeBron unique in this league," Spoelstra said. "In today's age, there are players who would be looking for numbers with that type of start to see if you can go for 70. LeBron's just trying to play the game the right way. It takes great maturity. He's selfless."
It was James' second visit to Cleveland in 10 days. He had been back on March 8, when former teammate Zydrunas Ilgauskas had his jersey retired by the Cavs, who may one day raise the No. 23 James wore to the rafters of Quicken Loans Arena.
Much pregame hype focused on the All-Star's future. James can opt out of his contract with Miami this summer and become a free agent, and one of his possible destinations could be Cleveland.
Asked directly if he wants to play for his former team again, James was noncommittal.
"As of right now, it's too hard for me to think about," he said. "We have 20 or less games before we gear up for no sleep for two months, hopefully. So for me to try and take my mind somewhere else when I know what's on its way is almost impossible."
NOTES: Wade will be re-evaluated Wednesday when the Heat visit Boston. ... James has yet to fill out his NCAA tournament brackets and didn't seem to be in a hurry to do it anytime soon. "I'm terrible," he said. He was then reminded about the $1 billion Gilbert and tycoon Warren Buffett are offering for anyone who picks the games perfectly. Doesn't he want the billion? "No," James said. "I'm just going to ask him for it." It's unclear whether he meant Gilbert or Buffett. ... Spoelstra intends to keep C Greg Oden in the starting lineup, a drastic change for Miami, which has favored smaller, shooter-heavy lineups. Oden made his third start and finished with six points in 14 minutes.
---