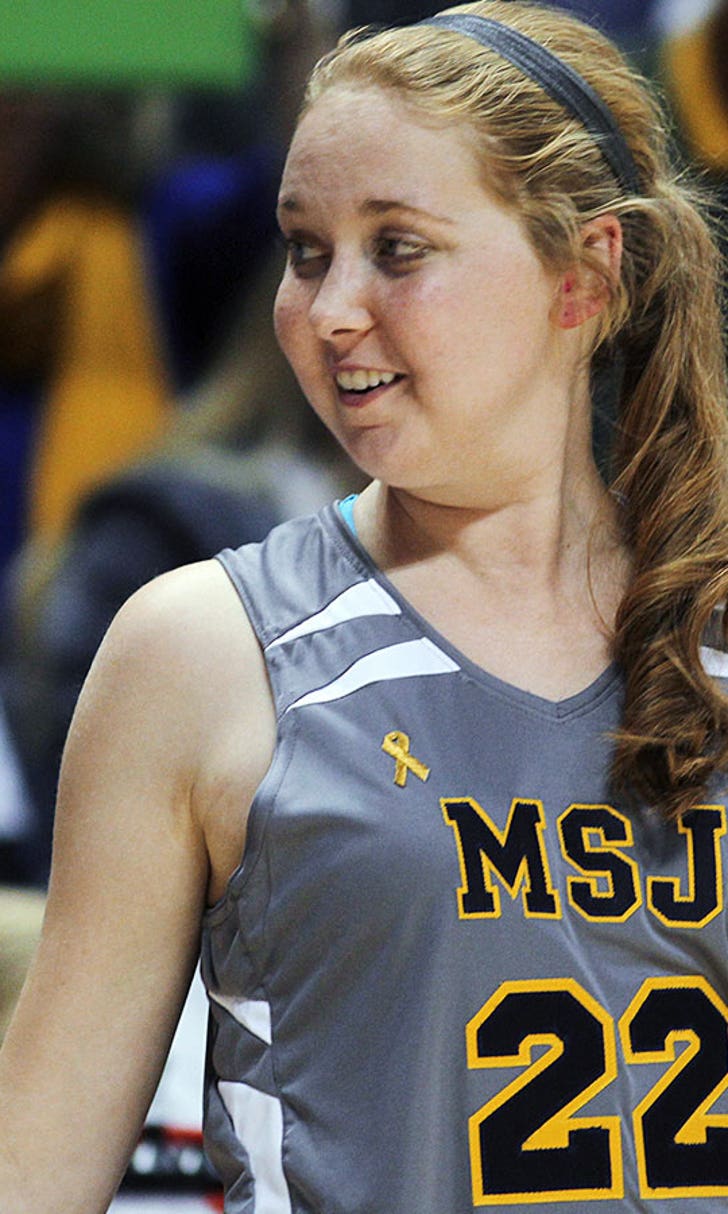 Lauren Hill continues to amaze, scores basket in second college game
BY foxsports • November 22, 2014
Lauren Hill continues to amaze through courage and perseverance.
The Mt. St. Joseph freshman captured the hearts of sports fans with her battle against an inoperable brain tumor.
She then scored two baskets in her first college basketball game -- moved up with help of the NCAA.
Friday night, despite worsening symptoms, Hill persuaded her coach to put her in a game against Bethany College with 8:06 remaining.
According to Cleveland.com, Hill took a pass from teammate Taylor Brown. Bethany forward Kelsi Settle backed off just a little as Hill turned, dribbled once and floated a nice, right-handed shot that caught nothing but net for a 56-44 deficit with 7:47 to play.
Hill fell onto her rear end after the shot, but got up with the help of a teammate. The crowd of 322 cheered and Hill was surrounded by teammates and walked to the bench.
"When I see a shot go in by her, whether it's in practice or a game, it's like Christmas,'' teammate Tara Dennis said. "Every time she does it, it is so special to watch, and see how happy she is. It is awesome.''
MSJ, coach Dan Benjamin decided to put Lauren in the game after a discussion with her mother, Lisa.
"It was nerve-wracking,'' Benjamin told Cleveland.com. "I talked to her mom and dad this morning and she wasn't feeling very well. We weren't sure what she was going to do. She hasn't practiced in two weeks and I was nervous about putting her in and her getting hurt.
"But she was on the bench saying, 'Coach, I'm starting to fade. I'm draining,' and I said I'm putting her in. My staff was like, 'No, we're in this game.' I said, 'I don't care. It's not about the game.' It was one of the toughest decisions I've ever made.''
---
---