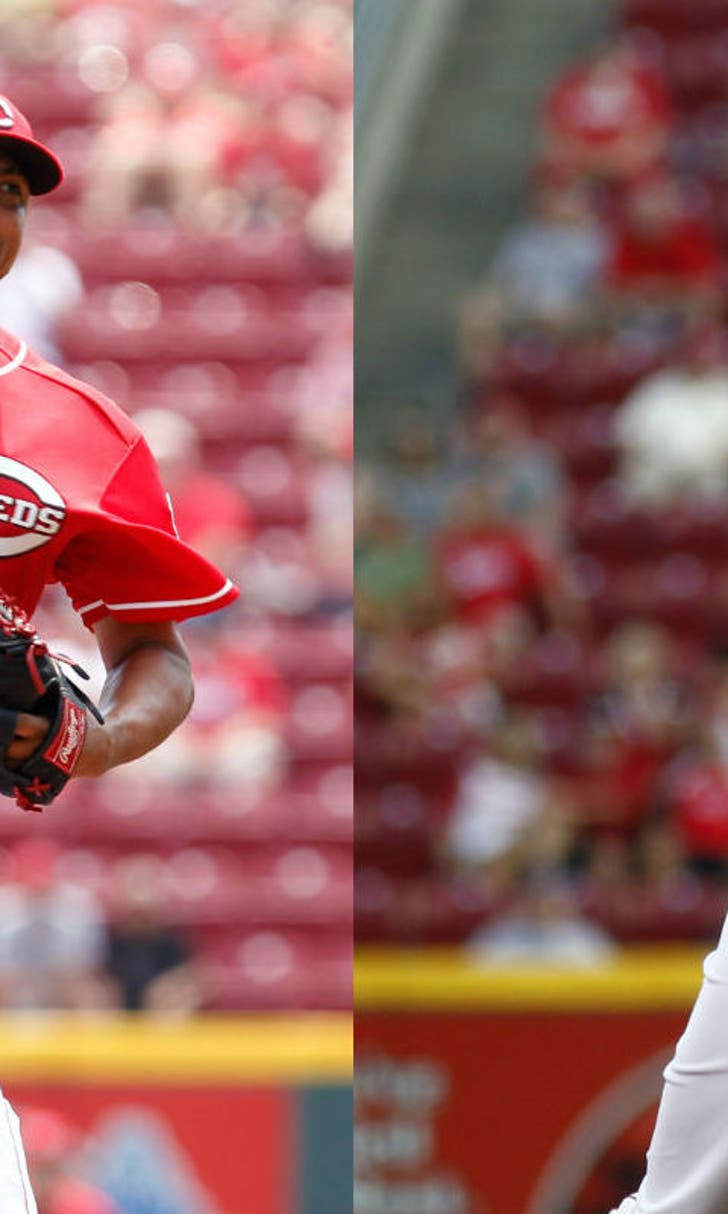 Latos, Simon deals give Reds room to maneuver
BY foxsports • December 11, 2014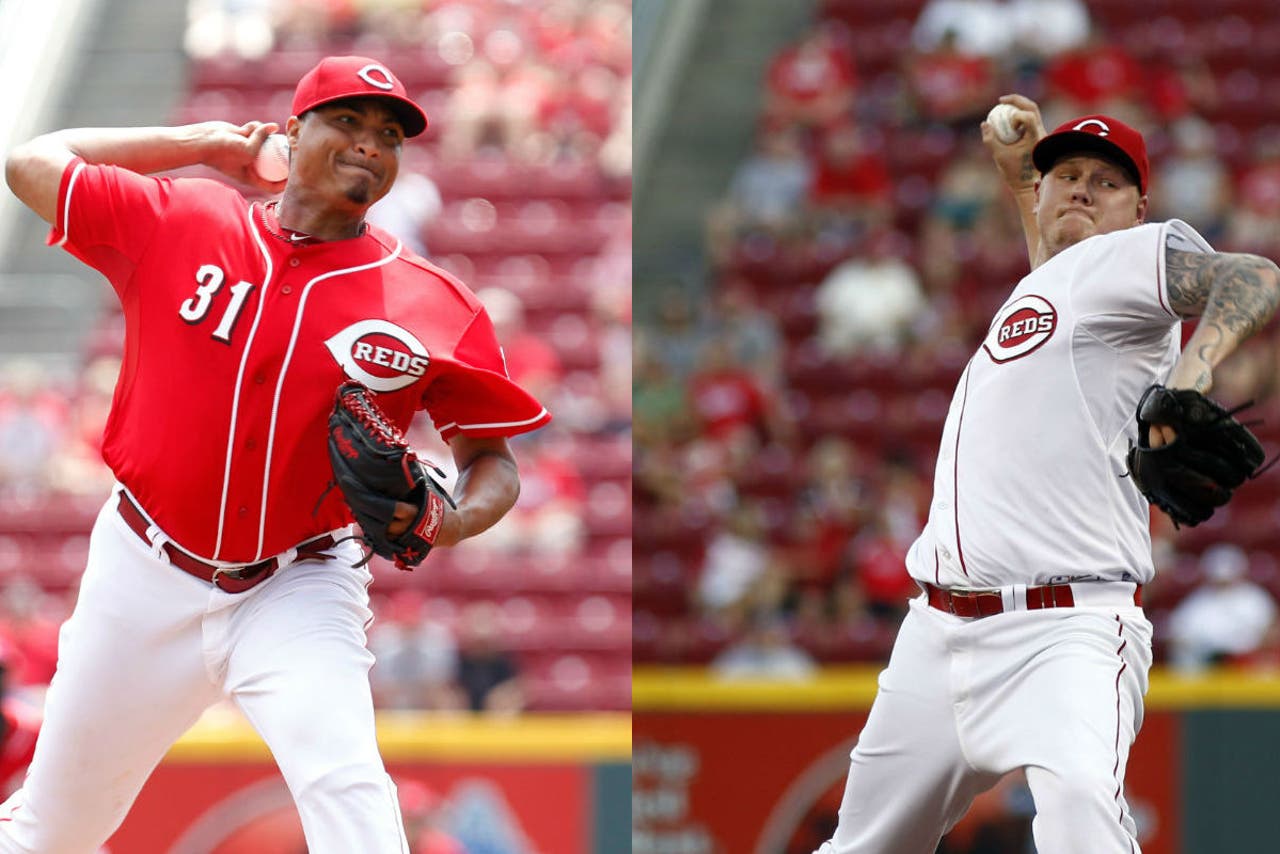 SAN DIEGO -- The Reds made some noise on the final day of Major League Baseball's annual Winter Meetings by trading away starting pitchers Mat Latos and Alfredo Simon in separate deals Thursday morning.
While the moves hit at what has been the strength of the team the past few seasons -- the starting rotation -- they also allow the Reds flexibility to address some glaring weaknesses.
The biggest of those weaknesses is obtaining a left fielder who can provide consistent power and productivity to a lineup that was among the worst in nearly every offensive category last season, particularly after the All-Star break. Simon and Latos are each entering their final years of arbitration eligibility and will be eligible to become free agents after the 2015 season unless signed to extensions with their new clubs. They were projected by MLBTradeRumors.com to make a combined $13.5 million this season - $8.4 million for Latos and $5.1 for Simon.
The players the Reds received in return will be under the team's control for the next few seasons and not yet arbitration eligible, although that doesn't mean they can't be a help to the big league club as early as next season.
Simon was traded to Detroit in exchange for Jonathon Crawford, a right-handed pitcher, and infielder Eugenio Suarez. Latos was traded to the Miami Marlins in exchange for right-handed pitcher Anthony Desclafani and catcher Chad Wallach.
"Things are moving into place," said Reds general manager Walt Jocketty after the Simon trade was announced at the Manchester Grand Hyatt in San Diego. "It is always tough to lose quality guys but we have some challenges. I think we've done very good."
The Latos trade was made official a short time later.
"It was a move necessitated by some of the payroll restrictions that we had," said Jocketty. "Mat had a great career when he was here with us. When I spoke to him he was grateful for the opportunity while he was here. We'll miss him because obviously he was a great pitcher for us but he'll do well with Miami."
Jocketty said talks with the Marlins regarding Latos began last week but picked up this past Sunday and Monday as the Winter Meetings got underway. Latos went 5-5 with a 3.25 ERA in 16 starts last season. Elbow and knee injuries ended a string of four consecutive seasons with at least 31 starts for Latos.
Simon had a breakout season for the Reds in 2014, going 15-10 with a 3.44 ERA in 32 starts after getting a shot at the rotation because of the injuries that forced Latos to miss the first 2½ months of the season. Simon earned an All-Star bid by going 12-3 with a 2.70 ERA in his first 18 starts.
These are the first trades for the Reds at the Winter Meetings since 2008.
DeSclafani and Suarez each made their MLB debuts last season. Jocketty said that DeSclafani has a shot to make the rotation this season. DeSclafani, 24, made five starts and eight relief appearances for Miami after making the jump from Double-A Jacksonville to Triple-A New Orleans. He pitched once against the Reds, giving up one hit in a scoreless inning on Aug. 10 in a 7-2 Cincinnati win at Great American Ball Park.
Suarez, 23, played in 85 games for the Tigers last season, including 81 at shortstop, and hit .242 with four home runs and 23 RBI. He also made the move from Double-A to Triple-A to the big leagues last season.
Crawford and Wallach are both 23 and farther away from being ready for the majors. Crawford was Detroit's top pick in the 2013 June amateur draft, selected No. 20 overall, and has been a mid-season All-Star selection in each of his first two seasons in the minor leagues. In 31 career starts he has produced a 2.73 ERA while allowing just 108 hits and a .218 opponents' batting average over 142.0 innings. He pitched in Single-A last season. Wallach had 97 appearances last season for Class A Jupiter and Greensboro, where he was a mid-season South Atlantic League All-Star. He combined to hit .322 with seven home runs and 57 RBI.
The Reds will now be in better financial shape to find a free agent solution to left field.
Jocketty said on Wednesday that the Reds were interested in different free agents, including Nori Aoki, who was with AL champion Kansas City last season, and Michael Morse of World Series champion San Francisco.
Aoki isn't a power hitter by any stretch of the imagination but he knows how to get on base. In his three seasons in the big leagues -- his first two were with Milwaukee --€" Aoki has accumulated a .353 on-base percentage in more than 1,800 plate appearances. He struck out just 144 times combined in those three seasons.
Morse had 16 home runs and 61 RBI for the Giants last season while battling an oblique injury. He had a slugging percentage of .475 to go along with his batting average of .273 and on-base percentage of .336. He hit a pair of home runs at GABP last season during a three-game series against the Reds, both no doubt shots. His best season came in 2011 with Washington when he hit 36 home runs and drove in 95 runs.
Left field isn't the only issue for the Reds, but finding someone to fill that void would go a long way to helping the overall solution. Jocketty and manager Bryan Price aren't conceding this as a rebuilding season, even though the other teams in the NL Central have all made moves to bolster themselves.
"I'd like to improve left field but the rest of the club will be strong," said Jocketty. "The key for us is guys who were hurt last year coming back and being healthy and 100 percent and performing like they're capable of."
Joe Reedy contributed to the article.
---