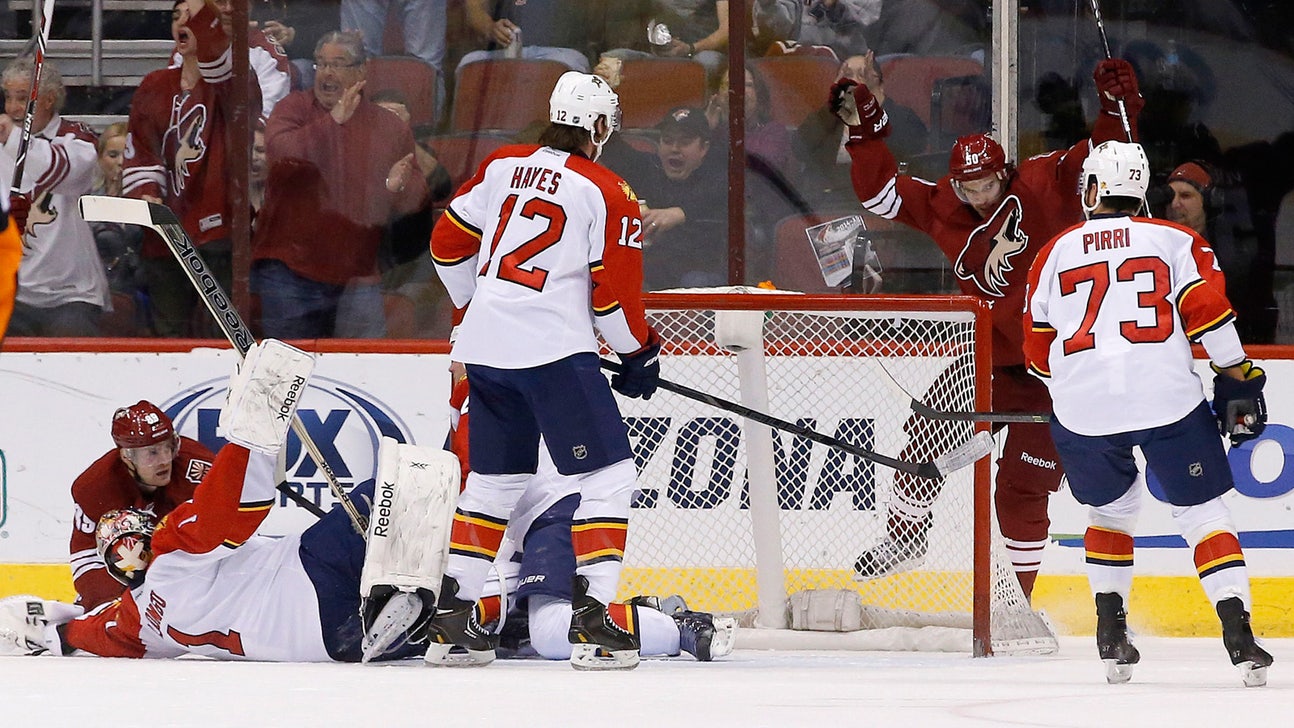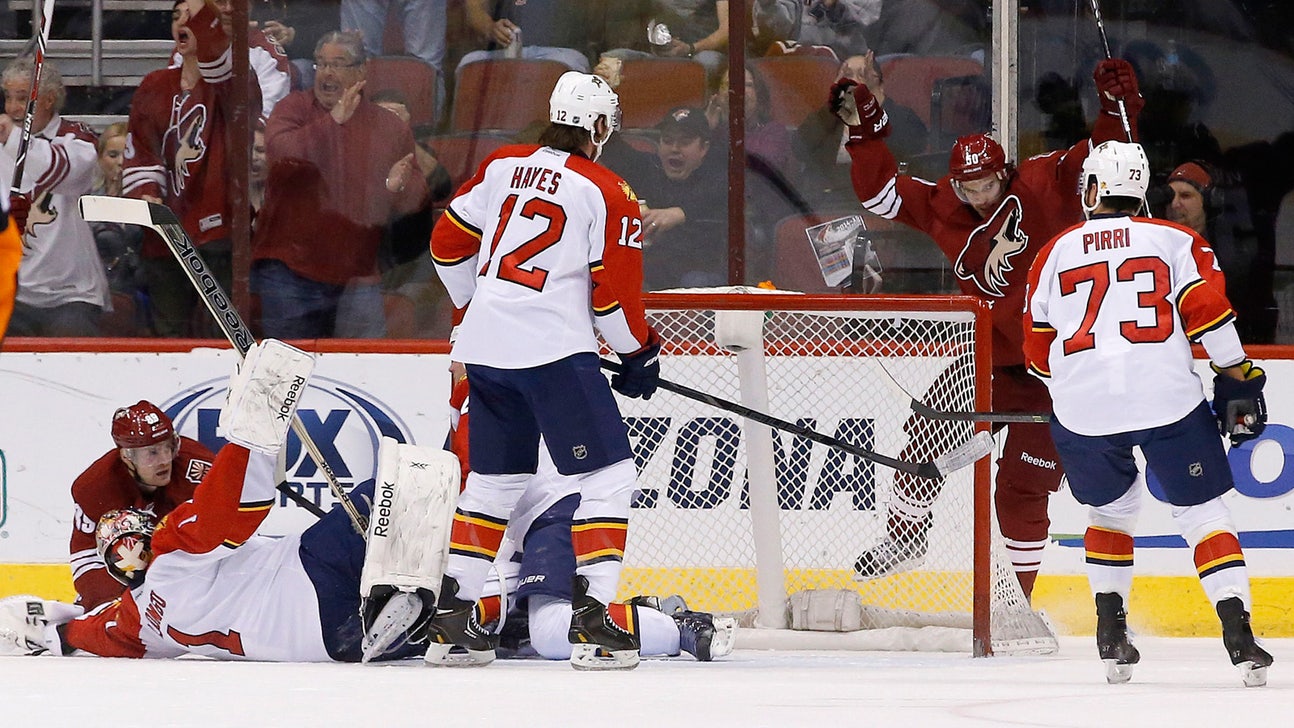 Late push comes up short for Panthers against Coyotes
Updated
Mar. 4, 2020 4:01 p.m. ET

GLENDALE, Ariz. (AP) -- The Phoenix Coyotes have won three in a row for the first time in 4 months, and they've done it just in time for the stretch run to the playoffs.
Radim Vrbata and Antoine Vermette scored first-period goals and the Phoenix Coyotes held on for a 2-1 win over the Florida Panthers on Thursday night.
Coyotes goalie Mike Smith had a shutout until Chris Gomez scored with 4:08 to play. Smith had 22 saves.
The game was no thing of beauty.
"They all can't all be masterpieces," Phoenix coach Dave Tippett said. "We got up two goals and we won. We'll leave it at that."
The victory, coupled with Dallas' loss to Philadelphia, put the Coyotes four points ahead of the Stars for the eighth and final playoff spot in the West.
Phoenix has won five of six and seven of nine.
"Maybe desperation," Vrbata said when asked what was driving the recent success. "We know where we are in the standings and that we need every point we can get. We lost too many games before, games we should have won."
Smith's play has been central to the recent wins and he was strong again Thursday.
"Before they got that goal, he was outstanding," Tippett said, "and then he got some after that."
There weren't many shots, Tippett said, but several were difficult saves.
Robert Luongo had 20 saves for the Panthers.
The Coyotes scored their first goal on a power play after Florida's Jimmy Hayes was sent to the penalty box for holding.
Oliver Ekman-Larsson's shot from directly in front of the net glanced off Martin Hanzal's skate and was knocked into the net by Vrbata for his 20th goal of the season.
Phoenix killed two penalties the rest of the period, then made it 2-0 when Vermette hit the puck into a virtually empty net off a deflected shot by Mike Stone. Stone's shot bounced off Luongo's midsection and right to Vermette. Luongo complained that the goal should have been disallowed because Mikkel Boedker had knocked the goalie to the ice, creating an opening for the goal, but the score stood and it was 2-0 after two.
"I think they missed it," Florida coach Peter Horachek said. ".. It should have been an interference call. A lot of those things are going to happen and you're going to have to deal with them, everybody else does, but when you look back at it, it makes it 1-1."
Luongo said he'd have to look at the tape, but added "it's tough to do my job when I end up in the corner."
Tippett said Boedker was shoved in to the goalie.
"They're guy pushed," Tippett said. "I thought it was the right call. Boedker wouldn't have been in there if he hadn't got pushed."
"If he hadn't been shoved, he wouldn't have been in there," Tippett said.
It was Vermette's team-leading 22nd goal.
Hanzal and Ekman-Larsson got assists on Vrbata's goal, Stone and Boedker on the second.
Gomez's goal, his first in 36 games, came on a wrist shot that fluttered past Smith.
The three-game winning streak is Phoenix's longest since it won five in a row from Oct. 26 to Nov. 5.
NOTES: Florida ranks last in the NHL in power-play goals and last in penalty kills. ... Entering the night, Smith had a 1.92 goals-against average and .936 save percentage in his previous 14 games. ... Phoenix swept the season series 2-0, winning at Florida 3-1 on March 11. ... Phoenix is home against Boston Saturday night. ... The Panthers were on the second stop of a four-game road trip. They are at Los Angeles on Saturday.
---