Kansas City Chiefs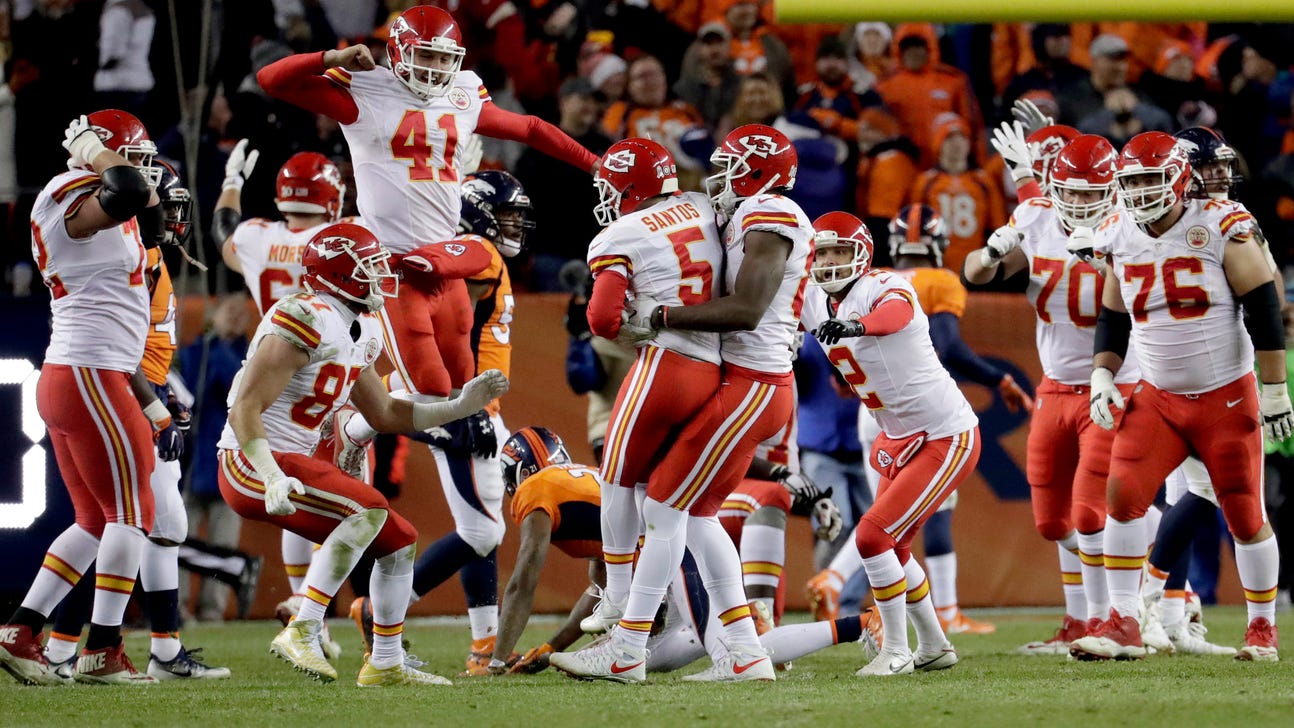 Kansas City Chiefs
Last-second field goal puts Chiefs past Broncos 30-27 in overtime
Published
Nov. 28, 2016 12:29 a.m. ET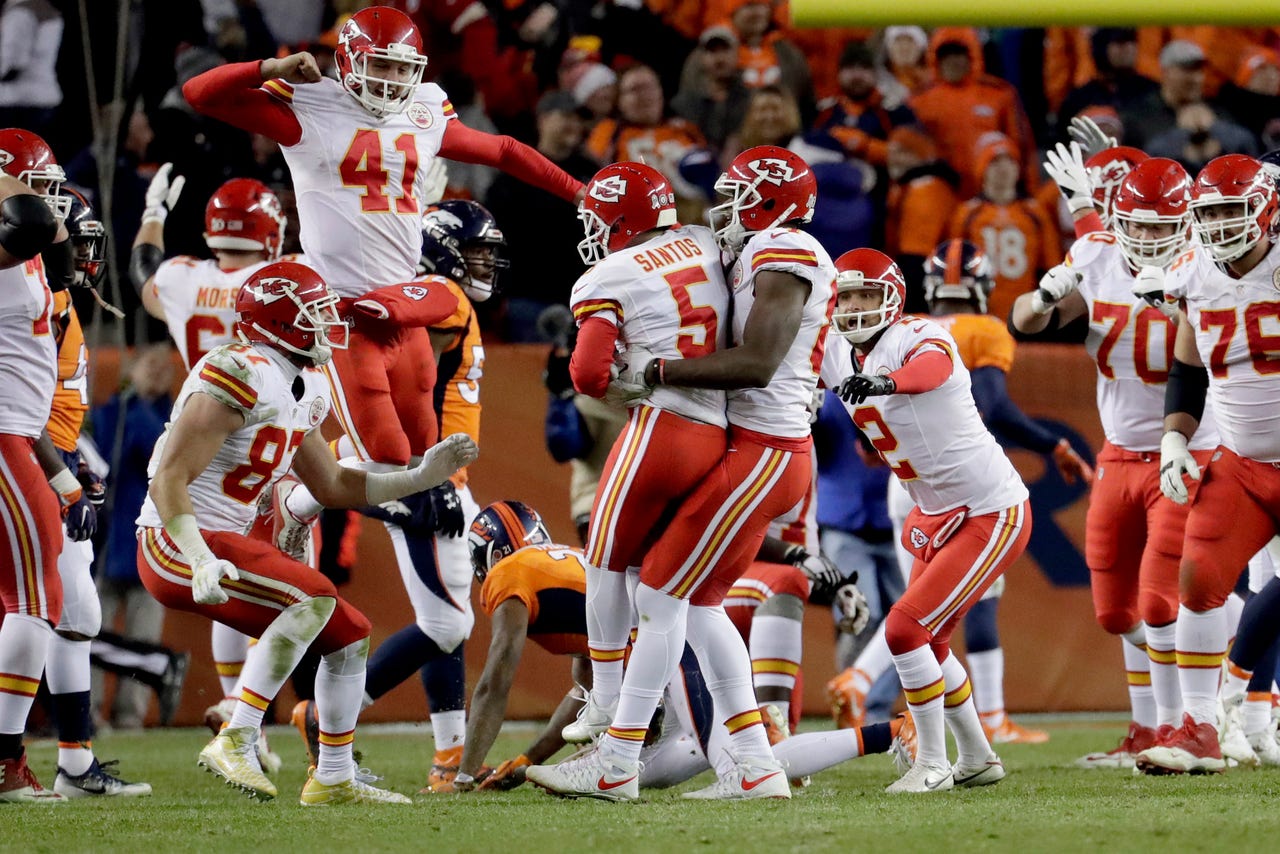 DENVER -- Even when the 4,500th second ticked off the clock on this spectacular Sunday night showdown, the Kansas City Chiefs weren't sure they had won and the Denver Broncos wondered if they'd really lost.
Cairo Santos' 34-yard field goal hit the left upright and bounced through as the overtime period expired to give the Chiefs a 30-27 victory fueled by rookie Tyreek Hill's trio of touchdowns -- on a reception, a rush and a return, something no rookie had done since Gale Sayers in 1965.
"The only way this game could end," NBC color analyst Cris Collinsworth declared. "Holy smokes. I didn't know what had happened."
With only one of the two officials raising his arms to signal the ball had gone through the uprights, the Chiefs hesitated as they ran onto the field to celebrate. The stadium was rocking as if it hadn't.
"I waited for everybody to rejoice," Chiefs linebacker Tamba Hali said, "because I didn't know if it went in."
Neither did thousands of fans who wanted so much to believe the Chiefs had squandered their second chance. But Kansas City's lucky bounce avoided the third tie in the NFL this season, something that hasn't happened since 1973, before the league introduced overtime.
The winner followed a risky move by Broncos coach Gary Kubiak that backfired and left the Broncos (7-4) two games back of Oakland (9-2) in the AFC West and one behind the Chiefs (8-3).
Kubiak sent his kicker out for a 62-yard try with 1:01 left. But Brandon McManus -- who has hit from 70 yards in training camp and was perfect in the playoffs during Denver's Super Bowl 50 surge -- came up way short and wide left on what would have been the longest game-winning field goal in NFL history.
"It's on me," Kubiak said, explaining he made the move because he had confidence in his kicker even with a new long snapper who joined the team Friday. "We didn't have any doubt that he could get the ball there. The thought process was on the other end: If we do punt, do we get the ball back?"
McManus was confident as he trotted out for the 62-yarder even after one of Thomas Gafford's snaps had skidded on the ground in regulation.
"That's still well within my range. I just kind of hit the ground," McManus said. "From that distance, everything kind of needs to be perfect just because of how far you are away. It didn't happen for me."
Instead of having to go 80 yards or more, the Chiefs got the ball at the Denver 48 with one timeout and just over a minute remaining. The Chiefs reached the Denver 16 before Santos ended the showdown with one last bit of drama.
"Cairo, he kept us all in suspense with that bank shot, or the chip shot, or whatever it is," Chiefs coach Andy Reid said
The defending Super Bowl champs could find themselves fighting for a wild card now.
"Tonight was a terrible night," Von Miller said. "But we'll be back."
Added cornerback Chris Harris Jr.: "We just got to get into the playoffs. I feel like if we get in the playoffs, we can be scary for anybody."
Both teams kicked field goals on their opening possession of overtime, McManus from 44 yards and Santos from 37. Those followed Kansas City's amazing tying drive in the final 3 minutes of regulation.
Alex Smith threw a 3-yard touchdown pass to Hill and a 2-point conversion pass to tight end Demetrius Harris with 12 seconds left to tie it at 24.
Hill's third touchdown of the night capped a 13-play, 75-yard drive that included three defensive penalties, a fourth-and-10 conversion to the Denver 3 and zero Kansas City timeouts.
The Chiefs had burned their last two timeouts just before Trevor Siemian's 76-yard touchdown toss to Bennie Fowler, who got behind cornerback Phillip Gaines with three minutes left that seemingly sealed Denver's win.
Siemian threw for 368 yards and three TDs with no interceptions in his best game as a pro. But he was sacked five times as his O-line proved just as porous as it has all season even after the team made better protection a priority following its bye.
SLOW STARTER: The game turned into the white knuckler the NFL expected when it flexed the AFC West showdown to Sunday night rather than having the Patriots-Jets game in prime time as originally scheduled.
But the first half was laborious -- Kansas City managed just 49 yards of offense but led 9-3 thanks to a safety and Hill's 86-yard touchdown return on the ensuing free kick.
Hill also had a 3-yard TD run for Kansas City.
NO REGRETS: Miller said nobody in Denver's locker room will second-guess Kubiak for attempting the 62-yarder with McManus, who set an NFL record by going 10-for-10 in the playoffs last year.
"I'm 100 percent behind Kube," Miller said. "I wouldn't just play for the tie, either. B-Mac is the man."
UP NEXT
Chiefs: K.C. continues its brutal road swing with a trip to Atlanta next weekend.
Broncos: After the lone November home game, the Broncos travel to Jacksonville.
---
---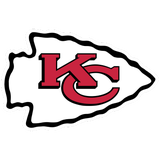 Get more from Kansas City Chiefs
Follow your favorites to get information about games, news and more
---