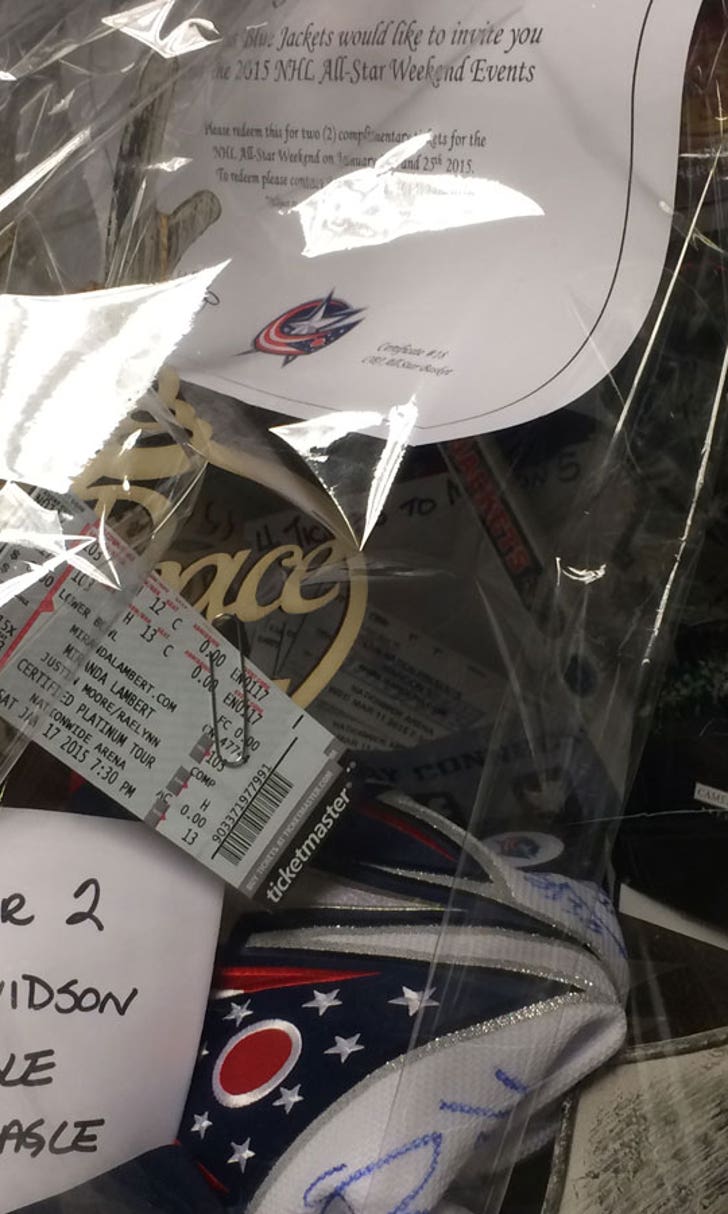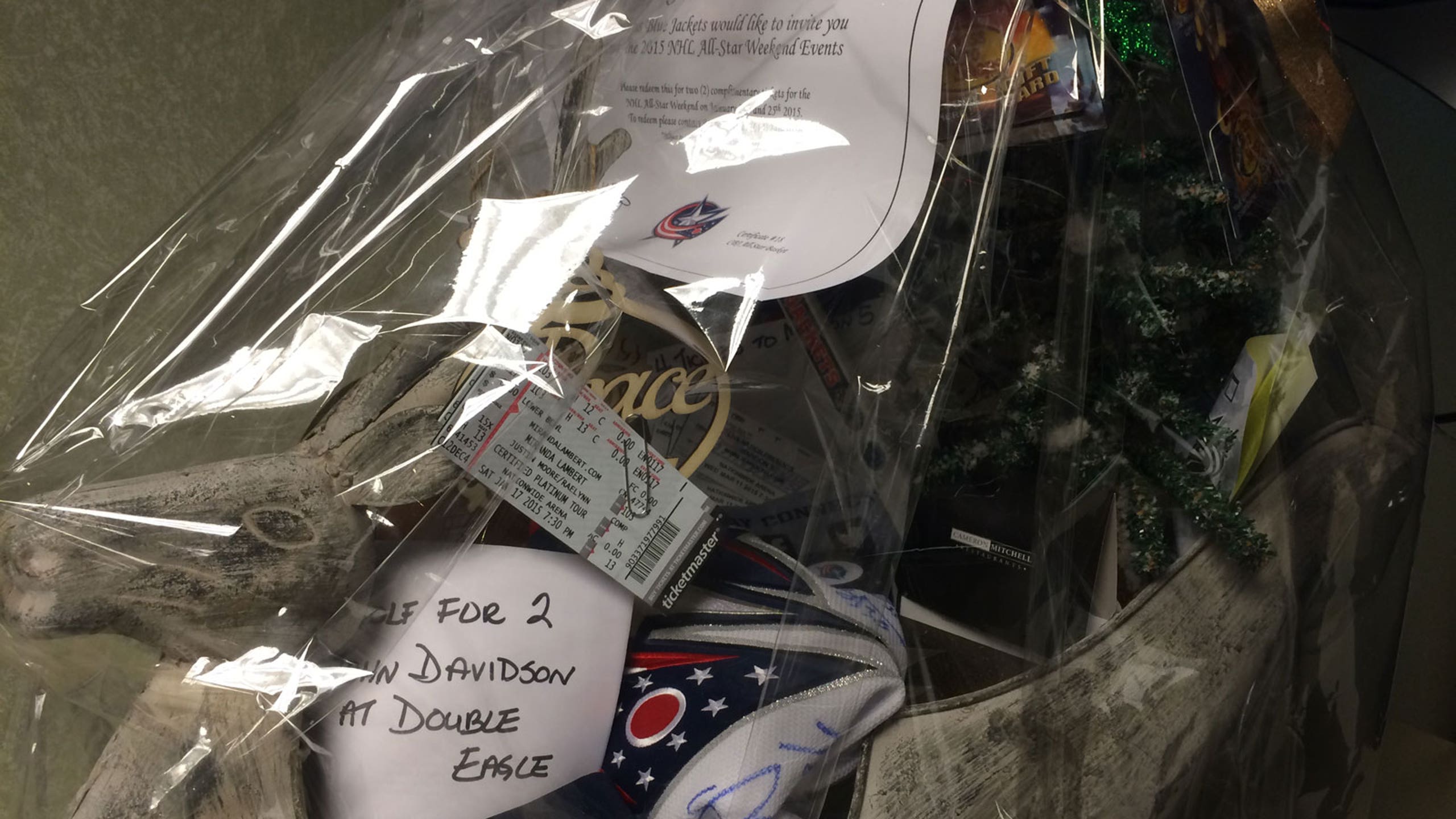 Lady Jackets' 'Favorites Baskets' provide opportunity to meet Jackets, make difference
BY foxsports • December 18, 2014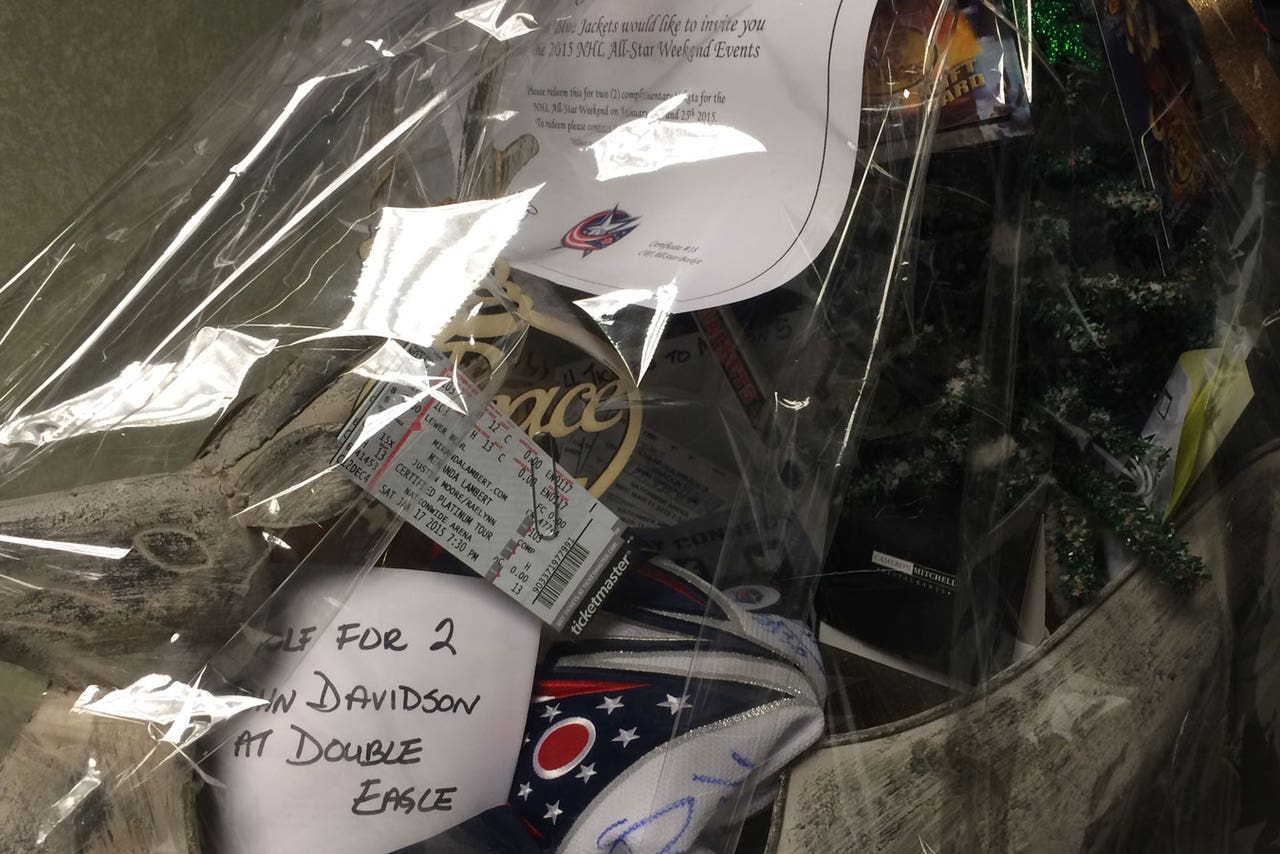 If you've been looking for the perfect holiday gift for a Blue Jackets fan, look no further than the "Blue Jackets Favorites Basket Auction and Raffle" happening Thursday night and Saturday during Jackets' games at Nationwide Arena.
The wives and girlfriends of the players, coaches and team personnel -- known as the "Lady Jackets" - have put together baskets, available through raffle and silent auction, which reflect the interests and personalities of each member of the organization.
But the baskets aren't just full of material items. This year, many of the collections include experiences with the players themselves.
"The fans have been so supportive," said Janelle Foligno, wife of Jackets forward Nick Foligno. "This is a way for us to get to know those fans and to offer a bit of ourselves to them because they've offered so much of themselves to the team."
This year's baskets contain golf outings with general manager Jarmo Kekalainen and president of hockey operations John Davidson, meet and greet opportunities with players Cam Atkinson, David Savard, Jack Johnson, and Michael Chaput, and defenseman James Wisniewski and his wife joining the Folignos in offering dinner invitations.
When the Folignos talked about their plan for this year's basket, their ideas were rooted in what is most important to them as a family.
"Our favorite memories and our best times that we've spent together are with our friends and our families," Janelle said. "They've always been around the dinner table, surrounded with good food, good company, good wine. We wanted to portray that through our basket and show the type of people that we are."
With that focus in mind, Janelle pulled together favorite things that reflected Nick's Italian heritage in the form of a pasta maker, an Italian cookbook, and wine glasses. Along the way, the couple decided to include a dinner as well.
"We're so far removed sometimes from the fans it's nice to have that personal touch," Nick said. "I talked to my wife about it and we thought what better way to get to know our community and the people in it than to have dinner together. We're looking forward to that."
The Folignos' dinner plans not only represent one of their favorite ways to spend an evening, they also share more about who they are. The couple was married at a winery and that memory is reflected in their choice of a restaurant that includes both food service and a winery.
Aside from good food and good fun, the purpose of the baskets is not lost on Janelle. All of the proceeds raised from the Favorites Baskets go to the Blue Jackets Foundation and their mission to help kids get healthy, play safely and stay active.
Janelle said the Lady Jackets focus on creative ideas, like time with players, which help raise more money for the work the Foundation does.
"It's a great way for us to get involved," Janelle said. "Nick and I have always enjoyed getting to know fans and being involved in the community. We definitely wanted to have a component of bringing the fans in and getting to know some people that will hopefully put their hard earned money towards this baskets and ultimately the causes we're raising money for."
For the lucky winners, the Folignos are counting on bringing laughter to the table in addition to the food.
"I can definitely promise a lot of good conversation and laughs," Janelle said. "I think the fans have gotten a bit of a glimpse into Nick's personality - he's a good talker - and I think he's funny too. We'll definitely have good company, some good food, and hopefully some good wine recommendations too."
Other basket highlights:
- Head coach Todd Richards' basket includes items from his experience in Sochi as an assistant coach for the 2014 Winter Olympic hockey team
- Forward Mark Letestu's basket includes a custom made suit
- Jared Boll's basket includes the opportunity to throw the first pitch at a Clippers game
- Jackets' mascot Stinger built a basket full of elements for a children's hockey themed party
- The coaching staff are offering two tickets to the 2015 All-Star Game and Skills Competition in Columbus
A complete listing of baskets and their contents can be found here. The baskets are available for bids on the Bud Light Terrace at Nationwide Arena during Thursday night's game versus the Washington Capitals and through the the second intermission of Saturday's game versus the Chicago Blackhawks.
All proceeds benefit the Blue Jackets Foundation.
Follow Alison on Twitter at @AlisonL
---