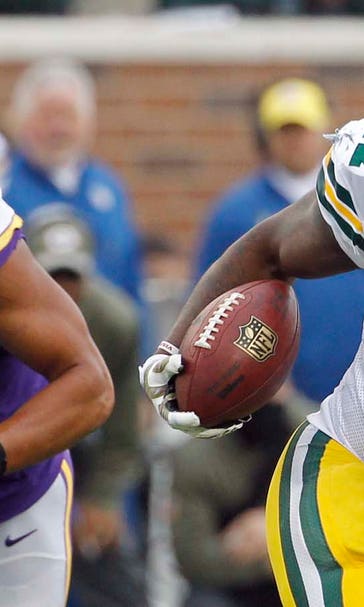 Lacy carries Packers' offense, continues dominance over Vikings
BY foxsports • November 23, 2014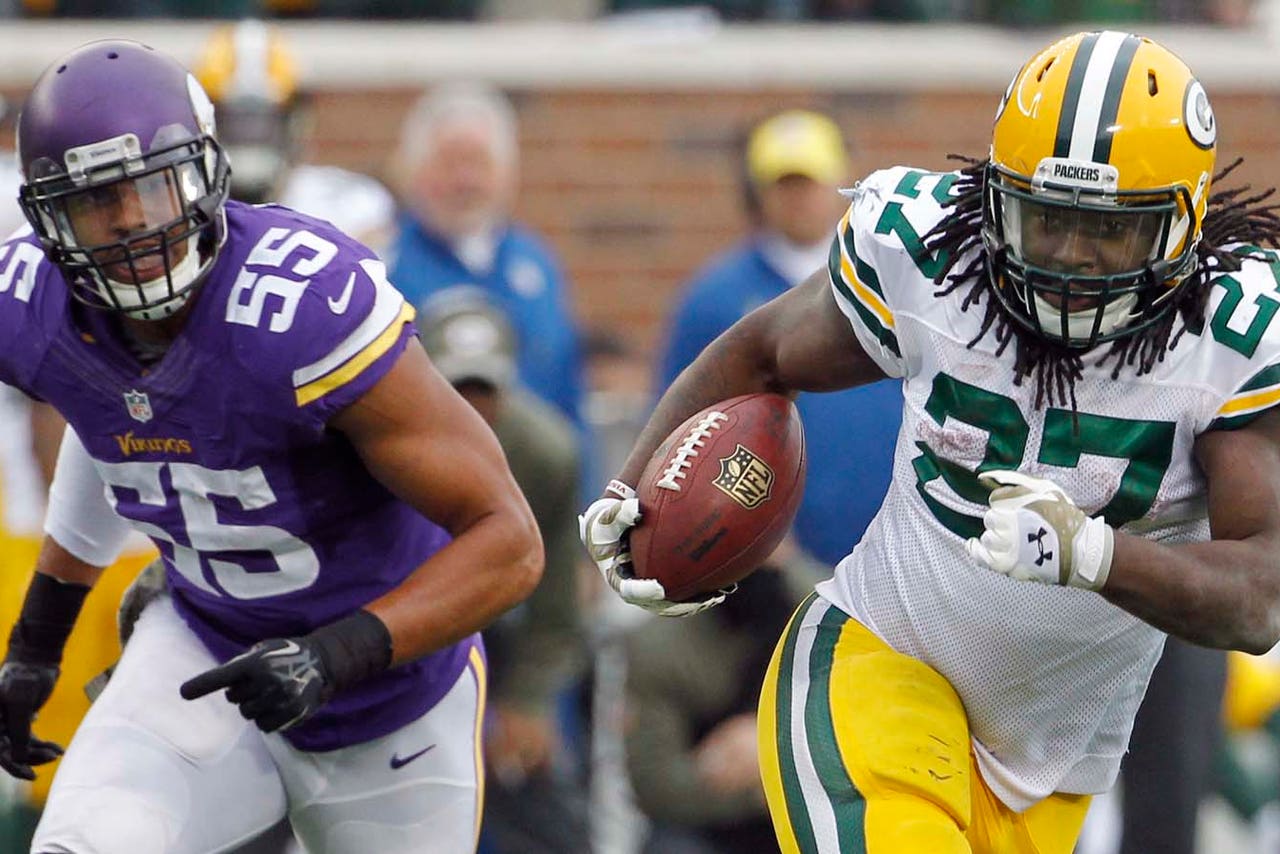 MINNEAPOLIS -- Vikings fans in Minnesota have taken to chanting their rookie quarterback's name whenever Teddy Bridgewater has a big game or makes a big play. The shouts of "Teddy! Teddy!" have echoed through the stands of TCF Bank Stadium several times throughout Bridgewater's rookie season.
A similar chant was heard Sunday but it wasn't the purple-clad Vikings fans lauding their team's quarterback. Instead, it was the throng of green-and-gold-wearing Packers supporters who made the trip across the border to watch Green Bay beat their rivals, 24-21.
"Eddie! Eddie! Eddie!" they shouted as Packers running back Eddie Lacy's 125 rushing yards and two total touchdowns lifted his team to the win. On a day when the Green Bay offense was slowed down through the air, Lacy and Co. took to the ground.
Making Lacy's day even more impressive? He did so while feeling ill. Lacy wasn't available to reporters after the game as he left before the locker room was open to the media.
Even though Lacy wasn't feeling well enough to discuss his big game afterwards, his teammates were more than willing to do so in his place.
"Once he got into the second level, that's him right there. That's him bouncing off guys, spinning off guys, getting into the end zone," said Green Bay tackle Bryan Bulaga. "Eddie's just a very good back. He sees where holes are going to open up before they open up. He's a patient runner, too."
Rookie center Corey Linsley had more praise for Lacy, comparing the former Alabama back to a college teammate of Linsley's.
"That guy's so talented, and he's so instinctive," Linsley said. "We had a great back, Carlos Hyde, at Ohio State. Eddie, you just can't say enough about him. Eddie is a great guy on top of all the talent. He's a great teammate."
Lacy has now had two 100-yard rushing games this season. Both just happened to be against the Vikings. The Packers' second-year running back had 105 rushing yards and a pair of touchdowns in Green Bay's 42-10 rout of the Vikings back on Oct. 2.
The second time around, Lacy was even better. It turned out the Packers needed him to carry the load in what turned into a close game against a 4-7 Vikings squad.
His 125 yards came on 25 carries -- eight more totes than his previous high this season -- for an average of 5.0 yards per rush. He also had a pair of catches for 13 yards, and that included a 10-yard catch on an Aaron Rodgers shovel pass that put the Packers up 24-13 early in the fourth quarter.
"He's a workhorse. We need him in the winter months," Rodgers said of Lacy. "He never goes down on the first contact. Really good in the passing game, too. He's really agile for a guy his size. He's got a great spin move, takes care of the football and does all the things you want him to do."
Lacy's longest run of the day went for just 16 yards -- Rodgers' longest scramble was two yards longer -- but Minnesota had trouble bringing down the bruising back all game. He seemingly had no trouble gaining four or five yards each time he touched the ball.
"He is a hard-nosed downhill runner," said Vikings cornerback Xavier Rhodes. "You just have to get on top of him. One man can't tackle him because he is just going to move his feet and he is going to fall forward every time."
When the Packers simply needed a first down late in the game as they hung onto a three-point lead with time winding down, it was no surprise they gave the ball to their horse. Minnesota scored to cut the lead to three and gave the Packers the ball back with 3:23 to play. On the last drive of the game, Lacy picked up a first down with a 4-yard run on 3rd-and-2 to keep the clock ticking. He did the same two plays later when he rumbled for 10 yards on 2nd-and-5.
That allowed Rodgers to take a knee twice to run out the clock as the Packers improved to 8-3 overall and 3-3 on the road. Lacy opened the scoring for the Packers with his 1-yard touchdown late in the first quarter, and he sealed the deal for Green Bay by earning the tough yards when it mattered most.
"He's a load and he's tough to tackle," Minnesota coach Mike Zimmer said of Lacy. "They ran a few new plays, new running plays that we had to adjust to, but he's a load. The run game today was more about the end of the ball game. That's what got us at the end there."
Lacy's 125 rushing yards were the third-most of his young NFL career. His single-game high was 150 against the Bears last season, and he also ran for 141 yards against the Cowboys. In four career games against Minnesota, Lacy has amassed 434 rushing yards and has scored six total touchdowns.
Though he's seemingly had the Vikings' number in those four meetings, Sunday's effort was his best yet.
Follow Tyler Mason on Twitter
---
---