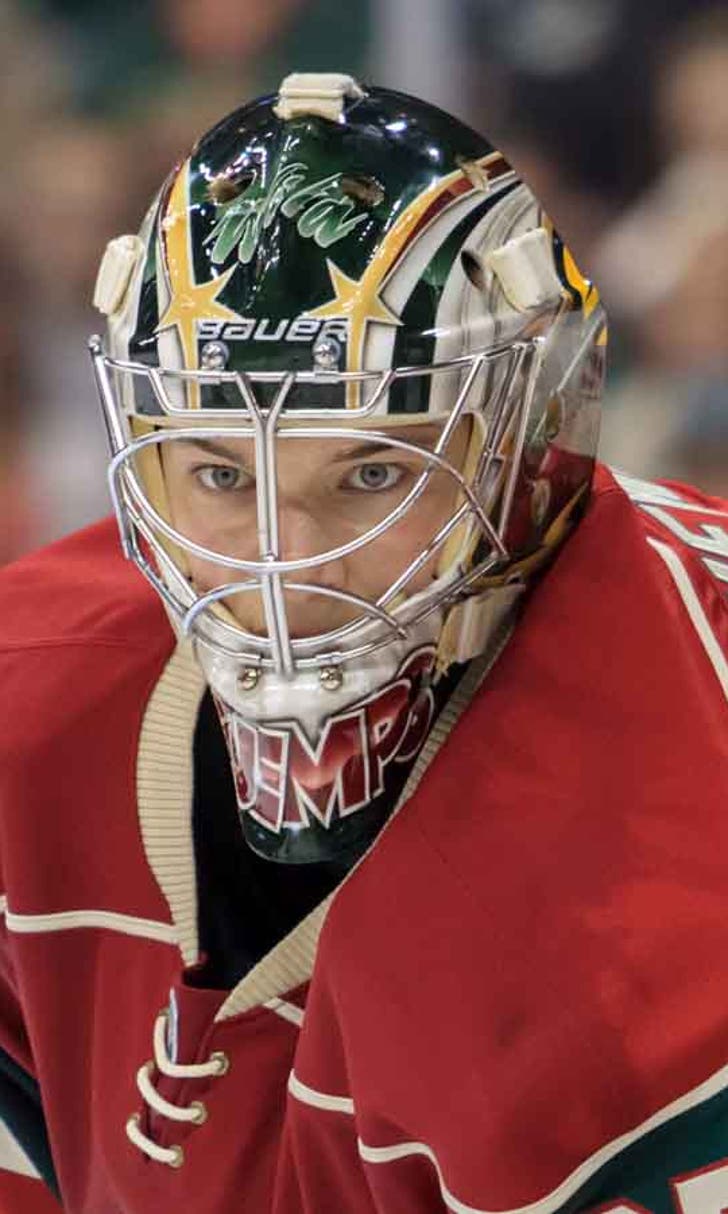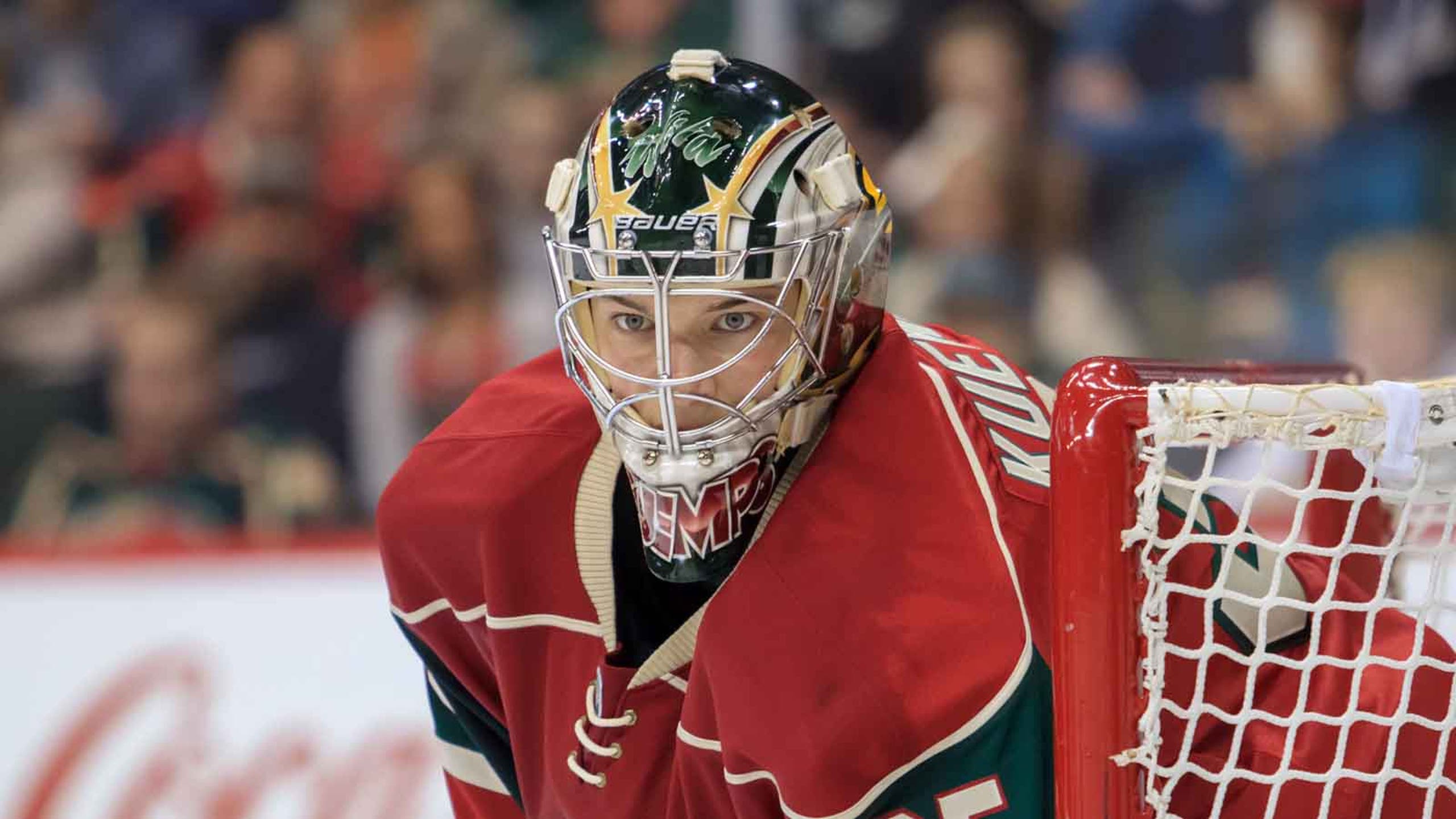 Kuemper's attitude helps him ride the wave of emotions
BY foxsports • March 13, 2014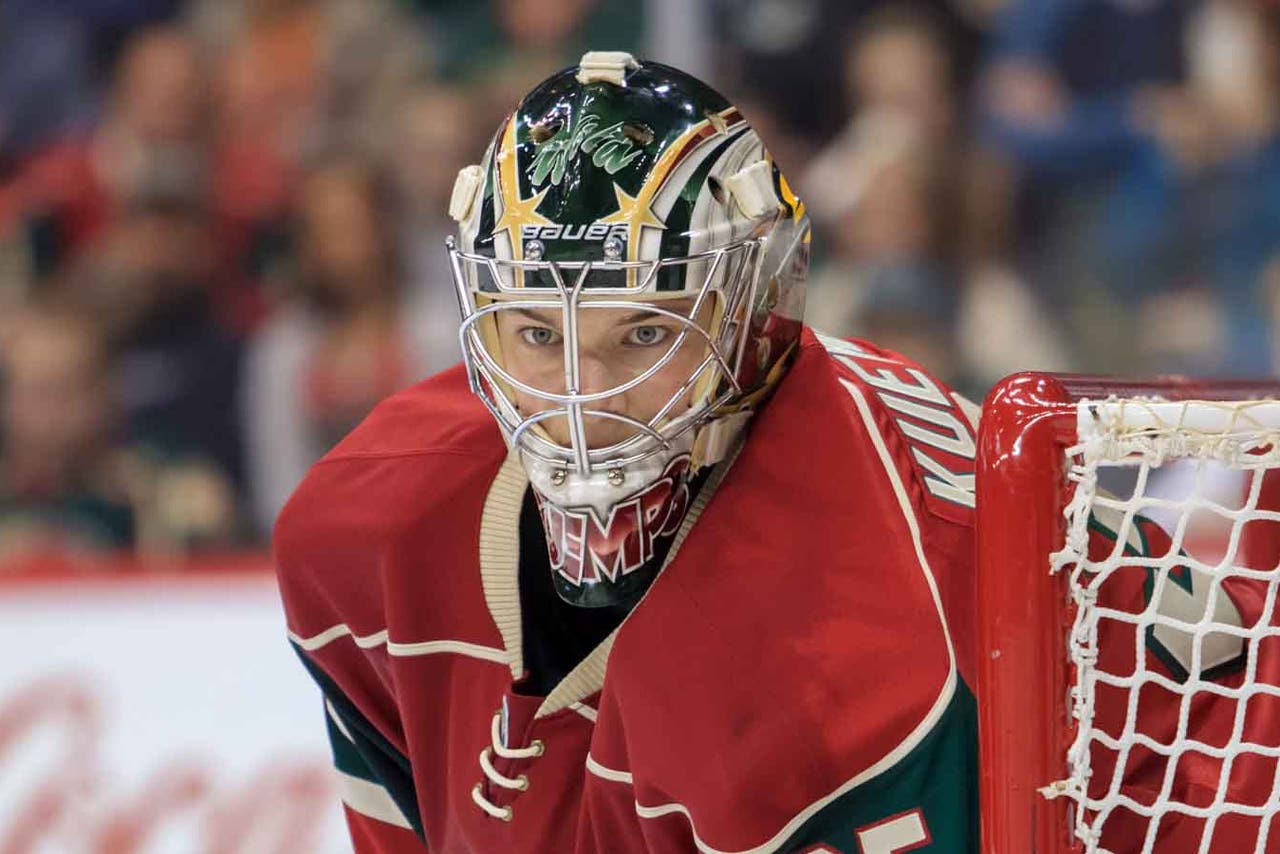 EDINA, Minn. -- Spend any time around Minnesota Wild goaltender Darcy Kuemper and it's easy to see his relaxed nature; his wide smile is the first thing one notices outside his 6-foot-5 frame.
When media is allowed into the locker room, Kuemper comes off very much as an NHL rookie, quiet and ceding to veteran teammates. Those teammates say he's different on the ice or behind closed doors.
"He seems pretty quiet, but once you guys leave he's a little different," forward Zach Parise said. "As he's been here longer you can tell he's getting more and more comfortable in the room. I think that's such an important thing for playing better."
The one description everyone agrees with is Kuemper is not a typical goaltender.
"I think he's his own person," forward Erik Haula said. "I think he's a really confident in his own ability, so it helps him bounce back. His confidence really rises through like we saw through that one stretch there when he was unbelievable. But I think he's just different than all the goalies I've met."
Minnesota rode Kuemper to the Western Conference wild-card lead in January and February. Since Jan. 7, Kuemper is 11-3-3 with a 2.11 goals-against average and .929 save percentage. Of goaltenders with at least 10 games in that span, Kuemper is fourth in win percentage, fifth in wins, fifth in save percentage and eighth in goals-against average.
For the first time this season, Kuemper is coming off back-to-back losses heading into Thursday night against the New York Rangers. He allowed four goals in a loss at Dallas and then had his rookie team record of 16 consecutive starts snapped a night later. On Tuesday, he allowed three goals in a shootout loss to Edmonton.
The usually-jovial Kuemper sat in his locker in the corner of the Wild dressing room after the game, staring forward with a look of bewilderment.
"That one stung a bit," Kuemper said Wednesday. "To be up 3-0 and then to end up losing, it didn't feel good. It wasn't a happy feeling. You've just got to come back the next day and have a good practice and get ready for tomorrow."
Kuemper's attitude could be the biggest factor in handling the pressure of being an NHL goaltender. The Wild don't worry about Kuemper, who has been thrust into the spotlight as the top goaltender on a playoff team.
His personality gives them confidence and helps him ride the ebbs and flows of a season and Minnesota coach Mike Yeo said he's coming right back with Kuemper in net on Thursday.
"You can see he's kind of a water-off-the-ducks-back kind of guy and that's a real compliment to him," Yeo said. "He's been able to show that when things have not gone well, but he's also been able to show that when things have gone well and he hasn't let that affect his focus or preparation. That's what you're looking for in a goalie."
Kuemper wasn't always so easy-going. He said when he started in juniors for the Red Deer Rebels, the team had a sports psychologist that worked with the players. Kuemper credits his even-keel personality and making it to the NHL for his work with the psychologist back then.
Unlike many goaltenders, there are no superstitions that override Kuemper's game-day preparation. Instead of being focused and closed off in getting ready for games, Kuemper is approachable and still participates in activities with teammates.
"A lot of people say I'm pretty normal for a goalie, but I think a lot of that is from him," Kuemper said. "He would say things like, 'If you nap for an hour, 45, instead of two hours, does that change what kind of goalie you are?' You know? When you kind of hear it and work with someone like that, a lot of that makes a lot of sense. Then you just kind of learn to go with the flow."
Haula has become friends with Kuemper with the two playing together first as teammates in Iowa and now in Minnesota.
"I think he's been through the process, and he knows himself and what he needs to do and kind of what helps him out in the tough situations and in the good situations," Haula said.
There's another reason Kuemper is able to overcome the highs and lows of being an NHL goaltender, and one trait that falls more in line with other goaltenders.
"Not in a disrespectful way at all, but he's pretty cocky," Parise said. "He's got that swagger about him where even if he does have a bad game or he lets in a couple he feels he should have gotten, he still comes to practice the next day and is still loud and yelling at guys on the ice if they don't score. So he doesn't really divert from that type of attitude, which for him I think it works, it helps."
Follow Brian Hall on Twitter
---