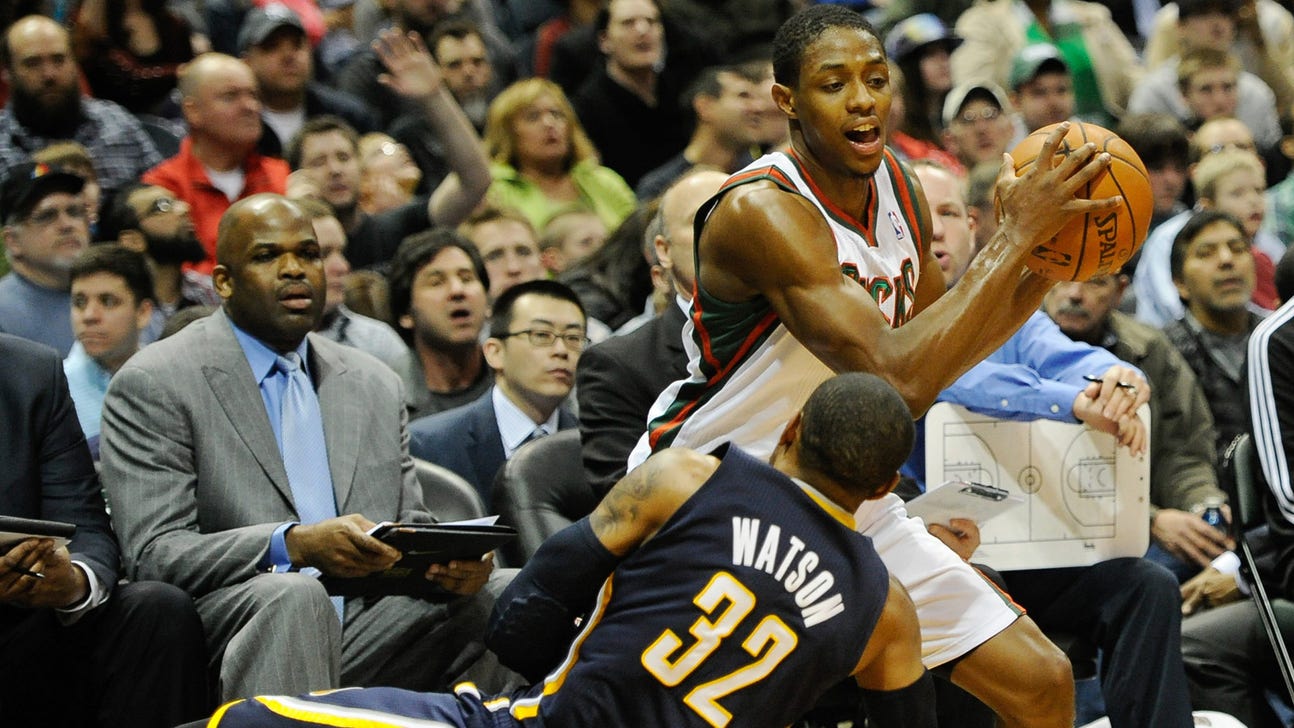 Knight's stellar outing a bright spot in Bucks' loss to Indiana
Published
Feb. 23, 2014 12:56 a.m. ET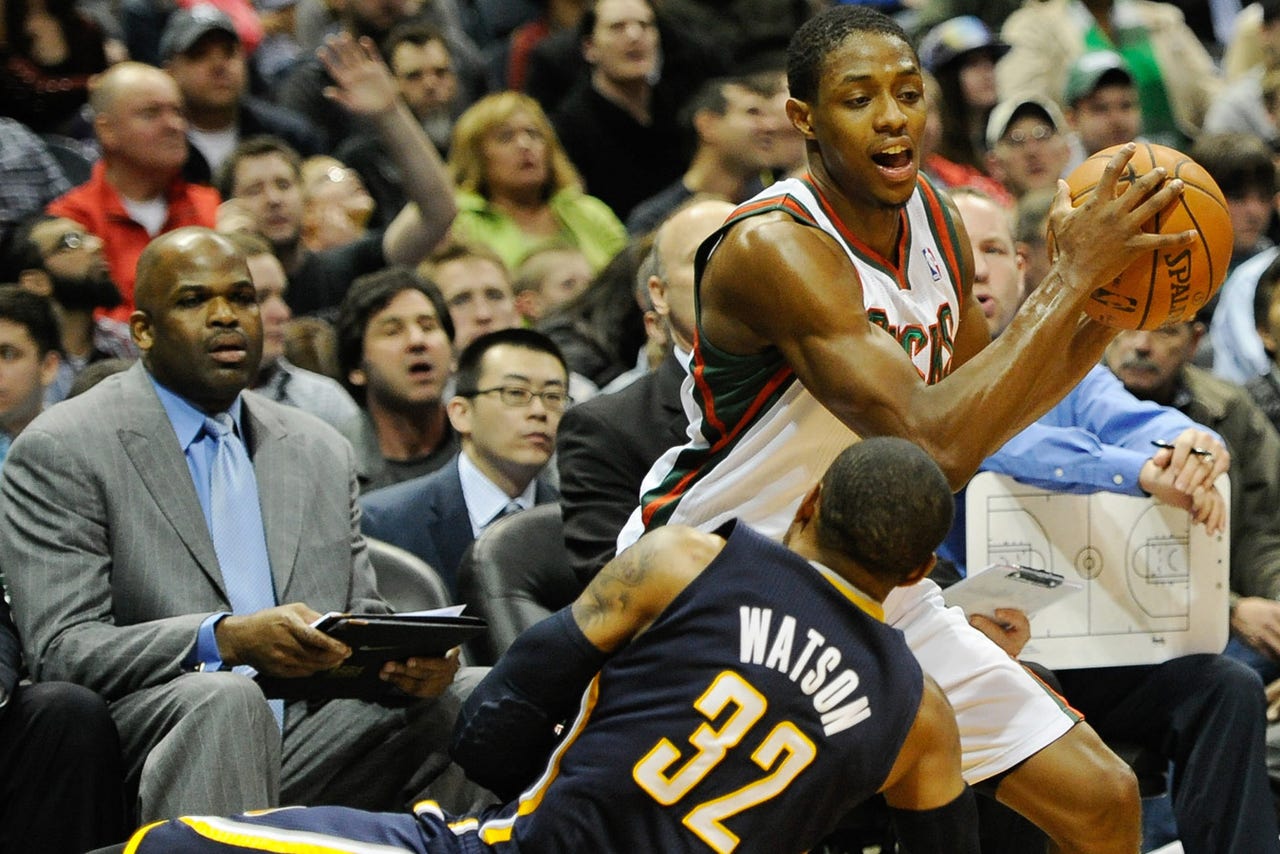 MILWAUKEE -- On a nostalgic night of millennium-era reminiscence, the Milwaukee Bucks didn't add any happy memories to a 2013 season they'd very much like to forget.
With 1990s hip hop star Coolio on hand to perform at halftime, former star Glenn Robinson in the house for a special appearance and plenty of music, outfits, kitsch and gimmicks to celebrate the Bucks' brilliant marketing creation of Y2K Night, the end result on the court -- and in the standings -- was the same: another loss.
Milwaukee fell 110-100 to the Indiana Pacers at the livelier-than-usual BMO Harris Bradley Center on Saturday night, dropping their league-worst 23rd game at home and spoiling a sparkling performance by Brandon Knight. The 22-year-old point guard scored 30 points with eight assists and five rebounds in his return from a heel injury.
Thanks to some inspired third-quarter play spearheaded by Knight, the Bucks made the matchup between the league's best and worst teams interesting. Several spirited Milwaukee runs kept it close in the second half, which helped keep fans in their seats even after Coolio's high-energy halftime concert ended, but ultimately Indiana's three-headed monster -- Paul George, David West and Lance Stephenson -- was too much to overcome.
Knight's impressive display was the silver lining in another dark cloud. He showed off a complete game and played with a zeal and intensity not always evident in Bucks games. Besides the scoring (he made 12 of his 23 field goals), Knight did not commit a single turnover. Playing nearly 39 minutes and coming off a right heel laceration that kept him out of Milwaukee's previous game, Knight was a true floor general.
He repeatedly broke his man down, getting to the lane and either finishing at the rim or kicking out to open teammates like Khris Middleton, who hit 3 of 7 3-pointers and finished with 13 points, the second-highest total on the team. Knight had 20 points by halftime, singlehandedly providing enough offense to get the Bucks to the locker room down only 11, but he also had only one assist.
After the intermission, Knight, who was only 4 years old when Coolio's hit song, "Gangsta's Paradise," was Billboard's No. 1 single for all genres in 1995, seemed even more amped up. He started off the third quarter with a deep 3-pointer and a driving layup, but the Pacers began doubling him and trying to keep him away from the basket.
So Knight got his teammates involved. He dished out four assists in the third quarter, the most by any player in any quarter of the game. With the Bucks down 57-50 with 7:27 remaining, Knight assisted on their next three baskets, cutting the Pacers' lead to 60-58. After a George 3-pointer and a couple fruitless possessions, Knight assisted on a Middleton layup to make it 63-60.
Bucks coach Larry Drew said he was happy to give Knight freedom to shoot, especially "if it's a good look and it's within what we do." Drew added that he was also glad to see Knight creating and distributing to players like Middleton and O.J. Mayo on Saturday.
"He can get into the interior of the defense and when it collapses, he's good at kicking that pass out," Drew said after the game.
But the Bucks, who at one time were down 44-22, could never get over the hump against the Pacers, who led the entire game and never really seemed threatened, even when their margin was just a few points.
"I thought we had an opportunity but we didn't capitalize," Drew said. "When it was a four- or five-point game and we had a couple timeouts left, we just didn't execute very well. Right when I thought the game was in striking distance, we would lose it again.
"Defensively, we just had breakdown after breakdown. Against good ball clubs, you can't make those types of mistakes. Indiana will make you pay for those types of mistakes and they certainly did with us."
Drew said before the game that he was "concerned" about matching Indiana's physicality, particularly 7-foot center Roy Hibbert, who terrorized Milwaukee with 24 points, 10 rebounds and eight blocks in the Pacers' 104-77 victory Nov. 15, as well as David West. While Hibbert had just four points and six rebounds, West dominated his matchup with Ersan Ilyasova. He lived up to his reputation as one of the most powerful power forwards in the league, scoring 11 points in the first quarter and getting both Ilyasova and the newly acquired Jeff Adrien into foul trouble.
"They came out hot in the third quarter, making shots," said West, who finished with 30 points. "They had us on our heels for a hot second. But again, I thought we made enough plays down the stretch to win the game."
While West worked down low, George, one of the NBA's best players, used his athleticism and silky jumper to squelch the Bucks' momentum anytime they seemed to get going. George finished with 32 points, including 5 of 7 on 3-pointers. And, as if to add insult to injury, he hit a deep 3 with just seconds remaining in the game as the shot clock expired and the Pacers' win was already assured.
Stephenson, the ever-combustible sharpshooter, scored 15 points in the fourth quarter to give him 24 for the game.
"All three of those guys did a good job of playing hard and doing what they do best for their team," Knight said afterward in the locker room. "They played a great game."
The Pacers have won four straight matchups against the Bucks, and nine of the last 11.
Knight is averaging 22.4 points in the eight games he's played in February. Saturday's contest marked the 18th time he's scored at least 20 points and the third time he's scored more than 30. He said that, despite the loss, he was proud of the way the Bucks played.
"I'm happy for our team because (Indiana is), in my opinion, one of the top-two teams in the NBA. For us to not give in, not lay down, it means a lot for our team because there have been times throughout the season when we'd lay down when we got down 20.
"We continued to fight, continued to persevere and we got back in the game."
Adrien impresses: The Bucks used both of the new players they acquired in the Thursday trade-deadline deal that sent guards Gary Neal and Luke Ridnour to the Charlotte Bobcats.
Both Ramon Sessions, who had seven points and three rebounds, and Adrien, who had six points and 11 rebounds, played around 20 minutes against the Pacers. Sessions, who is making his second tour in Milwaukee, was lauded by Knight for doing a "great job just running the team." Knight said he adds "a lot of experience, a lot of time playing the game" and is "a guy that can get in the paint at any time."
But Adrien, 28, who's played in Europe, the D-League and bounced around the NBA, showed the physicality and grittiness that Bucks players and coaches raved about after the trade. His 11 rebounds were a game-high and projected to 22 per 36 minutes. He also picked up five fouls.
Knight said, "We need a guy like Jeff Adrien because he's going to play hard the entire game. He's going to get down there and be tough, be physical, and we need that element of the game."
Drew was even more effusive -- and honest -- in his praise of Adrien.
"Jeff is who he is. Jeff is a banger, he doesn't shy away from contact," Drew said. "When we first played against him in the exhibition, I didn't know much about this kid. But I believe he came in at halftime tonight and was in double figures in rebounding. I knew nothing about the kid, but that certainly opened my eyes as far as who this kid is and what he brings to the table. I think he played 17 or 18 minutes and had 11 rebounds -- five offensive rebounds.
"He's a guy who's not afraid to go in there and do dirty work. He took a charge tonight. He brought a physical presence that I was really, really happy to see. He didn't back down, not one bit, from any of those guys out there and that's who he is: He's a guy that does dirty work and he's going to bring a physical presence when he steps out on the floor. You're not going to intimidate this kid; he'll stand toe-to-toe. I told him I didn't care if he fouled out. I wanted him to be physical and be who he is."
---