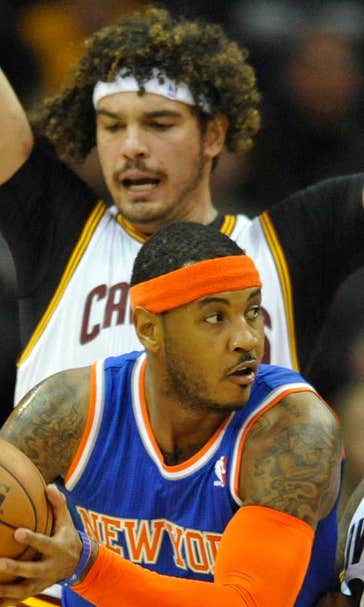 Knicks heating up, Cavs staying flat. What's next in New York?
January 30, 2014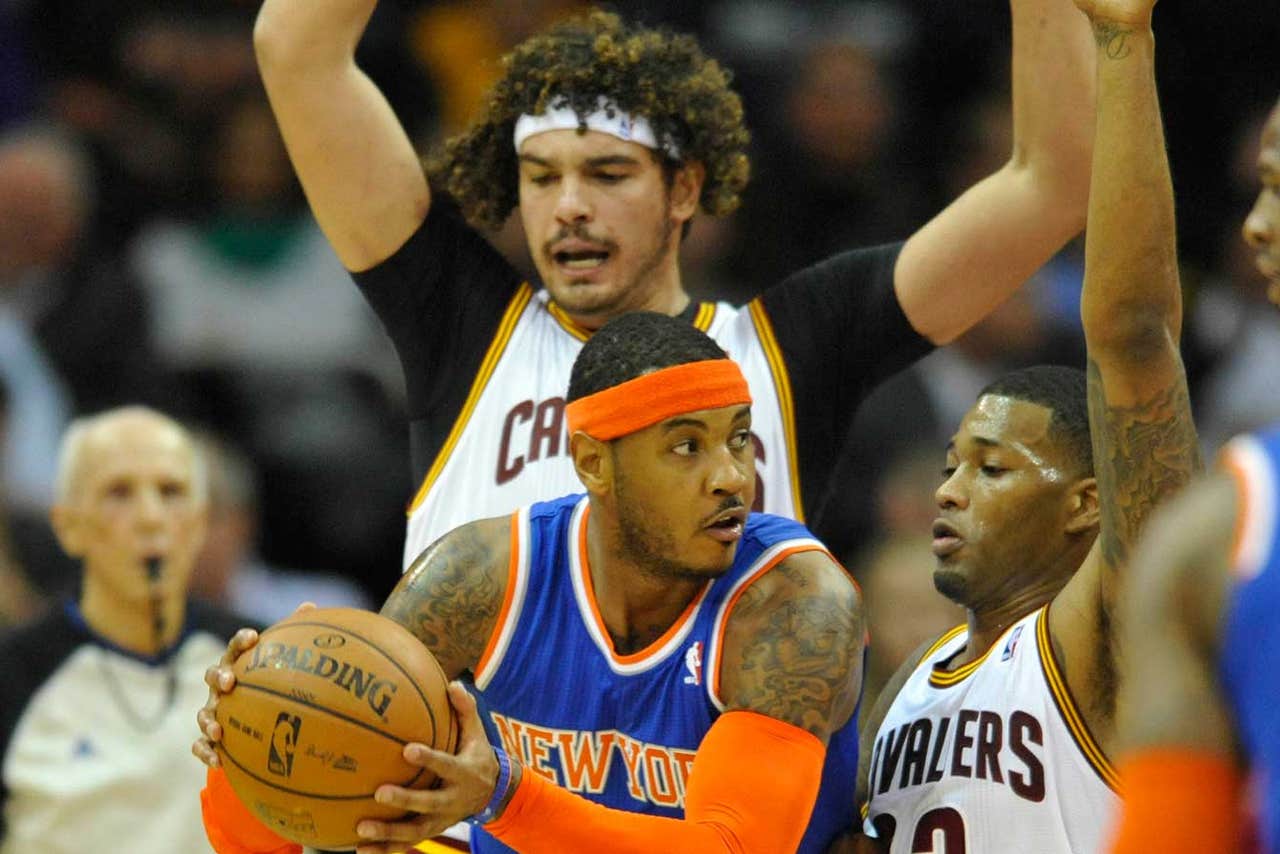 Cleveland Cavaliers (16-29) vs. New York Knicks (18-27)
Venue: Madison Square Garden, New York.
TV: 8 p.m., TNT
Projected Starters
CLEVELAND: C Tyler Zeller; PF Tristan Thompson; SF Luol Deng; SG C.J. Miles; PG Kyrie Irving.
NEW YORK: C Tyson Chandler; PF Carmelo Anthony; SF Iman Shumpert; SG Pablo Prigioni; PG Raymond Felton.
Pregame Notes:
-- The New York media doesn't know what to do with itself: The Knicks are on fire and now reporters who cover the team have no one to shred in print. When it comes to New York and pro basketball, that's no fun for anyone.
-- That's a joke, of course. The truth is, the Knicks deserve credit for winning three straight, and have done so mostly with a makeshift lineup. Coach Mike Woodson has experimented with the rotation and came up with five starters who play well together. That, more than talent, determines winning and losing. (Just ask the depleted Bulls.)
-- Plus, Carmelo is simply on fire. In the past three games, he's scored 62, 35 and 24. And he only accumulated 24 because the Knicks beat the Celtics in a blowout and he rested. For all the criticism Anthony takes (and sometimes deserves), he's a sight to behold when things are clicking. If you put guys around him who understand his skills and tendencies, you can be pretty good. That's been the Knicks this month.
-- The Knicks are 9-6 and averaging 100.3 points per game in January. That's compared to 9-21 and 94.7 ppg in first 30 games. They're also shooting 46 percent from the floor this month. That's up from 43 percent earlier this season.
-- OK, now about that Kyrie Irving rumor. Chad Ford of ESPN wrote in a Thursday chat that Irving has been "telling people privately that he wants out." My guess is Irving will deny that sometime before or after tonight's game. Goodness knows, he'll be asked. It's New York.
-- Irving may or may not be saying that privately, I don't know. He and I don't have private conversations.
-- I do know this: Irving's dad, Drederick Irving, hasn't been so private in his irritation with how Kyrie is being used this season. Drederick Irving has basically been sharing his agitation with anyone who will listen.
-- I also know this: Your family and role models can influence the way you think.
-- There's a segment of the Cavs' fan base (and media) that encouraged the team to lose the past two seasons to get a better draft pick. It's an OK theory, but as I've spent at least two years preaching, that sort of plan never sits well with the players. The long-term results of losing are rarely good. Playing the lottery, draft picks, assets, etc... players never care about that stuff. They want to win.
-- I'm not saying Kyrie wants to leave. I am saying that athletes in all sports and at every level hate to lose. And when you're a great athlete who plays a team sport, and you keep losing, you rarely blame yourself. That's just the reality of life.
-- There's more to this story, but all we can do is go by what Kyrie Irving says. We should let him address it and take it from there. But I don't think he wants to leave. I think he wants the game to be fun again. He can't be having fun this season. No one can. If the Cavs can turn it around, and sustain it, Kyrie isn't going anywhere. And I truly believe that.
-- OK, about that winning. The Cavs aren't doing it. The offense is stagnant and the defense is worse. They've played an ugly brand of basketball and the results are anything but pretty. Someone has to step forward in the locker room and show some resolve.
-- Personally, I think this defense, defense, DEFENSE approach of Mike Brown isn't working. I love Brown the person and have a great deal of respect for him otherwise. But the Cavs possess so many gifted offensive players. They need to get better on defense, yes. But they have the ability to just outscore opponents with guys like Kyrie, Deng and Dion Waiters. I'd love to see some creativity, some FUN, instituted on offense. Right now, it's all isolation and it's doggone flat and it's failing. Sometimes, you need to adapt your philosophy to your talent. That's just my free advice, and I'm sure it's worth every penny.
-- Finally, Cavs center Anderson Varejao (knee) is a game-time decision.
---