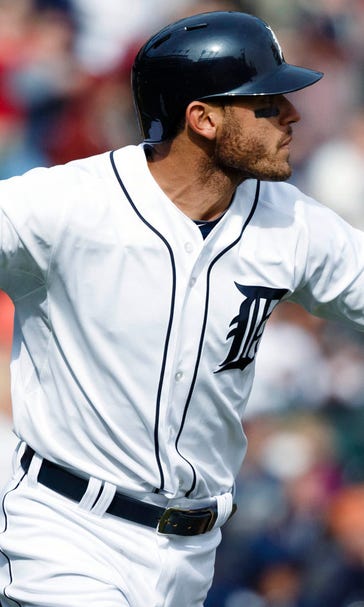 Kinsler replaces Martinez on All-Star roster
July 11, 2014

The Detroit Tigers got a fourth All-Star after all.
Although starter Rick Porcello lost out to Chicago White Sox pitcher Chris Sale in the AL Final Vote, the Tigers learned Friday that Ian Kinsler was named to the team.
Kinsler will replace teammate Victor Martinez on the active roster. He'll join Miguel Cabrera and Max Scherzer.
"It's always fun to be a part of something like that, being amongst the best players in the game," Kinsler told reporters in Kansas City after Friday's 2-1 win.
Martinez, who has been bothered by a sore back that has kept him out of the lineup of late, will still attend all the festivities. He just won't play in the game.
Kinsler, who is batting .305 with 64 runs scored, 26 doubles, 11 home runs, 49 RBI and nine stolen bases, will be making his fourth All-Star appearance and first as a Tiger.
Tigers manager Brad Ausmus had brought up the possibility that there might be an injury replacement needed.
"Who knows what can happen between now and the All-Star Game, maybe Kins gets on there as well," Ausmus said last Sunday. "All of them were deserving."
Scherzer said much the same thing after the All-Star team was revealed this past Sunday.
"We got to find a way to get Kinsler there, too," Scherzer said. "He's having too good a year for him (not) to represent our team. He's absolutely getting after it and doing some different things for us."
---