Kings earn much needed OT win vs. Ducks
BY foxsports • November 15, 2014
The Kings sure needed that.
Another game against the Ducks and another overtime affair, but this time, the Kings won, 3-2, in overtime.
Jarret Stoll scored a power play goal at 2:19 in overtime to beat Ducks goalie Frederik Andersen on Saturday for a confidence-boosting game in which the Kings rallied twice to win.
"In any division game, it's huge," Stoll said. "I think we needed to come back and have a big effort. Unfortunately, they got one (point also), but we got the extra one and that's what matters."
The Kings, who have precious few defensemen due to injury and suspension, seem back on track. If you believe the Kings were struggling the last few days.   
"Every win is nice," Kings coach Darryl Sutter said. "Every game is its own season. We're not back on anything. We played just as well last game (against Dallas) as we did (Saturday)."
The Kings lost to the Ducks, 6-5 in a shootout, in Anaheim on Wednesday, followed by a 2-0 home loss to the Stars on Thursday. A loss would've meant three in a row, and a win, gave the Kings some good feelings. Especially with the power play as Anze Kopitar's goal to tie the game at 2 snapped an 0-for-18 power play drought. And Stoll added one the biggest one, in overtime.  
In the first game against Anaheim, the Kings built three two-goal leads and lost. In this game, the Kings trailed 1-0 and 2-1.
In that game, the Kings lost defenseman Alec Martinez against Dallas, and he's had finger surgery since then.
The Kings haven't given a timetable for his return.
Defenseman Drew Doughty was penalized for delay of game at 14:49 in the third period - with the game tied at 2 - but the Kings killed it. That was big. With Martinez out and Slava Voynov on suspension, Doughty played a career-high 32 minutes.
The Kings did so many things well, including scoring a shorthanded goal via Tyler Toffoli on a two-on-one break, which tied the game at 1.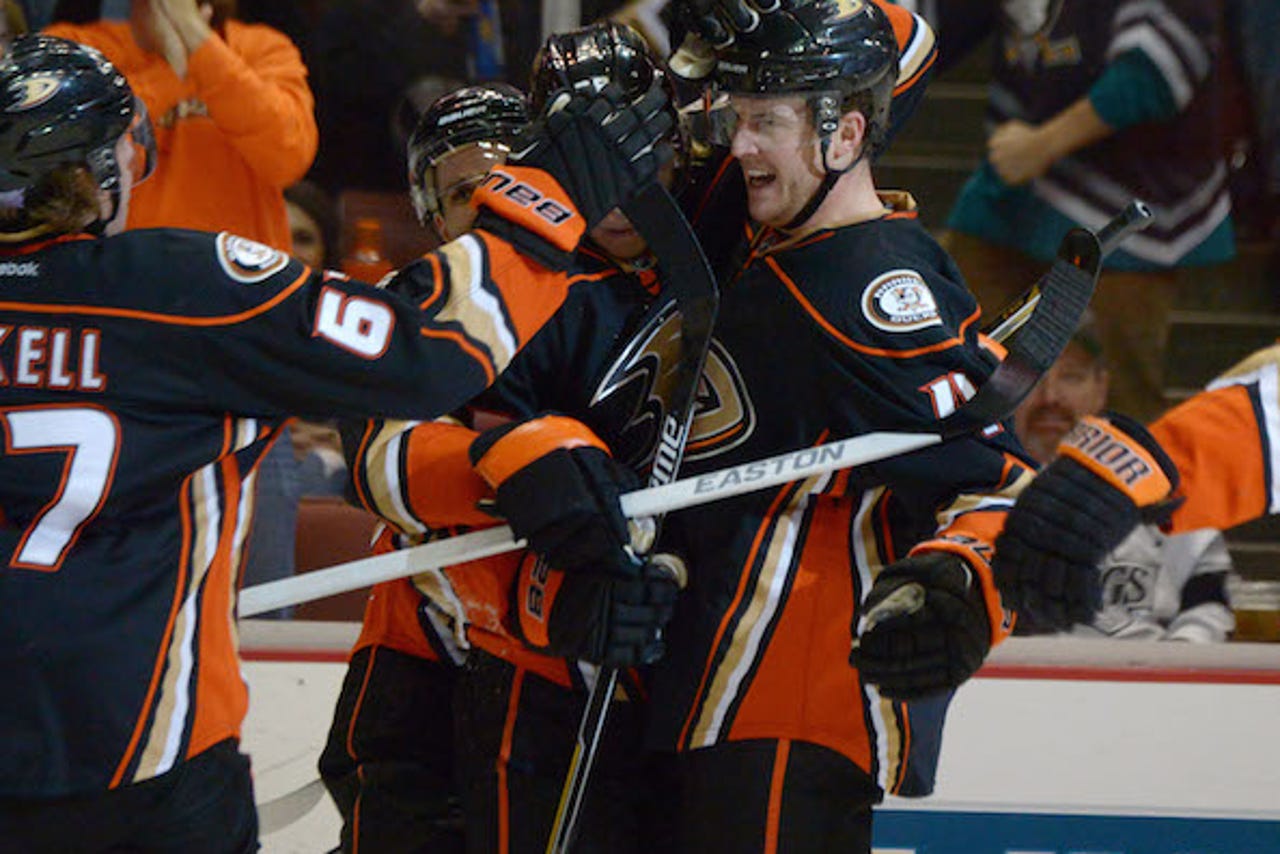 Ducks show offseason improvements in win over Kings
The Ducks would answer, and the Kings would answer back. And they got
"It was big for us. The power play, we wanted to finish it off, and had some decent looks. That was nice to see Stolly finish it and get on board. We'll definitely take two points. We know there's still some work left to be done."
But an improved power play, better defensive effort and timely goals equaled a win. And on Saturday, that was a job well done. 
---