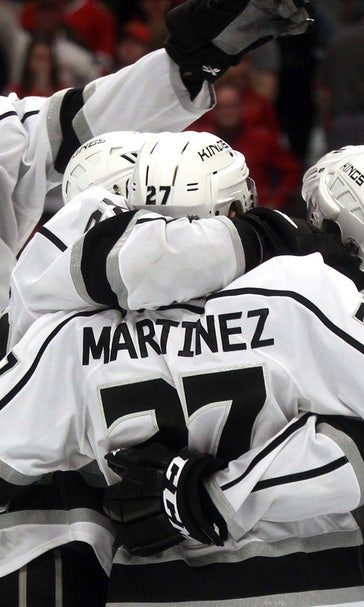 Kings advance to Stanley Cup finals vs Rangers
June 2, 2014

CHICAGO (AP) -- The Los Angeles Kings almost went down in their opening playoff series. They flirted with elimination again in the second round. They went to the absolute edge of the offseason in the Western Conference finals.
This is one tough team heading to the Stanley Cup finals.
Alec Martinez scored at 5:47 of overtime, and the Kings beat the Chicago Blackhawks 5-4 Sunday night to advance to the NHL's championship for the second time in three years.
Los Angeles improved to 7-0 in elimination games with its third Game 7 win on the road this postseason. It will host the New York Rangers in Game 1 on Wednesday night.
"It's just a trust system in this room as the result of being together for hundreds of games," Kings captain Dustin Brown said. "Climbing the hill once. Then trying to do it again. We know what to expect and we expect a lot from each other."
Martinez's shot went off Blackhawks defenseman Nick Leddy and fluttered past goalie Corey Crawford, stunning the sellout crowd at the United Center and leading to a wild on-ice celebration for Los Angeles. Leddy and Crawford were hunched over as the Kings gathered in a big huddle along the boards.
"I didn't really see it go in," Martinez said. "I know it went off a couple bodies. I just tried to get it through and fortunately it went in."
Patrick Sharp scored twice for the Blackhawks, who blew a 2-0 lead. Brandon Saad had a goal and an assist, and Patrick Kane had two assists.
Chicago's loss means Detroit remains the last NHL team to win consecutive titles, accomplishing the feat in 1997 and 1998.
"I've lost some tough games but nothing like tonight," Blackhawks coach Joel Quenneville said.
The Kings became the first team to play 21 games through the first three rounds of the playoffs and make it to the NHL finals. The 2002 Avalanche and 1993 Maple Leafs also played the maximum amount of games through three series, but they lost in Game 7 of the conference championships.
Los Angeles is the only team to play all three of those Game 7s on the road.
"We've battled back so many times this year and so many times in these playoffs, we said, `Why not again today?'" said Justin Williams, who had a goal and an assist.
Tyler Toffoli also had a goal and an assist for the Kings, who once held a 3-1 lead in the series, only to have the Blackhawks come back to force Game 7. Jeff Carter scored his ninth playoff goal in the first, and Marian Gaborik had the tying goal midway through the third period.
The Kings also got 37 saves from Jonathan Quick in another resilient performance for Darryl Sutter's team. Los Angeles trailed San Jose 3-0 in its first-round series and was down 3-2 to top-seeded Anaheim in the second round before rallying each time.
"I feel very fortunate to be with the guys," Quick said. "Obviously our journey's not done yet and we've got a lot of work here coming up. New York's an awesome team. They beat great teams, so they're battle-tested, as well, so we've got a lot to get ready for."
Gaborik, Williams and Mike Richards each improved to 7-0 in Game 7s. Sutter moved to 7-3 in such games, breaking a tie with Blackhawks adviser Scotty Bowman and Pat Burns for the NHL record for most coaching wins in Game 7s.
Sharp sent a big power-play drive past Quick to give the Blackhawks a 4-3 lead at 18:25 of the second. But Gaborik responded with his NHL-best 12th playoff goal at 7:17 of the third, setting the stage for a frantic finish to regulation.
Quick turned away prime opportunities for Sharp and Bryan Bickell before he made a terrific save on Andrew Shaw in the final seconds. Brown had a great rush to the net for Los Angeles that he nearly completed for a breathtaking score.
Jonathan Toews also scored for the Blackhawks, and Crawford finished with 27 saves.
"This was a tough way to go down. This one's going to sting for a while," Toews said.
The finale of the epic series between the last two Stanley Cup winners attracted a frenzied crowd of 22,315 that included basketball Hall of Famer Charles Barkley and Bears wide receiver Brandon Marshall. And they were treated to another heart-stopping classic full of big shots and great saves by each side.
Just like in Game 5, a 5-4 double-overtime victory for Chicago, the Blackhawks got off to a fast start, only to have the Kings come storming back. Kane picked up an assist on each of the first two goals, finding Saad with a slick pass from behind the net, and then getting to the right place at the right time for a lucky power-play carom that went right to Toews for an easy tap-in at 8:36 of the first.
The comeback Kings then went to work. Carter batted a rebound out of the air and past Crawford at 16:31, and Williams scored his seventh of the playoffs 51 seconds later, tying it at 2.
It was Williams' seventh career goal in a Game 7, tying Glenn Anderson for the NHL record. Williams added an assist on Martinez's winning score, breaking Doug Gilmour's record for most points in such games with 14.
"That's what they've done all playoffs. They've scored a lot of goals," Chicago forward Ben Smith said. "They're playing great hockey right now. There's a reason why they've won the cup. They compete every night and find a way to get the job done."
---
---