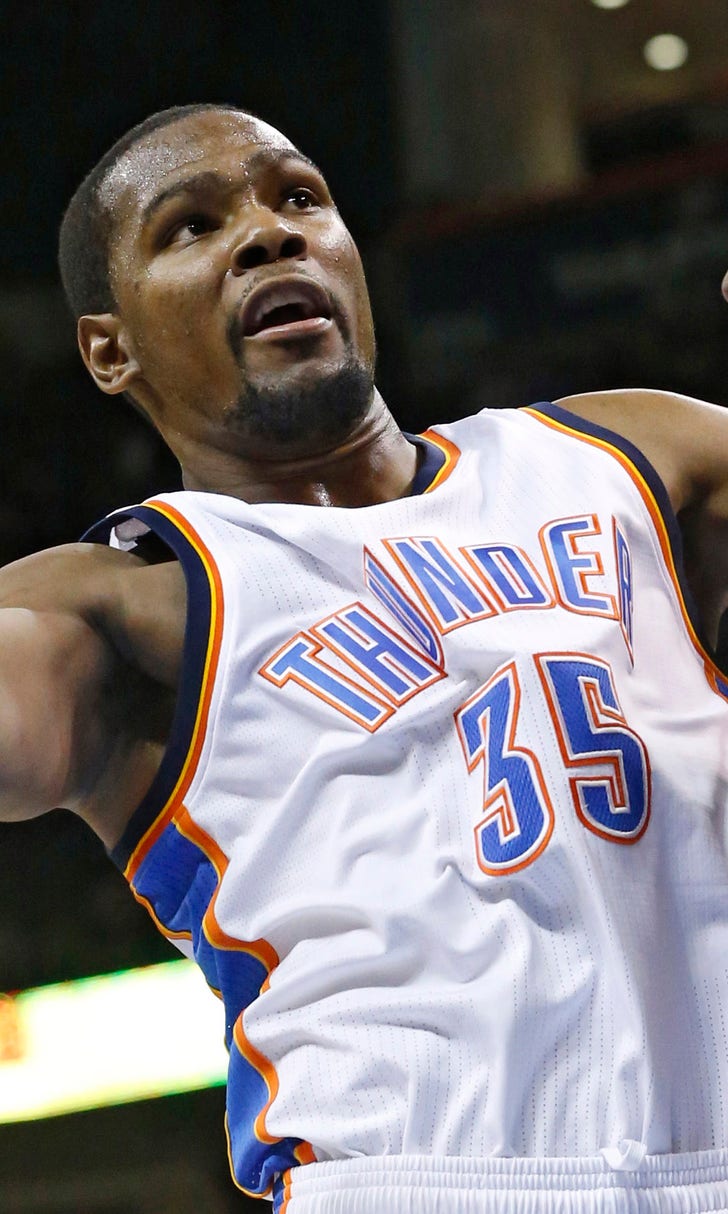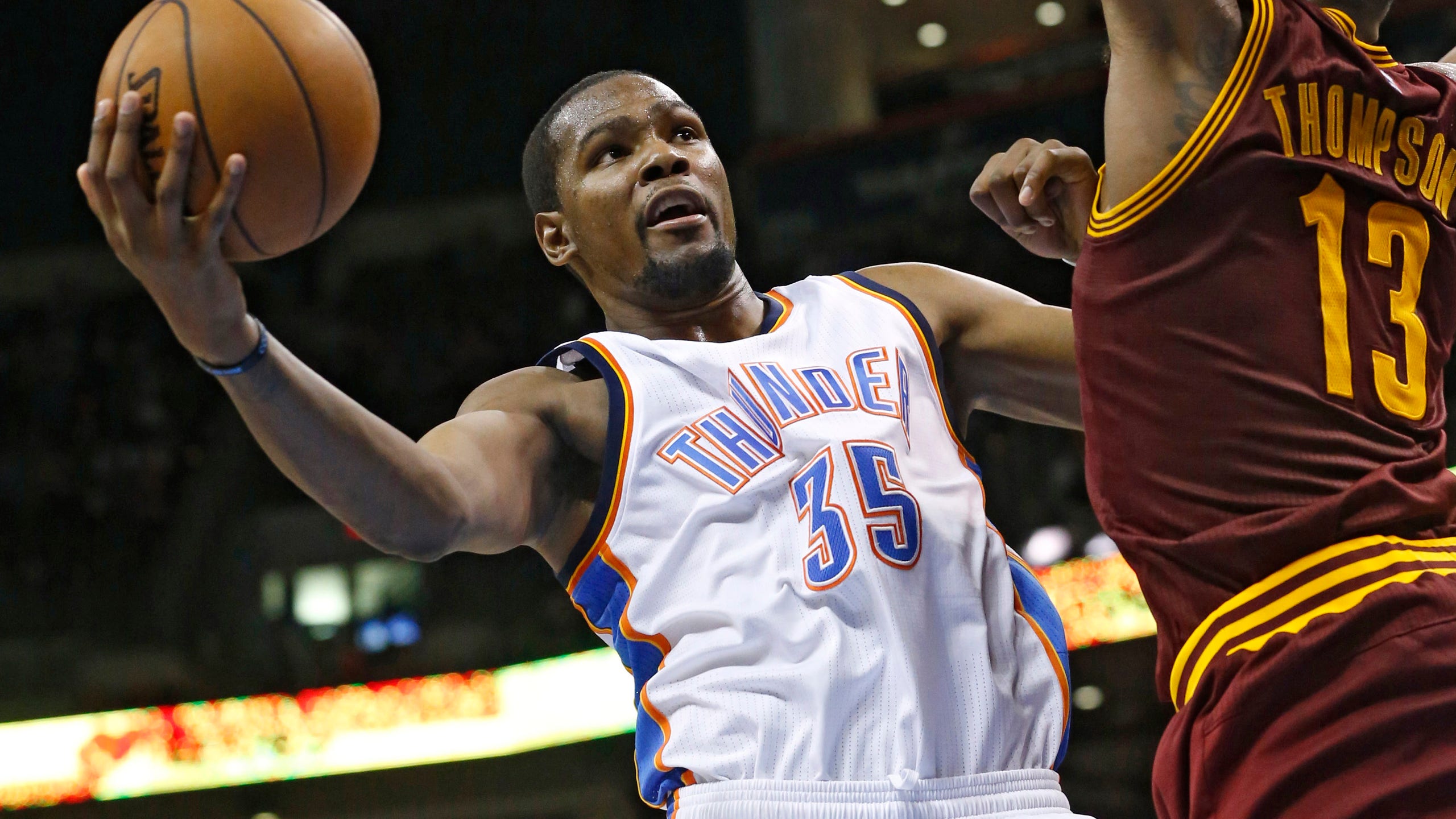 Kevin Durant back to MVP form in Thunder win over Cavs
BY foxsports • December 12, 2014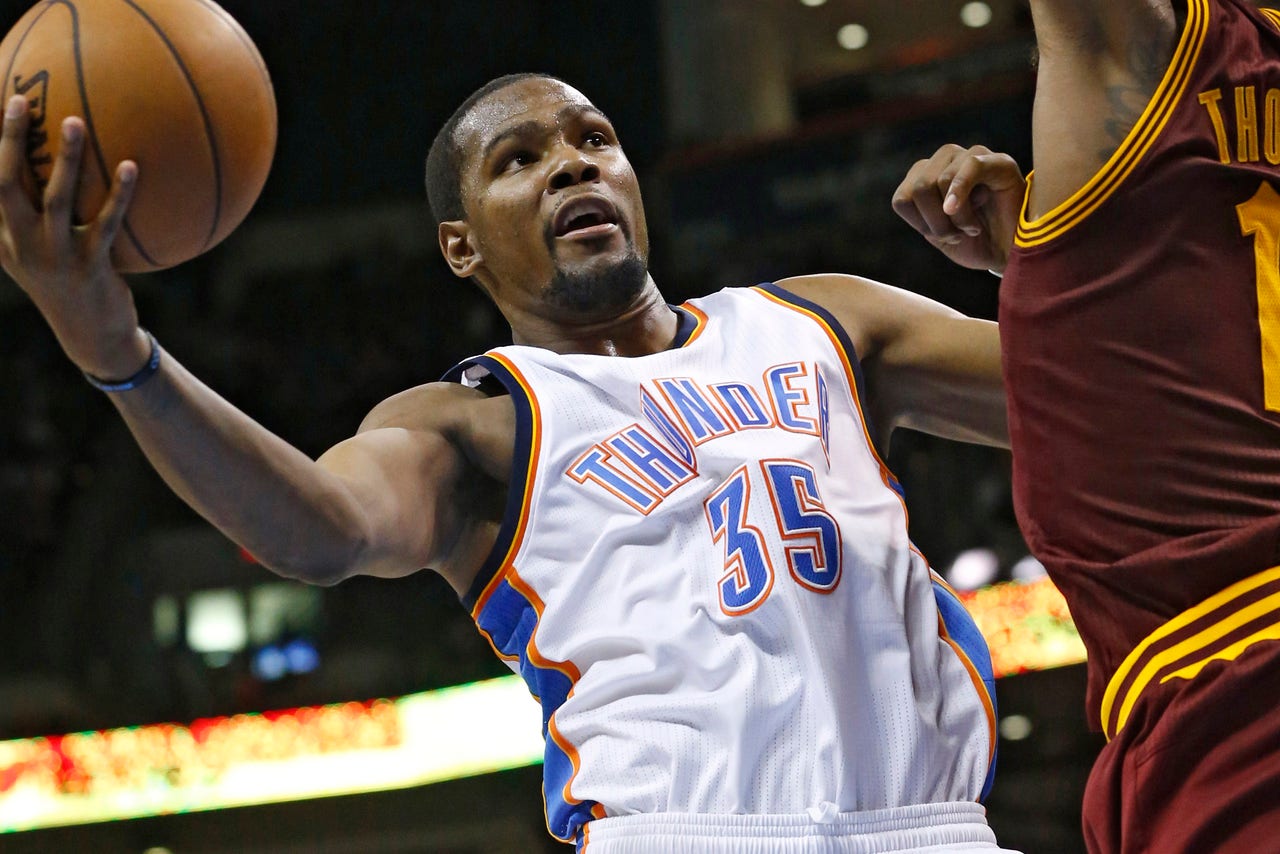 OKLAHOMA CITY –€" We can draw a line and circle the date when Kevin Durant made his official return for the Thunder. 
That's easy to find. 
But he was back for real Thursday night in Oklahoma City against Cleveland.
Absent for a month to start the year and then absent for more than three quarters to start the game, Durant's return on Dec. 2 rescued the Thunder season, but his appearance in the last 2 minutes Thursday night saved the day in a 103-94 victory against the Cavs.
"He was Kevin Durant," teammate Reggie Jackson said. "He looked like himself. A guy we're used to."
Durant made his first start of the season five games ago after a fractured right foot kept him out of the first 16 games of the season. But he was a recognizable Superman for the first time this season when he had a dunk, a fade-away basket, two free throws and a lay-up in the closing moments, turning a tight finish into a Thunder win.
"Yeah, I was trying to be aggressive," Durant said. "When scoring opportunities present themselves, I've got to take it. Coach ran some plays for me. I just try and be aggressive and get the ball."
This was a fourth win in a row for the resurgent Thunder and it was supposed to be a first LeBron James-KD matchup. That didn't happen when James sat out the game due to a sore knee. Meanwhile, for the better part of three quarters, Durant didn't show up, either. He had zero points on three shots after one quarter, six points with one made field goal in the first half and was up to 11 points on three-of-nine shooting after three quarters.
"I can't sit here and tell you what he's doing differently," said Cleveland's Shawn Marion.
Maybe not, but we sure could see it. 
OKC extended its lead to 20 points in the fourth quarter before Cleveland got it all the way back to a four-point game with exactly 2 minutes left.
Russell Westbrook was great, scoring 26 points on 12-of-24 shooting, but Durant made a triumphant return, knocking off rust and the Cavaliers in a very Kevin Durant kind of way.
"That's what he does when the game is on the line," coach Scott Brooks said. "He's wired that way. That's why he is the MVP. He does that every night. Tonight , you can see he's getting his rhythm back and he closed the game for us."
And for the first time this season, we got to see it again.
"He had flashes where he looked like himself again," Reggie Jackson said.
Still on a "about 30 minutes per game" restriction, according to Brooks, Durant played 30:07 Thursday, wound up with 19 points and six rebounds, had five assists and a pair of, but in the last 2 minutes his take-over was familiar.
"When it's time to win, he comes up big," said guard Jeremy Lamb. "Like always."
"Always" took forever to get here this season for the Thunder, who got off to a miserable start without Westbrook and Durant for the first month of the season. A four-game win streak has worked its way to a more respectable 9-13 record, but this team was once 3-12. 
And lost.
That start, that Durant absence, seems light years away now, and with 60 games to go, the Thunder's season feels like it has more than just new life, it feels like it's been reborn.
Westbrook has played just seven games this season and Durant is not expected to play much more than 30 minutes again Friday when the team heads to Minnesota. It will be awhile before everything is totally back to where OKC feels like it needs to be.
But for the first time this season, it had to have felt pretty normal for Durant.
Follow Andrew Gilman on Twitter: @andrewgilmanOK
MORE FROM FOX SPORTS SOUTHWEST: 
- Ranking NFL quarterback salaries
- Wake up! Athletes caught sleeping
- College football teams that wish there was a playoff
- Oldest player on every NBA team
---