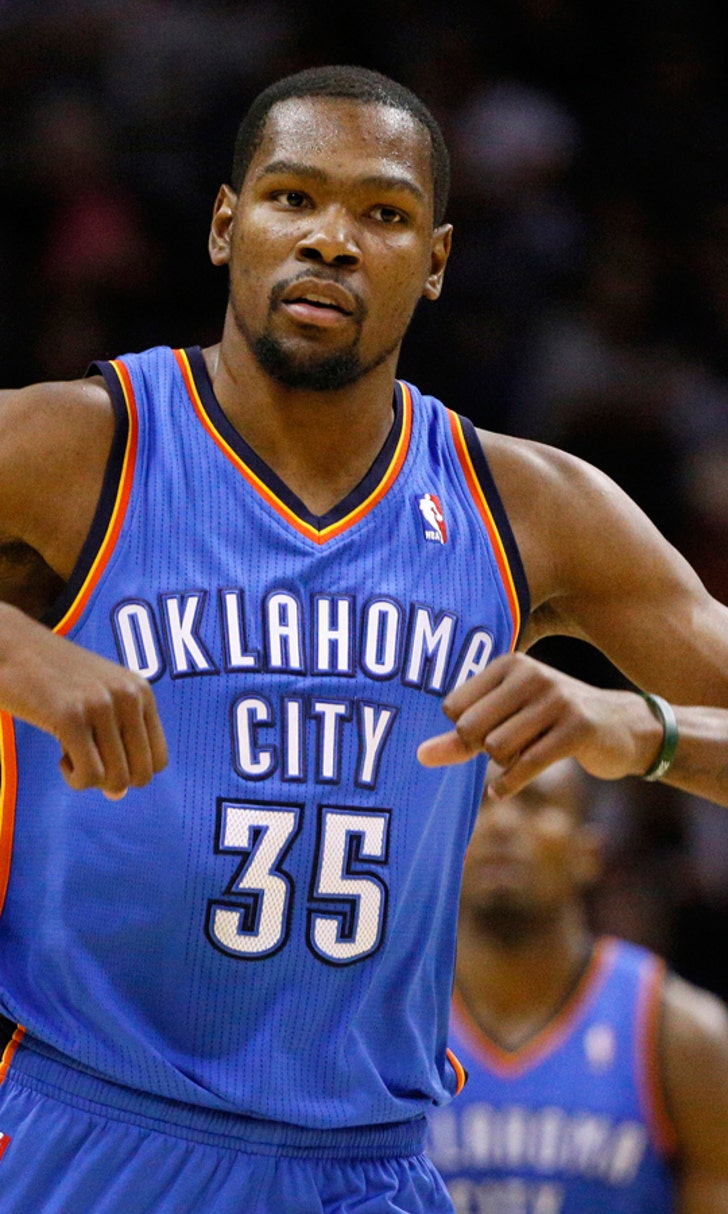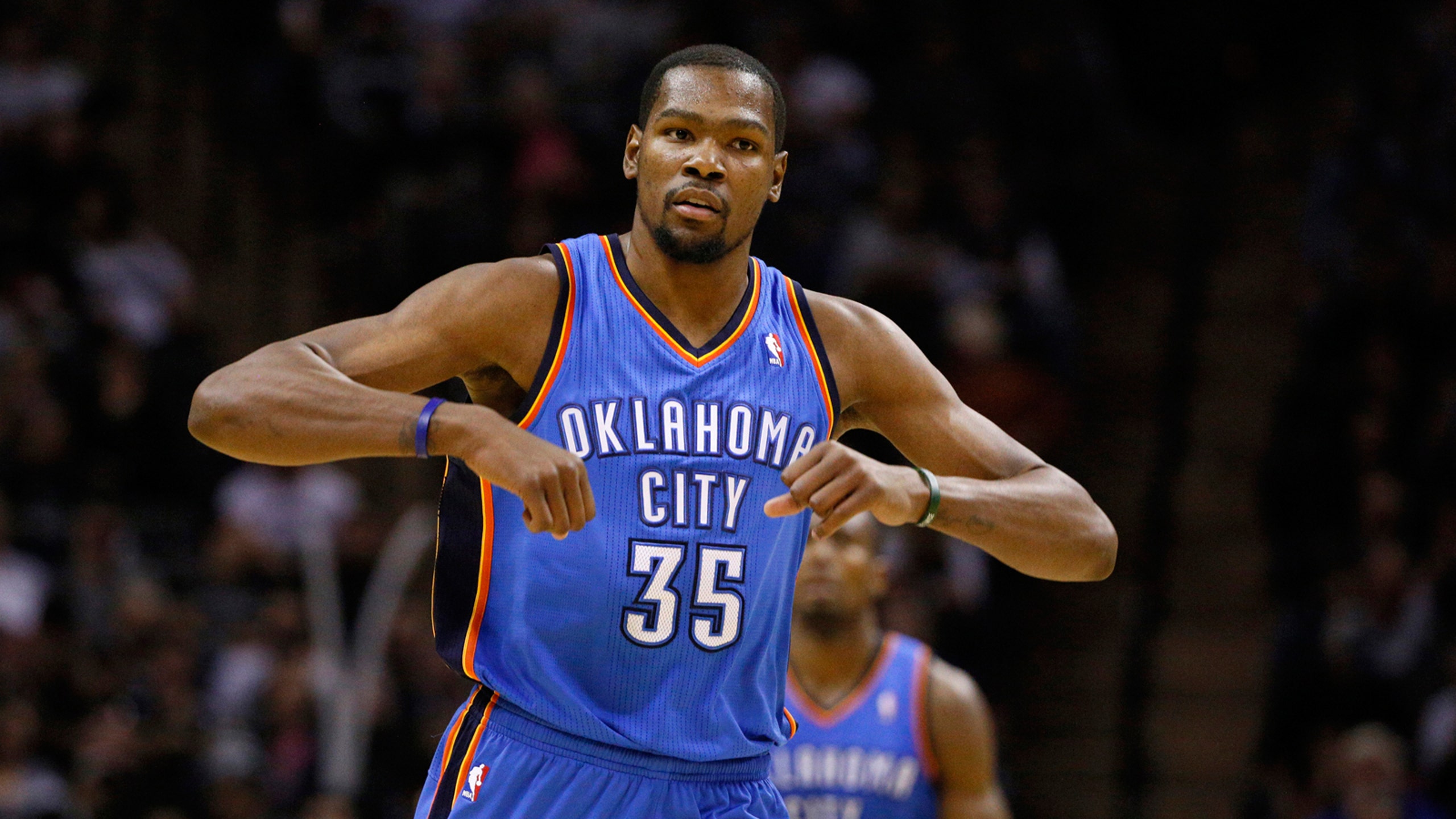 Kevin Durant a rare superstar who can do no wrong
BY foxsports • January 28, 2014
OKLAHOMA CITY -- Kevin Durant got the ball when everyone knew he would. Atlanta ran one player at him, then another, but Durant spun right away from the defense, rose and shot.
Doesn't matter if it went in or not because these days, Durant can do no wrong, and now, playing the best basketball of his career, on a streak only five have been on in the last 30 years, Durant's relationship with stardom seems to be an organic one. This isn't LeBron James reworking an image, thanks to a cellphone commercial, the constant branding of Michael Jordan or a grueling public relations work-over that transformed and re-formed Kobe Bryant.
Durant is the rare case of a superstar with no visible or audible detractors. Oh, Durant has had some issues, some slip-ups on the court and off, too, but those have been quickly forgotten, forgiven or dismissed.
This is Kevin Durant: Right now, as the Thunder take on Miami and James for the first time this season Wednesday night, Durant is the best basketball player in the world and he's free of all baggage. No one seems more comfortable with himself, his game and his ascension to becoming not just a great scorer on a great run, but the most-complete superstar possible.
Nike tried to tell us Durant is not nice. His 12 technical fouls last season seemed to back that up. Oh, he'll stare down the opponents' bench and he'll pound his chest after a big basket, like he did Monday night against the Hawks when he made two baskets in the final 25 seconds, scored Oklahoma City's final seven points, including a runner with 1.5 seconds left that won the game, but when it comes to likable, Durant has it surrounded by not just talking "Team First," but living it.
"It's tough to find people who are at the top of their profession and yet still think more about others than themselves," said Tony Romo, who was in town Monday and saw Durant's latest hero moves. "Everyone who watches, should appreciate his talent and ability, but also his approach to his craft, his teammates, his coaches and his ability to be a role model. People who see him want to do what he does."
What they are seeing is the most-popular Texas-ex in entertainment this side of Matthew McConaughey, not just for what he does on the court, but how he's represented himself, Oklahoma City and his team off the court. It was others, not Durant, who made his gift of $1 million to tornado relief in May public, just like it was others who let it be known Durant was down at the YMCA just shooting hoops and playing pick-up and how he was in Stillwater, Okla., that one time because he wanted to play in a flag football game. That kind of goodwill has been immeasurable in Oklahoma City.
If Durant is uncomfortable with his popularity or stardom, he's not letting on. If he finds it difficult to be himself, you wouldn't know.
"I'm not out to seek the approval of anyone or here to make anyone happy," said Durant. "I'm not living for anybody. I realize right from wrong and I know common sense. But I'm not going out there and saying, 'I have to do this, so this guy will be happy with me or this guy won't be upset.' I make mistakes like a human, just like everyone else, I just happen to play basketball. I'm not walking on eggshells because I play in the NBA. I'm still going to be myself. I'm still going to have good days and bad days like a normal person. So I'm not looking for any approval from anybody else. I just learn from everything I do.
So Durant tempers that with a chest and back full of tattoos, but they're covered so you have to look closely to see. A leaked (hacked) picture of Durant smoking, but that was in and out of the news cycle with no repercussions . Two ejections last year. Seven more technical fouls this season, but that hasn't chipped away at his approval rating, it works for him. He pounded the scorers table against Portland and then rallied his team to win. If there's anything questionable on the resume, it's overlooked. Not brooding or a malcontent, he's instead described as fiery and competitive. Yelling at his teammates might be problematic for some, but with Durant, it's allowed. He gets a pass. Even the fact Durant hasn't won a title in his six seasons is seemingly incongruent with being the best in the game, but with Durant it's glossed over and only used contextually whereas with LeBron, it was the story, the only story until the Heat won.
"He can go from this nice KD to just screaming at the dogs," said teammate Kendrick Perkins, who is afforded none of the luxuries Durant gets. If Perkins yells at the refs, he's a liability. If he gets a technical foul, he's hurting the team.
"He's starting to grow. He's not the same KD he used to be. You can tell. He's yelling at guys when they are not in the right spots and he's on guys. You can tell he really wants to win."
"He has that killer in him. He has that dog," said Atlanta's Kyle Korver.  He wants that shot. He saw the double team coming and he went the other way like there was no doubt he was going to take that shot."
What Durant has done on the court is average more than 31 points per game this year, more than four points more than his career average. The 11 games in a row of more than 30 points is the longest streak in the NBA since 2003 and is shared by only three others. Durant's 51 percent shooting this season, his 5.2 assists, his 7.8 rebounds, his 1.5 steals -- all better than his career numbers. But in January, Durant has surged beyond, scoring 36.9 points per game with five 40-plus, point games. Sixty-percent shooting Monday against Atlanta including the winning shot with a pair of Atlanta players running at him, 70.6 percent in a triple-double performance at Philadelphia. 54.5 percent against San Antonio, 68 percent against Portland when he made a pair of 3-pointers in the final minute, 67 percent against Golden State when Durant went off for 54 points and just a 10-of-15 (66.7 percent) showing against Sacramento.
"You're only measured by how you win," said Durant, aware of LeBron's career arc, but clearly unaware how he, himself has been measured by a number of different scales from community to consistency.
"Kevin does a good of job as anyone in sports of being the kind of role model that kids and other athletes can look to," said Romo, who has parallels to Durant in they have produced without titles, yet Romo  is blamed and burdened with failure due to playoff losses while little is made of Durant's postseason experiences. "As a coach, the ultimate thing you want is a great, great player but someone who cares about the team more than anything else. You have that with Kevin. When you have that, it's the best. Not everyone who is great exudes and even thinks team first, but Kevin does think that way."
But Durant didn't pass on that last-second shot against Atlanta Monday. You know, the one where the Hawks wanted the ball out Durant's hands, but Durant didn't allow it.
"Superstars are the guys who take over," Korver said. "He took the shots that were there for him and he's getting better and better at it. It's something you grow into."
"There are very few people in the world who can do what he does," teammate Nick Collison said.
So, yeah, the shot went in. But you knew that already.
"When you play this game with your heart and the passion like we do, sometimes you got to sit back and just enjoy it," Durant said.
Follow Andrew Gilman on Twitter: @andrewgilmanOK
---