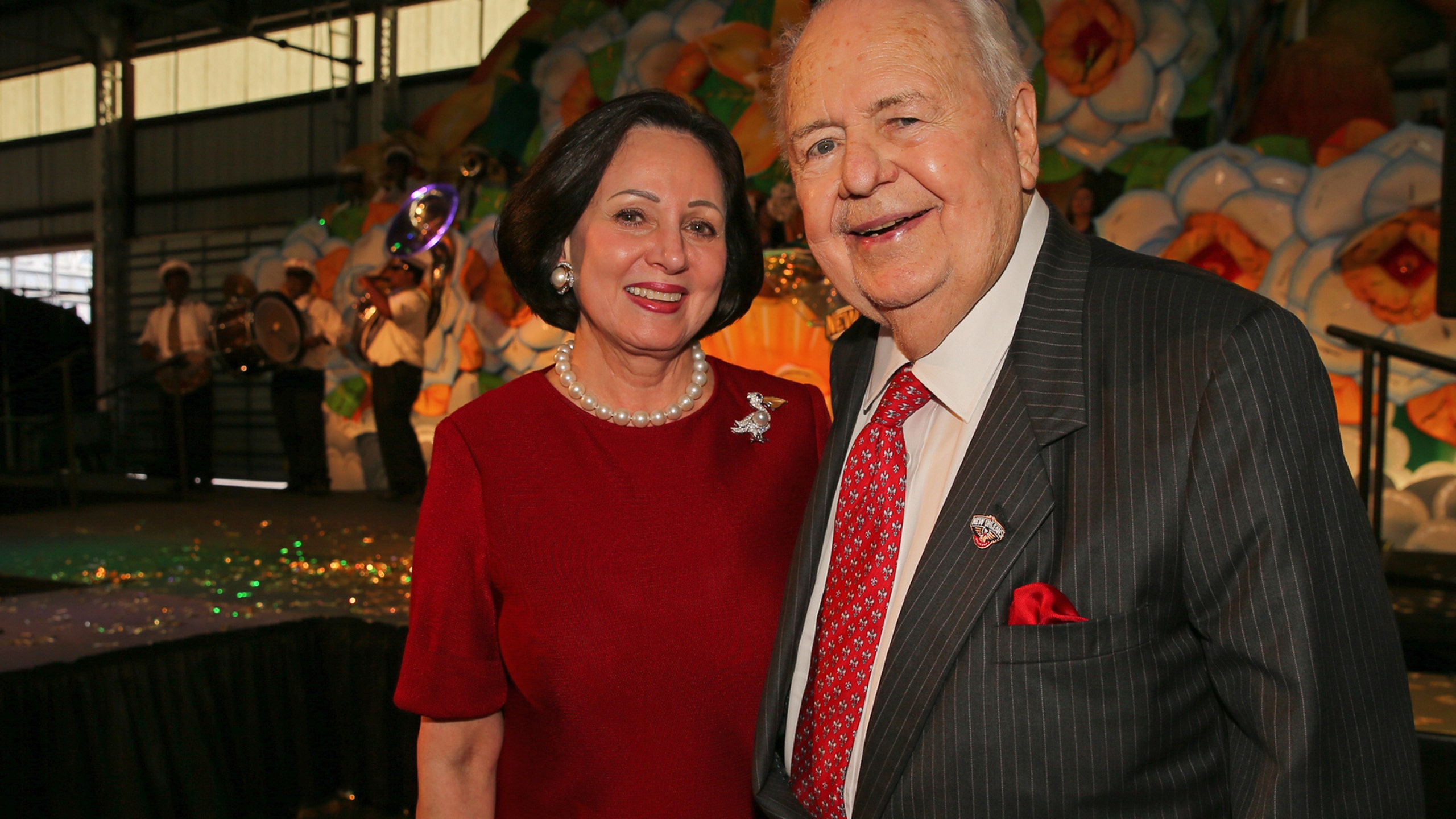 Kentucky Derby dreaming with Saints, Pelicans owners Tom, Gayle Benson
BY foxsports • February 2, 2016
Tom and Gayle Benson own the National Football League's New Orleans Saints and the New Orleans Pelicans of the National Basketball Association.
The Bensons are committed to operating model franchises with championship aspirations on the field and court, while also being community leaders in the Gulf South region through extensive investment and involvement.
The 2016 season marked Tom Benson's 32nd year of ownership of the Saints franchise, while Gayle Benson serves as the club's executive officer. Under the supervision and guidance of the Bensons, the Saints since 2006 have enjoyed the most successful run in franchise history, including the Super Bowl XLIV title, two NFC Championship game appearances, three division championships and five playoff berths, combined with a commitment to rebuild and enhance the Gulf South.
Tom Benson, who owned numerous automotive and banking interests in both the New Orleans area and South Texas, was motivated to purchase the Saints by the threat of out-of-town investors planning to move the franchise from New Orleans. A fan of the game and the Saints as well as one of the area's top businessmen, Benson recognized the importance of the team to the region, pooled all of his resources and purchased the club in 1985 to keep the Saints in New Orleans. The Bensons in 2012 purchased the NBA's Hornets franchise, which was successfully rebranded as the Pelicans.
Dedication to the Gulf South regions is one of the Bensons' most rewarding endeavors. Since 2005, the Saints have positioned themselves as a leader in the recovery of the region in the wake of Hurricane Katrina. Immediately after the storm, they established the Saints Hurricane Katrina Fund, which raised more than $1-million dollars to benefit worthy causes that helped in the region's recovery. In 2010, the club established the Saints Gulf Coast Renewal Fund, which raised more than $1.5-million through the raffle of a Super Bowl ring and the 2012 raffle of Saints and Pelicans game-day experiences. More than $1-million has been distributed to charities, such as the local chapters of the Second Harvest Food Bank and Catholic Charities, to help provide support of those affected by subsequent natural and man-made disasters, including the 2010 Gulf of Mexico oil spill and Hurricane Isaac.  In 2008, Tom Benson was selected by the Volunteers of America as the winner of its annual Good Samaritan Award in Philanthropy in recognition of his work in the wake of Hurricane Katrina. In 2015, he was honored by New Orleans City Business as one of the region's 35 "Driving Forces" for his contributions to the community since Hurricane Katrina.
In 1945, Mr. Benson served in the Navy aboard the U.S.S. South Dakota and has remained particularly close to this branch of the armed forces. In 2007, Mr. Benson was honored by the U.S. Navy Memorial with the Lone Sailor Award, presented to those who exemplify the core values of honor, courage and commitment. In 2009, Benson was presented with the U.S. Army's "Army Strong" Award in recognition for his position in the community while demonstrating leadership and Army Values on a daily basis. In 2011, he was among five NFL owners honored with an American Spirit Award by the museum for service in the war.
Gayle Benson's G M B Racing owns 2016 Kentucky Derby hopeful Mo Tom, whose 2¼-length victory in the Lecomte Stakes on Jan. 16 landed him on the Triple Crown trail for trainer Tom Amoss.
Name: Tom Benson
What I do for a living: I own an NFL and NBA team and real estate and a TV station.
How and when I was introduced to Thoroughbred racing: I was in the horse business many years ago. My son Bob ran the operation. We had nearly 50 horses at one time; Si Cima was our most successful runner.
My favorite racetrack: Fair Grounds
My favorite Thoroughbred racing event: The Kentucky Derby on May 7, 2016, because we plan to be running in it.
Other sports/teams I follow: Outside of the Saints and Pelicans, why follow any other team?
What I would like to see more of in Thoroughbred racing: More fans, it is a very thrilling sport.
What I would like to see less of in Thoroughbred racing: Injuries to these great athletes.
Three words that define what Thoroughbred racing means to me: Haha, anticipation, exciting, expensive
First Thoroughbred track I ever attended was: Jefferson Downs
Favorite all-time Thoroughbred: That story is yet to be told, but it is hard not to love what Secretariat did for racing.
My personal best moment in the sport of Thoroughbred racing: So far it is seeing my wife, Gayle, who actually owns GMB Racing, have so much fun and success.
Best racetrack food can be found at: Fair Grounds, because New Orleans has the best food.
My favorite jockey: The one that wins the most for us. But seriously, we really like and respect all of the jockeys that have ridden for us.
My favorite trainer: Right now, I have three — Tom Amoss, Dallas Stewart and Al Stall — because they train our horses.
My heroes: Admirals [Chester] Nimitz and [William] Halsey
Person in Thoroughbred racing I'd like to have dinner with: My wife, Gayle
My philosophy on life: There are no short cuts in life. It is all about hard work, loyalty and passion to your craft.
Favorite quote or motto: Tough times don't last, but tough people do.
Favorite animal other than a horse: Pelican
Favorite non-Thoroughbred racing sports event I have attended: Super Bowl 44
Favorite food: Crayfish
Favorite vacation spot: Coastline from Maine to New York on my boat
Favorite city: New Orleans
Favorite Musician/band: Louis Armstrong
Favorite hotel: St. Regis in New York City
Websites I visit daily: neworleanssaints.com and pelicans.com
What I drive: Mercedes-Benz
Pet Peeve: Legal bills
Which actor would play me in a movie: Brad Pitt or Tom Cruise
Alma Mater: Loyola University, New Orleans
Best book I recently read: Carlisle vs. Army
Favorite memento: The Lombardi Trophy
Favorite dessert: Two scoops of vanilla ice cream
What I like about my job: It is always exciting.
Favorite tech gadget: The remote control to my TV.
Twitter handle: What is that?
No. 1 Bucket-List item: To win a Triple Crown, an NBA championship and another Super Bowl. Is that asking too much?
---