Kemba Walker's heroics seal overtime win in Hornets return
Published
Oct. 29, 2014 11:17 p.m. ET

CHARLOTTE, N.C. -- Downtown Charlotte can be a strange place. On Wednesday night it was a town with tuxedo T-shirts on the backs of chairs and purple and teal LED lights beside buzzing industrial-sized speakers outside the Ritz-Carlton. There was a basketball court designed like a honeycomb, a Michael Jackson tribute band disguised as halftime entertainment and the fashion statement of choice was the uniform of a player that hadn't played in the city since 1997: Muggsy Bogues.
With their season-opening game against the Milwaukee Bucks, the Charlotte Hornets officially made their return to an NBA court -- bringing all the bells and whistles and gimmicks and sound effects that came with the long-awaited name change. Fans showed up en masse. Lines wrapped around Time-Warner Arena unlike any time under the Bobcats moniker: partly because this could be the best team in Charlotte since the 1990s, but mostly because the '90s have been revived. Even the nosebleed seats were filled. And a 108-106 overtime win after erasing a 24-point deficit just seemed like it was part of the script.
For a city that has sat on the NBA outskirts for nearly two decades, it was an well-embraced change of scenery.
"It was crazy. You could feel the energy, especially the negative energy when we were down 24 in the third (quarter). But you also felt it when we were coming back," Hornets forward Al Jefferson said. "It was so crazy. It was more hyped than Game 3 of the playoffs last year."
Attendance was rarely the problem for the Hornets in the Queen City. Charlotte espoused its first professional sports franchise from Day 1 back in 1988, with many fans celebrating the occasion by showing up in tuxedos for the inaugural opener -- hence the free tuxedo T-shirt awaiting attendees on Wednesday. Games became events. The Charlotte Coliseum, once considered far too large for its target market when former owner George Shinn equipped it with a league-high 24,000 seats, put the city on the major sports map.
The Hornets lost their first-ever NBA game to the Cleveland Cavaliers ... by 40 points. They received a standing ovation in the aftermath. Losing teams drew packed houses. The Bobcats were never going to replace that.
"From what we experienced and what I experienced, it was unbelievable," said former Hornets player Tony Bennett, now the Virginia Cavaliers head coach who was in town for an ACC media event. "Something like seven years of sellouts, 24,000 people a night. I tell people all the time, it was basketball and it was racing. The (NFL's Carolina) Panthers weren't around back then."
The city's love affair did not last. After seven consecutive years of sell-out crowds, Shinn asked for a new, modern arena. A lack of luxury suites and premium seating, the loss of stars like Alonzo Mourning and Larry Johnson and the arena's suburban location all led to the Hornets' eventual departure for New Orleans in 2002. The Coliseum, replaced and rendered practically useless, was demolished in 2007. The last remaining player from that final Hornets roster retired in 2012.
Twelve years later "The Hive" is back in business, picking up where it left off in its heyday with a sellout crowd of 19,439 on Wednesday night.
There is financial value that comes along with such a welcomed transition, of course, particularly for a small-market franchise.
Hornets' season ticket and merchandise sales have skyrocketed. The team claims its has sold the equivalent of 10,000 season tickets -- as opposed to the 6,000 it sold when owner Michael Jordan first bought the team in 2010 -- and merchandise sales are up 77 percent. In terms of new season ticket sales, only the Cleveland Cavaliers, the beneficiaries of hometown superstar LeBron James returning to the fold, have sparked a greater increase in fan interest in their respective market. In the NBA right now, the only thing more profitable than nostalgia is sports immortality.
"It was great. You know, again, I'll say the same thing: When I was with the Knicks and we used to play in the old Coliseum, this was one of the toughest places to play," Hornets coach Steve Clifford said. "And I think that if our team plays the way that it's capable of and we have a good year, then we're hopeful that this can be an every night thing."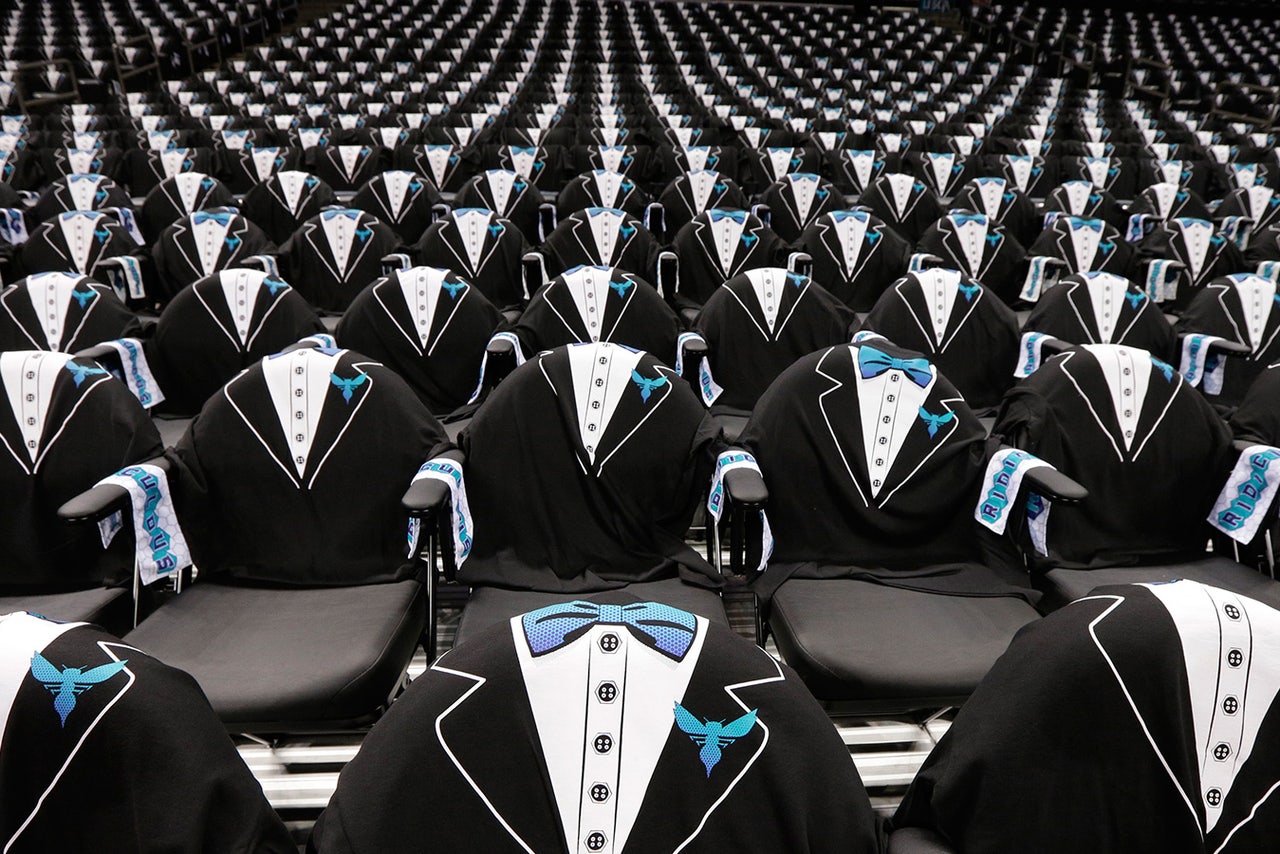 The Charlotte Hornets gave away free tuxedo T-shirts, a nod to their 1988 NBA debut, to commemorate the franchise's name change on Wednesday night.
Clifford's comment is the underlying truth to the team's continued support moving forward -- with television coverage and instant access to information at an all-time high, religious team loyalty in the form of fan attendance will not remain constant just because there are seven different letters on the front of Charlotte's uniform; in the end, winning drives the bottom line -- and it's one of the most encouraging aspects of the past few offseasons: Charlotte looks like a legitimate contender to finish in the top half of the Eastern Conference this season.
With the additions of Lance Stephenson (seven points, 13 rebounds), Al Jefferson (14 points, 10 rebounds) and Marvin Williams (19 points) through free agency the past two years, the Hornets have built slowly. Starters Kemba Walker, who played the hero on Wednesday night, and Michael Kidd-Gilchrist continue to improve. A bench that features recent lottery picks Cody Zeller and Noah Vonleh, guards Gerald Henderson, Gary Neal and P.J. Hairston and a couple other solid veteran contributors has Clifford trying to balance out the minutes -- as opposed to scrambling for depth.
The pieces are in place in a relatively weak Eastern Conference.
That didn't look to be the case for the better part of their clash with the Bucks, an improved group but one coming off a disappointing 2013-14 season that helped them earn them the No. 2 overall draft pick (Duke's Jabari Parker). Milwaukee buckled down defensively in the second and third quarters and continued to punish the Hornets on the dribble-drive. When the deficit reached 24 points, Clifford's players heard the downside of playing in front of a packed house. But they clawed their way back into the game slowly, altering their offensive emphasis and coming up with defensive stops, then relied on their bona-fide game-on-the-line shooter to seal the deal.
Walker has been pulling off these feats since his college days, so perhaps it shouldn't be surprising that he would knock down a 26-foot pull-up jumper down 100-97 with 1.6 seconds to go to send the game into overtime. Perhaps, especially after watching the game-tying 3-pointer fall, it shouldn't have been so surprising that with the game tied 106-106 in overtime he hit a 21-foot game-winner with a defender blocking his line of sight.
"I was so high on adrenaline (throughout the game), I couldn't calm down," said Walker, who finished with 26 points on 9 of 26 shooting. "I just couldn't relax. On those last few shots, I was finally able to relax."
Added Clifford: "He's courageous now. He had a cramp in his foot there and the score was tied (in overtime) and I said, 'Are you good?' And he said, 'Oh, I'll make one more play.' And he did. His intangibles, to me, are what makes him the player that he is. His game now is improving, his skill level is improving, but his competitiveness is contagious with his teammates. He's got courage. He wants to make the big play."
All things considered, it would have been difficult for this reinvigorated franchise to ask for a better script.
---