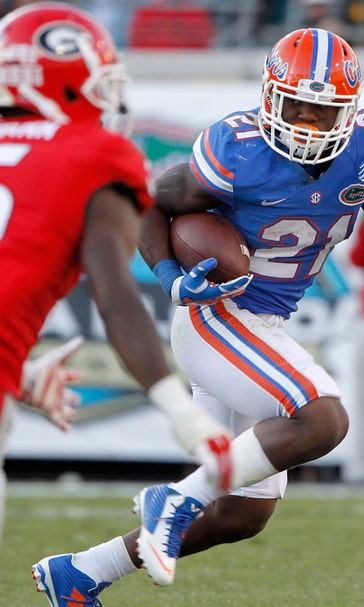 Kelvin Taylor, Florida's ground game could prove crucial against Georgia
October 29, 2015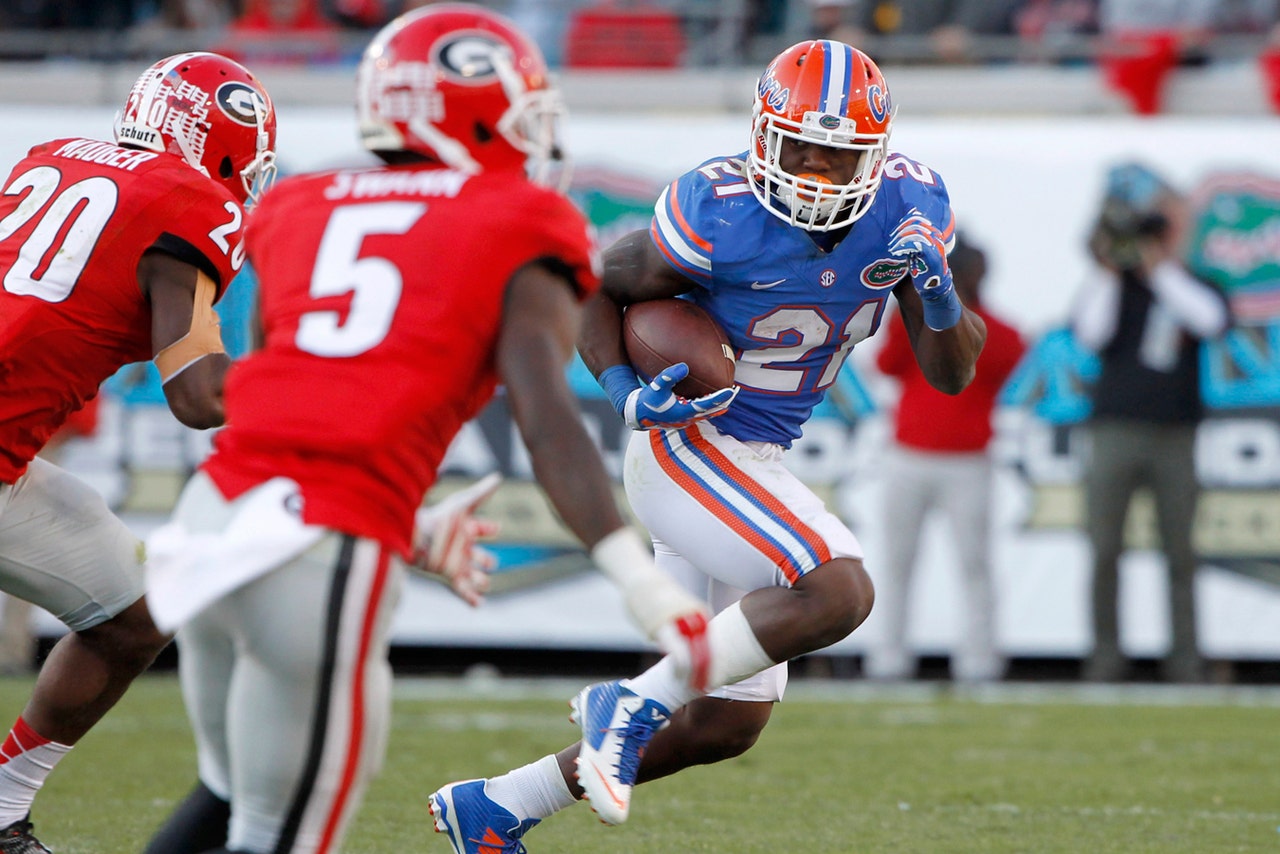 GAINESVILLE, Fla. -- In a heated rivalry that has featured ample oddities over the years -- remember, Florida and Georgia still disagree on how many times they have played for the record -- the 2014 game ranks right up there.
The Gators arrived at EverBank Field a beaten down team led by an embattled coach who had never won a game in the rivalry, losing four times to Florida as a Georgia player and three times to the Bulldogs as Florida's head coach. Meanwhile, the Bulldogs were ranked in the top 10 and had playoff aspirations on their mind.
What happened? The Gators ran all over Georgia.
Literally and figuratively.
Final score: 38-20. Rushing yards for Florida: 418.
Running backs Kelvin Taylor (197 yards) and Matt Jones (192) did most of the damage, but former walk-on Michael McNeely ignited the outburst with a 21-yard touchdown run on a fake field goal -- McNeely was the holder -- and the Gators never took off their running shoes.
Jones is now a Washington Redskins rookie. The bulk of last year's offensive line -- seniors Max Garcia, Trenton Brown, Chaz Green, D.J. Humphries and redshirt junior Tyler Moore -- have moved on.
Taylor is back and leads the Gators with 463 yards rushing and eight touchdowns. However, after rushing for 80 or more yards in three consecutive games for the first time in his career, the junior tailback was limited to 25 yards on 15 carries in a 35-28 loss at LSU.
Taylor is determined to help the Gators recapture their ground game on Saturday in Jacksonville.
"I have a great big chip on my shoulder," Taylor said. "We'll run the ball a whole lot better this week than what we have been. I feel like at some point in time, if you're a really great running back, you've got to make your own holes and you've got to make your own decisions and make your own reads."
As the Gators' offense continues to transition from former starting quarterback Will Grier to Treon Harris in charge, they emphasized re-establishing their rushing attack during the bye week.
First-year Gators head coach Jim McElwain isn't looking for 400 yards like last year, but the Gators likely will need more than the 99.4 yards per game in their five conference games, which ranks 12th in the league.
"Really needs to improve," he said. "It's not good enough, and it's obvious. We've got to get better. We haven't created explosive runs. The guys are trying. But obviously it's not where we expect it to be or where it's going to be."
Running backs coach Tim Skipper has watched the film of last season's game for clues on how to recharge Florida's rushing attack. Florida had 11 runs of 10 or more yards -- and passed only six times.
"As long as we have the same outcome, I'm fine," Skipper said.
What happened in 2014 is no secret. Florida's offensive line controlled the line of scrimmage and Taylor and Jones broke off several big runs. Those big runs have lacked this season.
The Gators have 25 runs of 10 or more yards through seven games, and 10 of those are by the quarterbacks (Grier, 7; Harris, 3).
"I have a lot of confidence in that we've worked hard during this bye week to get some things cleaned up and I feel good about the run game going into this game," Skipper said Wednesday. "The guys, they want to be successful. It's been real competitive. It's been a good two weeks and we're just hoping to see some dividends pay off when we get to Saturday."
While Taylor is the primary ball carrier, freshmen Jordan Cronkrite and Jordan Scarlett are coming along. Neither has been much of a factor of late due to injuries, a flu bug that swept through the team, and the normal learning curve that many freshmen endure.
Skipper expects both to contribute more as the season hits the home stretch and the Gators try to win their first SEC East title in six years.
"I think they are finally coming into their groove," Skipper said. "I really do. You can see it in their eyes. I think we're getting to that stage now where those guys have complete command of everything we're doing."
Georgia enters Saturday's game with its own concerns at running back.
The Bulldogs lost Heisman candidate Nick Chubb to a season-ending knee injury in a loss at Tennessee earlier this month. Sony Michel and Keith Marshall are now splitting carries. Michel rushed for 145 yards at Tennessee but was held to 87 yards on 26 carries in a 9-6 win over Missouri Oct. 17.
Still, Florida's defense will be on high alert with Georgia second in the SEC in rushing (215.6 yards per game).
"That guy's got juice, now," McElwain said of Michel. "Don't let 'em think they don't have running backs there. He and Marshall were as highly recruited guys as there were in the United States of America. These guys are difference makers. What makes all offenses go, theirs included, is still the ability to run the football."
Stopping Georgia's backfield is the concern of Gators defensive coordinator Geoff Collins and Co.
Skipper is focused on Florida's backfield and the entire offense playing with a high urgency.
"If we're not all on the same page and all playing together at a high level on every single play, you're not going to get those explosive type runs," he said. "Then once you do get there, we've got to beat some safeties. There's been plenty of times we've been one-on-one and they've made some plays. We have to make that last guy miss."
---