Keep cheering, America: World Cup stars Besler and Zusi can hear you all the way in Brazil
June 30, 2014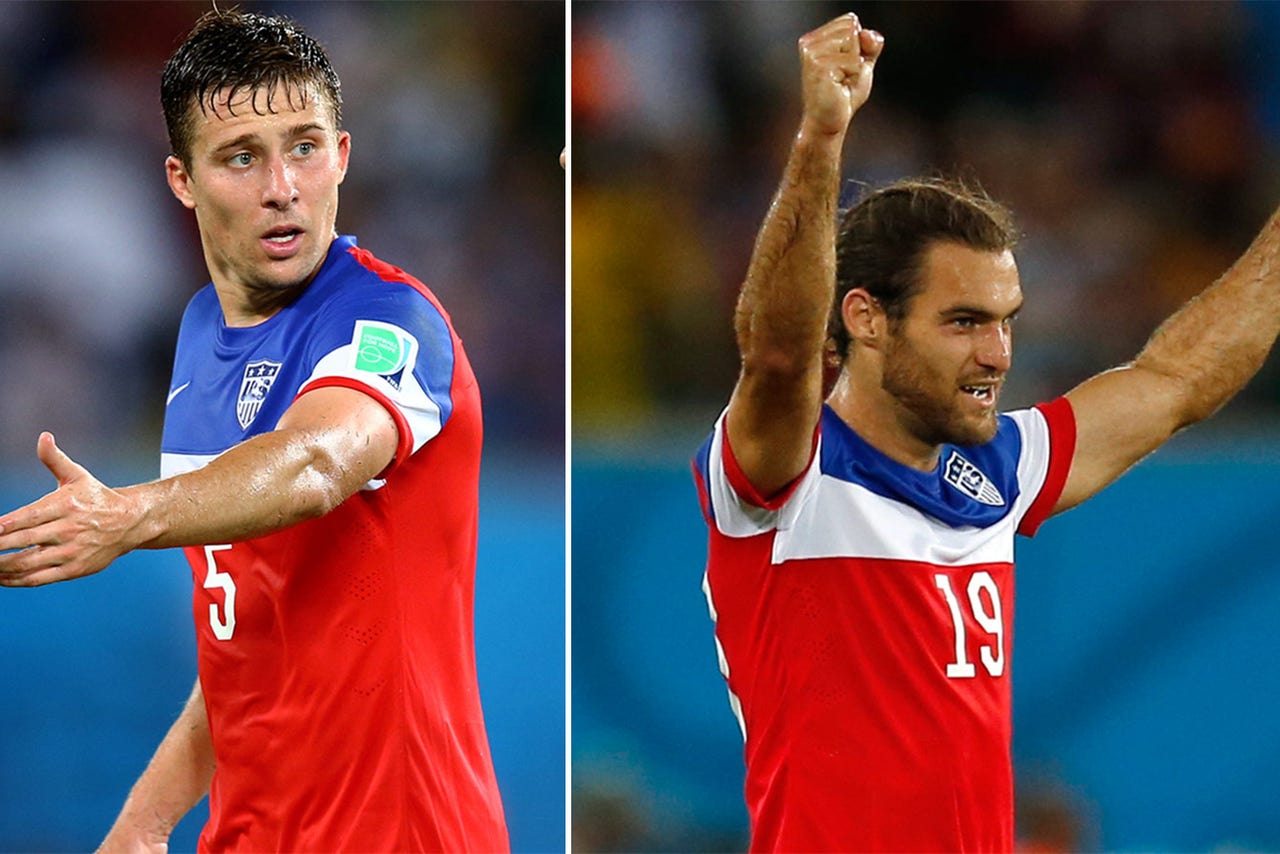 KANSAS CITY, Mo. -- Oh, they can hear you, all right. Even from some 5,300 miles away. Clear as a bell.
"It's been so cool to see some of those watch parties and the reactions because of wins or goals," U.S. men's national soccer team and Sporting Kansas City midfielder Graham Zusi said Monday from Brazil when asked about the crowds gathering back home to watch the World Cup.
"Yeah, you do see those ... and just feels so awesome, as a player, to be a part of that."
There are crowds and there are CROWDS, and Kansas City has been drawing the all-caps kind whenever the Stars & Stripes hit the pitch this past month. Sporting has organized watch parties at the Power & Light District, where officials estimated a gathering in excess of 15,000 people turned out to stand outside two Sundays ago and watch the U.S. and Portugal play to a 2-2 draw. Sporting is expecting a similar crowd -- if not larger -- for the men's national team's Round-of-16 win-or-go-home match against Belgium on Tuesday afternoon.
"I've obviously seen the Kansas City (crowds) more than anything," Zusi continued. "And the way the Power & Light District is completely full and all the other bars like it, it's so cool to see the effect (that) this tournament has on people.
"And I think ... it can only be a good thing for our league (Major League Soccer) and for soccer in this country."
It's bracket time at the World Cup, a slice of March in July. And Tuesday's match is, in NCAA tourney parlance, a classic 8-9 kind-of tilt, on paper: The Stars & Stripes are ranked 13th internationally by FIFA; The Belgians, who defeated the U.S., 4-2, in a friendly in Cleveland on May 21, are 12th. To paraphrase the movie "Clerks," after coach Jurgen Klinsmann's crew got lumped into the "Group of Death" with Germany (No. 2 in the world), Portugal (No. 4) and Ghana (No. 37), they weren't even supposed to be here.
But here they are.
And here you are. Screaming.
"I've seen all the YouTube videos of the Power & Light District; it's incredible the support we're getting," said USMNT and Sporting defender Matt Besler, who's being lauded as one of the defensive stars of the entire World Cup. "It seems it's really catching on. And as a team, we want to make sure that we're able to capitalize on this opportunity. Not just for us, but for the fans."
Soccer aficionados are hoping for a little carpe diem, too -- and some carry-over. One of the big topics making the talking-head circuit rounds is how much the crowds and passion have to do with the U-S-A and how much of it is has to do with the sport itself. The World Cup, like the Olympics, benefits from a nationalist following that hooks the casual fan and its every-four-years-cycle gives the matches the feel of "event television." Plus, it's on during a fairly major gap in the American sports calendar (post-NBA/Stanley Cup playoffs, pre-MLB All-Star Game and NFL training camps), which doesn't hurt.
"I know that the World Cup tends to bring people out of the woodwork every four years," Zusi said. "But I think you can see the growth that's been taking hold, and this league, especially the MLS ... this should boost it up another level."
So should this: The aforementioned U.S.-Portugal match drew a 24.7 rating, the highest for any non-football sports programming event in the United States so far this year. (More numbers: U.S.-versus-Ghana drew a 15.9. To compare, the NCAA hoops title game drew a 21.2; the NBA Finals a 15.6; the World Series, a 14.9.)
TV ratings for Cup matches are reportedly up 50 percent overall from 2010, although as with Olympic hockey and the NHL, those bumps haven't always translated into bigger viewing figures for Major League Soccer nationally. As defending MLS champion, Sporting KC has never had a bigger piece of the hearts and minds of the metro, but the team doesn't have the Nebraska/Iowa/Arkansas regional loyalty and brand recognition of the Royals or Chiefs.
That said, soccer is growing on America, culturally, moving out of cult pockets and into the mainstream, burgeoning inside flyover suburbs and small towns as the Internet/smartphone generation -- 40-ish-and-under -- comes of age.
Electronic Arts' "FIFA" series of video games nearly rivals its "Madden" counterparts in terms of customer loyalty Stateside. The global village has shrunk; international pundits may be half a world away but are just a click away on your browser. Plus, American networks have been airing elite-level professional soccer leagues -- the English Premier League, Germany's Bundesliga, Spain's La Liga, Italy's Serie A -- for the better part of the last decade now via various cable and satellite providers. When Chad "Ocho Cinco" Johnson walks around wearing a Liverpool shirt, it raises the "cool" factor a little.
And let's face it, being good -- being relevant -- on the international stage helps, too. The U.S. has reached for the World Cup's "Sweet" 16 for the second straight tournament and for the fourth time in the last six events. After failing to even qualify for the event from 1954-1990 -- there's that "lost" soccer generation for you, the Baby Boomers -- the Stars & Stripes have appeared in all seven Cups since and won at least one match in four of them.
"It's catching on countrywide," Zusi continued. "It's just really an exciting time for soccer in this country."
Which begs the question: Can they build on it?
The Americans last reached the quarterfinal stage in the Cup in 2002, but you have to go all the way back to the first Cup in 1930 to find a U.S. team that reached the semis.
"I think our biggest positive hasn't come yet," Zusi said. "I think we surprised a lot of people just by getting out of our group. But for us, that wasn't a surprise. I think we still feel like we have a lot of work to do and I think our best is yet to come."
To wit: Klinsmann has asked players to tell their family and entourages to move their departure flights to the end of the tourney, two weeks from now. Which is a complete 180-degree shift in tone from his comment earlier in the month that it was "not realistic" that the U.S. could win the Cup.
"I think that's making sure everyone's on the same page about what we want to accomplish," Zusi said. "There's no doubt in our minds, and in the coaches' minds, what we're capable of."
In other words, save your lungs, kids. You just might need them next week, too.
You can follow Sean Keeler on Twitter at @SeanKeeler or email him at seanmkeeler@gmail.com.
---