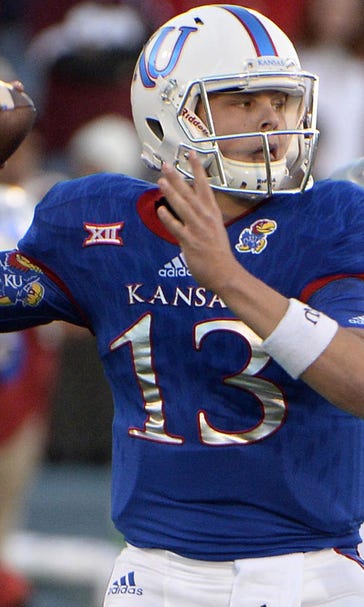 Kansas gets blown out by Oklahoma 62-7
October 31, 2015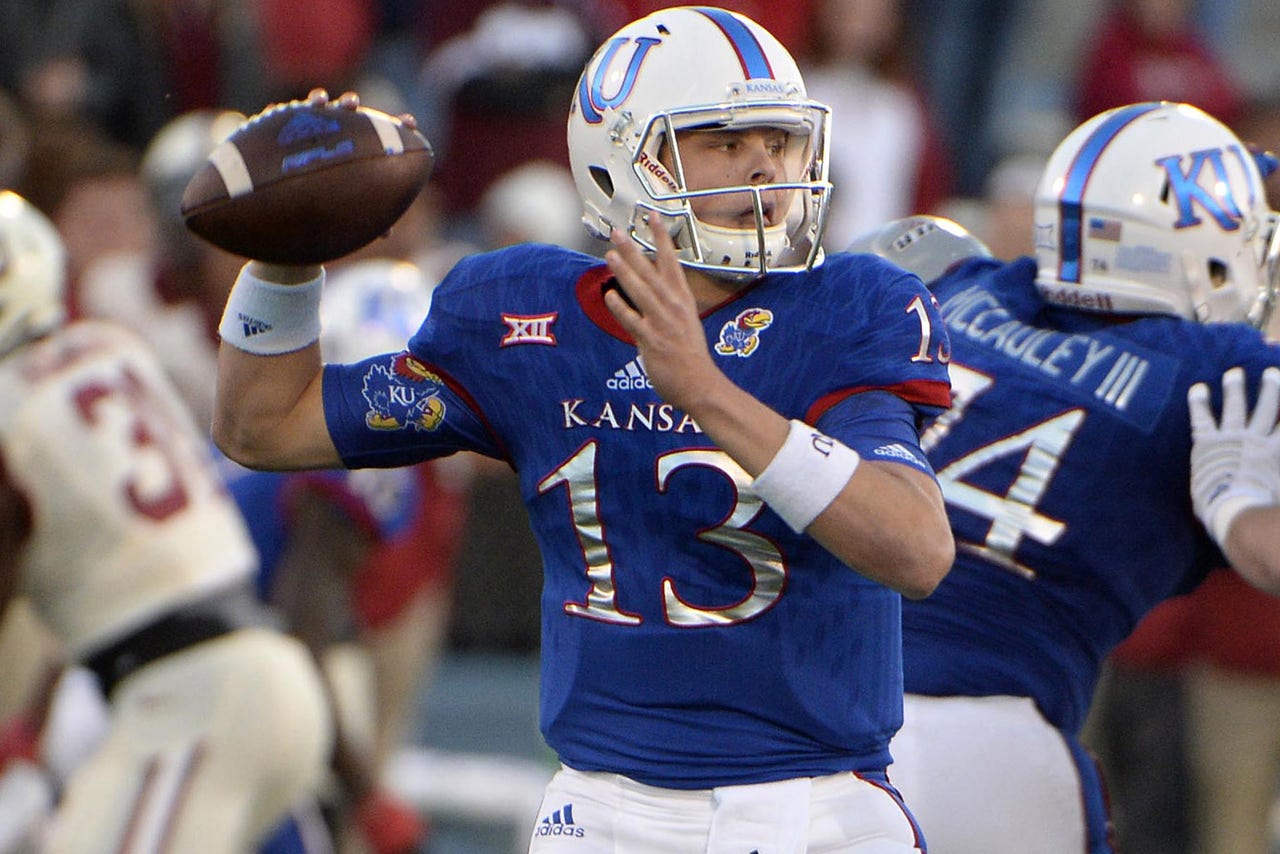 LAWRENCE, Kan. -- The biggest highlight for Kansas on Saturday: third-string freshman quarterback Ryan Willis had the Jayhawks' first punt of the season that dropped inside the 5-yard line.
It's been that kind of season for the Jayhawks.
Baker Mayfield completed 27 of 32 passes for 383 yards and No. 14 Oklahoma beat Kansas 62-7 on Saturday.
The loss was the 11th straight for Kansas (0-8, 0-5 Big 12) dating to last season.
Punter Matthew Wyman had eight punts, none as good as Willis' surprise kick on a fourth-and-7 from Oklahoma's 39 that went out of bounds at the 3.
"I couldn't have done better," Wyman said. "Out of bounds at the 3, that's about the best you can do. I thought it was neat. I wasn't expecting that. I thought we were going for it. It caught me off guard."
That was about the only positive for Kansas, which trailed 38-7 at halftime and allowed 710 yards total.
Mayfield threw for four touchdowns.
"He was able to duck under some things and create some extended plays," Kansas coach David Beaty said. "I've watched him since he was at (Texas Tech). He can do some great things with his feet. We've got to be able to get him down."
Sterling Shepard had 183 yards receiving and a touchdown on 11 catches for the Sooners (7-1, 4-1). Samaje Perine added 90 yards rushing and two touchdowns on 11 carries.
Oklahoma coach Bob Stoops is now 11-0 against the Jayhawks in his career.
Oklahoma scored on its first drive of the second half when Sam Grant snagged a 1-yard touchdown pass from Mayfield. Kansas fumbled on the first play of the next drive, and Oklahoma quickly took a 52-7 lead after backup quarterback Trevor Knight finished a short drive with a 1-yard touchdown run.
The Sooners kicked a field goal with 2:03 remaining in the third quarter, upping their lead to 55-7. Oklahoma pushed its advantage to 62-7 when Knight connected with his twin brother, Connor Knight, for a 17-yard score with 5:32 left in the game.
The Jayhawks had no answer for a powerful Sooners offense that scored 50 points for the third straight game. It was the first time Oklahoma has done that since 2008, when quarterback Sam Bradford won the Heisman Trophy.
"They're a good team and they're capable of both running and passing the ball," defensive end Ben Goodman said. "It just comes down to us. We just have to do a better job of executing our plays."
Oklahoma took a 7-0 lead early in the first quarter when Mayfield threw a strike to Joe Mixon, who outran defenders for a 68-yard touchdown. The Sooners scored again on their next drive, which culminated in an 11-yard touchdown pass to Durron Neal. On the following drive, Shepard's leaping catch in the end zone stretched Oklahoma's lead to 21-0 with 1:51 left in the first quarter.
Oklahoma outgained Kansas 248-41 in the first 15 minutes.
The Jayhawks showed signs of life in the second quarter after recovering Shepard's muffed punt. Kansas took advantage of the short field, and Willis found Tyler Patrick for a 17-yard touchdown that brought Kansas within 21-7.
"When (Patrick) came to the sidelines I thought he was going to pass out, he was screaming so loud," Beaty said of the freshman's first collegiate touchdown. "He was so excited. That kid's steadily improved."
With nine minutes remaining in the half, Oklahoma upped its lead to 28-7 with a 3-yard rushing touchdown by Perine. The score capped a 14-play drive that lasted nearly six minutes. Mayfield was sacked twice during the drive and the Sooners hurt themselves with a 15-yard penalty, but Oklahoma still found the end zone.
On its next drive, Kansas threw a wrinkle at the Sooners with Willis' punt. The Sooners settled for a 46-yard field goal, taking a 31-7 lead.
---
---