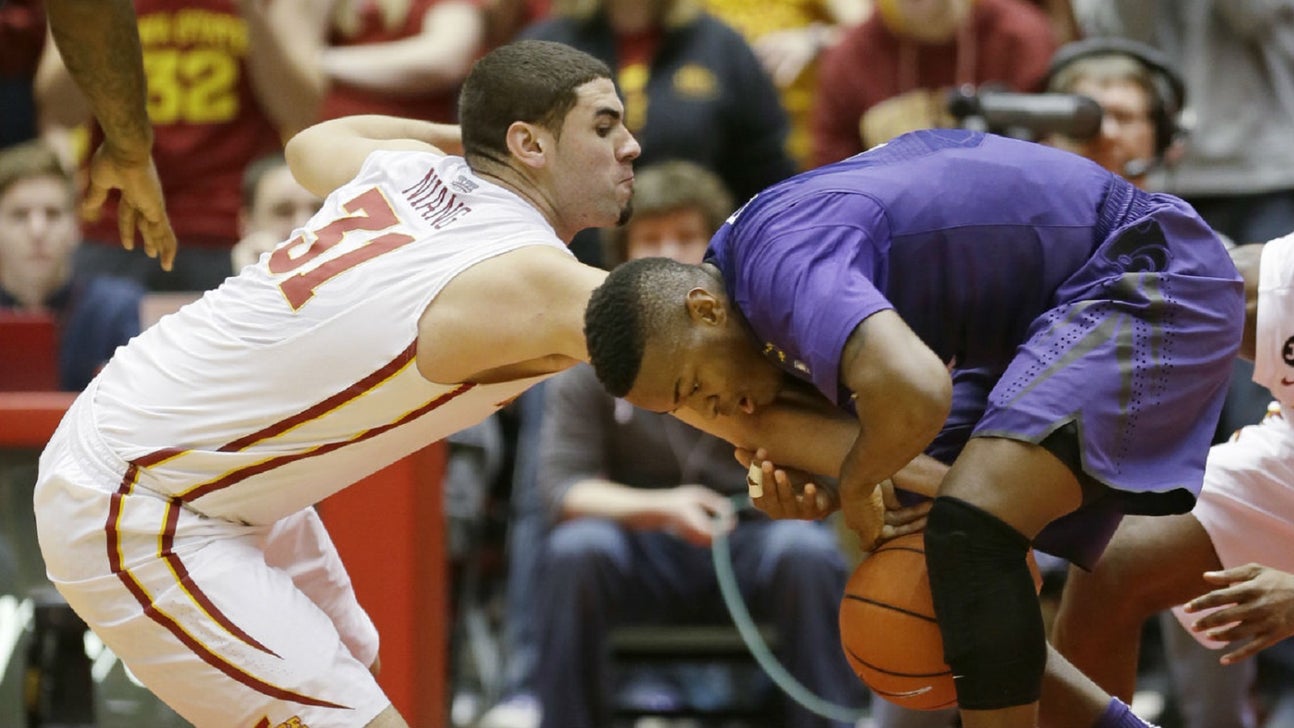 K-State got a moral victory at Iowa State -- now it needs to start piling up some real ones
Published
Jan. 25, 2014 6:55 p.m. ET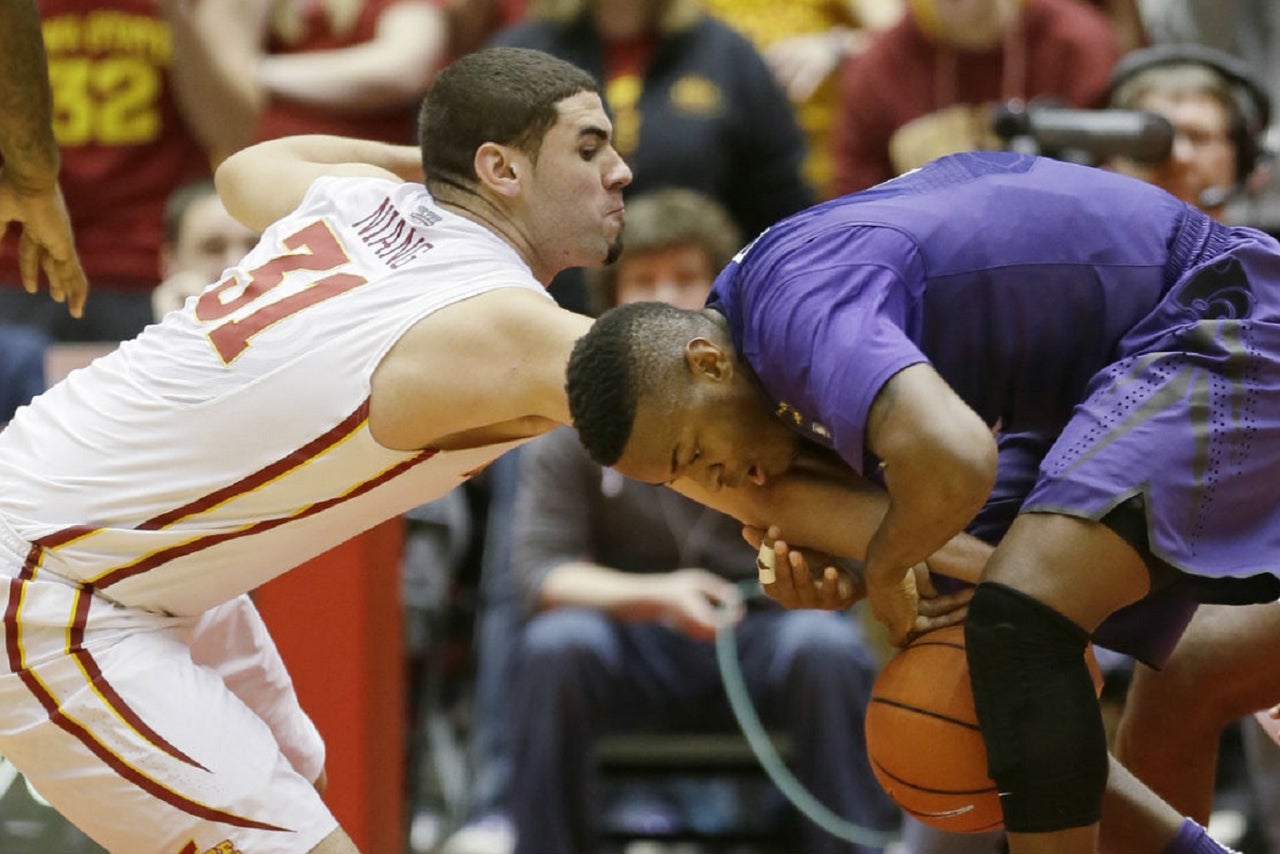 AMES, Iowa -- A loss is a loss is a loss, as coach Gertrude Stein liked to say, but some of 'em feel like a Nerf bat to the crown jewels and others, more like a Louisville Slugger.
This was the former.
Iowa State could have -- probably should have -- blown Kansas State out of Hilton Coliseum, the way Kansas always seems to do after the Jayhawks' usual first-half curb-stomp of a Bruce Weber team. Didn't happen. The NCAA selection committee doesn't give two beans about moral victories, but still. The Wildcats (14-6, 4-3 Big 12) were down 14 at the half in the House that Johnny (Metaphorically) Built; fought back to tie it up at 50-each with 13:11 left in the tilt; hung around, hung around, hung around -- and lost by six, 81-75. Shane Southwell's shot to tie was blocked with 31 seconds left. The Wildcats scored on just two of their final seven possessions. Almost after almost.
So: A kidney-punch, last-second loss at Texas, followed by Saturday's kinda-sorta near-miss in Ames, in the course of the same week. Hmm.
And that's where the glass half-something part comes in. Is this a K-State team that can't finish to save the free world -- that's two straight defeats by six points or less after a 4-1 record in those kind of tilts just eight days ago -- or one that's this (holds thumb and index finger an inch apart) close?
"That's a good question," said Southwell, whose heave while K-State was down three was apparently tipped by Iowa State's Melvin Ejim into the stratosphere. "Every loss is not a good feeling, but myself, as a senior, I like the way we came back and fought twice, honestly.
"And they're a really good team, so I'm really proud of our team for fighting (back) twice. (It) was a little bit different than the Texas game, but a loss is a loss, I think."
It was entertaining, though, for whatever that's worth. A chippy game, a weird game, a close game, with a handful of strange calls thrown in the mix. In other words, your typical weekend in the Big 12.
It feels like a pat on the head. It isn't. Cyclone fans walked away from a home loss to Kansas grumbling about Jayhawk karma and the ridiculous mismatch problem that Joel Embiid presents right now. They walked away from this one with a deep breath and a sigh of relief all-around.
Iowa State will be ranked Monday, and K-State won't be, but the gap between the two is largely negligible. They're two sides of a similar coin. The Wildcats punch you in the mouth and try to grind it out in the half-court; Iowa State prefers to shoot first (the Cyclones on Saturday morning ranked 16th nationally in Pomeroy-adjusted offensive tempo; K-State was No. 324) and ask questions later. Saturday was the first time ever the two old rivals met while both were ranked among the Associated Press Top 25 (Iowa State: 16; K-State: 22), and it lived up to the goods -- back, then forth, then back again.
Watch 'The Bruce Weber Show' at 10:30 a.m. Saturdays on FOX Sports Kansas City. Check your local TV listings.
The Cyclones closed the first half on a 9-1 run. The Wildcats opened the second with a 16-4 run to tie the score at 50-50. Iowa State countered with a 14-3 run, pushing the lead back to double digits. K-State, behind Will Spradling's magic Ethan Wragge impersonation, answered with a 13-2 run and knotted it up at 66-66 with 5:01 to go on Spradling's fourth (and final) 3-pointer of the day. Hoiberg had 6-foot-7 center-slash-3-point-specialist Georges Niang start shadowing the smaller Spradling after that, obstructing his view, and the hosts closed with a 15-9 run to seal the deal.
"It's not always about the end of the game in terms of execution," noted Southwell, who was 4-for-12 from the floor, netted 14 points and snatched seven boards. "It was a lot of things in the middle of the game that led to that point."
Junior Thomas Gipson, the Wildcats' most reliable post threat, wound up with four points and seven rebounds, shot 2 of 7 from the floor, and was held scoreless for the game's first 21-and-a-half minutes. That's not going to fly on the road, in a Big 12 that's running eight or nine deep. Nor will Southwell's 2-of-9 shooting in the second half, now that you mention it.
"Well, he's got to play better," Weber said, bluntly. "And Thomas has to play better."
Still, Southwell is right on at least one point: The 'Cats fought, repeatedly, when rolling over and getting back to Manhattan would have been the far easier out. Over the first 20 minutes, the Cyclones nailed eight of their first 11 attempts from beyond the arc. Getting into a game of H-O-R-S-E with a Hoiberg team -- or, hell, Hoiberg himself ­-- is a bad idea anywhere, but in Ames, it's practically suicidal.
"We were in this situation at (Kansas), and we let it go the other way," said Spradling, who dropped 12 on the Cyclones, all on 3-pointers, before fouling out. "We weren't going to come out and let it happen again."
They didn't. But a loss is a loss, and a shot to the crown jewels is a shot to the crown jewels. Texas Tech awaits, and the good teams, the survivors, are the ones that pop right back up again. Once the burning sensation finally goes away, of course.
You can follow Sean Keeler on Twitter @seankeeler or email him at seanmkeeler@gmail.com.
---