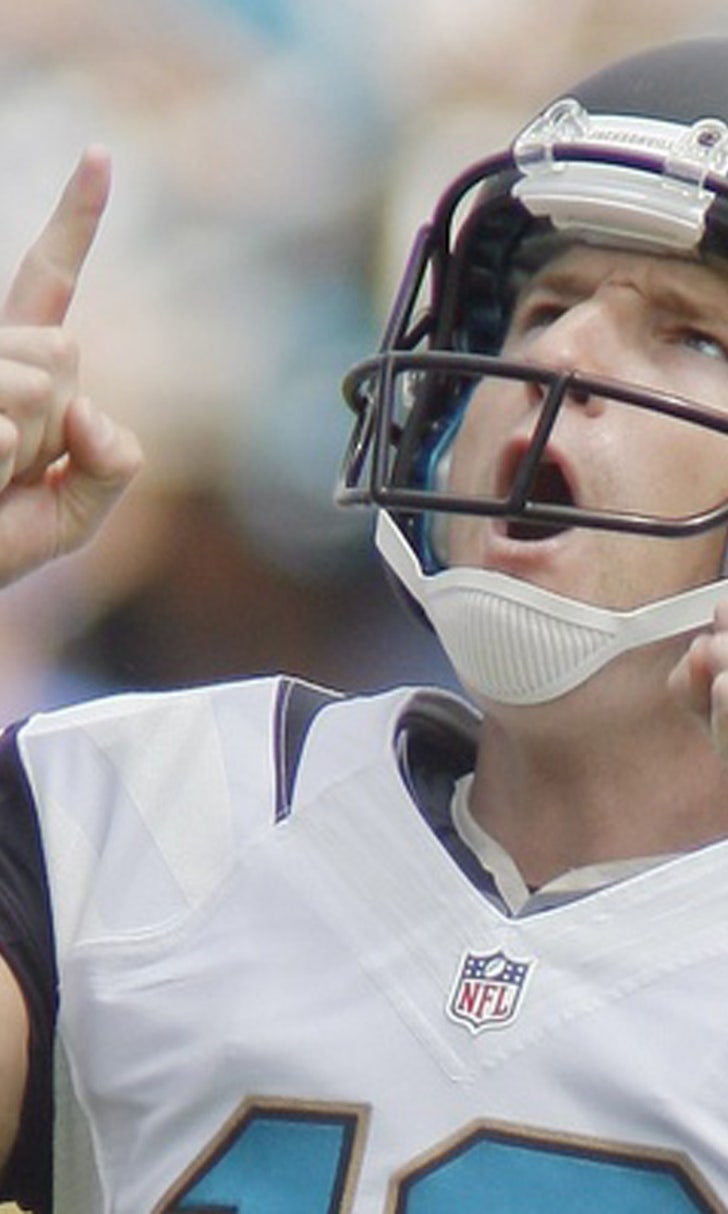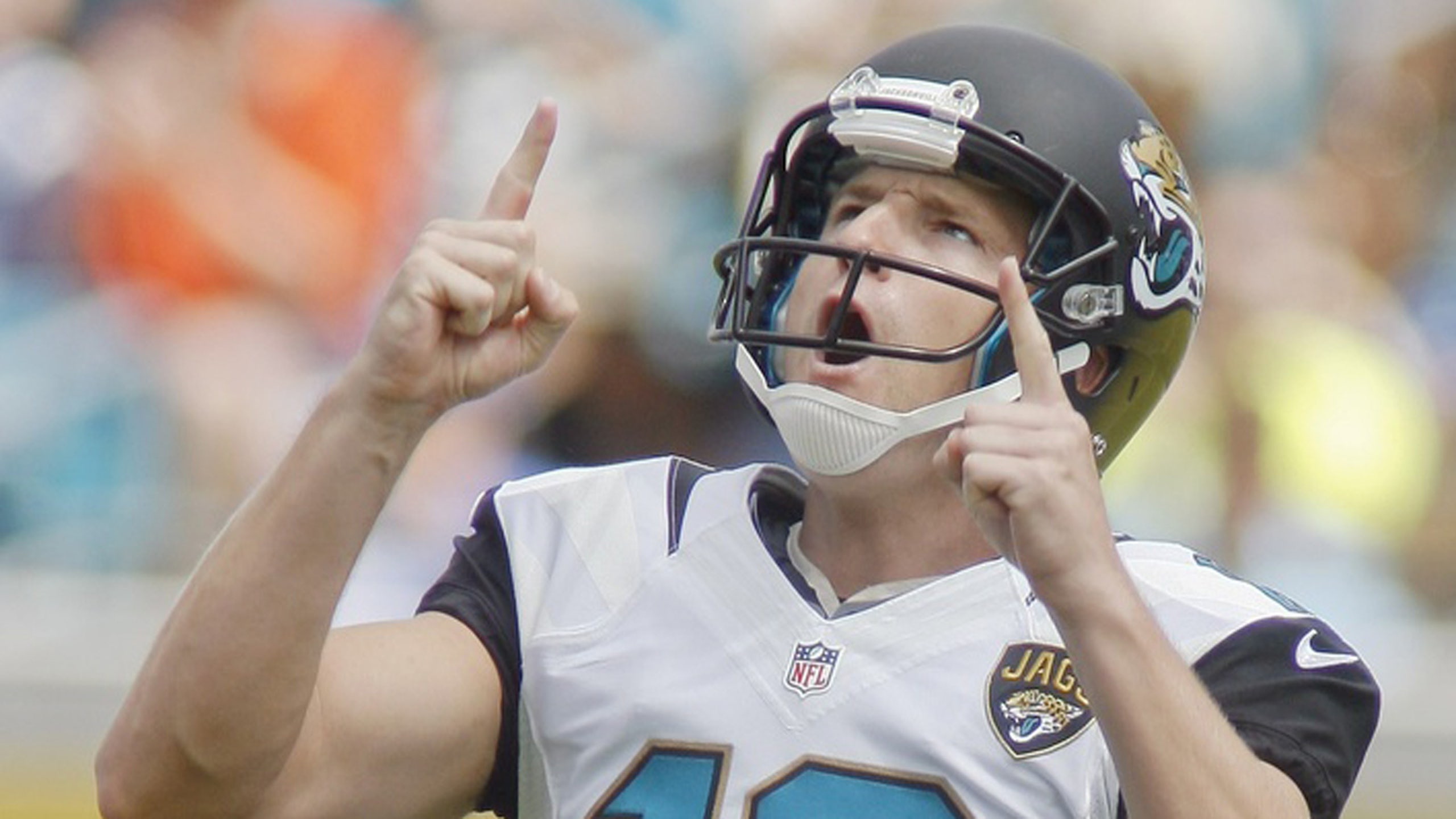 Josh Scobee consistent, but Jags look for more from returners
BY foxsports • February 21, 2014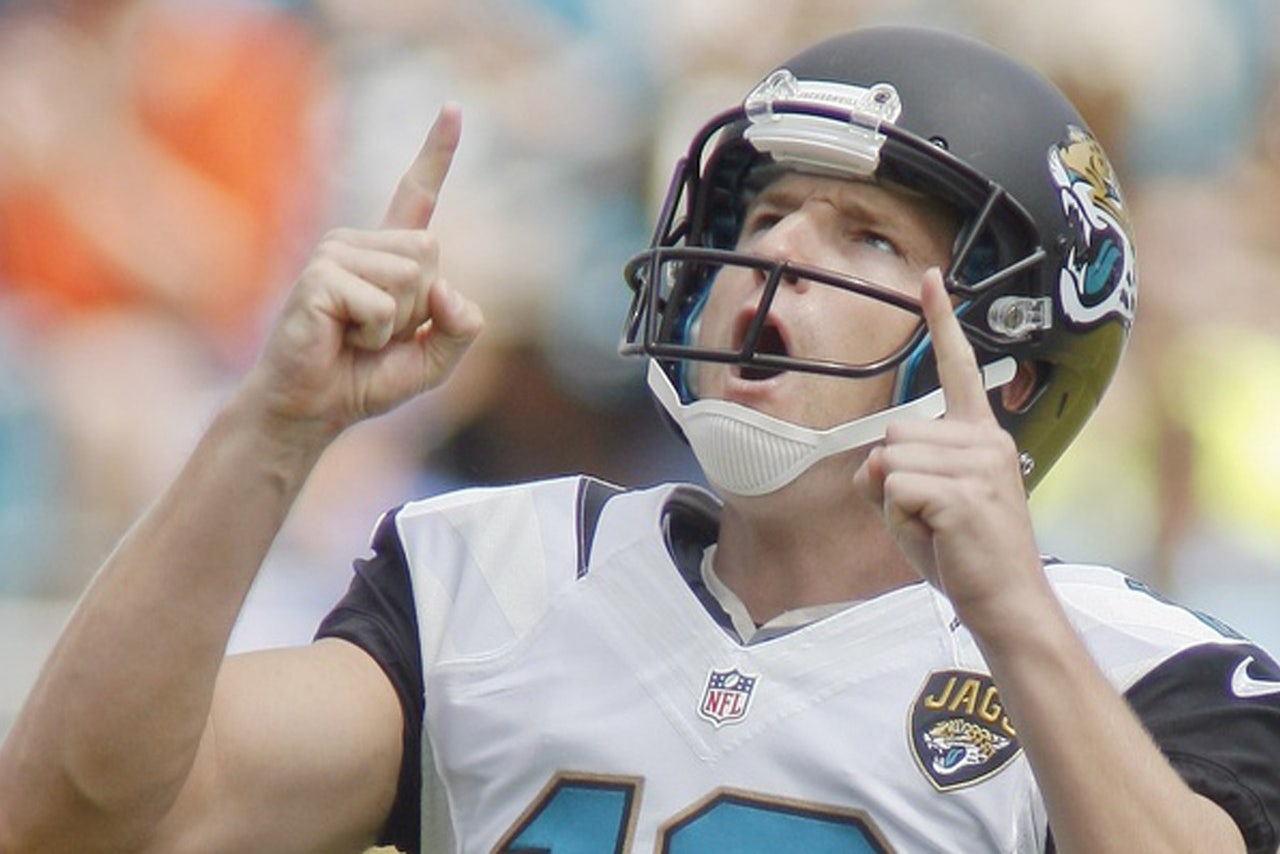 The Jacksonville Jaguars displayed entirely too much Anger in their special teams last season.
Bryan Anger kicked an NFL-high 95 punts in 2013, which said a lot about the listlessness of an offense that ranked near the bottom of the league in almost every statistical category. In the season-opening 28-2 loss to the Kansas City Chiefs, Anger broke a franchise record by having to punt 11 times.
If there was any upside to that day, it was that the second-year pro averaged 50.5 yards a kick and had two punts downed inside the 20.
In an ideal scenario, the Jaguars and their fans would be seeing less of Anger and more of Josh Scobee, who is now the longest-tenured member of the team following the retirement of center Brad Meester. Scobee continued to be one of the league'€™s most dependable field-goal kickers in his 10th year with the Jaguars, although it's seldom a good sign when a kicker is called on more often for field goals than extra points.
One area where special team coordinator Mike Mallory can point to with pride is the Jaguars' kick coverage units. Only four other teams -- St. Louis, Seattle, Tennessee and Kansas City -- gave up fewer yards per average on punt returns than Jacksonville. On top of that, their 20.4-yard average allowed on kickoff returns was better than everyone except Tampa Bay and Chicago.
But aside from a 59-yard runback of a kickoff by Jordan Todman against Arizona, the Jaguars'€™ return units were largely unspectacular.
PUNTER
Bryan Anger -- The decision to take a punter with a third-round draft pick in 2012 continues to be a sore spot with diehard fans and was compounded last season when Russell Wilson, who was still available in that round that year, quarterbacked the Seattle Seahawks to their first Super Bowl championship. Anger's 45.7-yard average was down from the 47.8 figure he had as a rookie and placed him only 16th in that category. Thanks in large part to the Jaguars' punt coverage team, he finished seventh in net punting average (40.5). Of his 95 punts, 22 resulted in fair catches.
KICKER
Josh Scobee -- Except for getting a PAT blocked in the second quarter of a 20-16 loss to the Titans in the Jaguars' home finale, there was nothing to find fault with regarding Scobee. He was 11 of 11 on field goals before missing a 60-yard attempt to end the first half against the Cardinals and ended up going 23 of 25 with a long of 55 yards. And after only 26 of his 66 kickoffs in 2012 resulted in touchbacks, 36 of his 61 kicks last season were not returned. He has two years remaining on a contract worth nearly $14 million.
PUNT RETURN
Ace Sanders -- The Jaguars drafted Sanders in the fourth round out of South Carolina thinking he might make an impact on special teams before doing so as a wide receiver. It turned out to be just the opposite. While Sanders' 45 receptions were second on the team to Cecil Shorts III, he only averaged 5.6 yards on 25 punt returns with a long of 17 yards.
Will Blackmon -- Signed toward the end of the preseason, Blackmon took over this role against San Diego when Sanders was on the inactive list because of a concussion. Unfortunately for him and the Jaguars, the Chargers never punted until the fourth quarter that day.
KICKOFF RETURN
Jordan Todman -- In addition to emerging as the backup to Maurice Jones-Drew at running back, Todman returned 26 kickoffs for a 27.4-yard average. That was the seventh-best average in the NFL and a major accomplishment for someone who had only four returns in 2012 after being signed to the active roster in late November.
Stephen Burton -- It was Burton, not Todman, who began the season being featured in this capacity. But he sustained a concussion in Week 3 at Seattle and missed every game but one after that.
Denard Robinson -- The fifth-round pick out of Michigan played on the Jaguars' special teams but had only four kickoff returns and none after Week 4.
LONG SNAPPER
Carson Tinker -- One of three undrafted rookies to make the roster at the beginning of the season, Tinker impressed the Jaguars enough in training camp and preseason for them to release Jeremy Cain, who had held down that role since 2009.
BEST DRAFT OPTIONS
The Jaguars could be among several teams keeping a watchful eye this weekend in Indianapolis on Kent State's Dri Archer, who might be the fastest player at the NFL combine. Should Jones-Drew sign elsewhere and Todman became utilized more as a running back and less of a returner, the Jaguars could spend a late-round pick on Archer, who returned three kickoffs for touchdowns as a junior in helping the Golden Flashes to their first bowl appearance in 40 years.
FINAL THOUGHT
The Jaguars have still returned only four punts for touchdowns in their history, with the last of those being a 78-yard score by Mike Thomas in 2010. This is the one area of special teams which needs to improve significantly in Gus Bradley's second year as head coach.
You can follow Ken Hornack on Twitter @HornackFSFla or email him at khornack32176@gmail.com.
---