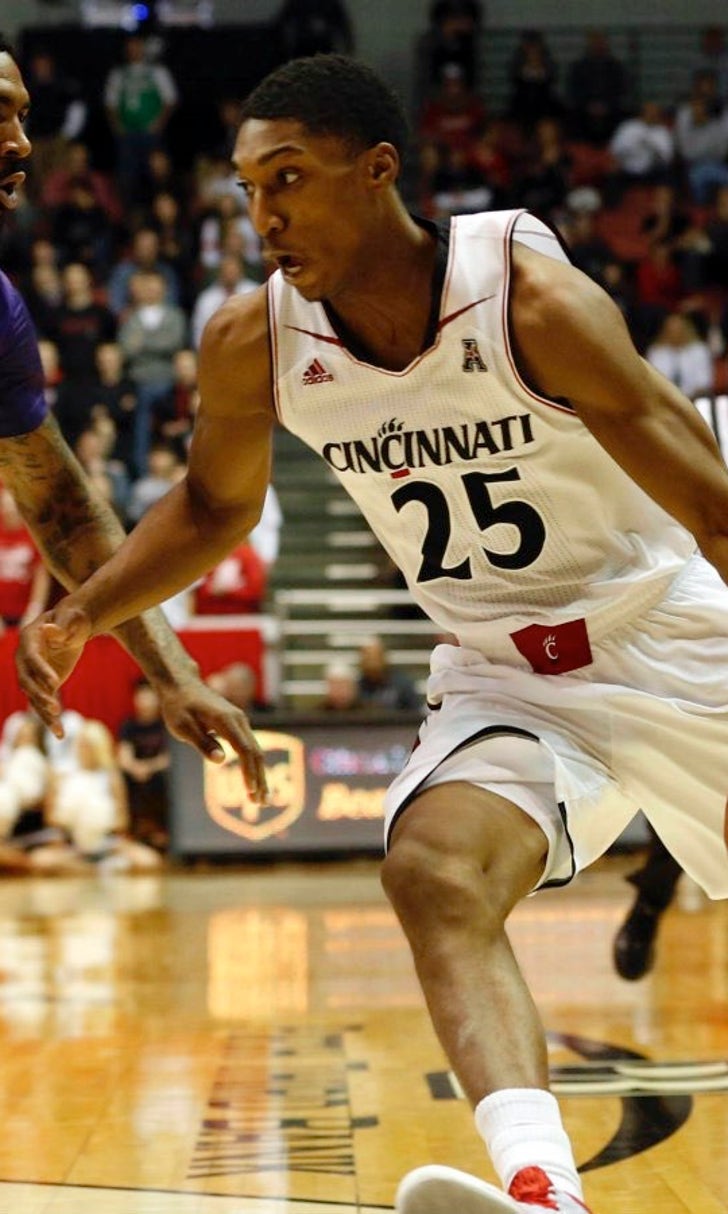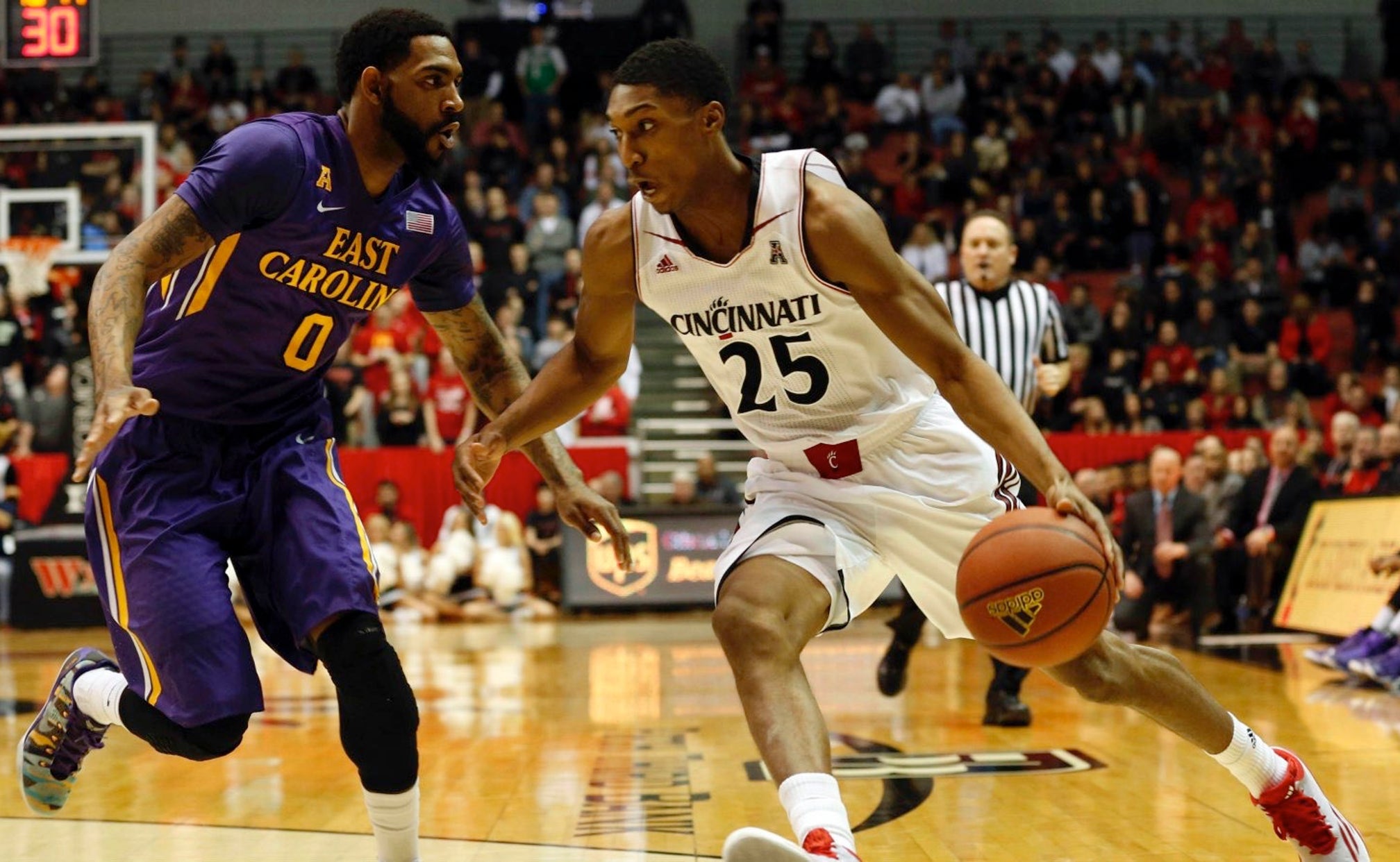 Johnson, Clark come up big for Bearcats
BY foxsports • January 6, 2015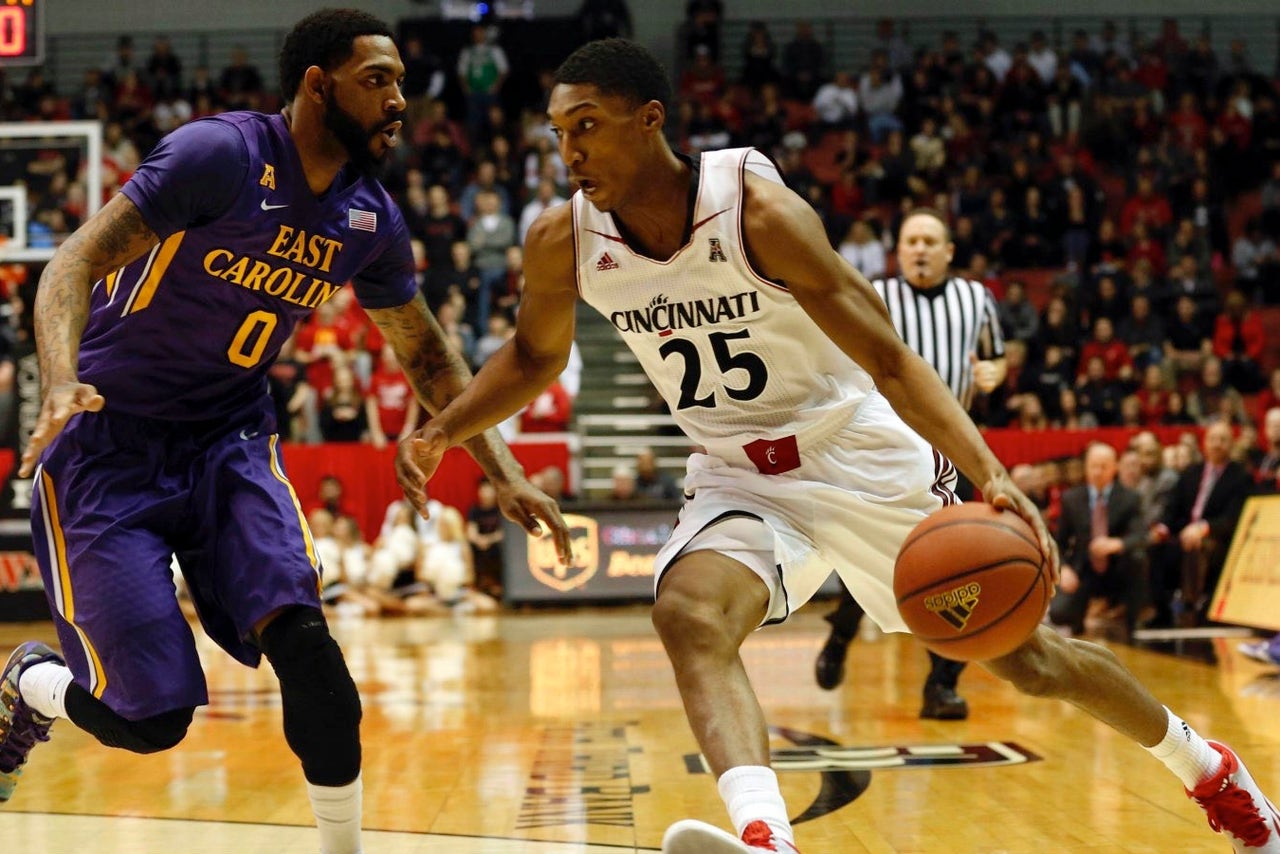 CINCINNATI -- Kevin Johnson was a little late coming out for warmups Tuesday but it was an excused tardiness for the University of Cincinnati sophomore. Johnson had been spending extra time in the practice gym before the Bearcats' game with East Carolina working on his shot.
It was time well spent for the Cincinnati native. Johnson made five of his nine field goal attempts and equaled his career high with 12 points as UC won its fourth straight game, 69-48, over East Carolina at Fifth Third Arena. Bearcats freshman Gary Clark had eight points and 16 rebounds -- the most rebounds for a UC player since 2008 -- as the Bearcats got to work on plenty of different aspects of their game against an out-matched opponent.
UC never trailed in the game and led by double digits for the final 23 minutes, 10 seconds. Junior forward Octavius Ellis had 12 points and nine rebounds, while sophomore point guard Troy Caupain added 10 points and six assists. After consecutive wins against North Carolina State on the road and then Southern Methodist at home last Saturday, associate head coach Larry Davis was concerned that the Bearcats might overlook ECU. The Pirates came into the game 7-8 and had lost their first two games in the American Athletic Conference to Tulane and South Florida.
"I was worried about this game, as you always do, because your guys look at them on paper and sometimes, with a young team particularly, they don't give them the respect they deserve," said Davis. "They're a dangerous team because they can make threes."
ECU didn't make much of anything Tuesday. The Pirates were just 17-of-63 (27 percent) from the field, the lowest shooting percentage by a UC opponent this season. ECU took 22 3-pointers but made just five of them.
The Bearcats (11-3, 2-0) shot 47.3 percent (26-of-55) from the field, including 52 percent in the first half. Ellis, Caupain and Johnson were a combined 13-of-24 (54.2 percent) for the game.
Johnson also had 12 points this season against Stony Brook. If he can find to start to find some consistency in his offensive game, especially from the outside, it would provide a needed boost for the Bearcats. He was shooting just 38.1 percent from the field coming into the game and had scored in double figures in just two previous games. Johnson worked on his shot using a ball retrieval machine that continuously passed the ball to him as he moved from spot to spot on the floor.
He also had a one-on-one conversation with Davis about his shooting. It was subject head coach Mick Cronin, who while he can't coach during practice or games, spoke to the whole team about earlier on Tuesday.
"(Cronin) had a team talk early that was kind of directed towards me," said Johnson. "It wasn't nothing too bad. It was just about getting on the gun, getting my arc up and gaining some confidence.
"I just want to step up and do whatever I can to help my team win so our offense can continue to build and become better. It's not necessarily pressure but it's more for my teammates."
Clark's was two points shy of his second double-double of the season. His 16 rebounds were the most by a Bearcats player since Mike Williams had 16 on Dec. 20, 2008, against Eastern Kentucky. Clark also had four steals, four blocked shots and three assists. He's now averaging 8.1 points and 7.7 rebounds per game through the first 14 games.
"You can't ask more out of a freshman," said Davis. "I think that speaks to Gary's character. He's a tremendous kid. He listens. He's a sponge when it comes to coaching. Whatever you tell him he tries to do. When you have talent and you listen and are coachable, you're going to end up being pretty good. The guys who struggle are the guys that have some talent maybe and they're uncoachable or they don't listen, or they can't absorb it. Gary is a very intelligent basketball player. He absorbs and understands things."
Shaq Thomas didn't start for the first time this season. Senior Jermaine Sanders got his first start because of what Davis called "a coach's decision." Thomas entered the game with 5:34 left in the first half and ended up playing just nine minutes. He scored six points and grabbed three rebounds with one steal in his limited playing time.
One of his baskets came on the final play of the first half. Davis called a time out with 23.6 seconds left. UC tried to run a baseline, backdoor alley-oop but couldn't get things quite set up properly until the clock was running down to less than 10 seconds. Caupain threw a perfect lob pass to a cutting Thomas for the dunk and a 38-22 lead at halftime.
"It was executed real well. That's the one thing we focus on," said Caupain. "We're trying to score 70 points every night with the defense that we play. That's the one thing we're preaching: execution. Execution is going to get us to 70 points. Our problem early in the year was scoring the basketball. We're going to get stops regardless. The one thing we're going out and focusing on is executing and scoring 70 points every game regardless of who we play."
---